---
Crew
Director – Carl Rinsch, Screenplay – Hossein Amini & Chris Morgan, Screen Story – Walter Hamada & Chris Morgan, Producers – Pamela Abdy & Eric McLeod, Photography (3D) – John Mathieson, Music – Ilan Eshkeri, Visual Effects Supervisor – Christian Manz, Visual Effects – Baseblack, Digital Domain (Supervisor – Jay Barton), Framestore (Supervisor – Mike Mulholland), Mill Visual Effects (Supervisor – Nicholas Hernandez) & MPC (Supervisors – Nicholas Aithadi & Sirio Quintavalle), Special Effects Supervisor – Paul Corbould, Prosthetic Design – Paul Spateri, Production Design – Jan Roelfs. Production Company – H2F Entertainment/Mid Atlantic Films/Moving Picture Company/Stuber Productions/Dentsu Inc/Fuji Television Network.
Cast
Keanu Reeves (Kai), Hiroyuki Sanada (Oishi), Ko Shibasaki (Mika), Tadanobu Asano (Lord Kira), Min Tanaka (Lord Asano), Rinko Kikuchi (Mizuki), Cary-Hiroyuki Tagawa (Shogun Tsunayoshi)
---
Plot
A child is found in the forest by samurai. They are about to kill it, believing it to be of the tengu demons, but it is spared on the orders of Lord Asano. The child Kai grows to manhood among the samurai but is regarded as inferior and not able to ever earn a place alongside them. There are feelings between he and Asano's daughter Mika even though they know it can never be. Shogun Tsuyanoshi and Kira, the lord of a neighbouring province come to visit. Kira has his witch consort Mizuki place a spell on Lord Asano that blinds him and makes him attack Kira. For the dishonour of attacking someone who was under his protection, the shogun condemns Lord Asano to commit ritual seppuku. Afterwards, Asano's samurai are rendered ronin – samurai without masters. Oishi immediately announces plans to marry Mika. Banished into the wilderness, the head of the ronin Oishi decides that they will take revenge against Lord Kira for the murder of Asano. Even though Kai is lowly amongst them, he is recruited to be an essential part of the scheme.
---
The story of the 47 ronin (the Japanese word for samurai who are without a master) is based on a real historic incident that occurred in Japan between 1701-3 where a group of samurai took revenge against a lord for his complicity in the dishonour and death of their master. The story is one that exists more as a legend in Japanese plays and folk retellings than the historical account. This film version essentially follows the general path of the tale – wherein Lord Asano was forced to commit seppuku for the supposed insult of attacking a guest and how his samurai were rendered masterless and came together to kill Lord Kira who had manipulated the situation. The story is considered a great testament to loyalty and honour in Japanese culture.
The story of the 47 ronin has been filmed six other times in Japan between 1932 and 2010, although this is the only version made in English language. The notable difference between all these other versions and the 2013 film is that it is a fantasy film. All the other accounts play the story as an historical drama, whereas here we get the addition of monsters, dragons and witches casting spells and changing shape. The other major difference is the writing in of Keanu Reeves as the star of the show whereas no equivalent of his character or any gaijin exists in the other versions.
47 Ronin seemed a deeply troubled production. Universal had intended the film as an epic fantasy along the lines of The Lord of the Rings films. The script by the writer of The Fast and the Furious films was handed to unknown British commercials director Carl Rinsch who had never made a feature film before. The budget ballooned to $175 million, added to by the decision to shoot the film in 3D and use Hungary as a location. A Japanese cast was chosen, although many of them struggled with the English dialogue so the decision was made to shoot first in Japanese and then in English.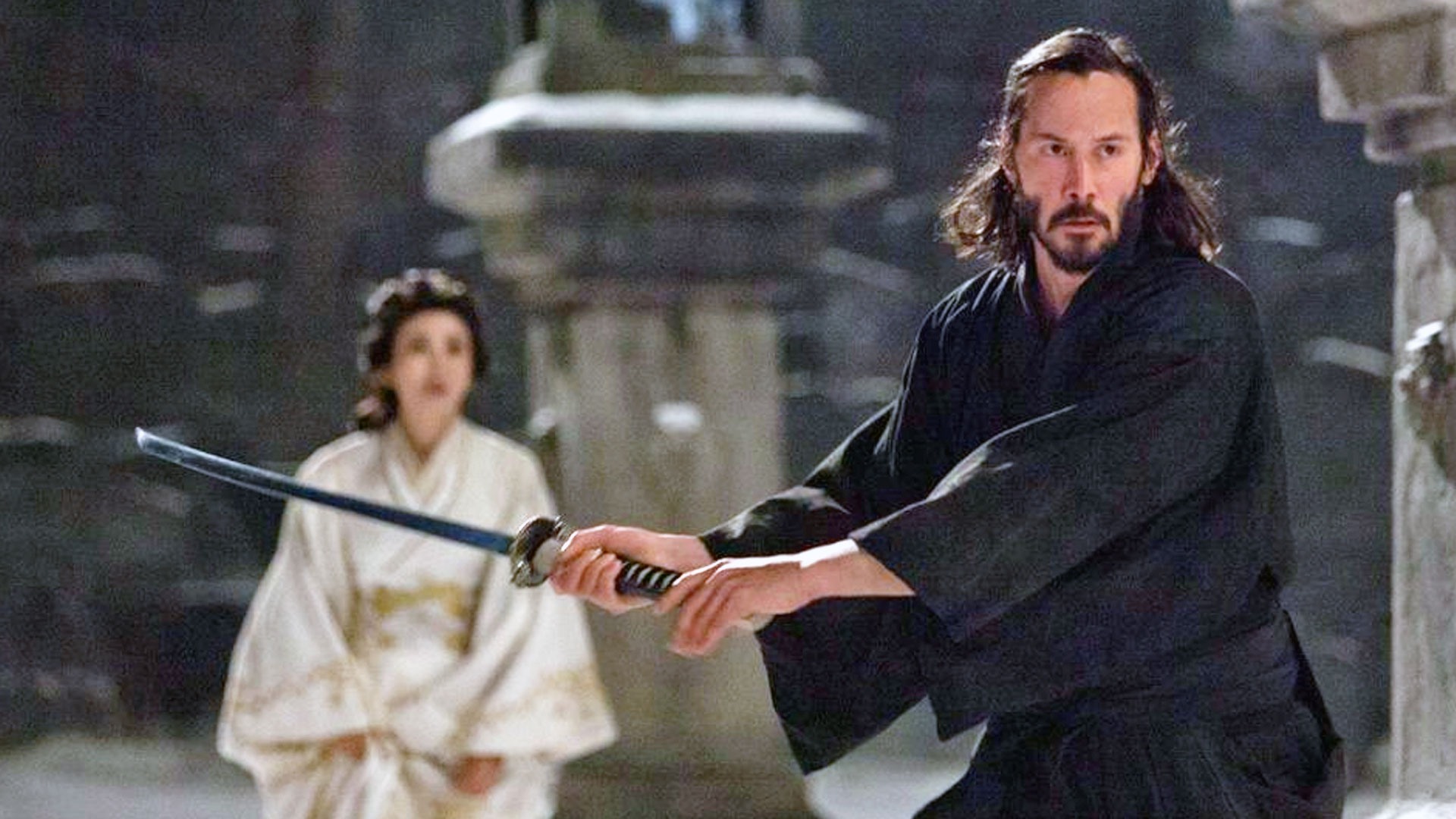 Though the film was completed in 2011, it spent two years in post-production with studio demands for reshoots to boost Keanu Reeves' role and multiple editors employed in an attempt to assemble a workable cut. The finished film was dumped to theatres on Christmas Day of 2013 with little promotion, earning only $32 million (only a fifth of its budget) and faring even more dismally in Japan where it was hoped that the film would have crossover appeal. Even before the film opened, Universal executives were resigned to it being a financial write-off.
The thing you notice about most traditional Japanese samurai cinema is that it has almost never ventured into fantasy. There have been several fantastic Japanese films featuring samurai as characters – Rashomon (1950), Illusion of Blood (1965) – but it is a stretch to classify them as samurai films per se. Maybe the nearest you could get is Time Slip (1981), which had time-travelling modern soldiers taking on samurai. Of course, you could compare what we have here to Hong Kong/Chinese cinema where they have taken historical stories or settings and spun them out into something wildly fantastical with the Wu Xia cycle – see the likes of Swordsman (1990) and sequels, Crouching Tiger, Hidden Dragon (2000), Hero (2002) and in particular Detective Dee and the Mystery of the Phantom Flame (2010) and its sequel Young Detective Dee: Rise of the Sea Dragon (2013), which are fantasy films spun out around a real-life historical character. 47 Ronin feels like it is trying to be a similar Wu Xia styled take on the samurai film.
Of course, where 47 Ronin fails is in its cloddingly dull treatment of the story. You could cast it in the same boat as films like The Golden Child (1986), The Monkey King/The Lost Empire (2001), Bulletproof Monk (2003) and The Forbidden Kingdom (2008) – all of which were Western attempts to copy Hong Kong/Chinese Wu Xia that missed the boat by a mile. Maybe 47 Ronin doesn't get it as drastically wrong as some of these but you feel that the originals work so much better because they are drawing on their own culture – thus they instinctively understand what the story was about, how the people thought, things like the meaning of honour to a samurai.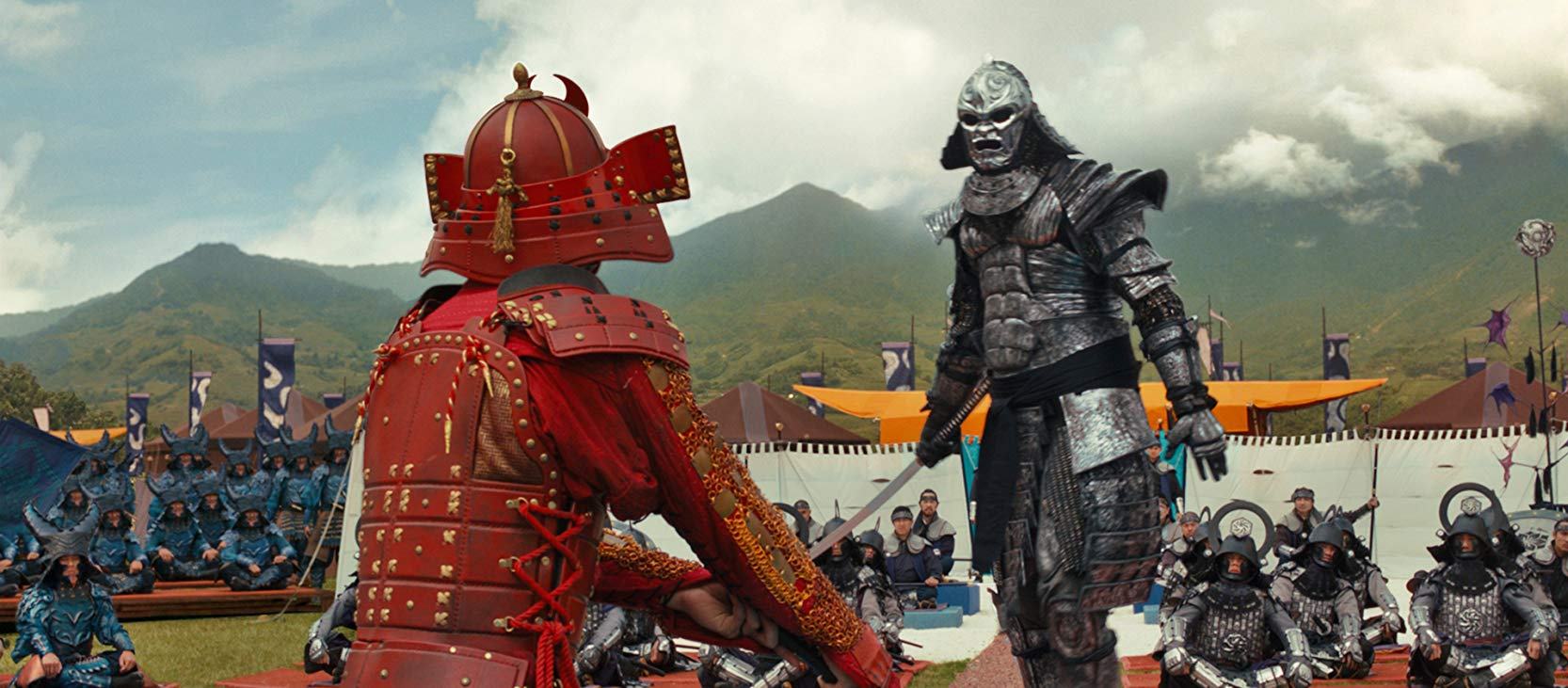 By contrast, all that we have here is someone else having appropriated a cultural story and shoehorned it onto a big-budget costume drama and the current fad for epic screen fantasy. The film at least gets the epic feel and period down a lot better than these Western Chinese copies, but it feels culturally shallow and watered down for Western audiences. You keep expecting the dialogue to come in subtitles and it seems jarring to see the Japanese speaking English. The actors cast are often not genuine Japanese but Japanese-American – Cary Hiroyuki Tanaka, Gedde Wattanabe.
In the end, 47 Ronin fails. It's not the turkey that everyone keeps expecting it to be. It has a basic competence but crucially it never comes to life. The action scenes never feel enervated or inspired. The costumiers arrange a good deal of traditional Japanese garb but you never feel that you are in the period or come away from the film having learned anything about Japanese culture. You can predict everything that happens – the only point the film doesn't do so is in the surprisingly downbeat ending, which plays against all Hollywood tradition. The film flops and the reason for this is because it has been assembled but you simply spend two hours waiting for the slightest hint of life, the smallest thing that you can't see coming a long way away.
---
---