---
Crew
Director – Richard Alan Greenberg, Screenplay – Ted Elliott & Terry Rossio, Producers – John A. Davis, Andrew Licht & Jeffrey A. Mueller, Photography – Dick Bush, Music – David Newman, Music Supervisors – Sharon Boyle & Gary Goetzman, Special Puppet & Clothing Effects – 3/Design Studio, Miniatures & Through-the-Floor Transitions – Guy Ramsden, Makeup Effects – Robert Short, Production Design – Paul Peters. Production Company – Davis Entertainment Co/Licht-Mueller Film Corporation.
Cast
Fred Savage (Brian Stevenson), Howie Mandel (Maurice), Ben Savage (Eric Stevenson), Daniel Stern (Glen Stevenson), Margaret Whitton (Holly Stevenson), Frank Whaley (Boy), Rick Ducommun (Snik), Amber Barretto (Kiersten Deveaux), Devin Ratray (Ronnie Coleman), William Murray Weiss (Todd)
---
Plot
11-year-old Brian Stevenson meets a manic, horned, blue-skinned creature named Maurice that appears from under his bed. Maurice persuades Brian to come with him down into the bizarre world that exists under his bed and is connected to the beds of children everywhere by giant ladders. There Brian finds a world where all manner of oddball monsters roam and there are no adult rules. He and Maurice go on a gleeful spate of mischief and mayhem. However, the evil monster Boy then abducts Brian's younger brother Eric.
---
There is a likeable pre-teen fantasy here. Little Monsters has an off-the-wall weirdness to it that is hard to dislike. With its wild central concept of a world under the bed, one that stretches up on long twisted ladders to connect up under children's beds, and where the monsters live in a state of unrestrained adolescence, it is the closest film had come up to this point to creating a Maurice Sendakian fantasy.
There is a gleefully malicious anarchy to the film – it has a ball in all the scenes placing kitchen roll over toilet seats, peanut butter in telephone receivers, substituting apple juice with urine and the like. Howie Mandel's performance has clearly been modelled after Michael Keaton's title role in Beetlejuice (1988), although a Beetlejuice that manages to suggest a lost puppy dog adolescence while bouncing about spouting teenspeak at 45rpm.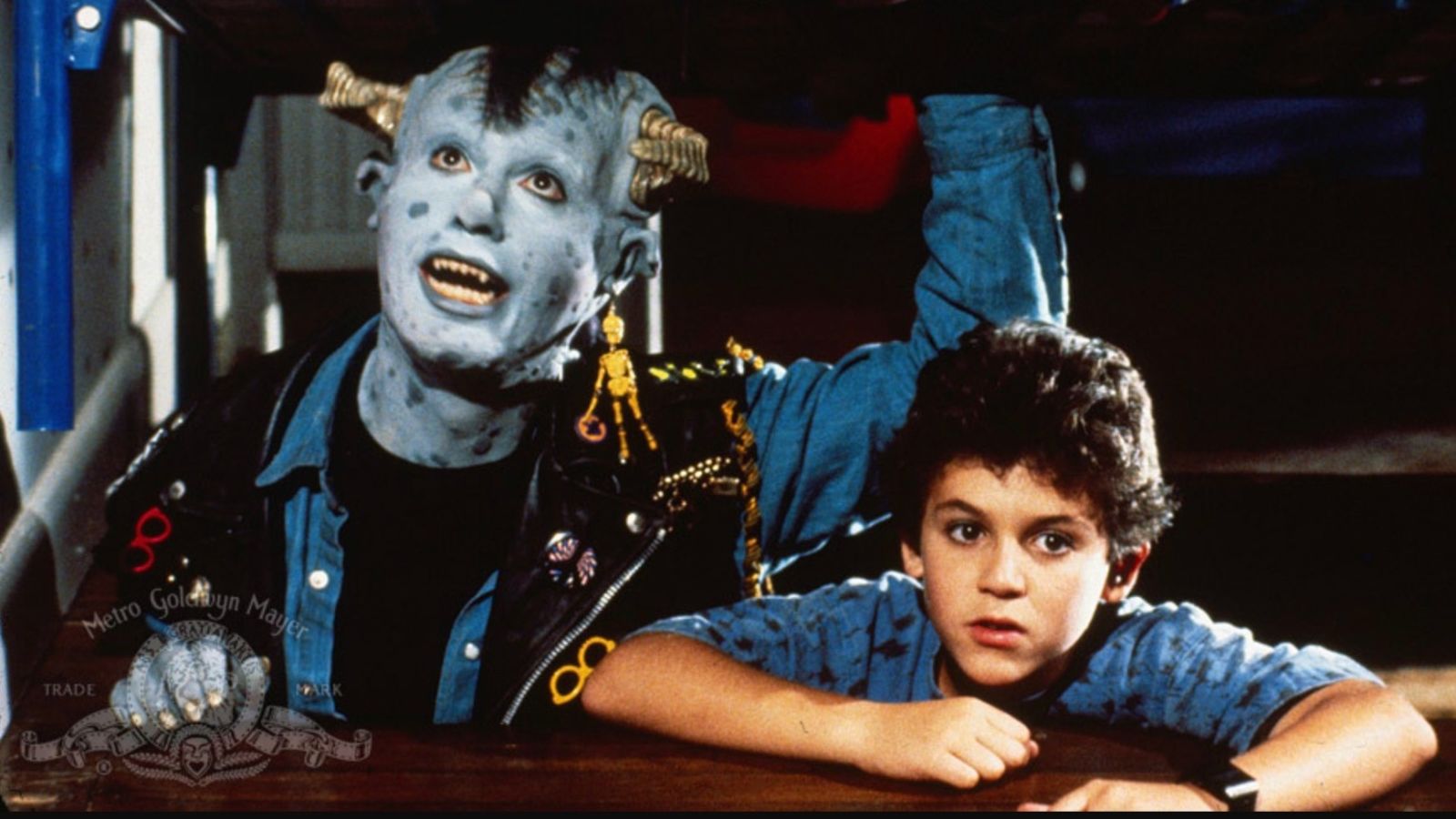 The climax with Boy letting loose at his attackers with buzzsaws, toy airplanes armed with real weaponry and teddy bears that try to drill through people's feet achieves a peculiar dizziness. The creature effects – which include faces that are a catcher's mitt and have hands on them, and a giant bug-eyed thing in a ten-gallon hat – are amazing.
Little Monsters was the first produced script of the writing duo of Ted Elliott and Terry Rossio who have subsequently went onto write the likes of Disney's Aladdin (1992), Godzilla (1998), The Mask of Zorro (1998), The Road to El Dorado (2000), Shrek (2001) and Pirates of the Caribbean: The Curse of the Black Pearl (2003) and sequels. Director Richard Alan Greenberg is better known in the industry as a visual effects supervisor, specialising in title sequences, and has yet to direct another film.
Little Monsters is not related to and should not be confused with the subsequent Australian zombie comedy Little Monsters (2019).
---
---