---
UK/France/USA. 2005.
Crew
Director – Kirk Jones, Screenplay – Emma Thompson, Based on the Nurse Matilda Books by Christianna Brand, Producers – Lindsay Doran, Eric Fellner & Debra Hayward, Photography – Henry Braham, Music – Patrick Doyle, Visual Effects – Framestore CFC (Supervisor – Mike McGee), Animation Sequence – VooDoo Dog, Special Effects Supervisor – Mark Holt, Makeup Design – Peter King, Production Design – Michael Howells. Production Company – Working Title/Studio Canal/Universal/MGM/Three Strange Angels/Nanny McPhee Productions.
Cast
Emma Thompson (Nanny McPhee), Colin Firth (Cedric Brown), Kelly Macdonald (Evangeline), Angela Lansbury (Aunt Adelaide Stitch), Celia Imrie (Selma Quickly), Imelda Staunton (Mrs Blatherwick), Thomas Sangster (Simon Brown), Derek Jacobi (Mr Wheen), Patrick Barlow (Mr Jowls), Raphael Coleman (Eric Brown), Jennifer Rae Daykin (Lily Brown), Holly Gibbs (Christianna Brown), Eliza Bennett (Eliza Brown), Sam Honywood (Sebastian Brown), Elizabeth Berrington (Letitia)
---
Plot
Cedric Brown has not been coping well in trying to raise his seven children following the death of his wife. The children have became exceedingly badly behaved and have so far driven away more than twenty nannies. The nanny agency shuts the door in Cedric's face but then a mysterious voice tells him to seek Nanny McPhee. On one night when the children are being particularly badly behaved, the hideously ugly Nanny McPhee appears at the door. She has mysterious powers and soon demonstrates the ability to make the children go out of control or be infected with illness until they behave. At the same time, Cedric is under pressure from the children's austere Aunt Adelaide to marry before the end of the month or lose the allowance that she gives then. As the date approaches, it appears that Cedric's only choice to save the family is to accept the vulgar Selma Quickly as his wife.
---
Emma Thompson has always been one of my favourite actresses. I first noticed Thompson with the fabulous tv mini-series Fortunes of War (1987) and not long after the rest of the world did too. She quickly ascended to a Hollywood and awards season favourite in various films with then husband Kenneth Branagh – Look Back in Anger (1989), Henry V (1989), Dead Again (1991), Peter's Friends (1992), Much Ado About Nothing (1993), as well as other roles in comedies like The Tall Guy (1989) and Junior (1994) and arthouse works like Impromptu (1991) and Merchant Ivory's Howards End (1992) – for which she won a Best Actress Academy Award, In the Name of the Father (1993) and Merchant Ivory's The Remains of the Day (1993) – for which she accrued another Academy nod. After parting from Branagh in 1994, Thompson went on to roles in films like Carrington (1995), Ang Lee's Sense and Sensibility (1995), which she also wrote the screenplay and won a Best Adapted Screenplay Oscar for, and The Winter Guest (1997). As an interviewee, Thompson displays a freshness, arch wit and lack of pretension that is rare among celebrities.
Disappointingly, this side of the millennium, Thompson has faded from the public eye somewhat with only occasional work like tv's Wit (2001) and the fabulous Angels in America (2003) and minor roles in films like Love Actually (2003), the Harry Potter series and Brideshead Revisited (2008), Men in Black 3 (2012) and Beautiful Creatures (2013), before the awards nominations return with Saving Mr. Banks (2013). One reads that Thompson had a daughter in 1999 and one suspects that this is where her focus now lies. Nanny McPhee is welcomely one of Thompson's first full-fledged returns to the big screen in some time, for which she also writes the screenplay.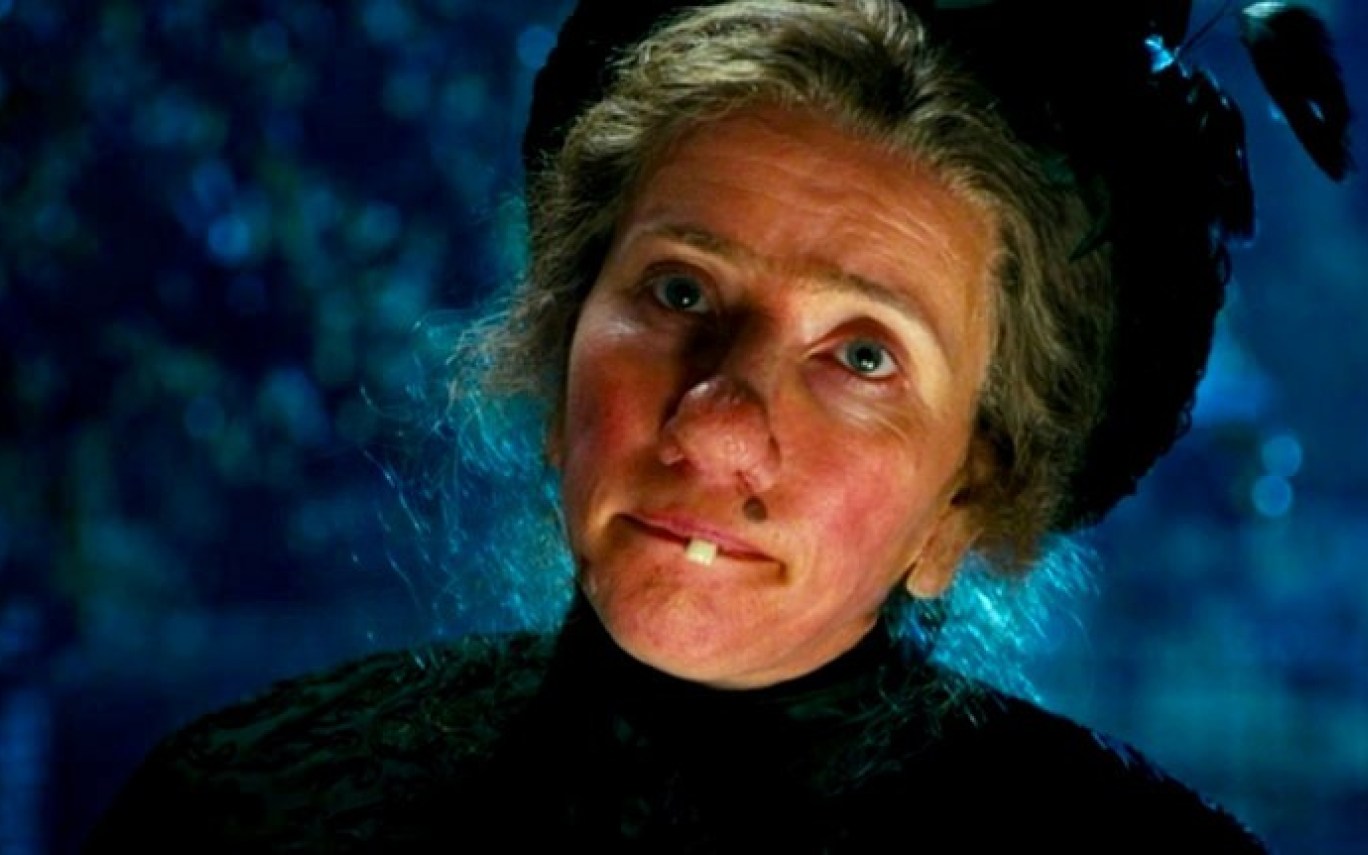 Thompson adapts Nanny McPhee from the Nurse Matilda books by children's writer Christianna Brand. Christianna Brand produced three Nurse Matilda books – Nurse Matilda (1964), Nurse Matilda Goes to Town (1967) and Nurse Matilda Goes to Hospital (1974). Thompson keeps the essence of the books – even down to the nanny's physical description – with the exception of the title character getting a name change and becoming a nanny instead of a nurse. In the director's seat is Kirk Jones, who comes from a background in commercials and whose only previous film was Waking Ned Devine (1998) and woud subsequently make light comedies such as Everybody's Fine (2009) and What to Expect When You're Expecting (2012).
On screen, Nanny McPhee emerges as Mary Poppins (1964) having been reworked by Roald Dahl or having collided with Lemony Snicket's A Series of Unfortunate Events (2004). The setting is vaguely Victorian and Kirk Jones throws it into a world that seems like the stylised hyperrealism of one of the Dahl film adaptations – especially Matilda (1996) – albeit conducted on a B-budget. I expected great things of Nanny McPhee – Emma Thompson after all did win an Oscar for writing Sense and Sensibility (and adapting Jane Austen, no less) – but came out disappointed.
Alas, Thompson's writing here is on the banal side. The story arcs in the film are so eminently predictable – as to who it is that Colin Firth will marry in the end, that the vulgar Celia Imrie will get her comeuppance, that the children's connivance and Nanny's preternatural wisdom will eventually win out over the nasty Aunt Adelaide, that the children will learn to settle down and behave.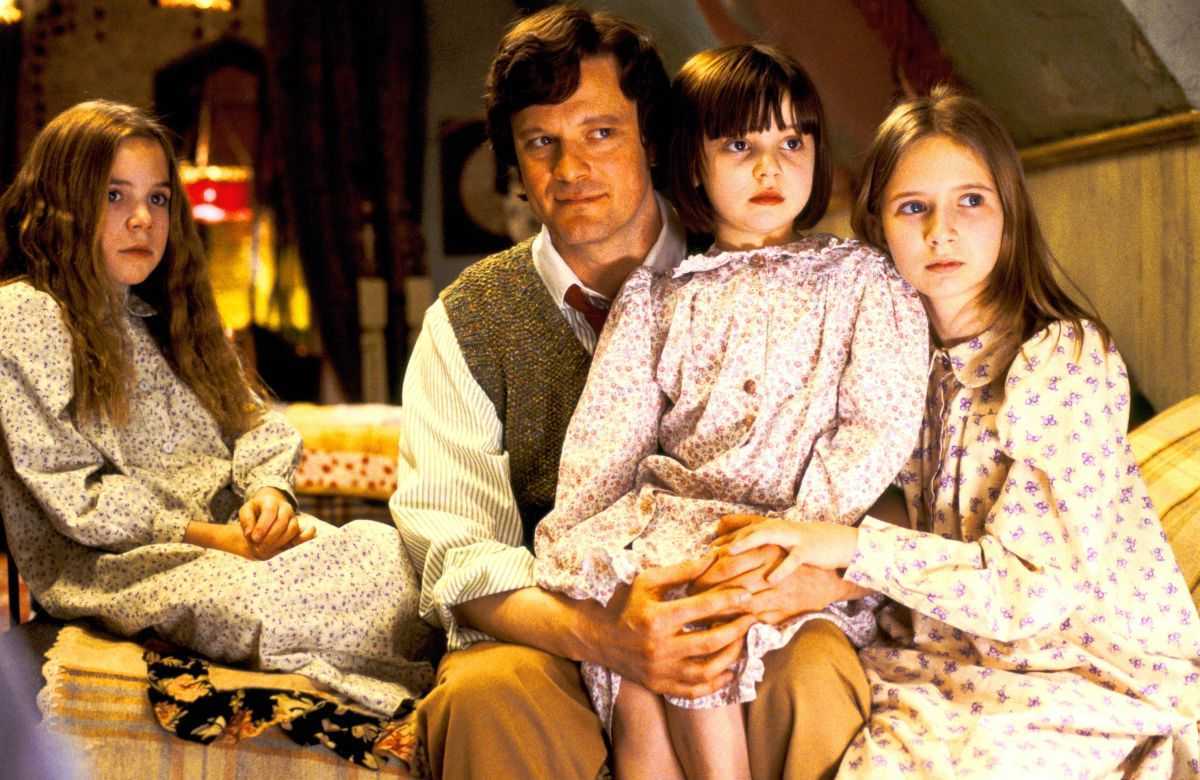 Kirk Jones's marshalling of the fantasy elements is banal – animated displays and ripples every time Emma Thompson bangs her cane and a dreadfully twee ending where a snowfall transforms Kelly Macdonald's dress and turns the children's costuming white. Jones directs it all down around the level of noisy slapstick with much focus on the children causing mischief in the kitchen, malarkey with animals dressed in clothing and a slapstick scene with Colin Firth trying to prevent them from sabotaging his date with Celia Imrie – indeed, the climax of the film consists of a food fight with various dignitaries at a wedding throwing custard pies at one another. There is nothing remarkable to any of Nanny McPhee, it is a generic children's film. Somehow, one expected a little more from Emma Thompson.
The film does at least manage to accrue a good cast, including supporting performances from many worthy names of the British film industry including Colin Firth, Derek Jacobi, Imelda Staunton, Celia Imrie, not to mention Kelly Macdonald, the underage love interest from Trainspotting (1996), now all grown up and a dead ringer for Jemma Redgrave. Expatriate Brit Angela Lansbury has great fun chewing the scenery as Aunt Adelaide. The title role is one that Emma Thompson has written for herself. And Nanny McPhee is her show, with Thompson radiating a mysterious sagacity every time she appears – one only wishes the film surrounding her had been a little more magical.
Emma Thompson returned playing the lead and writing the script with a sequel Nanny McPhee & the Big Bang/Nanny McPhee Returns (2010).
---
Trailer here
---