---
USA. 2007.
Crew
Directors – Ash Brannon & Chris Buck, Screenplay – Lisa Addario, Christian Darren, Don Rhymer & Joe Syracuse, Story – Christian Darren & Chris Jenkins, Producer – Chris Jenkins, Music – Mychael Dannas, Music Supervisor – Liza Richardson, Animation – Sony Pictures Imageworks, Senior Supervising Animator – David Schaub, Visual Effects Supervisor – Rob Bredow, Production Design – Paul Lassaine. Production Company – Sony Pictures Animation.
Voices
Shia LaBeouf (Cody Maverick), Jeff Bridges (Zeke 'The Big Z' Topanga/Geek), Zooey Deschanel (Lana Aliikai), Jon Heder (Chicken Joe), Diedrich Bader (Tank 'The Shredder' Evans), James Woods (Reggie Belafonte), Mario Cantone (Mikey Abramowitz), Brian Posehn (Glen Maverick), Dana Belben (Edna Maverick)
---
Plot
Filmmakers are shooting a documentary about the surfing penguin Cody Maverick. Cody tells how he grew up in Shiverpool in The Antarctic. When the surfing legend Zeke Topanga, known as The Big Z, came to The Antarctic he gave Cody a shell pendant and Cody grew up idolising him. The Big Z was then killed in competition up against Tank 'The Shredder' Evans. The annual Big Z memorial surfing competition was about to be held on the island of Pen Gu. When recruiter Mikey Abramowitz came to Shiverpool seeking talent for the competition, Cody begged to be taken. On Pen Gu, Cody challenged the bullying Tank to a surfing duel, only to be humiliatingly wiped out. He was saved by the lifeguard Lana who took Cody to the reclusive Geek to be patched up. Despondent about his humiliation, Cody was prepared to give up but Geek persuaded him to learn how to surf properly. It was then that Cody realised that Geek was in fact The Big Z. Under The Big Z's tutelage, Cody prepared to go into the competition up against Tank.
---
Surf's Up comes from Sony Pictures Animation, a division of the US distribution and sometimes production company Sony Pictures Entertainment and its visual effects subsidiary Sony Pictures Imageworks. Sony Pictures Animation are clearly trying to become new players in the increasingly heatedly contested competition for animation's slice of the box-office pie. The company made their debut with Open Season (2006) and subsequently went onto make Cloudy With a Chance of Meatballs (2009), Arthur Christmas (2011), The Pirates! Band of Misfits (2012), Hotel Transylvania (2012), The Emoji Movie (2017), Peter Rabbit (2018), The Mitchells vs the Machines (2021), Vivo (2021) and Wish Dragon (2021).
Surf's Up came out several months after the hit success of George Miller's Happy Feet (2006), which was likewise an animated film about talking penguins. Both films feature a lone penguin on the Antarctic ice shelf that is rejected or regarded as an oddball by the rest of penguins but finds their self-worth through the adoption of a human pastime – tap-dancing in Happy Feet, surfing here. Though Surf's Up received various dismissive reviews for falling in the shadow of the superior Happy Feet, it is probably coincidence of theme rather than imitation that is at play here simply due to the amount of time that it takes for an animated film to go through production.
Surf's Up is written to a formula. All the characters have predictable arcs. The story of the novice contender who is humiliated by the bullying popular favourite and struggles to find his game while being trained by a burned-out ex-champ is one that could serve as the basis of just about every sports film ever made from Rocky (1976) through The Karate Kid (1984), Teen Wolf (1985) and The Legend of Bagger Vance (2000). The rest of the characters adhere to animation standard – the little guy hero who must believe in himself; the egocentric windbag of a villain; the standard romantic interest; the comic-relief sidekick.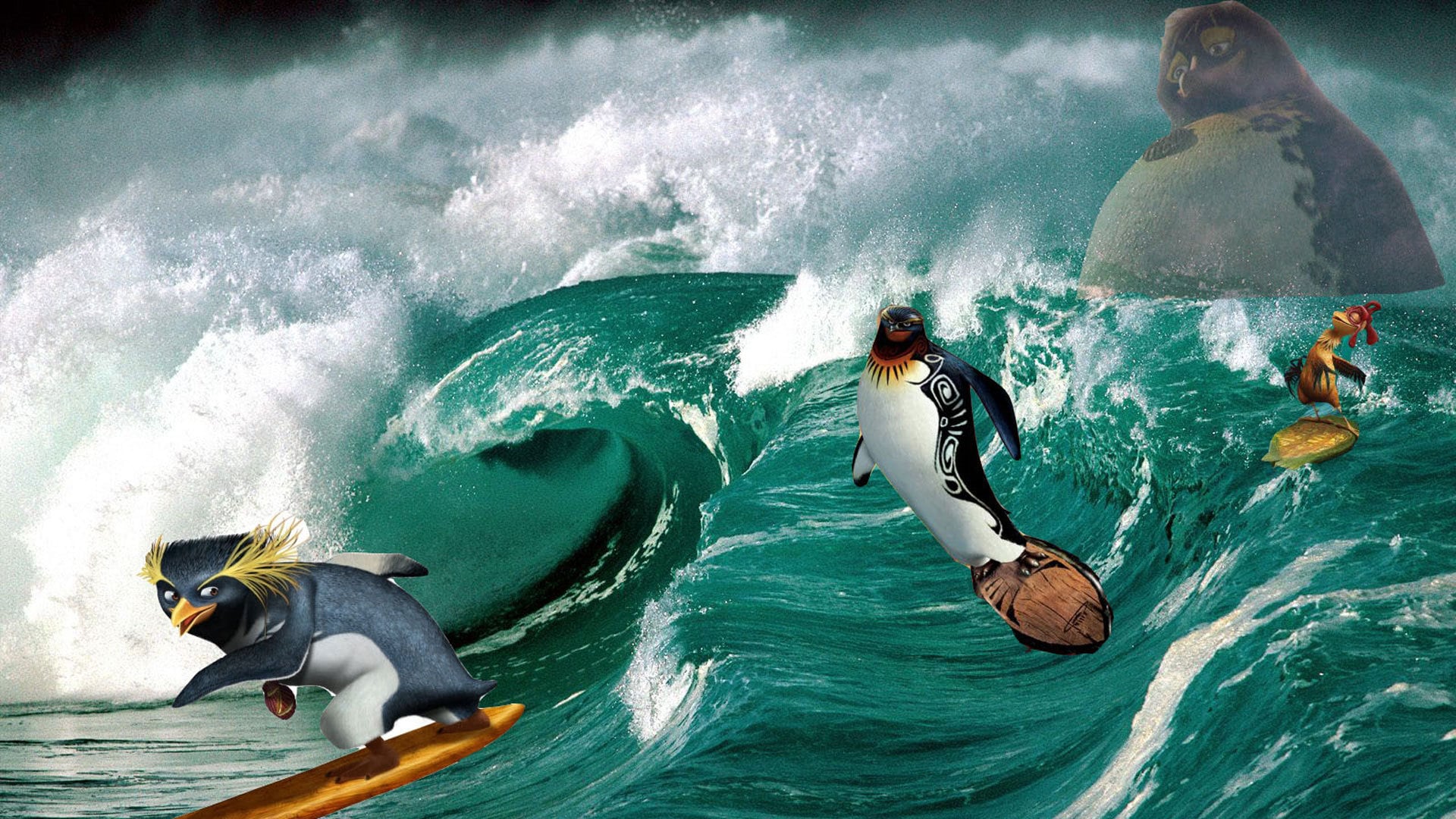 The surprise about Surf's Up, for a film that is so eminently predictable and for a film that is centred around surfing, a sport that this author has zero interest in, is that it emerges with a great deal more likeability than one ever expected. Once we get past the introductory scenes and to the introduction of Geek/The Big Z, the film emerges with a good deal of natural, unforced humour. There are some particularly amusing scenes between Cody and The Big Z over the crafting of the surfboard. The focus is on warmth of humour and the character arcs, rather than the film constantly trying to get our attention with gags or making popular culture in-references. Much of the film ends up being stolen by a trio of adorably cute baby penguin interviewees.
Surf's Up is directed by Ash Brannon, who was previously a Pixar animator and co-directed Toy Story 2 (1999), and Chris Buck, who co-directed Disney's Tarzan (1999) and Frozen (2013). Brannon and Buck have the eccentric idea of making Surf's Up into the animated equivalent of a documentary (they themselves voice the two documentary directors). To this extent they have taken the oddball step of setting up interviews with characters and creating the animated likes of deliberately grainy video footage, even the animated equivalent of handheld camera shots. They were probably trying spoof the various Endless Summer live-action surfing documentaries, although in tone the characters that reveal themselves through deadpan interviews is taken straight from the leaf of director Christopher Guest – Waiting for Guffman (1996), Best in Show (2000), A Mighty Wind (2005). The animation throughout manages to be unobtrusively excellent. Water has always been one of the most difficult elements that animators have found to conduct convincingly but the waves and beaches here have an exquisite naturalness to them.
Surf's Up 2 Wavemania (2017) was a direct-to-video sequel.
---
Trailer here
---