---
Crew
Director – Nora Ephron, Screenplay – Delia Ephron & Nora Ephron, Based on the TV Series Created by Sol Saks, Producers – Nora Ephron, Lucy Fisher, Penny Marshall & Douglas Wick, Photography – John Lindley, Music – George Fenton, Visual Effects Supervisor – Carey Villegas, Visual Effects – Sony Pictures Imageworks, Special Effects Supervisor – Mike Meindardus, Production Design – Neil Spisak. Production Company – Columbia/Red Wagon Entertainment/Douglas Wick/Parkway.
Cast
Nicole Kidman (Isabel Bigelow), Will Ferrell (Jack Wyatt), Michael Caine (Nigel Bigelow), Shirley MacLaine (Iris Smythson), Kristin Chenoweth (Maria Kelly), Jason Schwartzman (Ritchie), Heather Burns (Nina), Carole Shelley (Aunt Clara), Steve Carell (Uncle Arthur), Katie Finneran (Sheila), David Alan Grier (Jim Fields)
---
Plot
Isabel Bigelow is a witch who desires to lead an ordinary life and have a man to fall in love with her. She uses her powers to set up house and then decides that she needs to find a job. Meanwhile, Hollywood actor Jack Wyatt is down on his luck after the big flop of his last film and agrees to take the lead in a revival of the 'Bewitched' tv series, playing the role of Darrin. He insists that a total unknown be cast as Samantha. When he comes across Isabel in a coffee shop, he decides that she is perfect for the part and persuades her to accept the role. Not long after shooting begins, Isabel realizes that Jack has made the show into a vehicle centred around him and that she is regarded as irrelevant. In going to vent her mind to him, the two find themselves attracted to one another. However, as they are drawn together, she has difficulty explaining to him that she is a witch.
---
The sitcom Bewitched (1964-72) was a big hit in its day. Bewitched was fairly much a supernatural variation on I Love Lucy (1951-7) thrown together with the basic idea of the domesticated witch taken from I Married a Witch (1942), but was popular enough with audiences that it stayed on the air for seven seasons and remains in constant re-runs to this day. Variations on the format of women with mysterious powers or fantastical domestic situations became all the rage for a time, producing a spate of similar shows such as My Living Doll (1964), I Dream of Jeannie (1965-70), The Flying Nun (1967-70), The Ghost and Mrs Muir (1968-70) and Nanny and the Professor (1970-1). The central focus of Bewitched was Elizabeth Montgomery, cast as witch Samantha Stevens – who did all her magic by twinkling her nose – who is married to ad exec Darrin Stevens (Dick York, who was replaced by Dick Sargent in the fifth season after York bowed out due to health problems). The dramatic conflict of the series was incredibly simple – Darrin doesn't want Samantha using her magical powers, nevertheless most situations require her to use some sort of sorcerous intervention. Most of these situations were ones created by Samantha's mother Endora (Agnes Moorehead), a witch who doesn't like Darrin (nor he her) and often did things to torment him.
The series was likeable in its banal and formulaic way (it, for example, rarely ever strayed outside of the living room of the Stevens home). Part of the show's appeal was undeniably its central characters. The appealingly sexy Elizabeth Montgomery seemed to play in a state of perpetual panic with eyes wide agog (although apparently Elizabeth Montgomery hated the role and wanted to leave throughout – after the series ended, she refused to ever do the nose twinkle in public and spent the rest of her career up unto her death in 1995 playing serious dramatic roles at 180 degrees remove). Dick York played full of contorted OTT grimaces – in any other series, he would be the pratfalling anal-retentive bureaucrat. And then there was Agnes Moorehead (who was nominated six times for an Emmy for her role, one more than Elizabeth Montgomery was) who played Endora while seeming to channel Bette Davis in full-blown camp flight. The show was later spun off as an animated series Tabitha and Adam and the Clown Family (1972) from Hanna-Barbera featuring the two children from the show, and the live-action Tabitha (1977) starring Lisa Hartman as the now grown-up daughter, although this only lasted twelve episodes.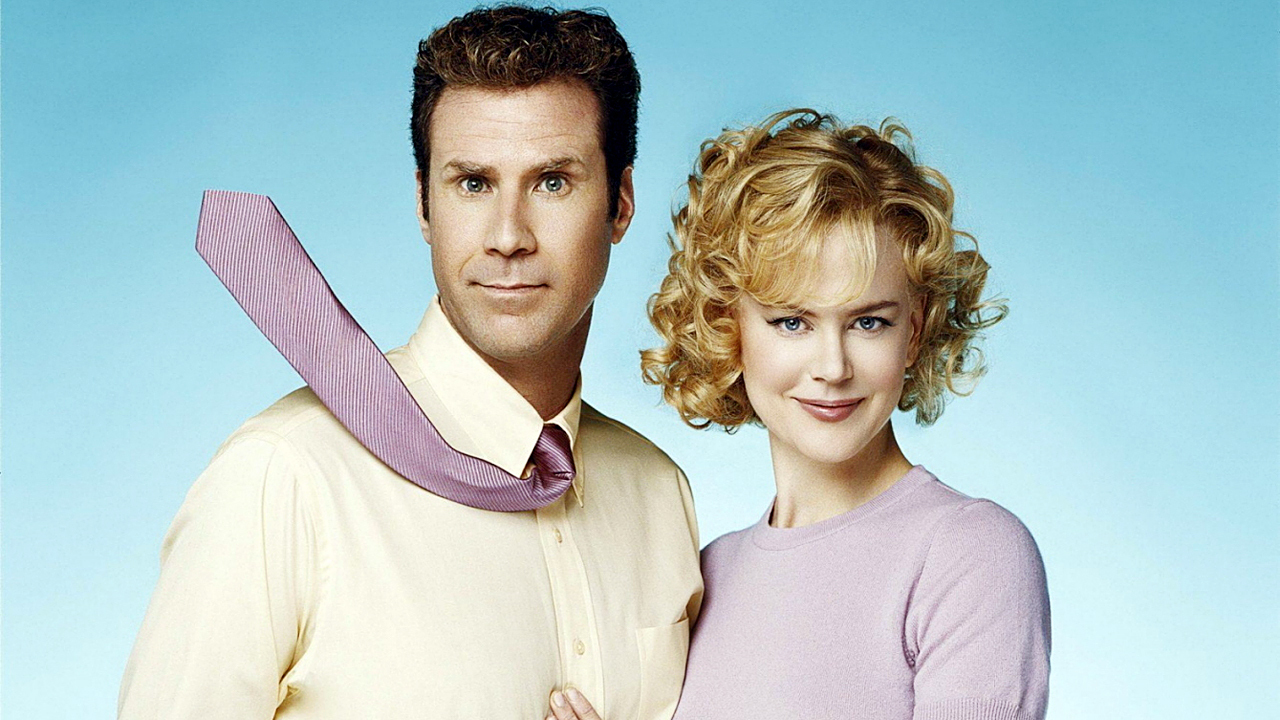 Here Bewitched becomes another tv series of the 1960s/70s to be resurrected up on the big screen, joining the likes of The Addams Family (1991), The Beverly Hillbillies (1993), The Fugitive (1993), Car 54, Where Are You? (1994), The Flintstones (1994), The Brady Bunch Movie (1995), Flipper (1996), Maverick (1996), Mission: Impossible (1996), Leave It to Beaver (1997), The Saint (1997), The Avengers (1998), Lost in Space (1998), The Mod Squad (1999), My Favorite Martian (1999), Wild Wild West (1999), Charlie's Angels (2000), I Spy (2002); Scooby-Doo (2002), Starsky & Hutch (2004), Thunderbirds (2004), The Dukes of Hazzard (2005), The Honeymooners (2005), Miami Vice (2006), Transformers (2007), Get Smart (2008), Speed Racer (2008), Land of the Lost (2009), Star Trek (2009), The A-Team (2010), Yogi Bear (2010), Dark Shadows (2012), The Sweeney (2012), 21 Jump Street (2012), The Equalizer (2014), Jem and the Holograms (2015), The Man from U.N.C.L.E. (2015), Dad's Army (2016), Baywatch (2017), CHiPs (2017), Fantasy Island (2020) and The Munsters (2022). The idea of remaking Bewitched has been around for at least ten years, with director Penny Marshall, who stays on as producer here, having at one point planned a version with Meryl Streep as Samantha and Barry Humphries!!!! as Endora.
Bewitched finally emerged in 2005 under the hands of Nora Ephron. Nora Ephron is a former screenwriter – having been Academy Award nominated for her scripts for Silkwood (1983) and When Harry Met Sally … (1989). After becoming a director, Ephron had a huge hit with her second film the romance Sleepless in Seattle (1993) and went onto the likes of the flop comedy Mixed Nuts (1994); the angel romantic comedy Michael (1996); You've Got Mail (1998), a film about e-mail romance that felt like it was made by people who had never logged on in their lives; the John Travolta comedy Lucky Numbers (2000) about a lottery scam; and Julie and Julia (2009). I must admit to not being a particular fan of Nora Ephron's films. It's not anything to do with typical bloke aversion to the Chick Flick label that most of Ephron's films fall under – it's more that her films seemed made with a frothy bubbliness that emerges as too cute for its own good.
Bewitched suffers from the same problem. In remaking the series, Nora Ephron and her co-writing sister Delia have served the concept up in a way that seems postmodern to the point of being precious – namely that Nicole Kidman is a witch who desires a normal life and marriage who then gets the role as Samantha in a remake of the original show. There are times that the play between the two is cleverly conducted – like the audition scene where Nicole Kidman's reactions with Will Ferrell blurs between lines in the script and her natural response as a witch. Ultimately though, what we have is not Bewitched up on the big screen but a standard Nora Ephron light romantic comedy about a couple finding mutual romantic fulfilment despite their differences – a la When Harry Met Sally …, Sleepless in Seattle and You've Got Mail – that just happens to use the Bewitched series as a backdrop. You often get the impression that Nora Ephron keeps remaking the same basic plot over and over.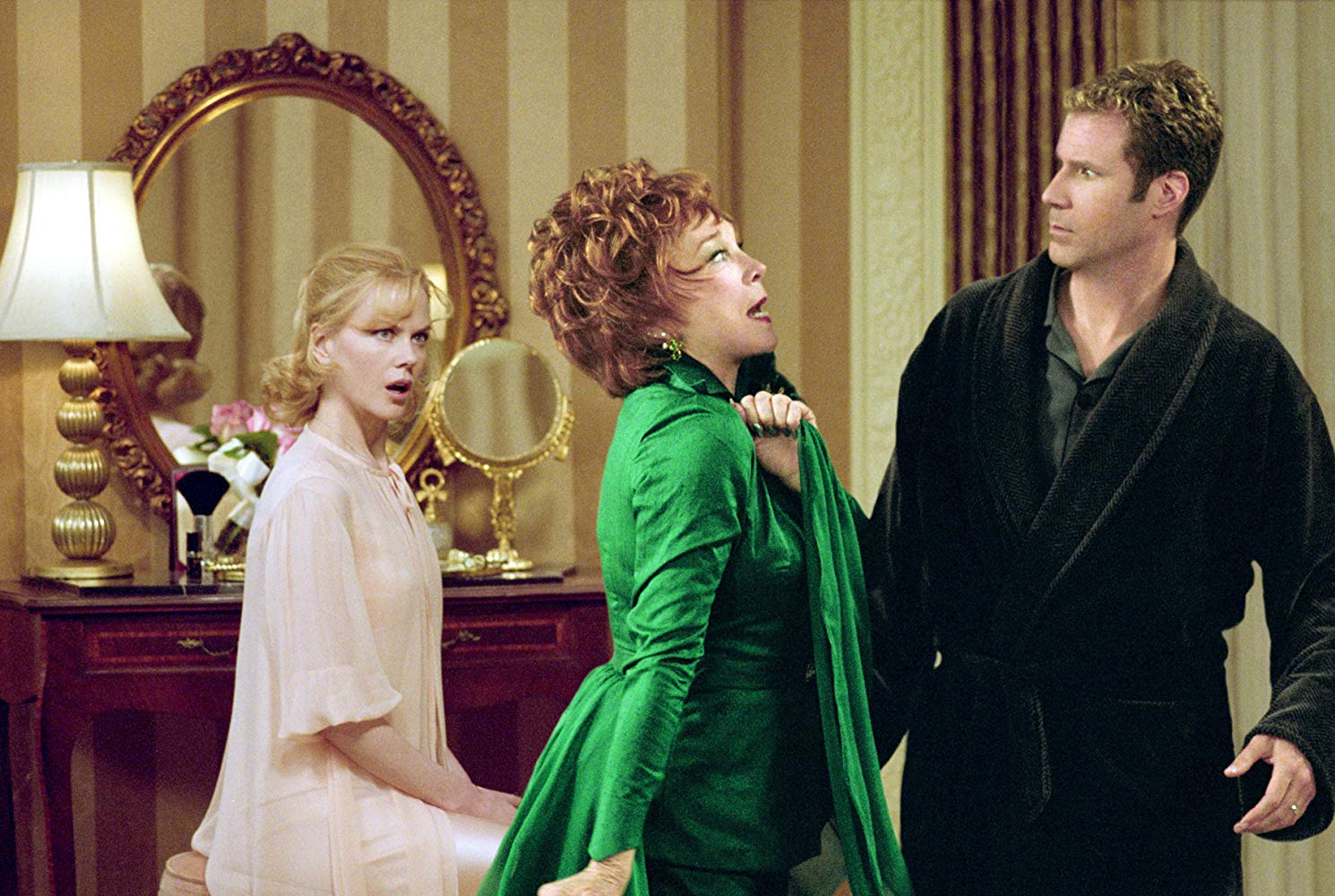 Ephron at least has an impressive cast. In terms of looking like the original characters, there are few actors better suited in terms to stepping into the roles of Samantha and Endora than Nicole Kidman and Shirley MacLaine. Yet for all the casting, this is one area where the film fails to ignite. Shirley MacLaine is an actress who can give the sort of arch show-stealing performance that Agnes Moorehead specialized in in her sleep. Despite this, Ephron fails to use Shirley MacLaine and gives us surprisingly few scenes where she gets to open up and do her stuff.
However, the biggest stumbling block is the pairing of Nicole Kidman and Will Ferrell. Both are actors at almost opposite extremes – Nicole Kidman is an exactingly studious method actor; while Will Ferrell, someone I have yet to warm to on screen, is a comic who emerged from success on Saturday Night Live (1975– ) into an A-list comedy career. Ferrell seems to suggest a mix of Ron Perlman and Jim Carrey and specializes in performances that make much of his big, lugubrious frame flailing about in hysterics. Indeed, it is of some irony that in the film here Will Ferrell plays an egocentric character who intentionally upstages Nicole Kidman's Samantha as in watching the film Ferrell's performance similarly has a showboating Look at Me loudness that is constantly dragging the attention away to him from the more subdued Kidman. The two do not seem to connect romantically – there is never any sense in the film that what they are engaged in has a chemistry that goes any further than the moment the shot ends.
Bewitched is a film that gets by on an occasional cuteness of one-liners and a bubbliness. Ultimately, there is the sense of another tv show having been made a mess of by people who have decided to write their own interpretations onto it and of Nora Ephron herself having failed to make a film that amounts to anything more than the sum of its self-congratulatory cuteness.
---
Trailer here
---