---
Crew
Director/Screenplay – Britt Allcroft, Producers – Britt Allcroft & Phil Fehrle, Photography – Paul Ryan, Music/Songs – Hummie Mann, Original Thomas Songs – Jnr Campbell & Mike O'Donnel, Lyrics – Don Black & Sue Ennis, Visual Effects Supervisor – Bill Neil, Visual Effects – Command Post TOYBOX, C.O.R.E. Digital Pictures (Supervisor – Bret Culp), Gajdecki Visual Effects & TOPIX-Mad Dog, Model Supervisor – Stephen Asquith, Model Effects Supervisor – David Eves, Special Effects Supervisor – Peter Hutchinson, Production Design – Oleg M. Savytski. Production Company – Destination Films/Gullane Pictures/The Magic Railroad Co Ltd.
Cast
Alec Baldwin (Mr Conductor), Mara Wilson (Lily), Michael E. Rodgers (C. Junior), Peter Fonda (Burnett Stone), Cody McMains (Patch), Didi Conn (Stacy Jones), Russell Means (Billy Twofeathers)
Voices
Eddie Glen (Thomas), Neil Crone (Diesel 10/Splatter/Gordon), Susan Roman (James), Colm Feore (Toby), Britt Allcroft (Lady)
---
Plot
At Shining Time railway station, a miniature conductor lives inside a painting on the wall. He regularly uses his magical whistle to transport himself to the island of Sodor where he tends the talking trains. After transporting himself this time, he finds that there is no more of the magic gold dust that makes his whistle work left. Thomas the Tank Engine tries to help him piece together the clues as to where to find more gold dust. Meanwhile, young Lily goes to stay with her uncle Burnett Stone, who lives in misanthropic seclusion. She finds that he mourns over Lady, a former talking train that used to ride the magic railroad between Shining Time and Sodor but that he has lost the secret of making her engine run. Lily is magically transported to Sodor where she and Thomas try to find the magic buffers that open up the railroad in order to bring Lady back.
---
Thomas and the Magic Railroad is a cinematic offshoot of the amazingly popular children's tv series Thomas the Tank Engine/Thomas & Friends (1984–2021). The tv series was based on a series of children's stories written by Wilbert Awdry, an Anglican minister. Awdry originally conceived the stories in the 1930s to entertain his son Christopher who was suffering from measles and was soon pressed by Christopher and others to write them down. The first published was The Three Railway Engines (1945) and Awdry wrote 26 other Thomas the Tank Engine books up until 1972, when he announced his retirement. In 1983, the now grown Christopher Awdry turned his hand to writing for his own son and published a further ten books up until 1996.
Thomas the Tank Engine never became a huge phenomenon until the arrival of the tv series, which incarnated the stories with simple anthropomorphic model trains. The series was the brainchild of Britt Allcroft who had the eccentric ingenuity of persuading former Beatle Ringo Starr to lend his voice to the role of the narrator. The American version of the series, also with Ringo Starr narrating, was Shining Time Station (1990-3), although this did not prove as popular as the internationally released British version. The popularity of the series eventually saw the release of this feature-film spinoff.
A few concessions have been made to sell Thomas and the Magic Railroad in the American marketplace. The British cast and voices from the tv series has been replaced by some well-known American faces – children's star Mara Wilson, Peter Fonda and Alec Baldwin (who makes a complete turnabout from the usual coldly ruthless roles that he plays in thrillers. Baldwin also narrated the US version of the tv series from the fifth season onwards). For the most part though, the film retains the low-tech look of the tv series and never strays too far from its simple anthropomorphised talking railway vehicles.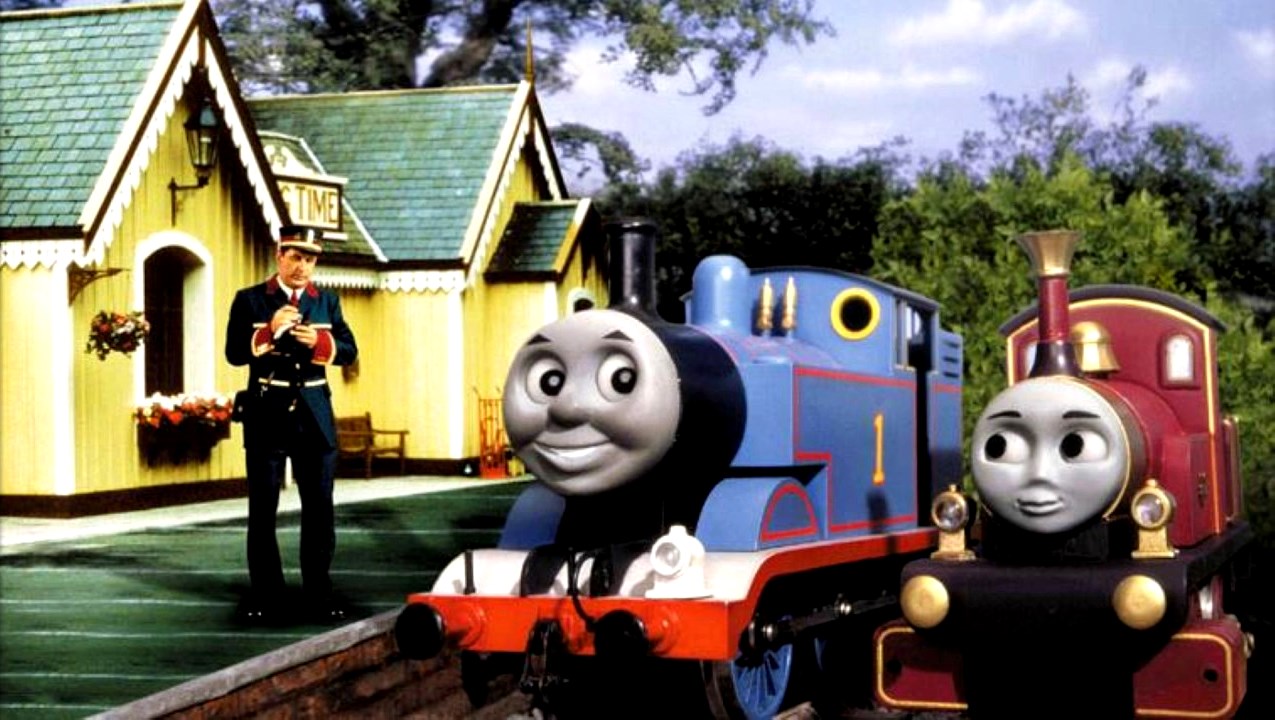 Unfortunately – and this is a huge unfortunately – it is a film that makes no concessions to anybody who is not familiar with the tv series or books. Quite simply, in not having followed the tv series, I must confess I didn't have the slightest idea what was meant to be going on. There is no clear differentiation made between the real live trains we see people riding about it and the talking, anthropomorphised ones with faces. It is never clear until some time into the film that the talking trains exist in some kind of magic realm that does not intersect with this world.
We are given no idea as to why Alec Baldwin is a miniature conductor who lives inside the painted mural of a cottage on the wall in a railway station house. It is not clear why he transports back and forth between his miniature station house and tending the talking trains. Undoubtedly, all of this makes a great deal of sense to its target children's audience. To this adult reviewer, it was like watching a game of cards being played without knowing the rules of the game.
---
---