---
Crew
Director/Screenplay – Jill Culton, Co-Director – Todd Wilderman, Producers – Suzanne Buirgy & Peilin Chou, Music – Rupert Gregson-Williams, Visual Effects Supervisor – Mark Edwards, Animation Supervisors – Ludovic Bouancheau, Hans Dastrup, Anthony Hodgson, Kristof Serrand & David Weatherly, Production Design – Max Boas. Production Company – DreamWorks/Pearl Studio/Shanghai Zhong Ming You Ying Film, Television, Culture and Media., Ltd..
Voices
Chloe Bennet (Yi), Albert Tsai (Peng), Tenzing Norgay Trainor (Jin), Joseph Izzo (Everest), Sarah Paulson (Dr Zara), Eddie Izzard (Burnish), Tsai Chin (Nai Nai), Michelle Wong (Yi's Mom), Rich Dietl (Goon Leader)
---
Plot
Yi lives in Shanghai with her mother and grandmother. Her father has passed away and Yi spends all her time working with the goal of earning enough money to take the trip across China he always wanted to take her on. Meanwhile, a Yeti escapes from a laboratory where it has been captured by scientist Dr Zara on behalf of the billionaire Burnish who collects rare creatures. Yi finds the Yeti hiding on her rooftop and befriends it, discovering it only wants to return to its home on Mount Everest. Burnish orders his private security forces to retrieve The Yeti. Everest, as Yi nicknames it, is discovered by her cousin Peng and neighbour Jin. As Burnish's security come hunting the Yeti, Yi, joined by Peng and Jin, flee and jump aboard a ship that will take the Yeti back to the Himalayas. They journey across country, visiting the locations that Yi's father wanted her to take her to, all the while heatedly pursued by Dr Zara and Burnish's security.
---
Abominable is the 35th film from DreamWorks Animation. It follows the likes of Antz (1998), The Prince of Egypt (1998), The Road to El Dorado (2000), Shrek (2001), Spirit: Stallion of the Cimarron (2002), Sinbad: Legend of the Seven Seas (2003), Shark Tale (2004), Madagascar (2005), Over the Hedge (2006), Bee Movie (2007), Kung Fu Panda (2008), Monsters vs Aliens (2009), How to Train Your Dragon (2010), Megamind (2010), Rise of the Guardians (2012), The Croods (2013), Turbo (2013), Mr. Peabody & Sherman (2014), Home (2015), Trolls (2016), The Boss Baby (2017) and Captain Underpants: The First Epic Movie (2017), and assorted sequels to many of these.
Abominable comes from Jill Culton, who started as a story and storyboard artist at Pixar and then co-wrote the story for Monsters, Inc. (2001). She later moved to DreamWorks where she co-directed Open Season (2006). Abominableis her first solo writing and directing effort. The film was made as a co-production with several Chinese studios.
Abominable is essentially a variant on DreamWorks' co-founder Steven Spielberg's E.T. – The Extra-Terrestrial (1982). There's the same essential story of a loner kid – a girl as opposed to a boy and slightly older in years – from a family with a missing parent who befriends a non-human creature. In both films, the kid keeps the creature hidden from the adults in their home. He/she and a couple of other kids facilitate the creature's escape and help it return home while avoiding villainous scientists who want to capture it. The creature in both films also has an ability to cause plants to grow, while its nearness has some empathic effect on the hero/heroine – affecting Elliott's health, here imbuing Yi's violin playing with magical ability.
It all results in amiable film that passes by without particularly sticking in memory. There are a suitable number of knockabout slapstick scenes, although nothing that brings more than a vague smile to the face. There are a lot of the scenes that young kids seem to like with the group fleeing giant-sized blueberries or riding on a tide of pollen. There are a suitable number of scenes designed to make you go "awwww", although one scene where Yi stands on the feet of the Leshan Giant Buddha and creates magic with her violin-playing has is awe-filled moment undercut by the banality of being accompanied by Coldplay's Fix You (2005).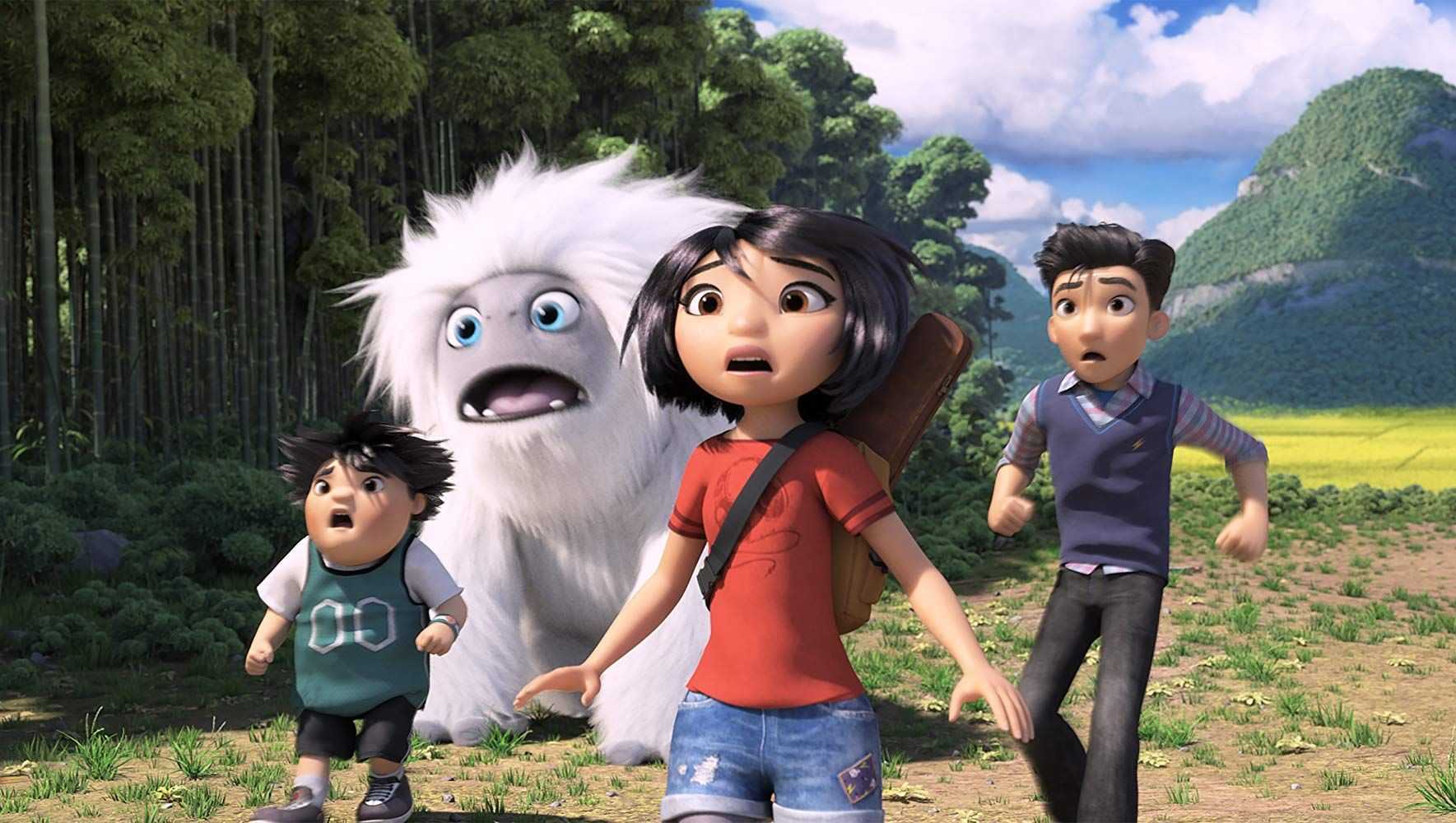 I also had a problem with some of the writing. Far too often the plot is dependent on what I call for the want of a better word 'Yeti Magic' where the Yeti meditates and causes plants to grow or the surroundings commune with him. This is used as a quick plot solution in almost every dramatic situation and just signals lazy storytelling. The other is the villainy of the show that seems to require an ill-motivated switch about halfway through where the lady scientist suddenly becomes a villain for no apparent reason and the bad guy billionaire has a sudden change of heart to become the redeemable nice guy.
However, the biggest problem I had with Abominable wasn't so much its story or banality, which are fairly standard for the modern animated film, but rather a political one. The film is a Chinese co-production. This makes sense. China is a sizeable new market that Hollywood has been trying to court in the last few years with films that include scenes shot in China such as in Iron Man Three (2013), Transformers: Age of Extinction (2014) and Now You See Me 2 (2016), or in the employment of actors that have appeal at the Chinese box-office as in Independence Day: Resurgence (2016), Rogue One (2016), xXx: Return of Xander Cage (2017) and Pacific Rim: Uprising (2018). As a result, Abominable takes place entirely in China, featuring principally Chinese-American voice actors.
The downside of this chasing the yen is that Hollywood has become awfully cautious about anything that will be seen as criticising China and its authoritarian ways. Remember how all mention of Tibet had to be excised from Doctor Strange (2016)? Or the recent controversy over Blizzard censoring a gamer for voicing support for the Hong Kong protestors and mobile app companies removing content that may have been seen as supportive to the pro-democracy factions.
Abominable essentially becomes a giant tourist infomercial for what a great and amazing country that China is. The journey that Yi goes on is strange to say the least. She starts in Shanghai, which is on the easternmost coast of China. Rather than take the 3600 km trip west over land to Leshan and then to the Himalayas, she instead takes a ship on a circuitous route down through the South China Seas. She then somehow walks several thousand kms up into the Gobi Desert, which at its southernmost reach is in the North of China and then travels back down to visit the Giant Buddha of Leshan in the centre of the country and then a thousand kms even further west to the Himalayas. Without a map to show you, it looks like a giant zigzag from the east coast to the bottom to the top of China back to the middle and then across to the west when in fact all that they really needed to do was head steadily westward from Shanghai in a journey that would have covered probably half the distance.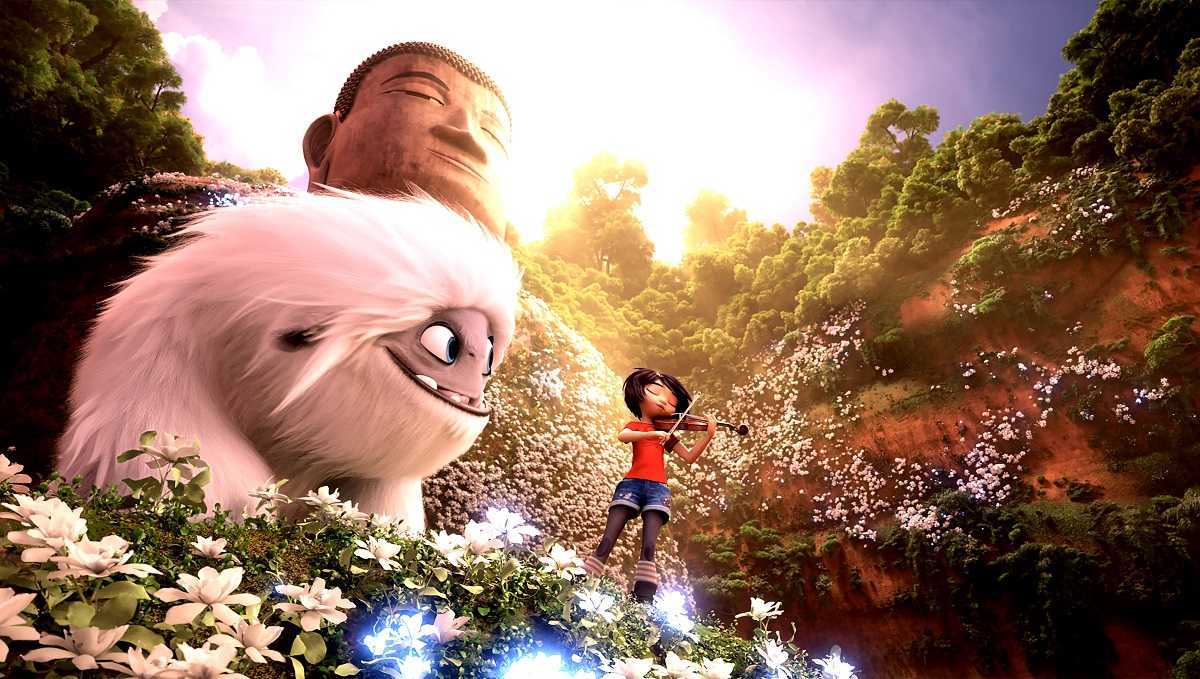 Of course, the real reason for such a zigzag travelogue is that it politicises what is otherwise an innocuous children's film. The South China Seas (or the so-called Nine Dash Line), which borders Vietnam, Malaysia and the Philippines, is an area through which much shipping passes and contains oil deposits. In the 2010s, this has been heavily disputed by China and countries that border the area with China threatening militarily and ignoring international treaties to claim islands as their own. On Yi's map, we see this territory is being claimed as Chinese. The upshot of this was that Malaysia and Vietnam refused to screen the film.
The bigger issue though is the claim of Tibet as Chinese territory. (Tibet is not mentioned by name but Mount Everest sits right on the border with one half in Tibet and the other in Nepal). In 1950, China invaded the independent neighbouring country of Tibet, deposed the government of the Dalai Lama and has since claimed the territory as its own. Though it is referred to as Tibet Autonomous Region, the area is Chinese ruled, has become regarded as a territory that China has readily expanded into in its quest for lebensraum, and in doing so has racked up an atrocious record of human rights abuses and curtailments of freedom against the local Tibetan population. In the film we merely receive a cleaned up picture where Mount Everest and by implication Tibet is part of Chinese territory. (Not to mention a Mount Everest that is remarkably free of the large quantities of trash and dead bodies littering its slopes or of Westerners that have taken over and turned the mountain into an overcrowded tourist destination. Or even the fact that none of the party ever seem to experience any problems breathing or require oxygen support in the rarefied air).
In other words, what we have is a propaganda film in the guise of an amiable children's film. There is no ostensible reason why the story had to include a detour down through the Nine Dash Line or be specific in including Mount Everest other than to provide the opportunity for Chinese to beat a tub and extend a figurative middle finger to everyone who disagrees with their aggressive territorial claims. I suppose it would be possible to write a cute, sweet film about German children going on an adventure through Nazi-occupied Poland or Japanese children in occupied Manchuria – and any of these might be sweetly uplifting. On the other hand, you could not help but notice what said works would avoid saying and the vast assumptions they would make about the occupiers' rightful place in being there. It is this that essentially makes Abominable into US-created propaganda for the Chinese regime. A pox on Jill Culton, DreamWorks, Sarah Paulson, Eddie Izzard and Coldplay and all the sell-out collaborators in this farce.
---
---