USA. 2007.
Crew
Director/Screenplay – Daniel Waters, Producers – Cary Brokaw, Elizabeth Zox Friedman & Greg Little, Photography – Daryn Okada, Music – Rolfe Kent, Digital Effects – iO Film, Production Design – John Larena. Production Company – Cary Brokaw/Avenue Pictures/Sandbar Pictures.
Cast
Simon Baker (Roderick Blank), Winona Ryder (Death Nell/Gillian De Raisx), Mindy Cohn (Trixie), Leslie Bibb (Dr Miranda Storm), Robert Wisdom (Alpha), Patton Oswalt (Fred), Tanc Sade (Delta), Julie Bowen (Fiona Wormwood), Sophie Monk (Cynthia Rose), Dash Mihok (Lester), Neil Flynn (Zack), Frances Fisher (Hope Hartlight), Jessica Kiper (Precious/Carlotta Valdes), Marshall Bell (Victor Rose III), Natassia Malthe (Bambi Kidd), Pollyanna McIntosh (Thumper Wint), Winter Ave Zoli (Alexis De Large), Greg Travis (Carl), Nicole Bilderbeck (Dr Mirabella Stone), Cindy Pickett (Roderick's Mother)
---
Plot
Roderick Blank is the successful head of a fast food corporation and is about to be married to Fiona Wormwood when he receives a mystery email that lists the name of every woman he has ever had sex with. He is surprised to find that the list runs past Fiona who is number 30 and goes all the way up to 101 names. A chance sexual encounter at his bachelor party helps him realise that the other names on the list are the women he will have sex with in the future. He calls off the wedding and sets out on a quest to find the other women on the list. This leads to many strange and peculiar encounters. Roderick is then approached by three men who tend the super-computer The Oracle, which is engaged in charting the human condition. They tell him how The Oracle spontaneously sent a group of people numerous emails that gave the date of their deaths and others, including Roderick, a list of all the people they will ever have sex with. Roderick soon becomes obsessed with trying to find the names on the list. He then realises that the last name on the list is a wanted serial killer nicknamed Death Nell and that reaching No 101 will mean his own death.
---
Sex and Death 101 is an interesting little effort from Daniel Waters. Waters is best known as a screenwriter and has a number of interesting credits to his name, including scripts for the likes of Heathers (1989), The Adventures of Ford Fairlane (1990), Hudson Hawk (1991), Batman Returns (1992), Demolition Man (1993) and Vampire Academy (2014). Waters previously made his directorial debut with Happy Campers (2001), a parody of the 1980s summer camp comedy. Unfortunately for Waters, Sex and Death 101 flopped badly upon opening, earning a total of only $23,000 during its theatrical run. (Happy Campers fared no better and was released direct to video).
Despite this, Sex and Death 101 is a potential undiscovered gem. It is an oddity that sits between easy genre pigeonholing. It starts out seeming like a frat boy comedy – maybe the nearest equivalent might be something like Tomcats (2001) – about a guy boasting/telling anecdotes about all the women he has laid. Certainly, the script trots out a few lines that make you think its focus is well into this territory – women referred to as 'bitches' or 'femi-nazis', for instance.
On the other hand, Daniel Waters seems to be serving up this kind of frat boy comedy with wryly self-aware trimmings of 1990s metrosexual style. Some of the encounters are amusing – notably a darkly funny (if predictable) one where Simon Baker ends up in the wrong bedroom in the dark and realises in the morning that he has slept with Sophie Monk's grandmother rather than her. Waters is considerably aided by lead actor Simon Baker who has a lightweight role but delivers it with a great deal of handsome charisma.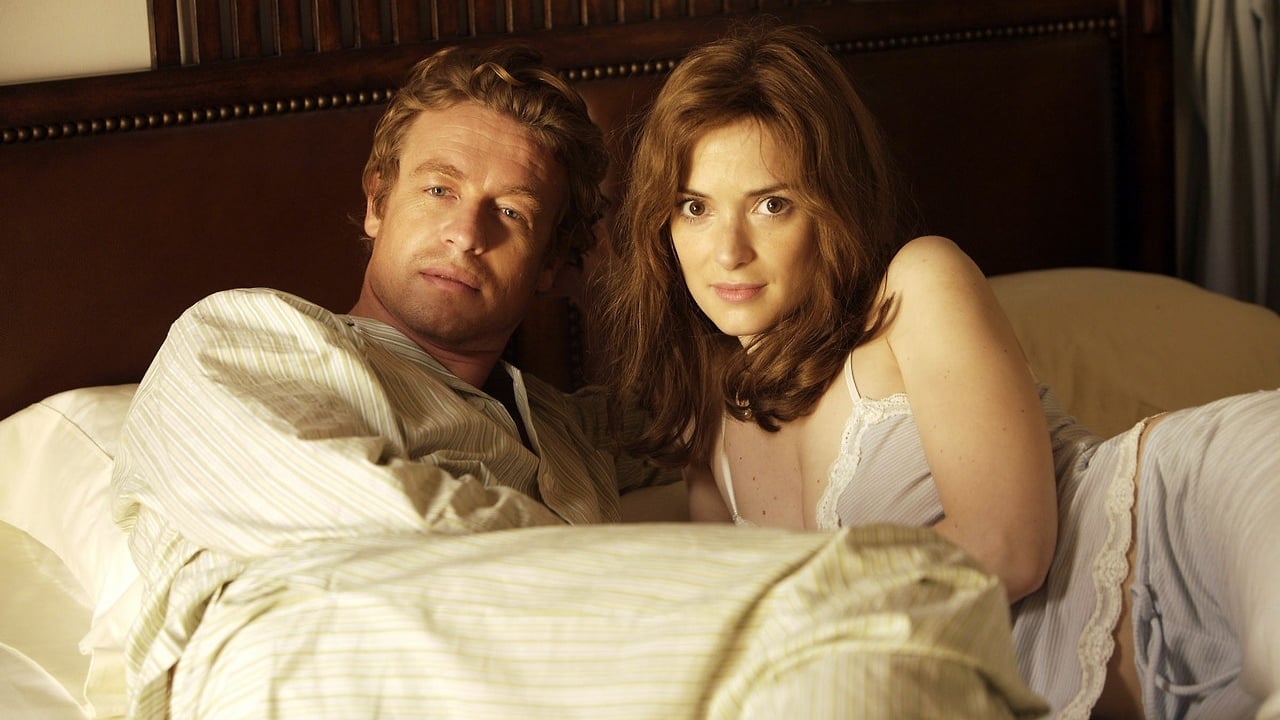 Sex and Death 101 soon confounds expectations. What starts out as a frat boy comedy evolves into an altogether different beast. Daniel Waters throws up some very nice pieces of writing – like the scene where Julie Benz walks out on Simon Baker and stops at the door with a beautiful little speech about how if she meant anything to him he would come and stop her.
The film reaches a positively fascinating ending where [PLOT SPOILERS] Simon Baker sits down with #101 Winona Ryder, resigned to his fate and both of them knowing what it means. She tells her story that turns into a peculiar anti-fairytale wherein she becomes like a reverse version of Snow White, killing people to do good. This is Winona Ryder having smartly reincarnated herself as a Goth princess, returning to the type of role she first came to attention with in Beetlejuice (1988). The film arrives at an interesting ending where the two of them take suicide pills together before a cop-out ending that oddly enough works where they go onto a happy life together.
One of the more amusing things about the film is the names of the various women on the list. Here Daniel Waters has clearly included a list of characters from his own screenplays and favourite films. Names spotted include:- Selena Kyle aka Cat Woman, who was of course the central character in Waters' Batman Returns script; Lenina Huxley who was Sandra Bullock's character in Waters' Demolition Man screenplay; Minerva Mayflower, Sandra Bernhard's character in Hudson Hawk; and Zuzu Petals, a character in Waters' The Adventures of Ford Fairlane. Elsewhere, one can spot Bambi Kidd and Thumper Witt, named after the duo of female acrobats in the James Bond film Diamonds Are Forever (1971) and given the surnames of the duo of male assassins in the same film; Alexis DeLarge, a feminised version of Malcolm McDowell's anti-hero in A Clockwork Orange (1971); a Barbarella Pygar after Jane Fonda's heroine and her angel lover in Barbarella (1968); a Constance Cummings after the actress of the 1930s and 40s; Rachel Owlglass, a character in Thomas Pynchon's novel V. (1963); Artemis Gordon, after Ross Martin's master of disguise in tv's The Wild, Wild West (1965-9); Vivian Darkbloom and Mona Farlow, after characters in Vladimir Nabokov's Lolita (1955); Carlotta Valdes, the woman Kim Novak believes herself to be the reincarnation of in Alfred Hitchcock's Vertigo (1958); Ethel Walters after the famous jazz singer; while Winona Ryder's Gillian De Raisx is named after Gilles De Rais, a 15th Century French serial killer and companion of Joan of Arc.
---
---