---
Crew
Director/Screenplay/Photography/Visual Effects Supervisor – Robert Rodriguez, Producers – Elizabeth Avellan & Robert Rodriguez, Music – George Oldziey, Robert Rodriguez & Carl Thiel, Visual Effects – Hybride & Troublemaker Digital, Special Effects Supervisor – John McLeod, Makeup Effects – K.N.B. EFX Group Inc, Production Design – Steve Joyner. Production Company – Troublemaker Studios/Imagenation Abu Dhabi/Media Rights Capital/Fifth Brain Inc.
Cast
Jimmy Bennett (Toe Thompson), Jolie Vanier (Helvetica Black), Trevor Gagnon (Loogie Shorts), Leslie Mann (Mrs Thompson), Jon Cryer (Mr Thompson), Kat Dennings (Stacey Thompson), James Spader (Carbon Black), Jake Short (Nose Noseworthy), William H. Macy (Dr Noseworthy), Campbell Westmoreland (Blinker #1), Zoe Webb (Blinker #2), Devon Gearhart (Cole Black), Rebel Rodriguez (Lug Shorts), Leo Howard (Laser Shorts), Angela Lanza (Teacher), Elizabeth Avellan (Voice of The Baby)
---
Plot
In the town of Black Falls, young Toe Thompson is frequently bullied in school. His greatest tormentor is Helvetica Black, the son of Carbon Black, the CEO of the company that runs Black Falls and whom Toe's parents work for. While being pursued by bullies, Toe picks up a strange coloured stone that they throw at him. Afterwards, he idly wishes for friends that are as unique as him whereupon he is suddenly visited by miniature UFOs. The wishing stone passes through the hands of various children and adults, their wishes creating the likes of castles besieged by bipedal crocodiles, giant booger monsters, Toe's friend Loogie creating a telephone attached to his head, or Toe's parents finding themselves fused into one body when they wish that they could be closer together, and Mr Black causing chaos and terror by wishing all his employees were more cutthroat and he the most powerful man in the world.
---
Robert Rodriguez is a director with an edgy cool. He first came to fame with slick, visually fired up modern-day Westerns like El Mariachi (1993) and Desperado (1995). He fell into the Tarantino camp around this time and made Tarantino associated efforts such as an episode of Four Rooms (1995) and the vampire film From Dusk Till Dawn (1996), while the two then collaborated on Grindhouse (1997) with Rodriguez making the hilarious Planet Terror (2007) segment. Elsewhere, Robert Rodriguez has made the witty high school alien body snatchers effort The Faculty (1998), the cult graphic novel adaptation Sin City (2005), Machete (2010) and and Machete Kills (2013).
Outside of these violent comic-books and films for adults, there is another Robert Rodriguez who likes to make kids films (and frequently ones where he incorporates his own children both in front of and behind the camera). Rodriguez's children's films began with the successful Spy Kids (2001), which spawned three sequels with Spy Kids 2: Island of Lost Dreams (2002), Spy Kids 3-D: Game Over (2003) and Spy Kids: All the Time in the World (2011), as well as the unrelated The Adventures of Sharkboy and Lavagirl in 3-D (2005).
Shorts is another of Robert Rodriguez's kid's films. It operates with a slim premise – kids find a magical stone that allows their wishes to come true. There are a great many films and stories that have been based around the granting of wishes and the unforeseen consequences of them coming true or what happens when the wisher gets what they wish for a little too literally. Shorts does nothing particularly innovative with the concept. The premise is largely a set-up to allow Robert Rodriguez to have fun – as with many children's films, the appeal is to the idea of fun and chaos unleashed, wreaking havoc upon the adult world and then everything being safely put back in the box and the status quo restored at the end. The film also ends with the cliched moral that humanity is too irresponsible to be able to handle powers such as these.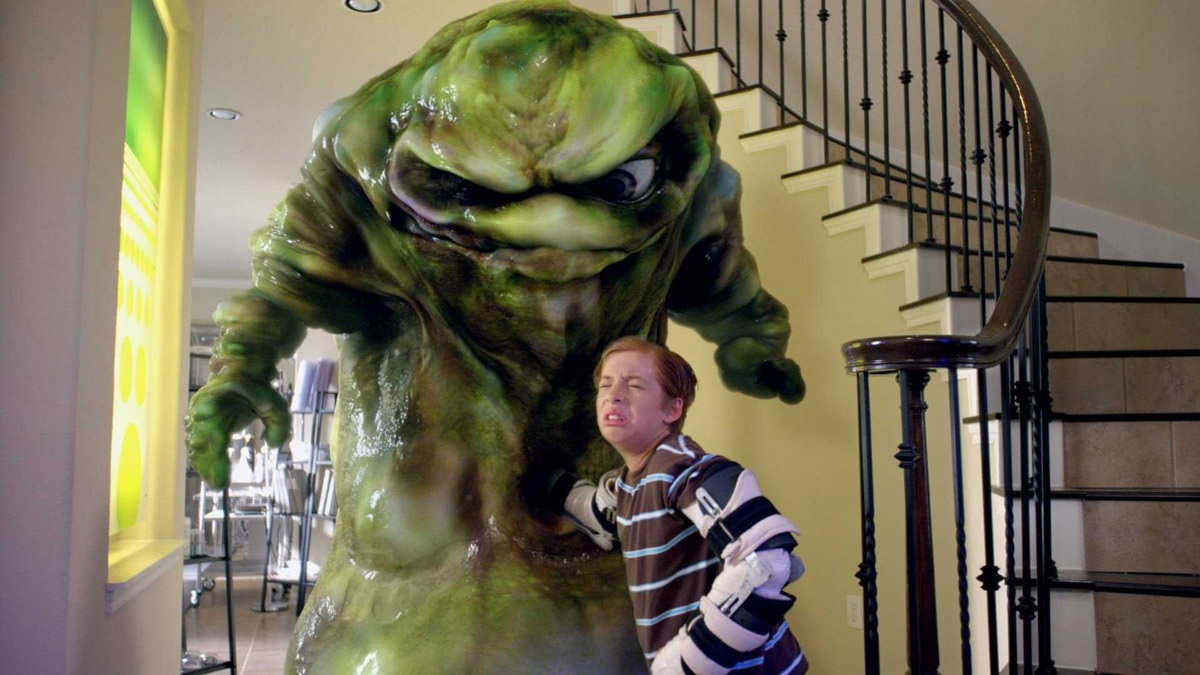 While on a script level Shorts is unremarkable, all the fun comes in Robert Rodriguez's on screen antics. The fun of the film is the same one that infects the first two Spy Kids films and to a lesser extent Sharkboy and Lavagirl and that is Robert Rodriguez's eye for the appealingly absurd. Be it images of two kids (Campbell Westmoreland and Zoe Webb) engaged in a staring competition that continues throughout most of the film; Jolie Vanier demonstrating the capacity to eat with her feet after being waylaid with broken arms; Trevor Gagnon spouting a telephone out of his head after malapropistically wishing for 'telephone-esis'; a talking baby that is the most intelligent person in the film (voiced by Rodriguez's wife Elizabeth Avellan); the sight of Trevor Gagnon and his brothers being pursued by crocodiles that have wished that they could walk bipedally (this is a film where it is perfectly acceptable for a kid to offer up the excuse that a crocodile ate his homework and it not be out of place); a monster that is a giant booger come to life, which Jake Short drives away by picking his nose and threatening to eat its kin; and a collection of mischievous miniature UFOs that befriend Jimmy Bennett, which have clearly been modelled on the UFOs in Batteries Not Included (1987).
Shorts is a fun film. It is not groundbreaking children's entertainment, or even a work where Robert Rodriguez seems to be trying to set the world alight. However, the visual gags are fun. Rodriguez ropes in cameos from well-known faces including William H. Macy, James Spader, Leslie Mann and Jon Cryer. The children all play capably, with the film largely being stolen by a stony-faced Jolie Vanier who could almost be a clone sister of Christina Ricci around the period of the The Addams Family (1991) and sequel.
Robert Rodriguez's other films of genre interest are the vampire/getaway thriller From Dusk Till Dawn (1996); the witty teen body snatchers film The Faculty (1998); the juvenile spy adventure Spy Kids (2001) and sequels Spy Kids 2: Island of Lost Dreams (2002), Spy Kids 3-D: Game Over (2003) and Spy Kids: All the Time in the World (2011); the graphic novel adaptation/film noir pastiche Sin City (2005) and Sin City: A Dame to Kill For (2014); the children's film The Adventures of Sharkboy and Lavagirl in 3-D (2005); the zombie film Planet Terror (2007), half of the Quentin Tarantino collaboration Grindhouse (2007); Machete Kills (2013), a sequel to his earlier Mexican-themed action film that frequently enters into science-fiction territory; the manga adaptation Alita: Battle Angel (2019); Red 11 (2019), a mind-bending work set during an experimental drug trial; and the kid superheroes film We Can Be Heroes (2020). Rodriguez has also produced From Dusk Till Dawn 2: Texas Blood Money (1999), From Dusk Till Dawn 3: The Hangman's Daughter (2000) and Predators (2010), as well as developed the tv series From Dusk Till Dawn (2014-6).
---
---