---
USA. 2009.
Crew
Director – Hoyt H. Yeatman Jr., Screenplay – The Wibberleys, Story – David P.I. James & Hoyt H. Yeatman Jr., Producer – Jerry Bruckheimer, Photography (3-D) – Bojan Bazelli, Music – Trevor Rabin, Music Supervisor – Kathy Nelson, Visual Effects Supervisor – Scott Stokdyk, Animation Supervisor – Troy Saliba, Visual Effects – Asylum (Supervisors – Mitchell S. Drain & Nathan McGuinness) & Sony Pictures Imageworks, Special Effects Supervisor – Stan Parks, Production Design – Deborah Evans. Production Company – Disney/Jerry Bruckheimer Productions.
Cast
Zach Galifianakis (Ben Kendall), Bill Nighy (Leonard Saber), Will Arnett (Agent Killian), Kelli Garner (Marcie), Gabriel Casseus (Agent Trigstad), Justin Mentell (Terrell), Tyler Patrick Jones (Connor Goodman), Jack Conley (Agent Carter), Niecy Nash (Rosalita), Piper Mackenzie Harris (Penny Goodman), Loudon Wainwright III (Grandpa Goodman), Chris Ellis (FBI Director)
Voices
Sam Rockwell (Darwin), Jon Favreau (Hurley), Penelope Cruz (Juarez), Nicolas Cage (Speckles), Steve Buscemi (Bucky), Tracy Morgan (Blaster)
---
Plot
Ben Kendall runs a division of the FBI where he has trained several genetically engineered guinea pigs, as well as a mole and a fly, to act as mission operatives. G-Force, as they call themselves, conduct a successful mission to break into the home of billionaire technology entrepreneur Leonard Saber, head of the Saberlinc multinational, and procure a computer file that refers to Operation Clusterstorm where they believe that Saber is trying to dominate the world. However, when they return to base, they are puzzled to find the file refers to no more than plans for a coffee machine. The officious Agent Killian then comes, determined to shut down G-Force. The guinea pigs sneak out, only to be caged and put on sale in a pet store. G-Force leader Darwin and the others try to escape their cages and rescue the rest of the team who have been adopted as pets. From there, they try to stop Saber before the activation of Operation Clusterstorm, which will turn all Saberlinc appliances into killing machines.
---
Blame it all on Babe (1995). Babe showed that what had previously been the domain of animated films – fantasies where the animals are anthropomorphized characters that talk and have their own lives oblivious to the human world – could be conducted in live-action using a judicious blend of animatronics and CGI effects. Babe was a modest success at the box-office but the larger effect it had was that it opened the gates for a deluge of films featuring usually talking CGI animals reacting in a live-action environment with the likes of 101 Dalmatians (1996), MouseHunt (1997), Dr. Dolittle (1998), Stuart Little (1999), Animal Farm (1999), Cats & Dogs (2001), Garfield (2004), Racing Stripes (2005), Charlotte's Web (2006), Alvin and the Chipmunks (2007), Underdog (2007), Beverly Hills Chihuahua (2008), Furry Vengeance (2010), Yogi Bear (2010), Hop (2011), Zookeeper (2011), Paddington (2014), The Jungle Book (2016), Christopher Robin (2018), Peter Rabbit (2018), Watership Down (2018), Dumbo (2019), Lady and the Tramp (2019), The Lion King (2019) and Clifford the Big Red Dog (2021), most of which have produced sequels.
G-Force is an unlikely combination of talents – a talking animals film that is a co-production between Disney (who can do this type of thing in their sleep by now) and producer Jerry Bruckheimer, the king of loud and noisy action films like Top Gun (1986), Con Air (1997), Gone in 60 Seconds (2000), Black Hawk Down (2001), the National Treasure films and most of Michael Bay's early films including Bad Boys (1995), Armageddon (1998) and Pearl Harbor (2001), as well as tv's CSI: Crime Scene Investigation (2000-15) and most of its spinoffs and imitators. It should be noted that the last time that Jerry Bruckheimer and Disney came together produced Pirates of the Caribbean: The Curse of the Black Pearl (2003) and sequels. The director chosen is Hoyt Yeatman Jr., who is better known as a visual effects supervisor at DreamQuest Images. Yeatman has worked on numerous films, including supervising the effects on The Blob (1988), The Abyss (1989) for which he won an Oscar, Mighty Joe Young (1998), Mission to Mars (2000) and the aforementioned Underdog, as well as several other Jerry Bruckheimer productions. Yeatman made his directorial debut with G-Force.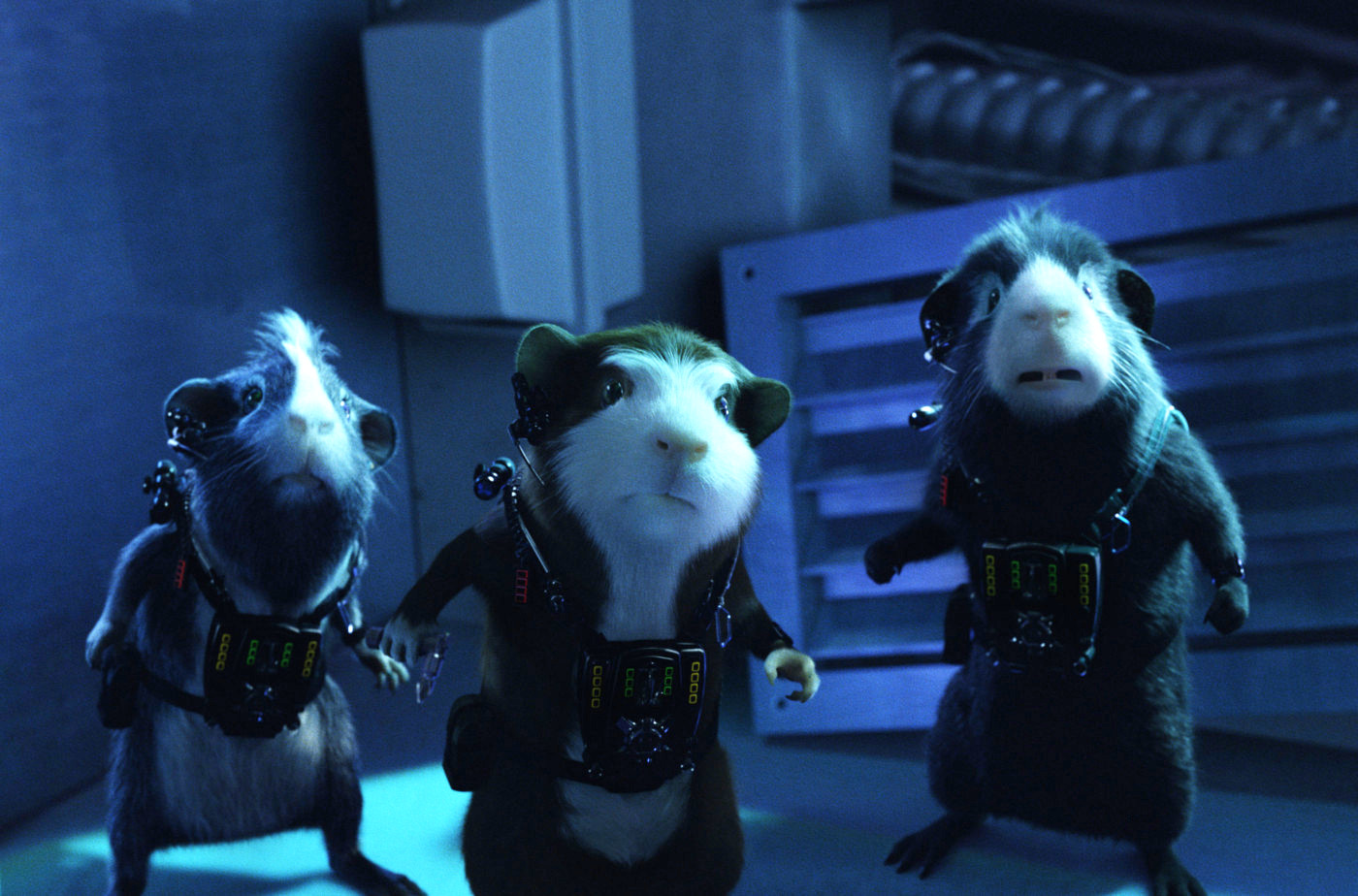 The idea of talking animals acting as a crack spy team sounds like a variant on Cats & Dogs – indeed, G-Force could with minimal rewriting easily act as a sequel to Cats & Dogs – while the cuteness of watching the animals in action with miniature spy gadgets seems like a variant on Spy Kids (2001) with its profusion of parody spy gadgetry. The soundbite comment might be to imagine G-Force as one of the Tom Cruise Mission: Impossible films enacted with talking rodents – we even get the cliche shot where one of the guinea pigs is winched down on a pulley. There are two ways that G-Force could have gone – one being the route of Cats & Dogs and Spy Kids where the fun comes in the absurdity and cuteness of animals (or kids) conducting human espionage operations; the other being the route of Underdog or Alvin and the Chipmunks where the concept topples over into an irritating profusion of smartass and scatological gags and pop culture in-references.
Expectedly, we get a number of intrusive product placement – the rodents seen accessing Facebook, using Ipods, playing Dance Revolution and so on. There are the inevitable pop culture jokes – the by now truly overdone parody of the "I love the smell of napalm in the morning" line from Apocalypse Now (1979), Bruce Willis's signature line from Die Hard (1988) ending up as "Yippee-ki-yay coffeemaker" or quips like "Oh my God, I look like Paris Hilton's Chihuahua" – but for the most part these are not allowed to overburden the film.
As such, G-Force constantly feels like a potentially cute and clever film that is struggling to find itself in between various forces trying to push it in differing directions. The plot is disappointingly run-of-the-mill. The evil genius's world domination plan seems by the book with the film affording surprisingly little time for Bill Nighy to open up and be a villain (even if we have a left field ending that reveals that such is not the case). The plot is driven by a rush of cliches – the operation shut down and the rodent heroes forced to become fugitives and finish the mission outside the system (a plot device that has served for just about all of the Mission: Impossible films); the officious pursuing FBI agent nemesis; the comedic ordinary joe that joins the party and is constantly tripping over his own feet; and a climax that feels like it has been grafted on in an attempt to drag in the audiences for Transformers (2007). The one-liners we get – "my fly is down", "the mole really is the mole" – prove to be nothing to write home about.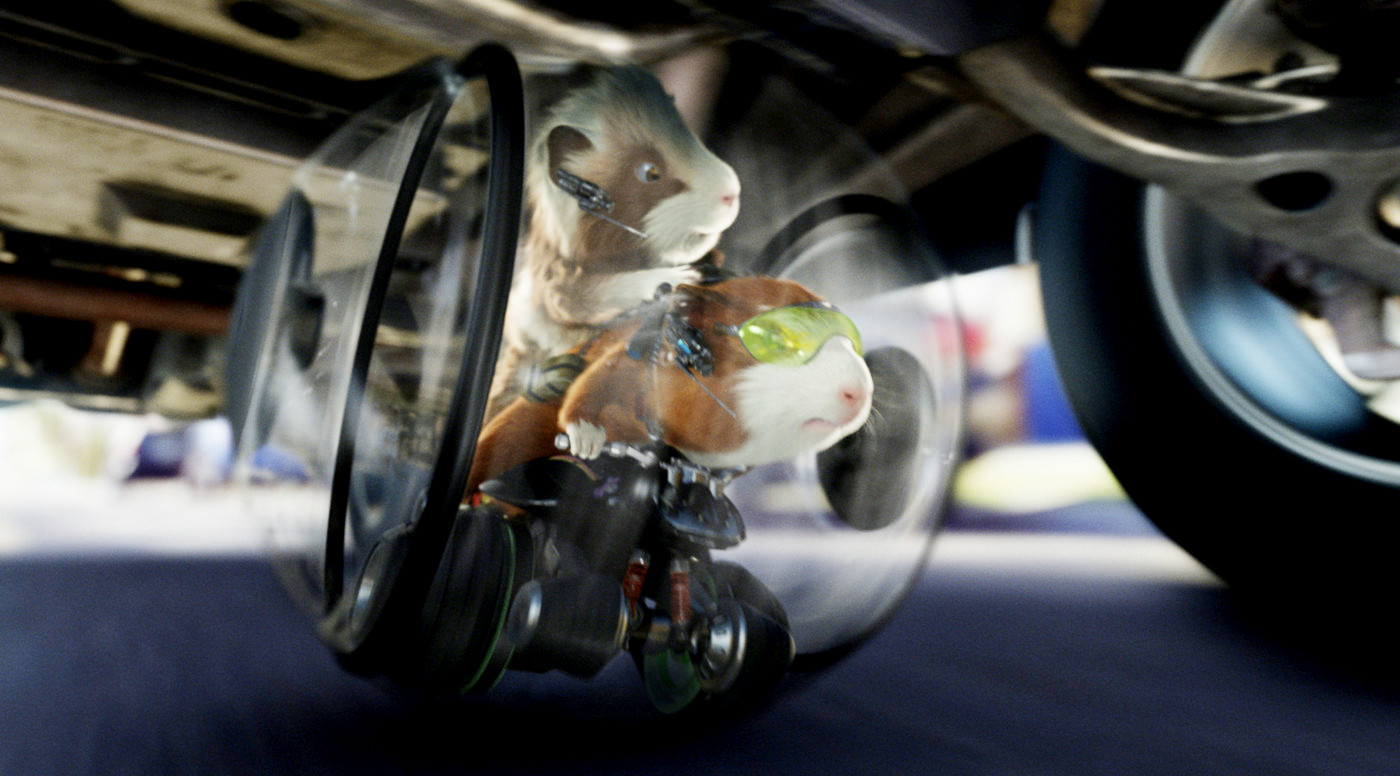 Essentially, G-Force wins out through the cuteness of its concept – I mean, how could it not be possible to like a film that has killer Transformer coffee-making machines. The one area where the film stands out is when Jerry Bruckheimer gets to the element that is indisputably his province – the action scenes. The film often seems custom built to cater to the expected Bruckheimer pelting action scenes where the addition of the new gimmick de jour of 3-D allows these come to life out of the screen. The highlight of the film is a fast paced action sequence with the animals in a series of vehicles that are like customized hamster balls leading the FBI on a chase through the streets.
All of the voice cast have been well chosen for their parts, mostly playing to typecasting – Sam Rockwell plays for dependable heroism; Jon Favreau is cast as an ordinary guy schmuck; Steve Buscemi as a somewhat demented hamster; Penelope Cruz as a feisty Latino firecracker. The strangest piece of casting – one that one failed to recognize until the end credits ran – was Nicolas Cage as the mad genius mole Speckles where Cage has clearly relished the opportunity to indulge one of the silly voices performances he built his early career on.
G-Force expectedly received many negative reviews but wins out through the sheer charmed silliness of its approach and its balance of effects and humour. Face it, it could easily have been another Alvin and the Chipmunks. Expect a sequel in the near future.
---
---