---
USA. 2013.
Crew
Director – Michael Tiddes, Screenplay/Producers – Rick Alvarez & Marlon Wayans, Photography – Steve Gainer, Visual Effects Supervisor – Christian Cardona, Special Effects Supervisor – Larz Anderson, Production Design – Fred Andrews. Production Company – Baby Way Productions/Smart Ass Productions, LLC.
Cast
Marlon Wayans (Malcolm Johnson), Essence Atkins (Kisha Davis), Cedric the Entertainer (Father Doug Williams), Nick Swardson (Chip), Dave Koechner (Dan Kearney), Marlene Forte (Rosa), Andrew Daly (Steve), Alanna Ubach (Jenny), Dave Sheridan (Bob Kearney), Affion Crockett (Ray-Ray)
---
Plot
Malcolm Johnson has invited his girlfriend Kisha to move in with him. He begins filming everything with his new video camera. They soon begin to hear noises and find things moving and realise that the house is haunted. The ghostly entity has sex with Kisha and Malcolm is upset when she seems to prefer it to him. She then becomes possessed and he realises this is due to her selling her soul for a pair of Louboutins.
---
Marlon Wayans is the younger brother of Keenen Ivory Wayans and has maintained a steady comedy and acting career since the 1990s, including appearances in the tv series The Wayans Brothers (1995-9) and Keenen Ivory directed films such as Scary Movie (2000), Scary Movie 2 (2001), White Chicks (2004) and Little Man (2006). Marlon has starred in various other comedies such as The Sixth Man (1997) and Senseless (1998), and turned up in straight acting roles in genre works like Dungeons & Dragons (2000) and G.I. Joe: The Rise of the Cobra (2009). He was even purportedly the original casting choice as Robin in Batman Forever (1995). Marlon produces and co-writes A Haunted House.
Not long into A Haunted House, it becomes apparent that Marlon Wayans is treading the same path that his older brother Keenen Ivory did with the Scary Movies in conducting a parody of the horror genre. (2013 seems to be a year that has seen a sudden return of the crude and rude horror parody that Scary Movie started with said series also being dragged out for a fifth entry with Scary MoVie (2013), as well as 30 Nights of Paranormal Activity with the Devil Inside the Girl with the Dragon Tattoo (2013) in release). In specific, A Haunted House reveals itself as a spoof of Paranormal Activity (2007), while the latter sections of the film dive off into a parody of The Exorcist (1973) and to a lesser extent reference scenes from The Devil Inside (2012).
It is not long into A Haunted House when it becomes apparent that the humour is heading down to the same lowest common denominator wit that Keenen Ivory Wayans made his trademark. We get some two minutes of scenes with Marlon Wayans humping and mimicking various sexual positions with his girlfriend's teddy bear. Not long after this, we get a parody of Paranormal Activity where the moving sheets turns out to be Essence Atkins farting in her sleep.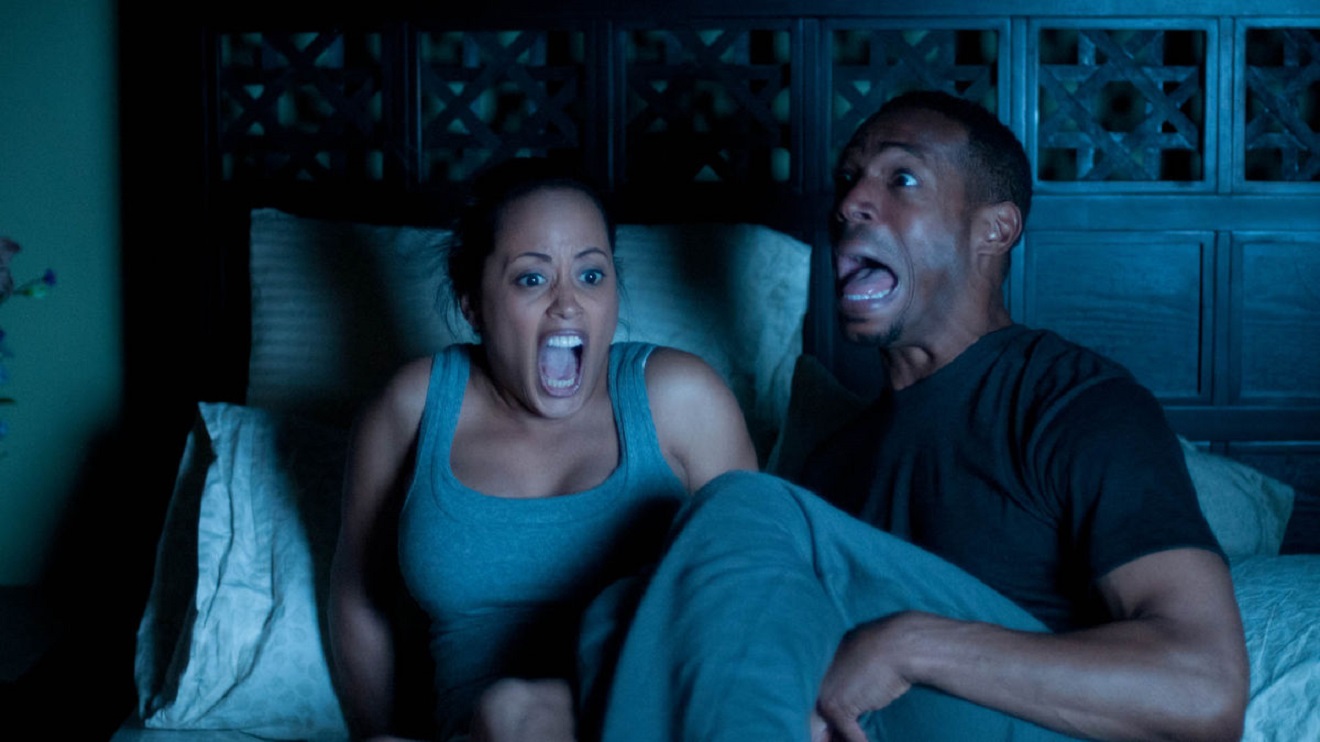 All of the film's targets are crude and obvious – sex, farts, herpes, race-based humour, gay awkwardness jokes. The film seems to think it is making some point about racial humour when it has Dave Koechner stringing off a series of racial slurs (although, while it seems to think this is a bad thing when being made by a white guy, it should be noted the film seems perfectly happy to turn around and make racial caricatures of Marlene Forte's Latino maid). There is the character of the medium played by Nick Swardson whose only characterisation throughout the entire film seems to be making gay innuendoes and coming onto Marlon Wayans.
A Haunted House is slightly less persistently loud and crude in its humour than Scary Movie was. It also has the semblance of a plot. There is even the odd gag that is occasionally amusing – the one where Marlon Wayans and Essence Atkins get stoned and are joined by the entity that puffs on the joint (where we see its incorporeal lungs filling with smoke) where the scene from Paranormal Activity with it dragging people out the door is turned into a gag.
The film also conducts a variant on the ghost rape from The Entity (1982), which was also spoofed in both Bloodbath at the House of Death (1984) and Scary Movie 2. Here the scene is escalated to where Essence Atkins prefers the entity to Marlon Wayans in bed and is seen sitting up in bed dressed in a sexy negligee waiting with an ouija board for it. Later, for equal opportunity, we see the entity buggaring Marlon. There is also a mildly amusing variant on the crucifix masturbation from The Exorcist with Marlon walking in on Essence Atkins in the midst of self-stimulation and offering her a vibrator "Wouldn't you rather have this?"
Marlon Wayans and director Michael Tiddes subsequently returned with a sequel A Haunted House 2 (2014), followed by a further parody film with Fifty Shades of Black (2016); Naked (2017) in which Marlon Wayans is trapped in a timeloop forced to relive his wedding day; and Sextuplets (2019).
---
---