---
Crew
Director – Rich Moore, Screenplay – Phil Johnston & Jennifer Lee, Story – Phil Johnston, Rich Moore & Jim Reardon, Producer – Clark Spencer, Music – Henry Jackman, Animation Supervisor – Renato Dos Anjos. Production Company – Disney.
Voices
John C. Reilly (Wreck-It Ralph), Sarah Silverman (Vanellope von Schweetz), Jack McBrayer (Fix-It Felix Jr), Jane Lynch (Sergeant Calhoun), Alan Tudyk (King Candy), Rich Moore (Sour Bill), Adam Carolla (Wynchel), Horatio Sanz (Duncan), Mindy Kaling (Taffyta Muttonfudge), Raymond Persi (Gene), Ed O'Neill (Mr Litwak), Edie McClurg (Mary), Rachel Harris (Deanna), Dennis Haysbert (General Hologram), Stefanie Scott (Moppet Girl)
---
Plot
Wreck-It Ralph is the villain in the arcade videogame 'Fix-It Felix Jr' where it is his role to wreck an apartment building that is then repaired by the hero Fix-It Felix Jr with his magic hammer. Ralph is fed up with having to be the villain and never winning a medal as Felix always does. It is the thirtieth anniversary of the game and Ralph is upset because he is not invited to the party being held for Felix. Ralph swears that he will return with his own medal. He enters the game 'Hero's Duty', a combat scenario where soldiers fight off hordes of the Cybug cyborg bugs. Capturing the medal, he goes to return but the shuttle pod he is in crashes inside the candy-themed game 'Sugar Rush'. The medal is taken by the precocious Vanellope von Schweetz who uses it to enter the vehicle race held among the characters to be chosen as player avatars. Ralph decides to help Vanellope after seeing how she is rejected by the others in the game for her programming glitches. He starts to train her how to become a racing driver and a friendship grows between the two. What they do not realise is that Penelope's ambitions might have drastic consequences for the game. Moreover, Ralph has inadvertently brought a Cybug in with him and this has started breeding hordes of its kind that will devour everything in the game.
---
None of the trailers for Wreck-It Ralph did much to inspire me about the film. It seemed a cutsie concept that had been pitched as a film for the single digit age group. Of course, this low expectation entrance only served to make Wreck-It Ralph and its considerable charms arrive as even more of a surprise when you sit down to watch it. It is a film that reminded me in particular of Despicable Me (2010), a work that similarly opened with an uninspiring trailer, not much in the way of build-up but became a sleeper hit through favourable word of mouth and by the sheer art of winning its audience over. The film was a feature debut for animator Rich Moore, previously a director on The Simpsons (1989– ) and Futurama (1999-2003).
In concept, Wreck-It Ralph resembles some of Pixar's hits of recent years, in particular Toy Story (1995) and Cars (2006). (No surprise, given that Pixar founder and now Disney Chief Creative Officer John Lasseter is the film's executive producer). From these, it imagines the secret lives of anthropomorphised characters – toys, vehicles and here the characters inside videogames – behaving as humans would. From Toy Story and in particular Who Framed Roger Rabbit? (1988), which respectively had cameo appearances from toys and animated characters of yesteryear, the film takes the idea of characters from popular videogames all meeting up and interacting. Throughout we get cameos of characters from games such as Dance Dance Revolution, Frogger, House of the Dead, Mortal Kombat, Pac Man, Sonic the Hedgehog, Street Fighter and Tapper. Maybe you could call Wreck-It Ralph a Tron (1982) reinvented via the world of Toy Story. It is certainly a winningly original concept.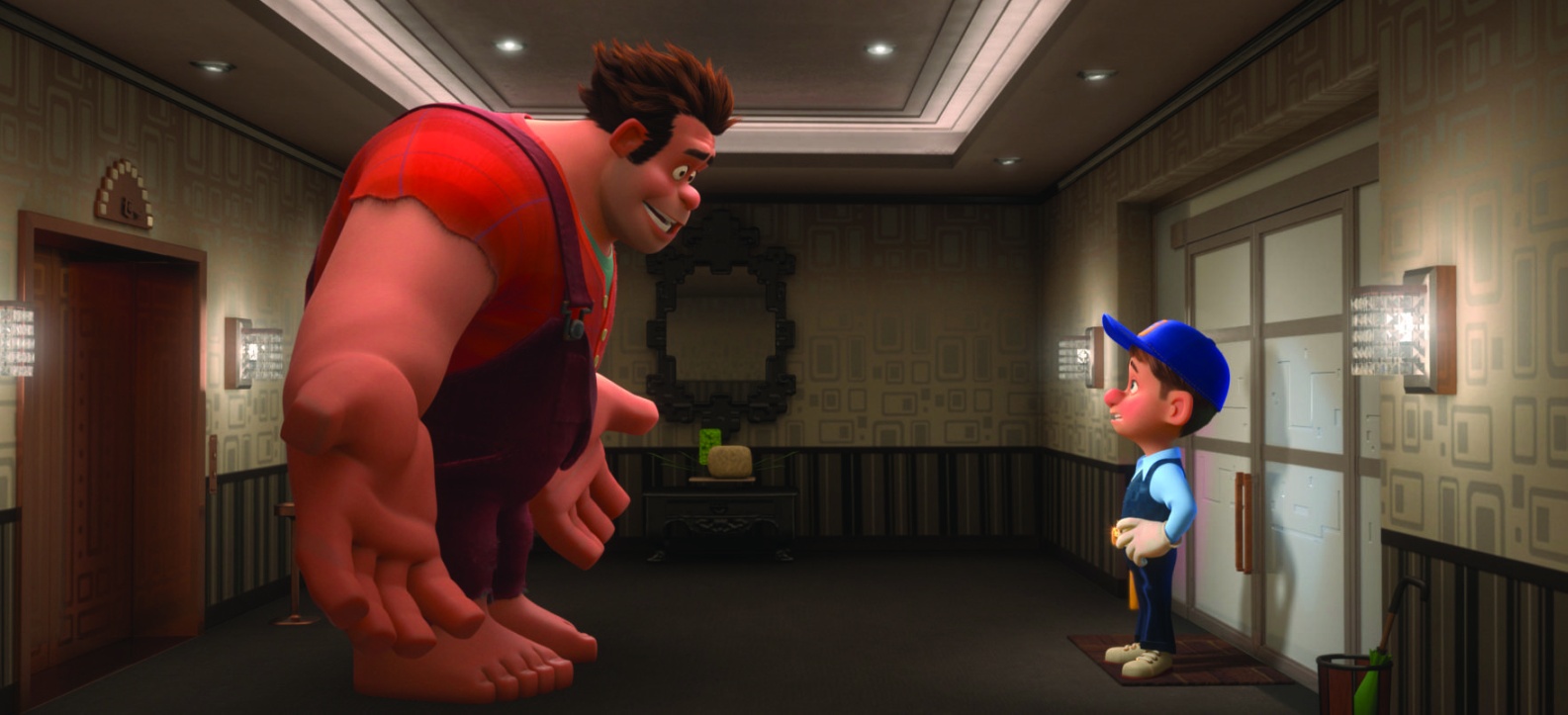 Like Tron, Cars and Roger Rabbit, Wreck-It Ralph has a great deal of fun with what you might call the meta-concept – the way in which we see aspects of the game familiar to us anthropomorphised and how it shapes the characters' worldview. Characters from older games are in envy of the higher resolution that modern games exist by (the opening and end credits of the film come in the pixelated form of early arcade games) and live in terror of their game being regarded as obsolete (this world's equivalent of being rendered homeless). Surge protectors act as the customs officers between the game worlds. Characters engage in races to get placement on a board where they will be chosen as player avatars. We visit backdoors of the programming world where uncompleted levels exist and the villain is able to conduct skulduggery by tinkering with the game's programming code.
Surprisingly, the film is at its most amusing when it gets into the world of Sugar Rush. One's first impression was that this would be the opportunity for the film to sink into the completely saccharine. Instead however, it becomes an opportunity for the filmmakers to conjure up a madcap world that exists somewhere between the candy apple inanity of The Care Bears and Willy Wonka and the Chocolate Factory (1971).
There is an hilariously wacky charm to seeing the film trot out characters based on familiar candy products – guards made out of donuts, cough drop attendants (one of which Ralph forces to confess by threatening to lick to its soft core), racing cars constructed of various candies and biscuits, stalactites made up of Mentos that fall into a lava pit of diet soda and so on. You can see the animation team has had an absolute ball coming up with their wackiest imaginings in these scenes.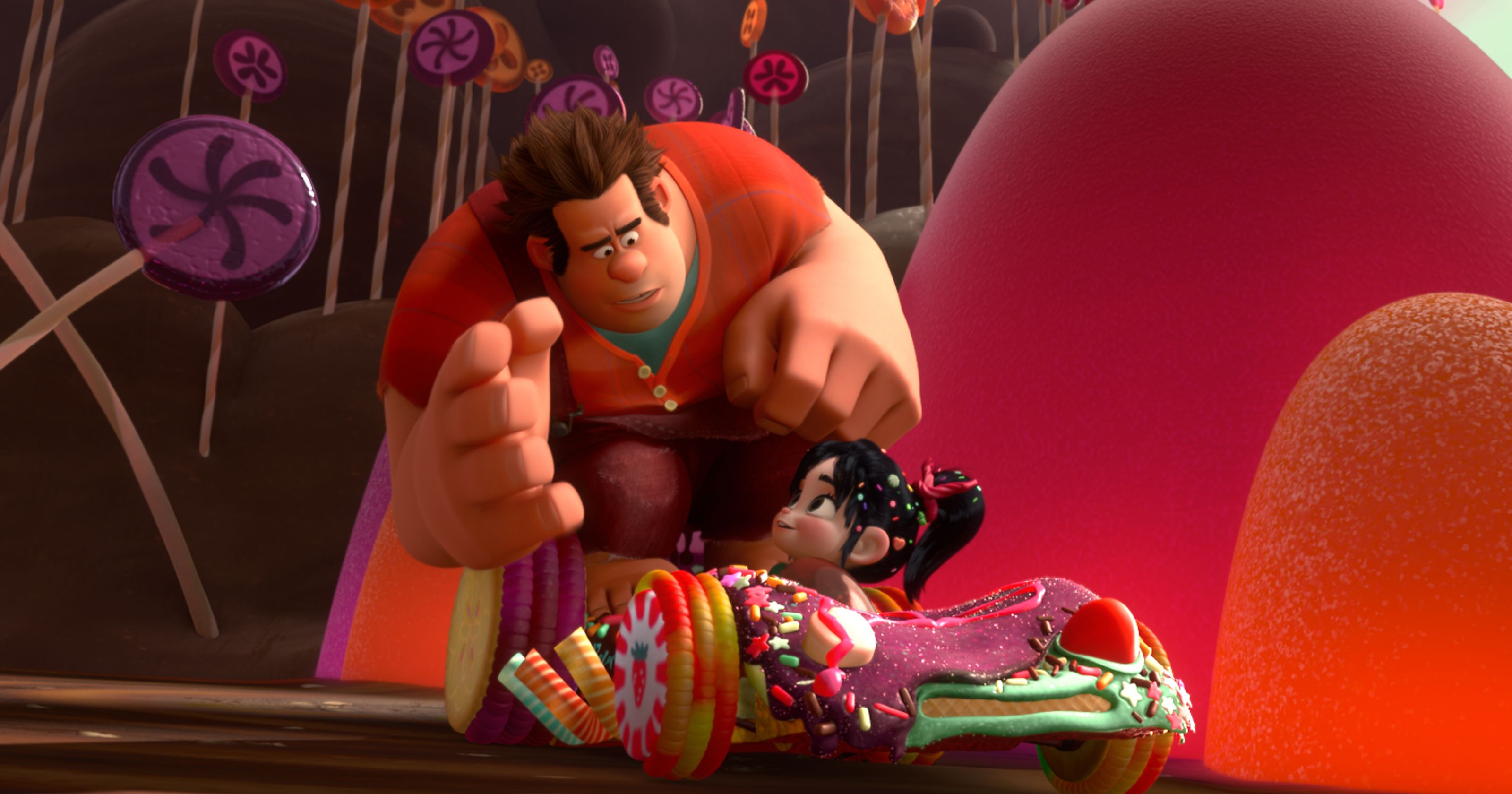 The character of Wreck-It Ralph is fairly much an animation standard – of the ungainly big guy who yearns for understanding and acceptance and whose journey is eventually to win the respect of his peers and accept his position in life. Sarah Silverman incarnates Vanellope with a great deal of appeal and sharp-witted sass. She has a character that ranges through many aspects – adolescent sidekick, the cute kid, the spunky tomboy – without ever managing to venture into cliche territory.
The most amusing pairing the film brings together is the romance between the boyishly larger-than-life heroism of Fix-It Felix and the grimly stalwart toughness of Sergeant Calhoun, a relationship that is as much improbable in seeing opposites attract as it is amusing. The considerable strength of the film is its characters and especially the arc that forms the fulcrum of the film – I don't recall an animated film where I have seen a character having faced such a tough and heartbreaking decision as the one where Ralph must face the choice of having to destroy Vanellope's dream of being a racer in order to save her life.
Director Rich Moore next went on to co-direct Disney's Zootopia (2016).
Ralph Breaks the Internet (2018) was a sequel reuniting Rich Moore and most of the voice cast.
(Winner in this site's Top 10 Films of 2012 list).
---