---
Crew
Director/Screenplay – Ryan Schifrin, Story – James Morrison & Ryan Schifrin, Producers – Donna Cockrell, Theresa Eastman & Paul Spadone, Photography – Neal L. Fredericks, Music – Lalo Schifrin, Visual Effects – 23d Films, Inc., Special Effects – Scott Anderson, Gary Bentley, Shane Prince & Michael Valenzuela, Makeup Effects – Christien Tinsley's Tinsley Transfers Inc.. Production Company – Red Circle Productions.
Cast
Matt McCoy (Preston Rogers), Haley Joel (Amanda), Christien Tinsley (Otis Wilhelm), Karin Anna Cheung (C.J.). Lance Henriksen (Ziegler Dane), Jeffrey Combs (Clerk), Mike Deak (Monster), Natalie Compagno (Michelle), Tiffany Shepis (Tracy), Phil Morris (Deputy McBride), Paul Gleason (Sheriff Dick Halderman), Ashley Hartman (Karen Herdberger), Rex Linn (Farmer Hoss), Dee Wallace Stone (Ethel Hoss)
---
Plot
It is a year after a mountaineering accident that killed Preston Rogers' wife and left him confined to a wheelchair with his legs paralysed. Preston now returns to his home in the mountainside town of Flatwoods, accompanied by his nurse Otis. Soon after they settle in, five girls arrive to take over the neighbouring cabin for a hen party. Looking out at the girls with binoculars, Preston sees as one of them is attacked by a Bigfoot creature lurking in the woods. However, in attempting to alert people about what happened, Preston is disbelieved by Otis and the local police. Confined to his chair and unable to leave the house, Preston tries to warn the girls as the creature returns.
---
The Bigfoot film has a steady popularity on screens. The Gimlin-Patterson film of 1967, which purported to show less than a minute's worth of footage depicting a Bigfoot walking, caused a great sensation in its day. During the 1970s, this gave birth to a host of Bigfoot pseudo-documentary films. With Harry and the Hendersons (1987), Bigfoot made a move towards something cuddly and environmentally empathic.
The 1990s and 2000s have had Bigfoot evenly divided between either appearing as a monster – the 2000s/10s have seen a sudden spike in Bigfoot Found Footage films – or else in gonzo efforts and a handful of serious films that stand with one foot inside the conservation/environmentalist camp.
The Bigfoot film is a fairly predictable genre. Plots never seem to consist of much more than people going camping in the woods and encountering Bigfoot. A few others expand beyond this to bring Bigfoot back to civilisation, usually with cute/comic results. (For more detail see Bigfoot Films).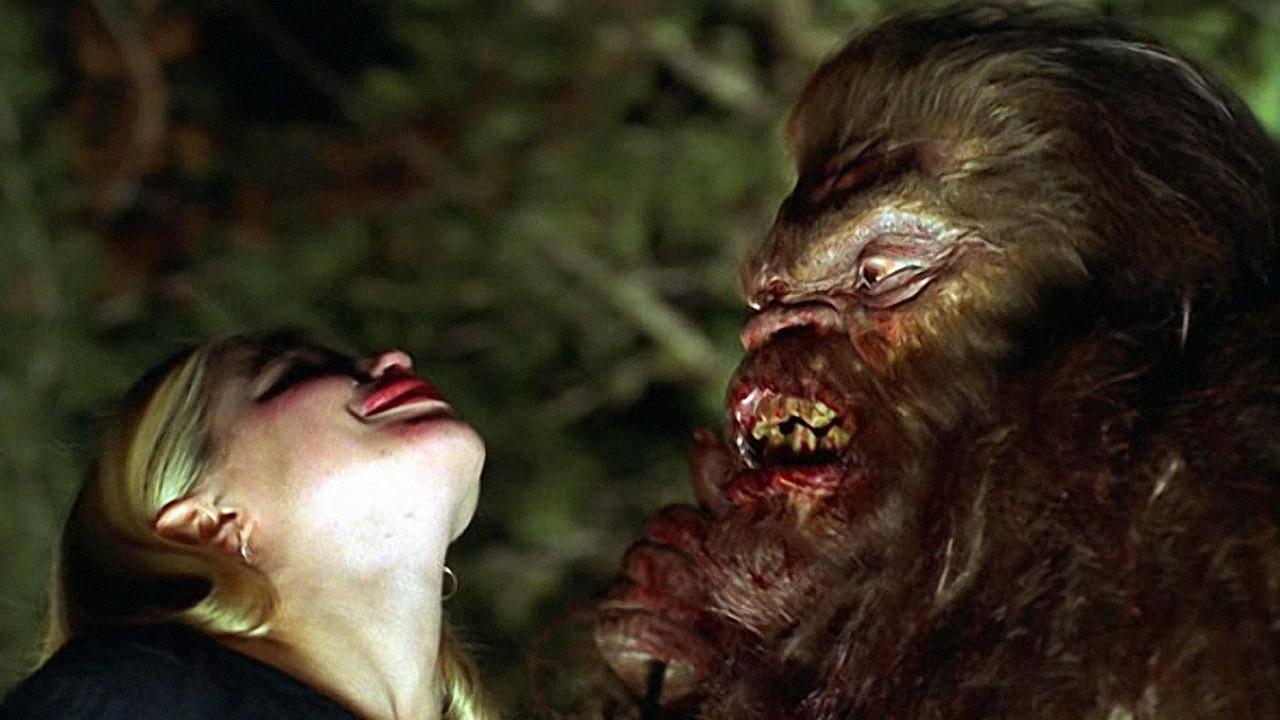 You have to applaud Abominable in that it definitely does something different. It has been construed essentially as a Bigfoot film by way of Rear Window (1954) – the classic Alfred Hitchcock film that had James Stewart trapped in his apartment with a broken leg watching his neighbours with binoculars only to observe Raymond Burr having murdered his wife. Here James Stewart is replaced by a wheelchair-ridden Matt McCoy and the neighbours with a cabin of girls, while Raymond Burr becomes a Bigfoot creature. This plays out with surprising effectiveness.
Unlike the majority of horror films, Ryan Schifrin doesn't concentrate on tedious jumpshocks but contains the scene – a hero who is unable to move or leave the house while his caregiver and the police refuse to take him seriously as he tries to alert the neighbouring household of girls to the Bigfoot menacing them. The tension is built reasonably effectively and without resorting to any cliche scenes. There is a particularly well sustained climax with Matt McCoy climbing off a balcony to get out of the house and away in the car, crashing into a tree and trying to fight back against Bigfoot, all without the use of his legs.
There are some moderately effective makeup effects, including a convincing Bigfoot and at least one gory scene where Bigfoot bites Christien Tinsley's head off. With the voyeurism theme, we naturally get a scene with one of the girls stripping off to take a shower as Matt McCoy watches before she is snatched through the window by Bigfoot.
Ryan Schifrin pays a good deal of fanservice to the horror genre in his casting. Genre regular Jeffrey Combs turns up as a bespectacled idiot first seen as a clerk in a convenience store and then around a campfire before being killed, while Lance Henriksen also turns up in the campfire scenes and then ventures into a cave to find the missing girl there. Dee Wallace appears as the wife of Rex Linn in the prologue, while Paul Gleason, probably best remembered as the teacher in The Breakfast Club (1985), turns up as the sheriff. There is also Scream Queen Tiffany Shepis who wasn't quite as well known at the time of the film as she is now, as one of the girls – she's the one who strips off to take a shower before being attacked through the window.
Director Ryan Schifrin is the son of musician Lalo Schifrin, who has composed scores for numerous films including Dirty Harry (1971), Enter the Dragon (1973), The Amityville Horror (1979), Rush Hour (1998), and is probably best known for creating the famous theme for tv's Mission: Impossible (1966-73), plus over 200 other credits. Lalo also composes the score here. Ryan made his directorial debut with Abominable but so far the only other work he has gone on to make is The Ransom of Rusty Rex segment of the horror anthology Tales of Halloween (2015).
---