---
Crew
Director – John Gulager, Screenplay – Marcus Dunstan & Patrick Melton, Producers – Michael Leahy & Joel Soisson, Photography – Thomas L. Callaway, Music – Steve Edwards, Visual Effects/Animation – Neo Digital (Supervisor – Kevin O'Neill), Special Effects Supervisor – Josh Hakian, Makeup & Creature Effects – Two Hours in the Dark, Inc. (Supervisor – Gary J. Tunnicliffe), Production Design – Clark Hunter. Production Company – Liveplanet/Neo Art & Logic/Maloof Motion Pictures.
Cast
Balthazar Getty (Bozo), Navi Rawat (Heroine), Duane Whitaker (Bossman), Henry Rollins (Coach), Krista Allen (Tuffy), Judah Friedlander (Beer Guy), Clu Gulager (Bartender), Jenny Wade (Honey Pie), Josh Zuckerman (Hot Wheels), Eileen Ryan (Grandma), Jason Mewes (Himself), Eric Dane (Hero), Anthony "Treach" Criss (Vet), Tyler Patrick Jones (Cody), Diane Goldner (Harley Mom)
---
Plot
It is near closing time at a bar in the California desert when a bloodied man bursts in, warning the patrons of a nightmare that is on the way. Immediately after, something drags the man through the door and tears his head off. The rest of the patrons barricade themselves in as ferocious monsters gather outside, trying to break in and devour everyone.
---
Feast was a horror film produced under the Project Greenlight banner. Project Greenlight was a competition devised by Ben Affleck and Matt Damon in which novice filmmakers would submit a feature film project and one of the submissions would be chosen to be produced and eventually receive a release from Miramax. There was also an accompanying HBO documentary series Project Greenlight (2001-5) that followed the production process. The second and third seasons had two separate streams – one for the director to be chosen, the other for the screenwriter, with both being paired up to piece together the end product. The first film to emerge was Stolen Summer (2002) about a young boy trying to convert a Jewish neighbourhood to Catholicism and was followed by The Battle of Shaker Heights (2003), a Coming of Age tale about a war recreationist. Feast was the last Project Greenlight film until the series was revived a decade later in 2015.
Feast was the directorial debut of John Gulager, the son of Clu Gulager, an acting veteran with a long list of films under his belt, including the genre likes of A Nightmare on Elm Street Part II: Freddy's Revenge (1985), Return of the Living Dead (1985) and The Hidden (1987). (Clu also plays the part of the cowboy bartender in Feast). Feast also has an impressive line-up of names listed as executive producers on the opening credits, including not just Ben Affleck and Matt Damon but also director Wes Craven, Miramax CEOs Bob and Harvey Weinstein and regular genre producer/writer Joel Soisson.
Feast hits in from the opening scene, which freeze frames every 30 seconds to offer a series of witty potted biographies of all the characters. Balthazar Getty's gets introduced with "Life expectancy: Till dawn. Job: Not likely," while Josh Zuckerman's wheelchair-ridden character is asked of the audience: "Life expectancy: They wouldn't kill a cripple would they?" Of Eileen Ryan's Grandma we learn: "Fun Fact: Blew Mick Jagger … recently. Life Expectancy: Maybe dead already," while the eponymous hero is introduced as "Life Expectancy: Pretty Fucking Good. Occupation Kicking Ass," and the heroine: "Occupation: Wear tanktops, tote shotgun, save day." With equally witty appeal, all of these expectations are promptly trashed within the first five minutes – the guy introduced as hero bursts in, starts organizing the bar to fight a menace they have not yet seen, only to be the first to have his head ripped off by the monster moments later. Within the next five minutes a good third of the people that have just been introduced and ranked in terms of life expectancy are wiped out.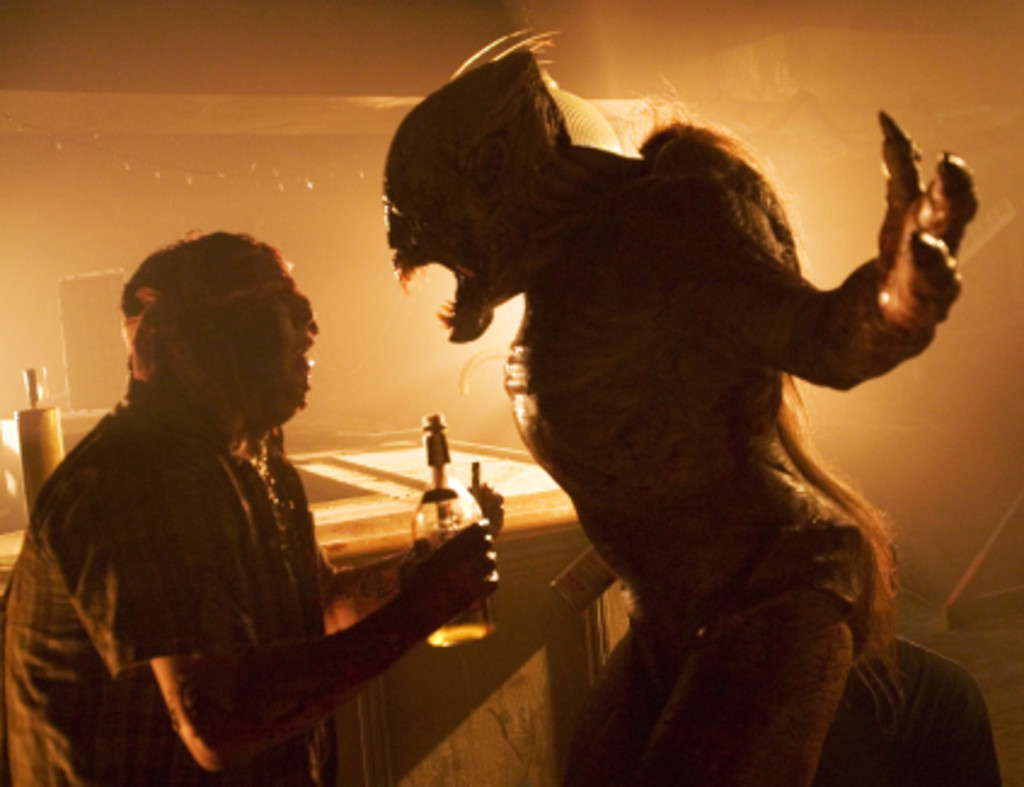 Such an opening kickstarts Feast with a wonderfully brash and assured enthusiasm. There is something here that is as witty as the hilarious puncturings of horror film cliches conducted by Wes Craven in Scream (1996). Subsequently, John Gulager does a marvel in containing the film within a single set setting, introducing a series of well defined characters, keeping the resident menace almost entirely unseen for the bulk of the film and concentrating on sharp and furious conflict both from within and without. It is a model of kinetic economy that all horror films should aspire to. Indeed, Feast has everything to it that the disappointing From Dusk Till Dawn (1996) should have been and wasn't.
Feast is certainly gore drenched, although John Gulager does display an annoying tendency in recent horror films – good examples being 28 Days Later (2002) and 30 Days of Night (2007) – to shoot all the blood-drenched action in a series of fast, blurred undercranked camera moves so that it is difficult to tell what is going on. During the latter scenes, the film slows down somewhat and Gulager doesn't sustain the level of brash sarcasm that the opening few minutes start on. Although this is more than made up for by the climactic scenes where Gulager determines to go for broke and drenches the barroom, actors and monsters alike in gore, climaxing in the image of Krista Allen battering a monster to death with a gun barrel and then burying her arm up to the shoulder down its throat.
John Gulager made two sequels with Feast II: Sloppy Seconds (2008) and Feast 3: The Happy Finish (2009) and then went onto Piranha 3DD (2012), Zombie Night (2013) and Children of the Corn: Runaway (2018). The film's writers Marcus Dunstan and Patrick Melton were appropriated by the Saw series and wrote Saw IV (2007), Saw V (2008), Saw VI (2009) and Saw 3D (2010), plus scripts for other films like Scary Stories to Tell in the Dark (2019). Dunstan went on to direct and both wrote The Collector (2009) and its sequel The Collection (2012), followed by The Neighbor (2016) and Unhuman (2022).
---
Trailer here
Full film available online in several parts beginning here:-
---