---
Crew
Director – Craig Viveiros, Teleplay – Sarah Phelps, Based on the Novel Ten Little Niggers/Ten Little Indians by Agatha Christie, Producer – Abi Bach, Photography – John Pardue, Music – Stuart Earl, Visual Effects Supervisor – Simon Frame, Special Effects – Colin Gorry, Production Design – Sophie Becher. Production Company – BBC/Mammoth Screen/Agatha Christie Productions/A+E Television Networks.
Cast
Maeve Dermody (Vera Claythorne), Aidan Turner (Philip Lombard), Burn Gorman (Detective-Sergeant William Blore), Charles Dance (Judge Lawrence Wargrave), Toby Stephens (Dr Edward Armstrong), Noah Taylor (Thomas Rogers), Miranda Richardson (Emily Brent), Sam Neill (General John MacArthur), Anna Maxwell Martin (Ethel Rogers), Douglas Booth (Anthony Marston), Rob Heaps (Hugo), Paul Chahidi (Isaac Morris), Tom Clegg (James Stephen Landor)
---
Plot
1939. Six people receive invitations from the mysterious U.N. Owen and his wife to join them on Soldier Island. Arriving, they find a large house but only two servants present. Nobody has met or knows who U.N. Owen is. It is discovered that all of them have been brought there on different pretexts from the belief that they had come to take up a job to that they were to meet an old friend. As they sit down to dinner, a gramophone record plays, announcing that each of them is guilty of murder. They all deny this but as cracks appear, it becomes apparent that there is truth to the accusation. The members of the group then start to be killed. With each murder, one of the ten soldier statuettes on the dinner table disappears. As they try to work out who is responsible, they realise that U.N. Owen (a homonym for 'unknown') is one of the group and is determined to punish them for their crimes.
---
Agatha Christie (1890-1976) was to all accounts the most popular author of all time. She began publishing with the novel The Mysterious Affair at Styles (1920), which introduced her most famous character, the detective Hercule Poirot. Nicknamed The Queen of Crime, Christie's books and plays specialised in murder mysteries – she patented a formula that usually took place at a locale and offered up a variety of suspects each with good reason to be the murderer and equally good reason to have doubt cast on them, before the elaborate plot would be revealed by her detective in the last chapter. During her lifetime, she produced 66 novels, including classics such as Murder on the Orient Express (1934), Death on the Nile (1937), Appointment with Death (1938), Evil Under the Sun (1941), Sparkling Cyanide (1945) and The Mirror Crack'd (1962), among many others.
Agatha Christie's works have been numerously adapted to the screen most famously with the hit Murder on the Orient Express (1974), which led to a spate of lavish big-budget adaptations of other works including Death on the Nile (1978), The Mirror Crack'd (1980) and Evil Under the Sun (1982), and the great success enjoyed by the tv series' Poirot (1989-2013) and Miss Marple (1984-92).
And Then There Were None was originally published under the title Ten Little Niggers (1939), a title taken from a children's rhyme. This was promptly changed to And Then There Were None in the US printing, while subsequent reprintings have substituted the more acceptable Ten Little Indians (although even that has fallen out of favour nowadays). This was purportedly the top selling of all of Christie's books. Christie also wrote a stage adaptation Ten Little Niggers (1943). The story has been adapted to the screen a number of times before with And Then There Were None (1945), Ten Little Indians (1965), the all-star And Then There Were None (1974), a Russian version Ten Little Indians (1987) and Ten Little Indians (1989) and subsequently the French mini-series They Were Ten (2020). There was even a Bollywood version Gumnaam (1965). Hideo Nakata's Incite Mill (2010) was also made as a homage, while Mario Bava drew on the basic plot for his giallo film Twitch of the Death Nerve (1971), which was a prototypical influence on the slasher film.
And Then There Were None was a BBC tv mini-series remake of the story in three one-hour parts made to celebrate the 125th anniversary of Christie's birth. As such, the BBC have mounted an incredibly lush production. The production looks fantastic in terms of the set dressings, vehicles and so on, while everybody is dapper if not dashing in the period costuming. It is exquisitely filmed, making great cinematic shots of the journey to the island and the ventures along the shoreline – not to mention a jaw-dropping shot where the camera follows Anna Maxwell Martin outside and then cranes up to peer down into a massive sinkhole.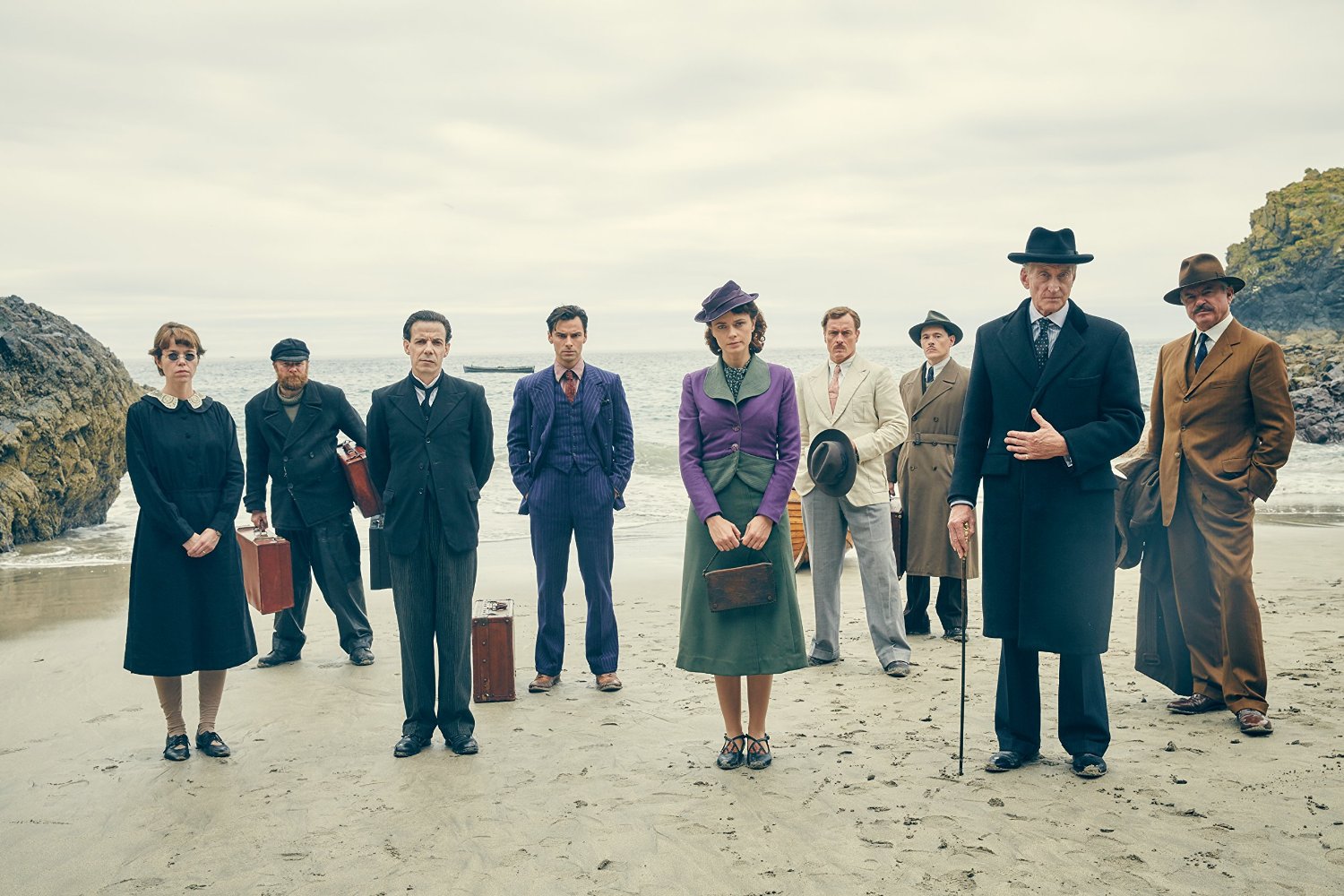 There is a top drawer cast, bringing together a number of celebrated members of the British acting profession – Charles Dance, Sam Neill, Miranda Richardson, Toby Stephens – and a number of rising faces – Burn Gorman, Noah Taylor, the great but underused Anna Maxwell Martin and in the lead Australian actress Maeve Dermody. All are on top form.
There are a number of changes made to the Agatha Christie work. Nobody has the gall to make a work called Ten Little Niggers anymore so that aspect is politely washed over and forgotten. So too it would appear is the Ten Little Indians title that some of the modern films have found an acceptable compromise. In a clear desire to cleanse the story of any racist overtones, the poem has now been retitled Ten Little Soldier Boys. There are other changes, particularly when it comes to the crimes that the various accusees are supposed to have done, which are brought far more into line with modern moral mores – notedly in the book, Blore commits perjury to secure a conviction that leads to a man's death whereas here it is the far more nasty crime of his having stomped a gay man to death.
The other more subtle change comes in expanding the story to a mini-series in three one-hour parts. The original is essentially a chamber drama where everything happens inside the house – most film versions start with the dramatis personae arriving at the house and end with all of the guilty parties dead – making it a natural for adaptation as a play. In other words, what we essentially have is Big Brother (2000– ) but with dead bodies. By contrast, this tries to expand on the basics and open the story out. We get flashbacks to the crimes that most of the characters are guilty of – and often in some depth. Perhaps one of the more controversial aspects is the attempt to add an element of sexual tension between Maeve Dermody and the dashingly handsome Aidan Turner – even a bedroom encounter between the two of them – although you have the sneaking suspicion that this is something that Agatha Christie would have disapproved of.
Shortly after this, Agatha Christie underwent a major revival with Kenneth Branagh's theatrically released remake of Murder on the Orient Express (2017) and its follow-up Death on the Nile (2020). The BBC and Mammoth Screen with Sarah Phelps on script went on to a string of other Christie adaptations that have so far included The Witness for the Prosecution (2016), Ordeal by Innocence (2016), The ABC Murders (2018) and The Pale Horse (2020).
Director Craig Viveiros next went on to make the true crime mini-series Rillington Place (2016) based on serial killer Reginald Christie and the tv mini-series version of The War of the Worlds (2019).
---
---