---
USA. 1940.
Crew
Director – William Nigh, Screenplay – Richard Carroll & Kurt Siodmak, Adaptation – Siodmak, Suggested by the Play by Adam Hull Shirk, Photography (b&w) – Harry Neumann, Music Director – Edward Kay. Production Company – Monarch Film Corporation.
Cast
Boris Karloff (Dr Bernard Adrian), Maris Wrixon (Frances Clifford), Henry Hall (Sheriff Halliday), Gene O'Donnell (Danny Foster), Gertrude Hoffman (Jane), Dorothy Vaughan (Mrs Clifford)
---
Plot
In the town of Red Creek, Dr Bernard Adrian is obsessively trying to find a cure for the paralysis that killed his daughter and affects his neighbour Frances Clifford. However, the locals regard his experiments with suspicion. An ape from a visiting circus escapes and kills a man. Adrian finds he is able to use a serum derived from the dead man's spinal fluids to affect a partial cure for Frances but needs more spinal fluids to complete the task. The ape then breaks into Adrian's house but he kills it. Afterwards he is inspired to put on its skin to go out and kill townspeople to obtain more spinal fluid.
---
Alongside The Devil Bat (1940), which had Bela Lugosi training his giant bats to kill people wearing a particular brand of aftershave he had invented, The Ape must stand as the mad scientist film of the 1930s/40s that had the most lunatic of all mad scientist schemes. There is an absurdly preposterous melodrama to the film – good but slightly deranged scientist Boris Karloff is experimenting on a serum to make polio-stricken neighbour Maris Wrixon walk again but finds he can only do so with the use of human spinal fluids after using those of a man killed by an escaped circus ape. The ape then conveniently breaks into Karloff's lab, whereupon Karloff kills it and is inspired to place its skin on and go out and kill more people to obtain their spinal fluids, as though dressing up in the skin of a dead animal were the most natural means of conducting scientific inquiry.
All of this nonsense was created by Curt (known sometimes as here as Kurt) Siodmak, a scriptwriter and sometimes director who was also responsible for a host of Universal's Invisible Man sequels and the likes of Black Friday (1940), The Wolf Man (1941), Frankenstein Meets the Wolf Man (1943), Son of Dracula (1943), I Walked with a Zombie (1943), The Beast with Five Fingers (1946), Creature with the Atom Brain (1955) and the thrice-filmed novel Donovan's Brain (1942), among many others. (See below for Kurt Siodmak's other films). Siodmak extremely liberally adapts a play, previously filmed as House of Mystery (1934), which was also made by the same director as this film, but was originally an Old Dark House thriller that featured a gorilla stalking people in a mansion and had the rationale of a millionaire having brought a Hindu curse down on himself.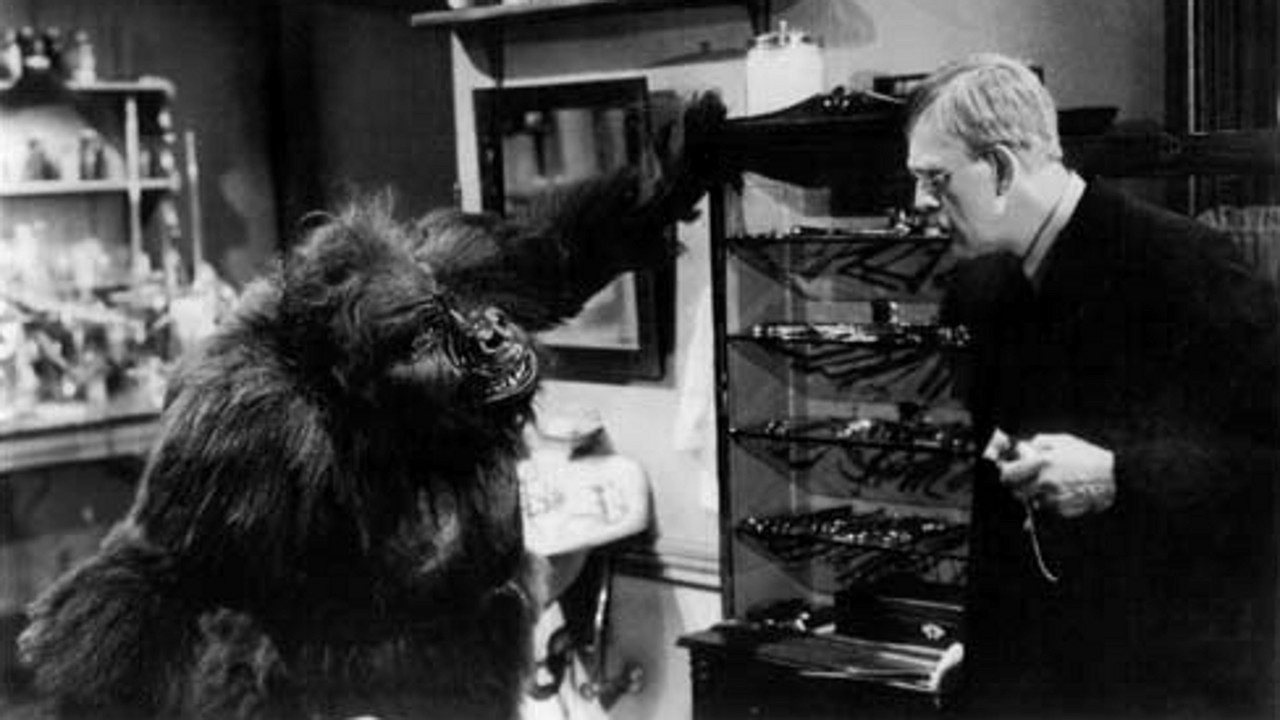 Curt Siodmak contributes some wonderfully purple dialogue, such as the exchange between the longsuffering wife and her philandering husband: "I wish you wouldn't keep going on here where we live. So people would start pitying me … I have no-one but you. I have no folks, nowhere to go," to which comes his retort "You have the river."
The film is filled with the typical prejudices of the era against science – the townspeople don't like Boris Karloff' scientist because he 'experiments' too much. The good, honest Danny opines suspicion: "I don't trust anything I don't understand" (which considering the way the character is played must be just about everything in the world).
The Ape is directed by William Nigh with little in the way of style. Boris Karloff gives a customarily good performance, balanced between kindly absent-mindedness and cold ruthless dedication to science. Interestingly, he is a much more ambiguous scientist than most of his compatriots from the era – someone who is both killer and benefactor.
William Nigh was a B-movie director from the era, perhaps best known for the Mr Wong series of films. He made sporadic other ventures into genre material with other mad scientist films such as The Strange Case of Doctor Rx (1942), as well as the Old Dark House comedy The Ghost and the Guest (1943) and the non-genre spy film Black Dragons (1942) with Bela Lugosi as a revenge-seeking Nazi plastic surgeon.
Kurt (or more commonly) Curt Siodmak's other genre scripts include:- F.P.1 Does Not Answer (1932), Trans-Atlantic Tunnel (1935), Black Friday (1940), The Invisible Man Returns (1940), The Invisible Woman (1940), The Wolf Man (1941), Invisible Agent (1942), Frankenstein Meets the Wolf Man (1943), I Walked with a Zombie (1943), Son of Dracula (1943), The Climax (1944), House of Frankenstein (1944), The Beast with Five Fingers (1946), Tarzan's Magic Fountain (1949), Riders to the Stars (1954), Creature with the Atom Brain (1955) and Earth Vs the Flying Saucers (1956). Siodmak also directed/wrote several films with Bride of the Gorilla (1951), The Magnetic Monster (1953), Curucu, Beast of the Amazon (1956) and Love Slaves of the Amazon (1957). Siodmak also wrote the classic novel Donovan's Brain (1942) about a millionaire's disembodied brain that ends up mentally controlling the scientist that removed it, which has been thrice filmed as The Lady and the Monster (1944), Donovan's Brain (1953) and Vengeance/The Brain (1962). Siodmak's lesser known follow-up Hauser's Memory (1968) about transplanted memories was also filmed as the tv movie Hauser's Memory (1970).
---
---