---
Crew
Directors/Screenplay – Virginie Despentes & Coralie Trinh Thi, Based on the Novel by Virginie Despentes, Producer – Philippe Godeau, Photography – Benoit Chamaillard, Music – Varou Jan, Special Effects – Guillaume Castagne. Production Company – Remstar/Pan Europeenne/Canal +.
Cast
Raffaela Anderson (Manu), Karen Bach (Nadine), Lisa Marshall (Karla), Estelle Isaac (Alice), H.P.G. (Martin), Ouassani Embarek (Radouan)
---
Plot
Manu, a French porn movie actress, and a friend are raped by three men. After Manu's boyfriend treats her contemptuously, she shoots him with his own gun. At the same time, prostitute Nadine strangles her roommate in an argument. The two of them meet by chance in the metro station where Manu initially makes Nadine drive her at gunpoint so that she can see the sea. The two of them then team up and begin a spree across the country, killing for money, having sex with whomever they like and shooting men that act like jerks.
---
To give a capsule description of Baise-Moi, you could call it Thelma and Louise (1991) meets Natural Born Killers (1994). It is Thelma and Louise's brand of anarcho-assertive road-movie feminism crossbred with the nihilistically exhilarating mass murder spree of Natural Born Killers – and all shot through with the stripped-back minimalism of a Dogme 95 film. [Another antecedent for Baise-Moi might be Michael Winner's startlingly sordid Dirty Weekend (1992)]. The film caused a major stir and was promptly banned in its native France (followed by half the English-speaking countries in the world) because of its violence and hardcore sex scenes – although peculiarly, while France is usually a bastion of liberalism, Baise-Moi was shown uncut (albeit unrated) in the normally ultra-conservative USA.
Baise-Moi comes with a savage bite. It wants to shock and upset – and from the reaction it received, it certainly achieved its aim. There is no real plot to it but you have to celebrate the film for the sheer rawness of its anarchy and energy. Like Thelma and Louise's screenwriter Callie Khouri, it is directed and written by two women who sure as Hell are angry about things the way they are – about men being abusive and jerks, about people who have while others don't, about bourgeois values, about simply desiring to live in a world of casual free sex.
The two girls blow away whoever takes their whim from abusive boyfriends to cops to gunstore clerks (to get more guns) to a woman with an ATM card. A guy in the street calls out "Want to feel me balls slapping against your ass?" and is promptly shot right there. In an hilariously nasty scene, they pick up a guy in a casino – he doesn't want to fuck with a condom so Raffaela Anderson gives him head and then throws up over his crotch and they then kick his head in. In the film's most outrageous scene, they eliminate a roomful of people in a sex club – including a nasty Deliverance (1972)-modelled scene where they make one jerk squeal like a pig then place the gun up his rectum and blow his head off.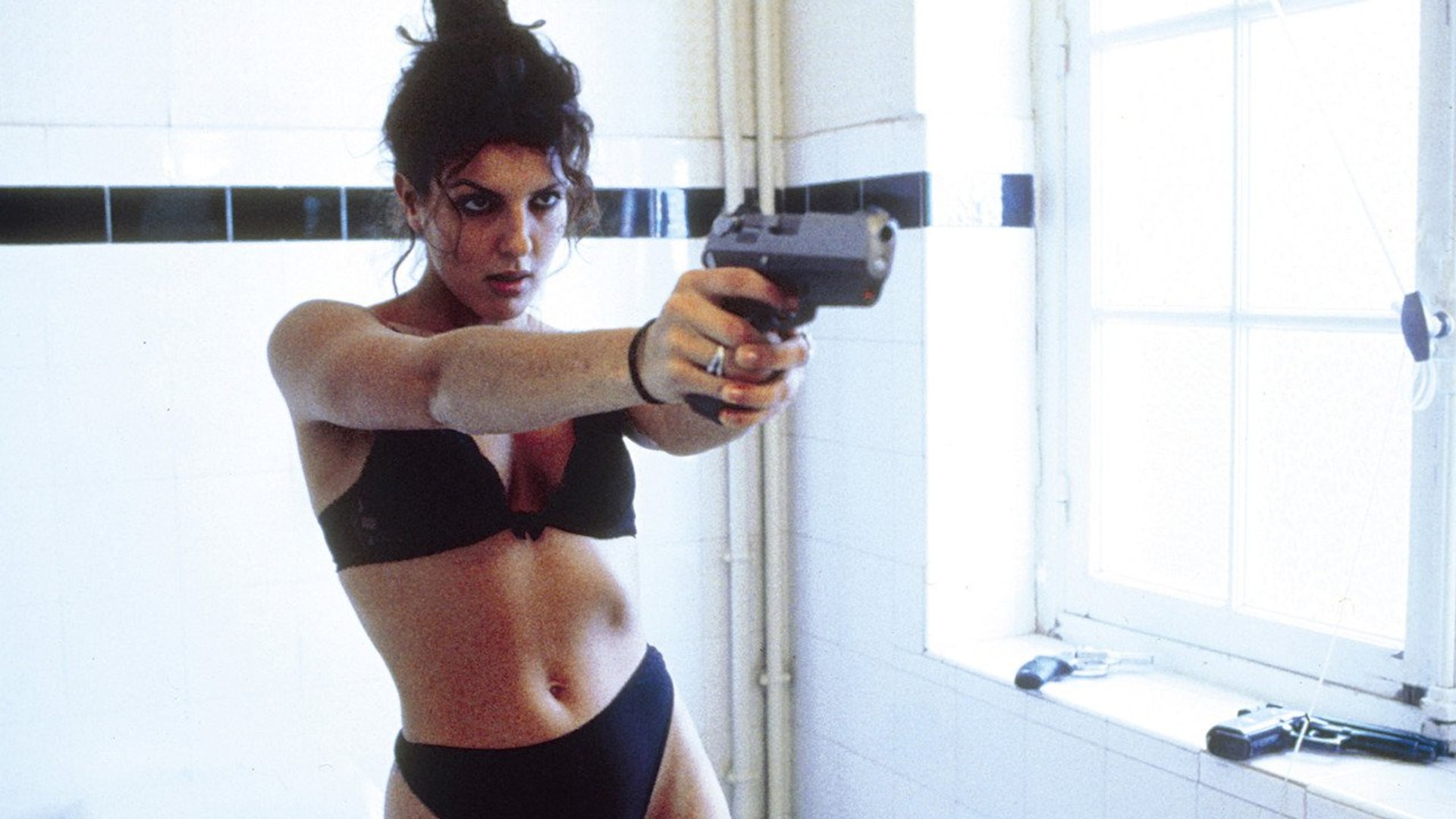 The two girls spend as much time indulging in casual sex as they do in murder and mayhem. What takes one aback here is the explicitness of the sex. There is none of the coyness of knowing that it is actors mimicking sex that one finds in softcore US films like 9½ Weeks (1986) or Basic Instinct (1992). When the two lead actresses are fucking there is no doubt that that real penetration is occurring, there is no doubt that they are giving head in reality – we see cocks going in and out of mouths in explicit closeup detail with no coy cuts between body doubles and actresses's faces. (Our first full vaginal penetration shot comes rather alarmingly in the midst of a rape scene).
European cinema has been trying to push this taboo line – of showing actual penetrative sex on screen – for some time now with the likes of Lars von Trier's The Idiots (1998) and Catherine Breillat's films such as Romance (1999) and Anatomy of Hell (2004). To this extent, director/original writer Virginie Despentes has gone out and recruited two actresses (Raffaela Anderson, Karen Back) from the porn industry (and unlike most porn performers, they are fairly good actresses too. Co-director/writer Coralie Trinh Thi is even a porn actress as well). In the same way that mainstream cinema keeps trying to push this taboo envelope, porn cinema has equally been striving for a legitimacy – Baise-Moi seems like a happy meeting ground between the two. The film interestingly co-opts porn style filmmaking, although the intent is clearly to do anything other than show the sex scenes in an erotic or titillating light.
Baise-Moi is raw, ragged and carries an exhilaratingly nasty kick as any film one has seen in some time. There is none of the visual excess of Natural Born Killers or the widescreen Hollywood flourish of Thelma and Louise. The stripped-back minimalism gives the film a purity – even though the violence looks fake, the film has a rawness and an immediacy that a bigger budgeted attempt would have killed. The film even carps at its lack of affect – in one scene, one of the girls conducts a shooting and then bemoans the lack of wry one-liners she has: "Fuck, we're useless – where's the witty dialogue? … People are dying, the dialogue has to be up to it."
Baise-Moi is a wish fulfilment fantasy of liberation through taboo breaking and anarchic violence – one loved it and for all the wrong reasons. But that is the very pleasure of films like this – they allow one the exhilarating liberation of seeing the taboo ideas that everybody dreams of sometime or another enacted out.
(Winner in this site's Top 10 Films of 2000 list).
---
Trailer here
Alternate trailer here:-
---