---
Crew
Director/Screenplay – Frank Henenlotter, Producer – Edgar Ievens, Photography – Bruce Torbet, Music – Gus Russo, Makeup Effects – John Caglione Jr & Kevin Haney, Additional Makeup Effects – Ugis Nigali, Art Direction – Frederick Loren. Production Company – Basket Case Co.
Cast
Kevin Van Hentenryck (Duane Bradley), Terri Susan Smith (Sharon), Beverly Bonner (Casey), Lloyd Pace (Dr Harold Needleman), Diana Browne (Dr Judith Kutter), Ruth Neuman (Aunt), Richard Pierce (Mr Bradley), Robert Vogel (Hotel Manager)
---
Plot
Duane Bradley checks into a fleapit hotel in New York City, carrying with him a locked wicker basket. All those that try to open the basket are killed by something inside it. The thing in the basket is the torso of Duane's Siamese twin Belial. Belial was born attached to Duane's side before being forcibly removed in a crude operation and thrown in the trash for dead. The two of them now take revenge on the three doctors who conducted the operation.
---
This charming little film, made with the budget of about two used shoelaces, heralded the arrival of Frank Henenlotter who seemed for a time to be a director who had found a successful balancing act between no-budget exploitation cinema and genre sensibilities.
As with much of Frank Henenlotter's output, Basket Case is set around the sleazy underside of New York City. The acting, photography and pace leaves much to be desired (something Henenlotter's later films improve to no end) but what Basket Case lacks in professional polish it more than makes up for with enthusiasm. Simply by going out and shooting real locations, Frank Henenlotter achieves a remarkable portrait of a thriving undercity of Times Square porn cinemas and fleapit hotels inhabited by drug pushers, hookers and bums.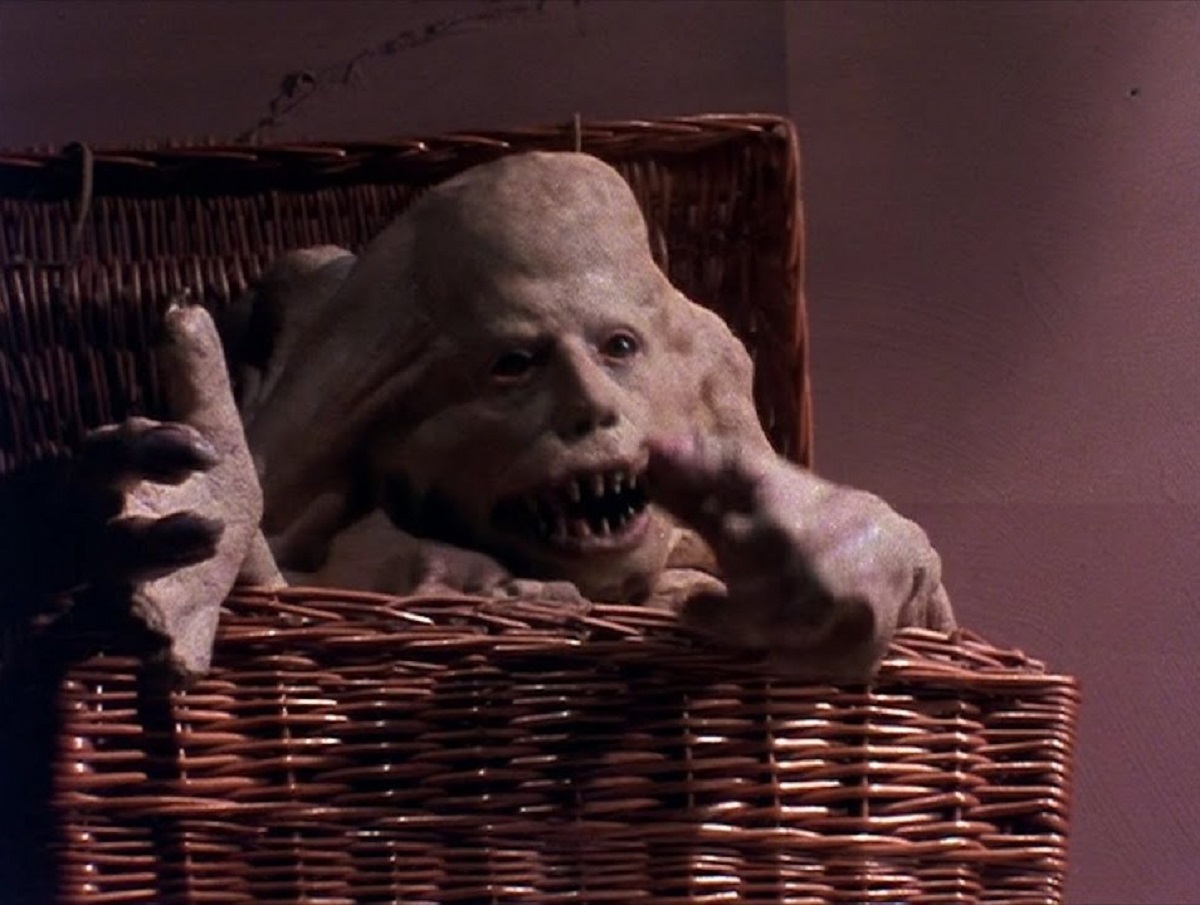 John Caglione and Kevin Haney's makeup effects are accomplished and professional and Henenlotter keeps the gore level wonderfully high. The revelation of Belial does not occur immediately, with Henenlotter slowly building it up with amusing and disturbing effect – food thrown into the basket to be gobbled up amid much slavering, a thief running away with a bloodied face. Henenlotter also achieves the touching at times, something that makes Basket Case all the more remarkable – like the extraordinary image of Belial sitting on his aunt's knee as she reads to the two brothers. The film is appropriately dedicated to Herschell Gordon Lewis, the creator of the splatter film.
Frank Henenlotter went on to make the amazing Brain Damage (1987) and the lesser Frankenhooker (1990), followed by two sequels to Basket Case – Basket Case 2 (1990) and Basket Case 3/Basket Case 3: The Progeny (1991). On the basis of these, Henenlotter as a promising talent and his subsequent disappearance from the genre, all bar lending his name to a series of trash classic video releases, is one we are all the less off for. Eventually, Henenlotter returned to filmmaking with Bad Biology (2008), as well as documentaries on genre subjects with Herschell Gordon Lewis: The Godfather of Gore (2010) and That's Sexploitation! (2013) and the non-genre likes of Chasing Banksy and Boiled Angels: The Trial of Mike Diana (2018).
---
---