---
Crew
Director – Mike Flanagan, Screenplay – Mike Flanagan & Kate Siegel, Producers – Jason Blum & Trevor Macy, Photography – James Kniest, Music – The Newton Brothers, Visual Effects – Arc Productions Ltd. (Supervisor – Bret Culp), Special Effects Supervisor – Kenny Gorrell, Production Design – Elizabeth Boller. Production Company – Blumhouse Productions/Intrepid Pictures.
Cast
Kate Siegel (Maddie Young), John Gallagher Jr. (The Man), Samantha Sloyan (Sarah Green), Michael Trucco (John Stanley), Emma Graves (Max Young)
---
Plot
Having written a successful first novel, Maddie Young has retreated to a cabin in the woods to work where she is struggling with her second. She has also been deaf ever since she contracted meningitis at the age of thirteen. She is now terrorised by a man wielding a crossbow who has killed her neighbour Sarah and waits outside, taunting her that he can break into the house any time. As Maddie desperately finds a way to get help or out of the house, the man thwarts her every attempt.
---
Hush – not to be confused with the earlier thoroughly overwrought Hush (1998) with Jessica Lange doing her best Joan Crawford impression or the road movie psycho-thriller Hush (2008) – comes from Mike Flanagan. Flanagan has become a genre regular of considerable potential ever since he impressed with his fourth film, the amazing Absentia (2011) and from there went onto the likes of Oculus (2013) about an evil mirror. Hush was Flanagan's second film for Jason Blum's Blumhouse production company after Oculus and was followed by Ouija: Origin of Evil (2016). (See below for Blumhouse's other films).
Flanagan subsequently went on to make Before I Wake (2016) about a child whose dreams become reality, the Stephen King adaptation Gerald's Game (2017), the tv mini-series The Haunting of Hill House (2018), Doctor Sleep (2019) and the tv mini-series Midnight Mass (2021), while he also produced, created and directed some episodes of the tv mini-series The Haunting of Bly Manor (2020) and The Midnight Club (2022).
Based on Absentia in particular, I have been hugely impressed with Mike Flanagan as a genre director. He does not disappoint with Hush. It is a variant on films such as The Spiral Staircase (1946), Wait Until Dark (1967), See No Evil (1971) or Julia's Eyes (2010), which feature blind or mute women stalked by a killer. The difference here is that Flanagan and his wife/lead actress Kate Siegel, who also writes the script, have substituted a deaf woman. The film comes with an absolute minimum of dialogue and none of it from Siegel herself. The entire film is also contained within the single location of a cabin in the woods and never ventures beyond that.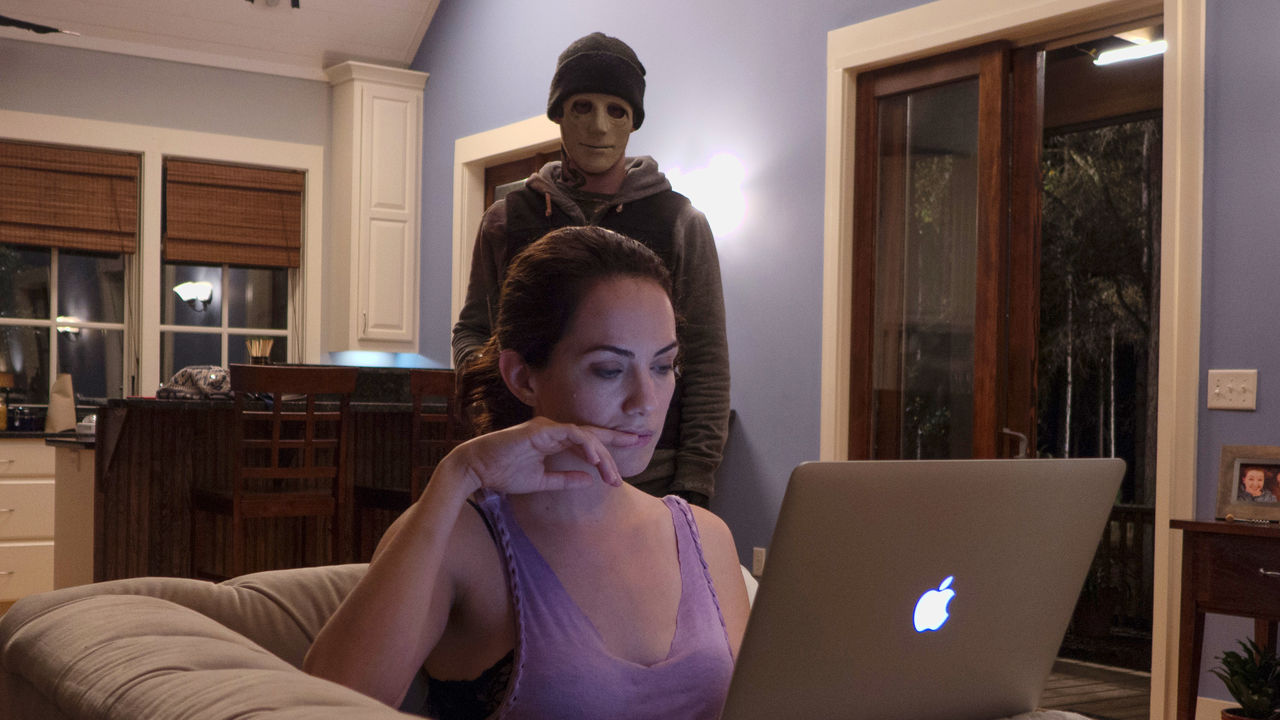 Flanagan grabs your attention from a sensational sequence only a few minutes in where Kate Siegel has bidden goodbye to her friend Samantha Sloyan and is clearing up the dishes only for Samantha to slam up against the glass window of the kitchen screaming for help, all while Kate continues cleaning without noticing as Samantha is banging for help while being stabbed to death by the masked killer only three feet away. This is sensational enough but the scene doesn't end there – Kate goes back to working on her book as the killer then enters the house and comes up behind her as she sits amusing herself playing around with endings, unaware of anything.
From there, the film becomes a gruelling  series of twists, turns and drawn out suspense as Kate Siegel attempts to find a way out of the house as the killer, who keeps reminding her that he could break in at any time, taunts her from outside. Mike Flanagan generates this with an incredible degree of tension that causes you to frequently sit upright in your seat. What is particularly good is the pure sadism of John Gallagher Jr.'s serial killer who relishes what he could do and sits back taunting Kate. I am happy to say that this is one film I have seen in the last couple of years that delivers pure unadulterated tension that keeps you right on the edge of the seat until the credits roll.
Jason Blum and his Blumhouse production company have produced a number of other genre films including:- Hamlet (2000), Paranormal Activity (2007) and sequels, Insidious (2010) and sequels, Tooth Fairy (2010), The Bay (2012), The Lords of Salem (2012), The River (tv series, 2012), Sinister (2012) and sequel, Dark Skies (2013), Oculus (2013), The Purge (2013) and sequels, the tv mini-series Ascension (2014), Creep (2014), Jessabelle (2014), Mercy (2014), Mockingbird (2014), Not Safe for Work (2014), Ouija (2014) and sequel, 13 Sins (2014), The Town That Dreaded Sundown (2014), Unfriended/Cybernatural (2014), Area 51 (2015), The Boy Next Door (2015), Curve (2015), The Gallows (2015), The Gift (2015), Jem and the Holograms (2015), The Lazarus Effect (2015), Martyrs (2015), Visions (2015), The Visit (2015), The Darkness (2016), Incarnate (2016), The Veil (2016), Viral (2016), Amityville: The Awakening (2017), Get Out (2017), Happy Death Day (2017), The Keeping Hours (2017), Split (2017), Stephanie (2017), Bloodline (2018), Cam (2018), Delirium (2018), Halloween (2018), Seven in Heaven (2018), Truth or Dare (2018), Upgrade (2018), Black Christmas (2019), Ma (2019), Prey (2019), Don't Let Go (2019), Sweetheart (2019), Black Box (2020), The Craft: Legacy (2020), Evil Eye (2020), Fantasy Island (2020), Freaky (2020), The Hunt (2020), The Invisible Man (2020), Nocturne (2020), You Should Have Left (2020), Black as Night (2021), The Black Phone (2021), Dashcam (2021), Madres (2021) and Firestarter (2022).
(Nominee for Best Director (Mike Flanagan) at this site's Best of 2016 Awards).
---
---