USA. 2017.
Crew
Director – Mike Flanagan, Screenplay – Mike Flanagan & Jeff Howard, Based on the Novel by Stephen King, Producer – Trevor Macy, Photography – Michael Fimognari, Music – The Newton Brothers, Visual Effects Supervisor – Bret Culp, Visual Effects – Spin VFX (Supervisor – Jeff Campbell), Special Effects Supervisor – Will Purcell, Makeup Effects – Robert Kurtzman's Creature Corps, Production Design – Patrick Sullivan. Production Company – Intrepid Pictures.
Cast
Carla Gugino (Jessie Burlingame), Bruce Greenwood (Gerald Burlingame), Henry Thomas (Tom Mahout), Chiara Aurelia (Young Jessie), Carel Struycken (Moonlight Man/Raymond Andrew Joubert), Kate Siegel (Sally Mahout)
---
Plot
Jessie Burlingame joins her husband Gerald on a weekend away at a cabin. To spice up their flagging sex life, he has brought a pair of handcuffs and cuffs her to the bed. She quickly decides she does not like this, although the idea of having her imprisoned excites him. Gerald then has a heart-attack due to the Viagra he has taken and collapses dead on top of her. She is able to shove the body off but still faces the problem that she is cuffed to the bed and unable to get free. As she lies there, a stray dog enters the house and starts feasting on Gerald's flesh. As night comes, she also sees visions of a possibly supernatural figure she refers to as Moonlight Man. At the same time, visions of both Gerald and her own self appear to her, drawing her back to uncomfortable childhood memories of sexual molestation by her father in search of a clue that might aid her to make an escape.
---
Mike Flanagan is a director who has proved himself of considerable worth in the last few years after his appearance on the horror scene with his fourth film, the amazing Absentia (2011). From there, Flanagan went onto the likes of Oculus (2013), Hush (2016), an incredibly taut psycho-thriller about a deaf woman being stalked and taunted by a killer, Before I Wake (2016) and Ouija: Origin of Evil (2016) and subsequent to this the tv mini-series The Haunting of Hill House (2018).
Gerald's Game, which was released directly to Netflix, came out in a bumper year of Stephen King adaptations, which also included The Dark Tower (2017), the remake of It (2017), 1922 (2017) and two entire tv series adapted from King novels with The Mist (2017) and Mr. Mercedes (2017– ), while trailers are already circulating for a further King-based tv series Castle Rock (2018– ) as I write this.
Gerald's Game (1992) is one of Stephen King's most difficult books to adapt from a logistics perspective. Other works that have proven difficult such as The Dark Tower series, The Stand (1977) and The Talisman (1984) have gone through many different iterations before reaching the screen (if at all) but I have never seen Gerald's Game mentioned as a potential adaptation before this. Part of this is the very uncinematic nature of the book – there is only one character on screen and she is imprisoned naked to the bed for the duration of the show. The bondage plot may have also turned some filmmakers off – although with BDSM having become mainstreamed with Fifty Shades of Grey (2015), there seems something almost passe about it now. (The thing that you keep thinking as you watch the film is why Gerald and Jessie do not employ safewords – it seems a stretch of credibility that Jessie would have looked up on the internet about the basics before agreeing).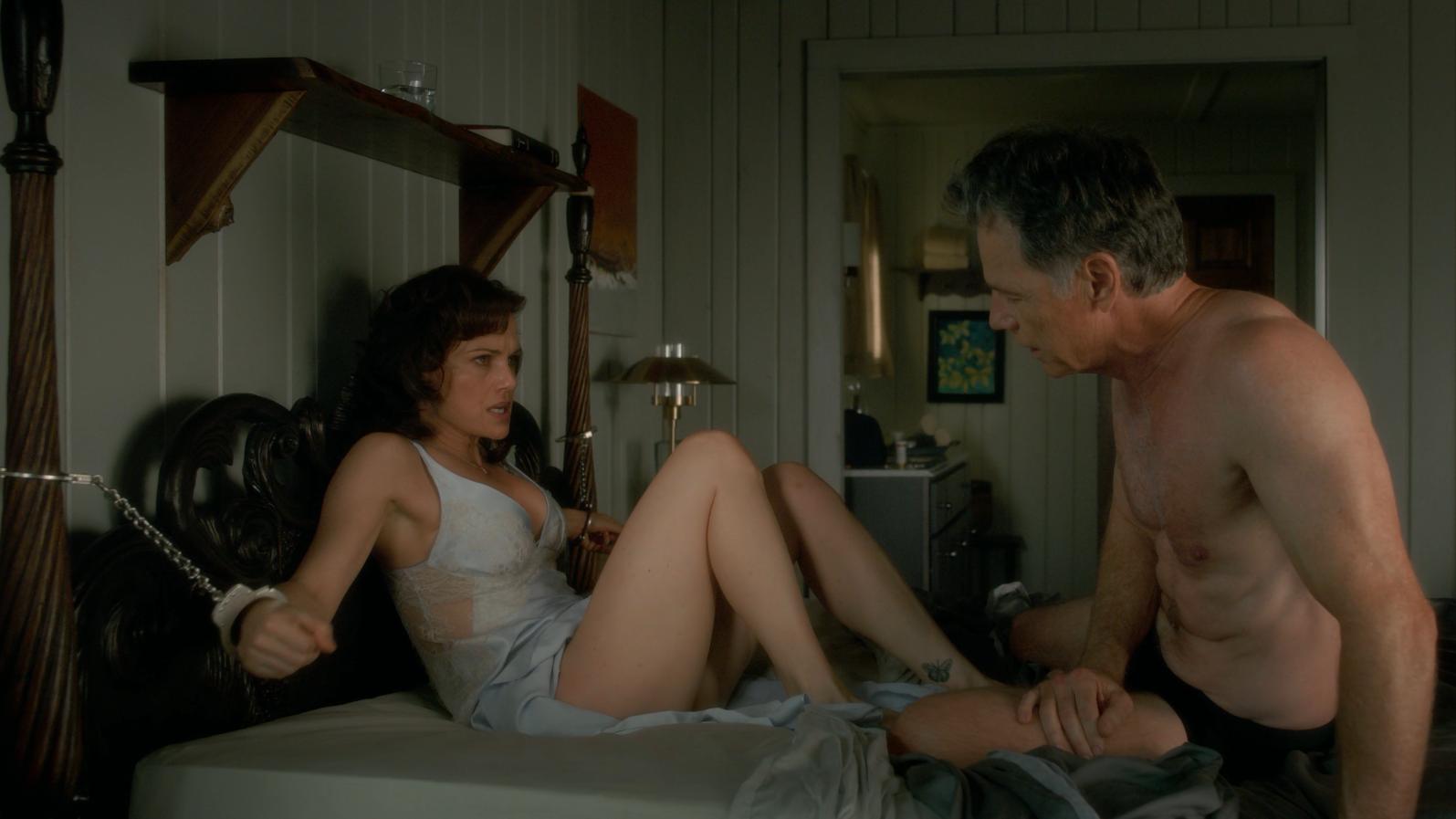 Mike Flanagan does a surprisingly good job of adapting the book. There are a few changes – the creepy character in the shadows played by Carel Struycken has been renamed The Moonlight Man instead of The Space Cowboy presumably because the filmmakers didn't have license to use the reference from the song The Joker (1973) by The Steve Miller Band. Jessie is more modestly outfitted in a slip rather than cuffed to the bed naked. In the book, Jessie's imaginary companions are Gerald, her college friend Ruth and psychiatrist, whereas here they are kept to Gerald and another more sensible version of herself (which corresponds with the Goody Burlingame persona in the book). There is the odd update – Gerald has his heart-attack after taking a Viagra pill rather than knocks his head during her struggle to get him off of her and part of Jessie's struggle is to reach a cellphone only to realise the battery is dead.
Despite a few minor changes, Mike Flanagan does a good job of getting to the essence of the drama and the psychological arcs of the Stephen King novel. King wrote the book back in the 1990s when he had discovered feminism and a number of his works of this era – Dolores Claiborne (1992), Rose Madder (1995) – were stories about abused women finding their empowerment. Flanagan gets that element of the story and builds Jessie's character arc into an emotional core in ways that are very authentic to King. The alter egos are written with a fine and incisive arc, constantly interrogating and paring away at who Jessie is. The imaginary companions is one aspect that is difficult to pull off – see the adaptation of King's Big Driver (2014) for an example of how badly this can fail – but Flanagan does so in a way that emerges as one of the best King adaptations in terms of getting his internal dialogue right.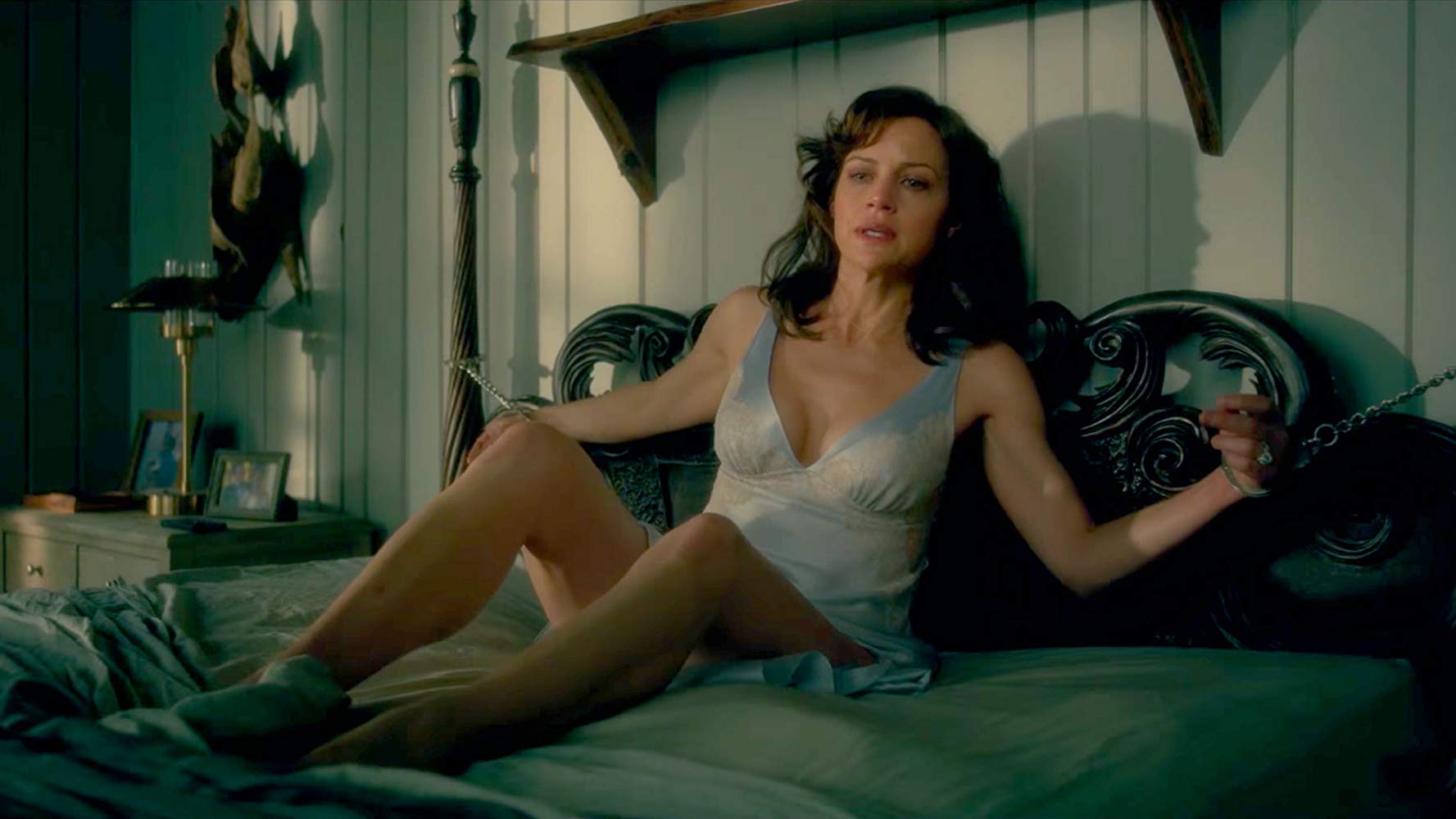 The only sections that didn't work for me are the flashbacks dealing with Jessie's sexual abuse by her father – played by Henry Thomas who seems determined to trash the typecasting that has dogged him ever since the family friendly E.T. – The Extra-Terrestrial (1982). Maybe it was my discomfort with the scenes of abuse coming through but it also seems that both Flanagan and Henry Thomas are awkward when it comes to playing the scenes out. In particular, the dialogue where he is trying to persuade the young Jessie to not say anything with the use of reverse psychology feels incredibly stilted, like no way that an adult or parent would ever talk to a child in real life (even though this is exactly what King wrote on the page).
I am not sure quite what happened here – my suspicion is that Flanagan was caught between faithfulness to King's dialogue and an uncomfortableness with the material itself. The dialogue elsewhere, especially in the scenes with her imaginary companions, is sharp and psychologically incisive. The other thing that doesn't come through in the film is how the flashback scenes lead to Jessie's means of eventual escape. In the book it is a throwaway comment her father made about accidentally slicing her fingers off with the pieces of smoked glass used to look at the eclipse, but that is not mentioned here and there is no real connection between the flashbacks and the way her memory seems to be guiding her to a realisation of the solution.
Other Stephen King genre adaptations include:- Carrie (1976), Salem's Lot (1979), The Shining (1980), Christine (1983), Cujo (1983), The Dead Zone (1983), Children of the Corn (1984), Firestarter (1984), Cat's Eye (1985), Silver Bullet (1985), The Running Man (1987), Pet Semetary (1989), Graveyard Shift (1990), It (tv mini-series, 1990), Misery (1990), a segment of Tales from the Darkside: The Movie (1990), Sometimes They Come Back (1991), The Lawnmower Man (1992), The Dark Half (1993), Needful Things (1993), The Tommyknockers (tv mini-series, 1993), The Stand (tv mini-series, 1994), The Langoliers (tv mini-series, 1995), The Mangler (1995), Thinner (1996), The Night Flier (1997), Quicksilver Highway (1997), The Shining (tv mini-series, 1997), Trucks (1997), Apt Pupil (1998), The Green Mile, The Dead Zone (tv series, 2001-2), Hearts in Atlantis (2001), Carrie (tv mini-series, 2002), Dreamcatcher (2003), Riding the Bullet (2004), 'Salem's Lot (tv mini-series, 2004), Secret Window (2004), Desperation (tv mini-series, 2006), Nightmares & Dreamscapes: From the Stories of Stephen King (tv mini-series, 2006), 1408 (2007), The Mist (2007), Children of the Corn (2009), Everything's Eventual (2009), the tv series Haven (2010-5), Bag of Bones (tv mini-series, 2011), Carrie (2013), Under the Dome (tv series, 2013-5), Big Driver (2014), A Good Marriage (2014), Mercy (2014), Cell (2016), 11.22.63 (tv mini-series, 2016), The Dark Tower (2017), It (2017), The Mist (tv series, 2017), Mr. Mercedes (tv series, 2017– ), 1922 (2017), Castle Rock (tv series, 2018– ) and Pet Semetary (2019). Stephen King had also written a number of original screen works with Creepshow (1982), Golden Years (tv mini-series, 1991), Sleepwalkers (1992), Storm of the Century (tv mini-series, 1999), Rose Red (tv mini-series, 2002) and the tv series Kingdom Hospital (2004), as well as adapted his own works with the screenplays for Cat's Eye, Silver Bullet, Pet Semetary, The Stand, The Shining, Desperation, Children of the Corn 2009, A Good Marriage and Cell. King also directed one film with Maximum Overdrive (1986).
(Nominee for Best Adapted Screenplay and Best Supporting Actor (Bruce Greenwood) at this site's Best of 2017 Awards).
---
Trailer here
---