---
Crew
Director – Brett Leonard, Screenplay – Kieran Galvin, Based on an Idea by Alex O'Loughlin & Patrick Thompson, Producer – Melissa Beauford, Photography – Steve Arnold, Music – Gregg Leonard & Geoff Michael, Special Effects – Ua3 (Supervisor – David Trethewey), Makeup Effects – Make-up Effects Group (Supervisors – Paul Katte & Nick Nicolaou), Production Design – Jeremy Llewelyn. Production Company – Becker Films International/Honour Bright/All At Once/Cutting Edge/Feed Productions Pty Ltd.
Cast
Patrick Thompson (Phillip Jackson), Alex O'Loughlin (Michael Carter), Gabby Millgate (Deidre), Matt Le Nevez (Nigel), Rose Ashton (Abbey), Jack Thompson (Richard), Shirley Sulaiman (Mary Carter), David Field (Father Turner), Marika Aubrey (Jesse)
---
Plot
Phillip Jackson is a computer expert who specialises in internet sex crimes for the police department in Sydney, Australia. Phillip becomes fascinated with feeder-gainer relationships – the sexual fetish shared by the grotesquely obese and the relationships that some of these ('gainers') have with their 'feeders' who provide them with food and encourage them to gain weight. Phillip is drawn to one particular website, www.feederx.com, where he believes that the webmaster is deliberately feeding gainers with the intent of killing them. Phillip tracks the webmaster down as Michael Carter, living in Toledo, Ohio. He travels to Toledo without departmental sanction and determines to rescue Deidre, the gainer that Michael keeps prisoner and is pushing well over the 600-pound limit. However, Michael in turn begins to play a series of psychological games with Phillip.
---
Feed is a rather interesting Australian-made horror film. It ventures into the theme of feeder-gainer relationships (or feederism). Feederism is an existing fetish where one individual (called the feeder, who is usually male) is sexually fixated on the other (called the gainer and usually female) gaining weight. It is a variant on fat fetishism, although one that specifically focuses around a dominant-submissive relationship with one person gaining weight and the other feeding them to excess. There are existing communities and a number of websites devoted to feederism (although no known accounts of feeders pushing gainers to a level that intentionally severely endangers their health and/or deliberately kills them as depicted in Feed).
All of this is certainly a uniquely original idea for a film. The only other films that one can think of that ever dealt with gluttony and eating was Peter Greenaway's The Cook, The Thief, His Wife & Her Lover (1989) and Taxidermia (2006), both only to a limited extent, and none that one can think of that have dealt with the pathology of obesity.
The surprise about Feed is that it comes from American director Brett Leonard. Leonard first appeared with the mad scientist/zombie film The Dead Pit (1989) and then made his distinction on the fantastic genre with The Lawnmower Man (1992), which was the first film to use computer animation in a major way. For a time, Brett Leonard attempted to become a specialist in CGI cinema, creating his own CGI company and making the likes of Hideaway (1995) and Virtuosity (1995). However, beyond the CGI effects, these films were empty-headed. Leonard's CGI company collapsed and he turned to making IMAX shorts, taking a decade before he returned to feature-length filmmaking with the Marvel Comics adaptation Man-Thing (2005), which was followed by Feed and the amazingly bad Highlander: The Source (2007). The great surprise about Feed is that, for a film that one sat down to watch with zero expectation based on Leonard's entirely undistinguished output elsewhere, it emerges as unexpectedly good and is unquestionably Brett Leonard's best film to date.
Feed appears to have come about when Brett Leonard travelled to Australia to shoot Man-Thing. While there, Patrick Thompson, the son of well-known Australian actor Jack Thompson (who played the villain in Man-Thing), showed Leonard the script for Feed, which he and actor Alex O'Loughlin had co-created, and Leonard decided to take the project on. Leonard also recruits a number of the actors from Man-Thing including Matt Le Nevez and Jack Thompson (who is also credited as an executive producer). Besides devising the script for Feed, Patrick Thompson and Alex O'Loughlin also play the lead roles of the detective and his nemesis in the film.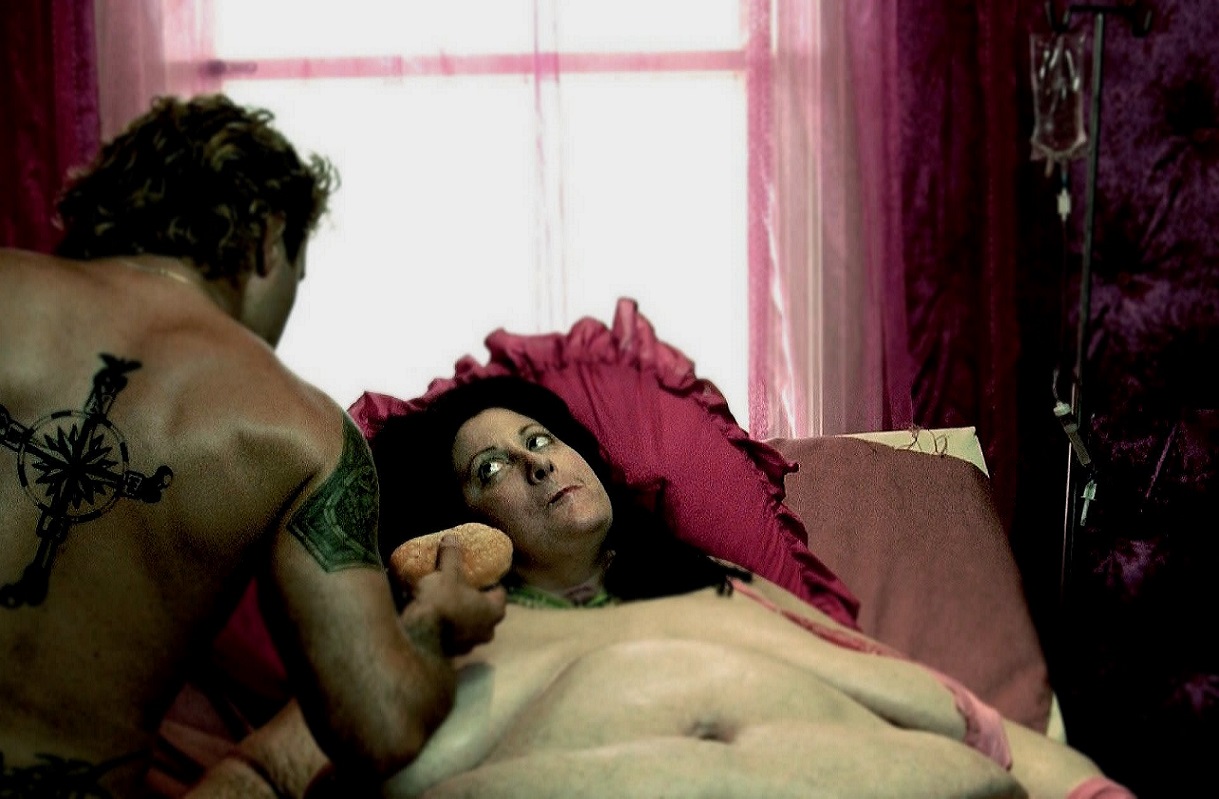 Leonard determines to push an edge with Feed (a substantial part of the reason why it is his best film). In the opening scene, we see a tattooed man (Alex O'Loughlin) and a massively obese woman on a bed and in a mixture of grotesque and the erotic, see him stripping off and then feeding her a burger in a deliberately sexual tease. This is followed by a nasty scene where Patrick Thompson's detective is part of a raid on a house in Hamburg where they find two guys in a bath, one having cut a chunk of the other's leg out and feeding it to him. It is a scene that is deliberately intended to evoke association with the notorious case of German man Armin Meiwes, the so-called Rotenburg Cannibal, who in 2001 met a man over the internet and then killed and ate him with the other man's consent. (See the film version Rohtenburg/Grimm Love (2006) for more detail about Meiwes).
Leonard often highlights imagery in a deliberately provocative way. Eating and food imagery lurks everywhere throughout the film – Patrick Thompson's girlfriend Rose Ashton parades about in her underwear with a tub of ice cream, chanting "eat me, feed me" while slapping her stomach. Later to emphasise things, Leonard intercuts two scenes (even briefly breaks it up into split screen) where in one Patrick Thompson and Rose Ashton have heated sex while in the other Alex O'Loughlin puts food all over gainer Gabby Millgate's body and eats it and then covers himself with chocolate sauce. There are all manner of provocative associations made – at one point, Patrick Thompson goes to church and is approached by the priest to take communion where he responds "I'm sorry, I'm not hungry Father." Even Thompson's partner Matt Le Nevez serves up a fruit smoothie that looks as though it is filled with blood.
Feed gains its full strength in the latter half where we arrive in Toledo, Ohio and get to the cat and mouse games between Patrick Thompson and Alex O'Loughlin. O'Loughlin makes for a captivatingly charismatic nemesis. He has a number of speeches where he persuasively argues the right of what he is doing in relation to true beauty and defying fashion fascism – at one point, he even turns around to accuse Patrick Thompson of being the real sociopath and uncovering how he physically abuses his girlfriends. There is a nasty scene where O'Loughlin drugs Thompson and he wakes to find that he has been injected in the stomach with a large pustule of rotting fat.
[PLOT SPOILERS] The film mounts to an admirably perverse climax where Alex O'Loughlin starts force-feeding Gabby Millgate with a tube down her throat to the point of nearly killing her; where Patrick Thompson discovers that O'Loughlin has been feeding her fat cooked up from other girls that he has murdered; and that after his obese mother died the young O'Loughlin skinned all the fat off her body. There is a far-fetched, if stingingly nasty, ending where we now see Patrick Thompson presumably married to Alex O'Loughlin's sister Marika Aubrey who packs his lunch as he drives off to work, which turns out to be the house where O'Loughlin kept Gabby Millgate prisoner. There Thompson sits down and eats his sandwiches in front of an anorexically thin O'Loughlin who is kept a bound prisoner and pathetically begs "feed me" as Thompson sits eating.
While Brett Leonard's visual style during the 1990s was nondescript, here he has appropriated a lot of the visual stylistics of the modern serial killer thriller film – dark and moody lighting schemes, flashy jumpcuts, random highlighted iconography. The visual affectation of it all becomes a little forced but Feed has such a fascinating screenplay and array of ideas that this is not as pretentious or affected as it seems at the outset. Indeed, Feed is a film where Brett Leonard transcends his own banality by determining to go out on a limb with striking results.
---
---