---
Crew
Director – Victor Cook, Supervising Director/Producer – Tad Stones, Screenplay – Kevin Hopps, Story – Mike Mignola & Tad Stones, Based on the Comic Book by Mike Mignola, Producers – Sidney Clifton, Scott D. Greenberg & Scott Hemming, Music – Christopher Drake. Production Company – Starz Media/Revolution Studios.
Voices
Ron Perlman (Hellboy), Selma Blair (Liz Sherman), John Hurt (Professor Trevor Bruttenholm), Doug Jones (Abe Sapien), Grant Albrecht (Oliver Trombolt), Rob Paulsen (Sydney Leach), Grey DeLisle (Anna), Kath Soucie (Erzsebet Ondrushko), Jim Cummings (Tom Manning), Peri Gilpin (Professor Kate Corrigan), Cree Summer (Hecate)
---
Plot
The Bureau of Paranormal Investigation is assigned to investigate the Hampton House to determine if it is haunted. None of them are enthused about this assignment, suspecting that this is a publicity stunt so that owner wealthy Oliver Trombolt can promote the house as a haunted tourist attraction. However, Professor Bruttenholm has a hunch otherwise. Back in 1939, as a young man, he killed the legendary vampire Erzsebet Ondrushko in the house. As they set up, Hellboy, Liz and Abe Sapien realise that the house is in fact haunted. They then discover that acolytes are conducting rituals to raise Erzsebet back to life.
---
Hellboy Animated: Blood and Iron was the second of so far two animated spinoffs from the live-action film Hellboy (2004). It was preceded by Hellboy Animated: Sword of Storms (2006). The two of these came sandwiched in between the first Hellboy film and the release of the live-action sequel Hellboy II: The Golden Army (2008). Both of these Hellboy Animated films come sanctioned by Guillermo Del Toro, the director of the films, who is listed as an executive producer, as well as Mike Mignola, the creator of the original graphic novels who provides the stories. Ron Perlman, Selma Blair, Doug Jones as well as (in this film only) John Hurt return to voice the roles they played in the live-action films.
With a film that is endorsed by the principal talents involved in the original, you expected something amazing. Only, Hellboy Animated: Blood and Iron is disappointingly routine. The problem may have been that the animation has been placed in the directorial hands of Victor Cook and with Tad Stones listed as supervising director. Both Cook and Stones' other work has been principally with Disney – not their animated features but making cheap sequels or tv series spun off from Disney's feature films. Victor Cook has co-directed Atlantis: Milo's Return (2003) and produced/directed episodes of series like 101 Dalmatians: The Series (1997-8), Buzz Lightyear of Star Command (2000-1), The Legend of Tarzan (2001-3) and Lilo and Stitch: The Series (2003-6). Tad Stones has produced Chip 'n Dale Rescue Rangers (1989-92), Darkwing Duck (1991-5), Aladdin (1994-5), Hercules (1998-9) and Buzz Lightyear of Star Command (2000-1), as well as directed Disney sequel fodder like The Return of Jafar (1994), which started the unwelcome Disney video/dvd sequels fad off, Aladdin and the King of Thieves (1996), Buzz Lightyear of Star Command: The Adventure Begins (2000) and Atlantis: Milo's Return.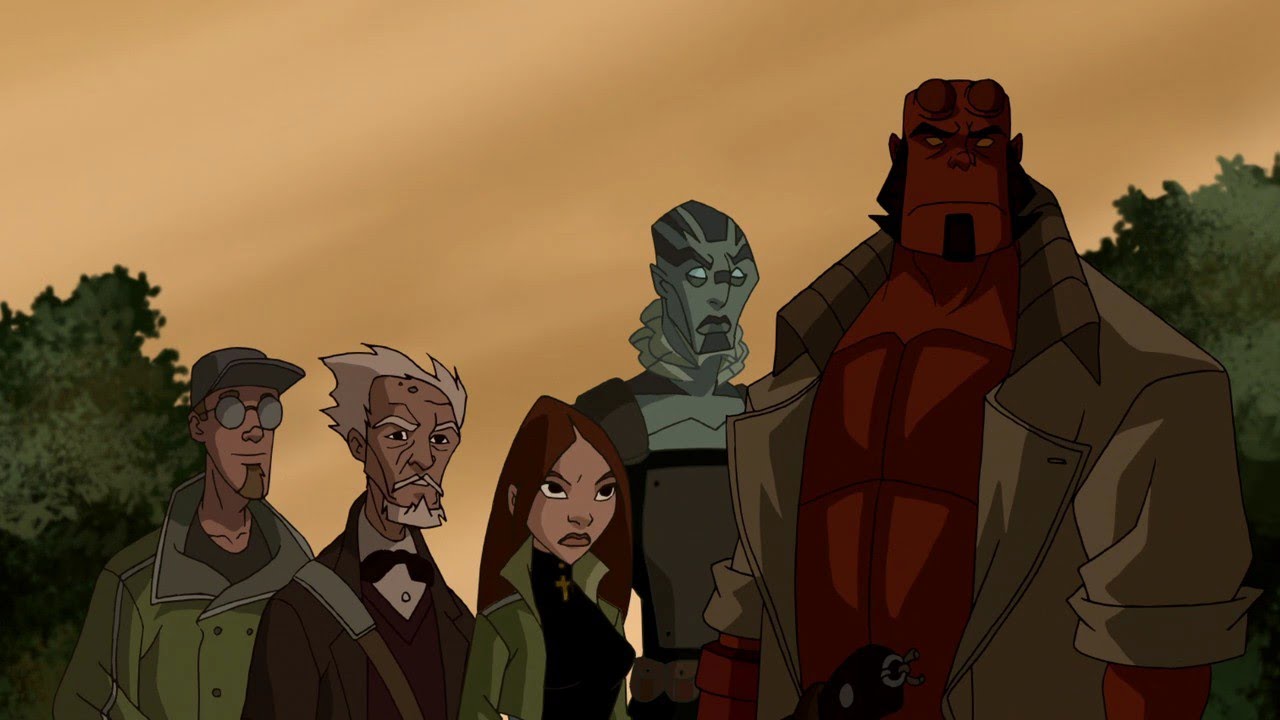 Disappointingly, the animation in Blood and Stone is only down around the level of the average animated tv series. Somehow, one expected that Blood and Stone would have had more to it than that given its pedigree. Victor Cook and Tad Stones create some potentially spooky atmosphere during the entry into the haunted house – ghosts emerging and gathering, Hellboy entering the kitchen and the knives impaling themselves in the bench and spinning in unison. The problem with the film is that this is atmosphere that is being relayed in the animated medium and the simple act of doing so weakens the intended effect. There are various battles between Hellboy and wolves and snakes and a climax with him being pursued by Hecate who has been embodied as an iron snake, as well as the story being embellished with flashbacks that tell of the young Bruttenholm and his first encounter with Erzsebet Ondrushko. You suspect that Hellboy Animated: Blood and Stone may have worked better if these scenes had been rendered in live-action, which would have allowed far more atmosphere and intensity. Rendered in routine animation however, the results are no different from the average effort that litters Saturday morning tv and the Cartoon Network.
The story is equally unexceptional. Its' one point of interest is that it resurrects Elizabeth/Erzsebet Bathory whose story has appeared in a number of films – see Daughters of Darkness (1971), Countess Dracula (1971), Immoral Tales (1974), Eternal (2004), Stay Alive (2006), Metamorphosis (2007), Bathory (2008) and The Countess (2009). Although she is given a different name here, the character is Elizabeth Bathory (or at least the cinematic equivalent of her) in all other regards. Perhaps Mike Mignola and co have changed the name simply because Elizabeth Bathory has been so overused cinematically.
---
---