---
UK. 1964.
Crew
Director/Producer – Lindsay Shonteff, Screenplay – George Barclay & Lance Z. Hargreaves, Based on the Short Story by Frederick Escreet Smith, Photography (b&w) – Gerald Gibbs, Art Direction – Stan Shields. Production Company – Galaworld.
Cast
Bryant Haliday (The Great Vorelli), William Sylvester (Mark English), Yvonne Romain (Marianne Horne), Sandra Dorne (Magda Cardenas), Karel Stepanek (Dr Heller), Alan Gifford (Bob Garrett)
---
Plot
Journalist Mark English wants to do an expose of the hypnotist and ventriloquist The Great Vorelli. He sends his date Marianne Horne to act as a volunteer in Vorelli's act but Vorelli instead places Marianne under his hypnotic control. English realises that Vorelli is trying to make Marianne marry him and is then intending to kill her so that he can obtain her inheritance. His investigations lead him to believe that Vorelli's ventriloquist's dummy Hugo may actually be alive and contain the murdered soul of his former stage partner.
---
The theme of the ventriloquist and his living dummy is a hoary old subject where all surprises have all been mapped out with considerable familiarity on screen before in the likes of The Great Gabbo (1929), the classic British horror anthology Dead of Night (1945), various episodes of The Twilight Zone (1959-63), Richard Attenborough's Magic (1978), Dead Silence (2007), and other possessed doll variants such as Black Devil Doll from Hell (1984), Dolly Dearest (1991), Annabelle (2014), Goosebumps (2015), Robert the Doll (2015) and sequels and Child's Play (1988) and sequels.
Devil Doll – which should not be confused with The Devil-Doll (1936), which had Lionel Barrymore in drag shrinking people to doll size – is one of the more effective variants on the theme. The film is aided immensely by a darkly charismatic performance from Bryant Haliday who plays with a cold arrogance that seems to have been closely modelled on Christopher Lee. The opening moments with Haliday forcing a hypnotised subject to believe he is being held at gunpoint by soldiers contains quite a sadistic charge. Best of all are the battles of wills between Haliday and Hugo, which contain some great psychological tension, especially the scenes where Hugo starts sinisterly picking up knives. Particularly good is the scene where Hugo appears in William Sylvester's room crying "Help me".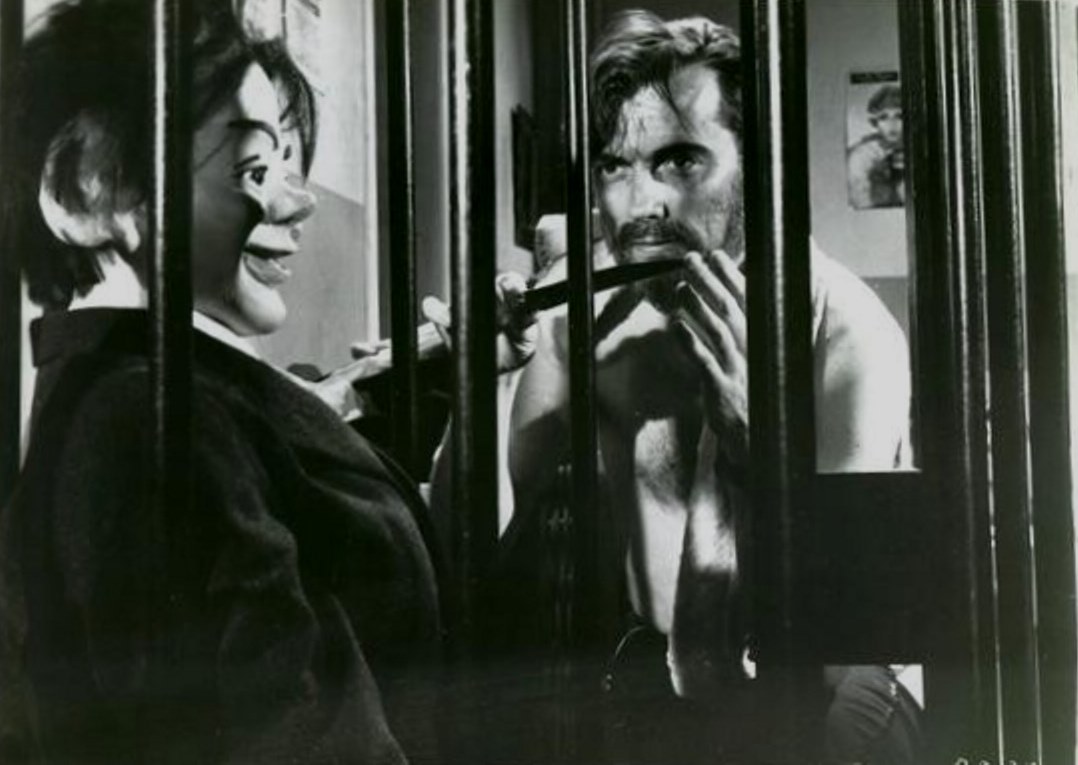 Director Lindsay Shonteff adds a sado-sexual element that was quite a bit more upfront than usual for the film's time. (Shonteff may have been inspired by Peeping Tom [1960]). Vorelli is into controlling the minds of women – there is a scene where he hypnotises and seduces Yvonne Romain. The camera pans in closeup up women in tights and lingers more than usual on a near-naked Sandra Dorne just before she is killed. The photography is surprisingly raw – the film lacks the shaped look that most of the b&w films of the period do, it appears to have been shot rough. The surprise ending comes as a great shock.
Devil Doll was one of the better efforts of director Lindsay Shonteff was more well known for spy films and thrillers such as Licensed to Kill/The Second Best Secret Agent in the World (1966), Night After Night After Night (1969), Fast Kills (1972), Spy Story (1976), softcore British cheapies like Permissive (1970), The Yes Girls (1971), Harry and the Hookers (1975), and sometimes combinations of the two like The Sex Life of a Female Private Eye (1973) and The Man from S.E.X. (1979). Shonteff's other ventures into genre material were the drearily routine Curse of Simba/Curse of the Voodoo (1964) and The Million Eyes of Sumuru (1967). The film was originally to have been directed by Sidney J. Furie but he departed to take on the big-budget spy film The Ipcress Film (1965) instead.
---
---