---
Crew
Director/Screenplay – Jeffrey Bloom, Based on the Novel by Virginia C. Andrews, Producers – Thomas Fries & Sy Levin, Photography – Frank Byers & Cecil Hobbs, Music – Christopher Young, Special Effects – Dick Albain, Production Design – John Muto. Production Company – Fries Entertainment/New World Pictures.
Cast
Kristy Swanson (Cathy Dollanganger), Jeb Stuart Adams (Christopher Dollanganger), Louise Fletcher (Grandmother), Victoria Tennant (Corinne Dollanganger), Ben Granger (Cory Dollanganger), Lindsay Parker (Carrie Dollanganger)
---
Plot
The Dollanganger family is shattered when the father of the house dies, leaving them destitute. The only hope lies in their mother Corinne returning and winning favour with her dying father who disinherited her after she left home. Once there, the cruel and autocratic grandmother takes the four children and locks them in a room in the attic. Their mother goes along with this, telling them to wait until she is successful in her entreaty. However, as days draw into months, their mother's visits become scarcer and they are sometimes forced to go without food for a long time. Managing to find a way to sneak in and out of the attic, they find that their mother is planning to marry another man and is now sprinkling arsenic on their food to kill them off.
---
Author Virginia C. Andrews had a best-seller with her first novel, the Gothic horror story Flowers in the Attic (1979), which was purportedly based on a true story. Flowers in the Attic was such a success that Andrews was pressed to write more and she developed it out into a series that continued through Petals on the Wind (1980), If There Be Thorns (1981), Seeds of Yesterday (1984) and Garden of Shadows (1987). She wrote five other books in a similar Gothic vein but then died in 1986. With these, Andrews succeeded in revitalising the 19th Century Gothic novels of Wilkie Collins and Anne Radcliffe for the 20th Century. She built an entire genre unto herself out of this kind of incestual American family Gothic and her books became popular as horror for people who don't like horror.
The interesting thing about Virginia Andrews is that she has actually published four times as many books since her death than when she was alive. Novelist Andrew Neiderman, who also wrote the novel that became the basis of the film The Devil's Advocate (1997), has written a further 64 books claimedly based on unpublished material left by Andrews and created nineteen entire series all centred around the same torrid Gothic family melodramas, all under Andrews' name and purportedly sanctioned by her before her death. The books by Andrews herself are published as by Virginia C. Andrews, while Neiderman's works go under the byline of V.C. Andrews.
This film adaptation of Flowers in the Attic was one sanctioned by Virginia Andrews, who demanded script approval from the producers. At one point, Wes Craven worked on an adaptation but incredibly enough this was rejected by Andrews and the final scripting-directing chores went to Jeffrey Bloom. Previously, Bloom had written a number of tv movies and directed three undistinguished films (see below). Virginia Andrews died just before the film was ever released.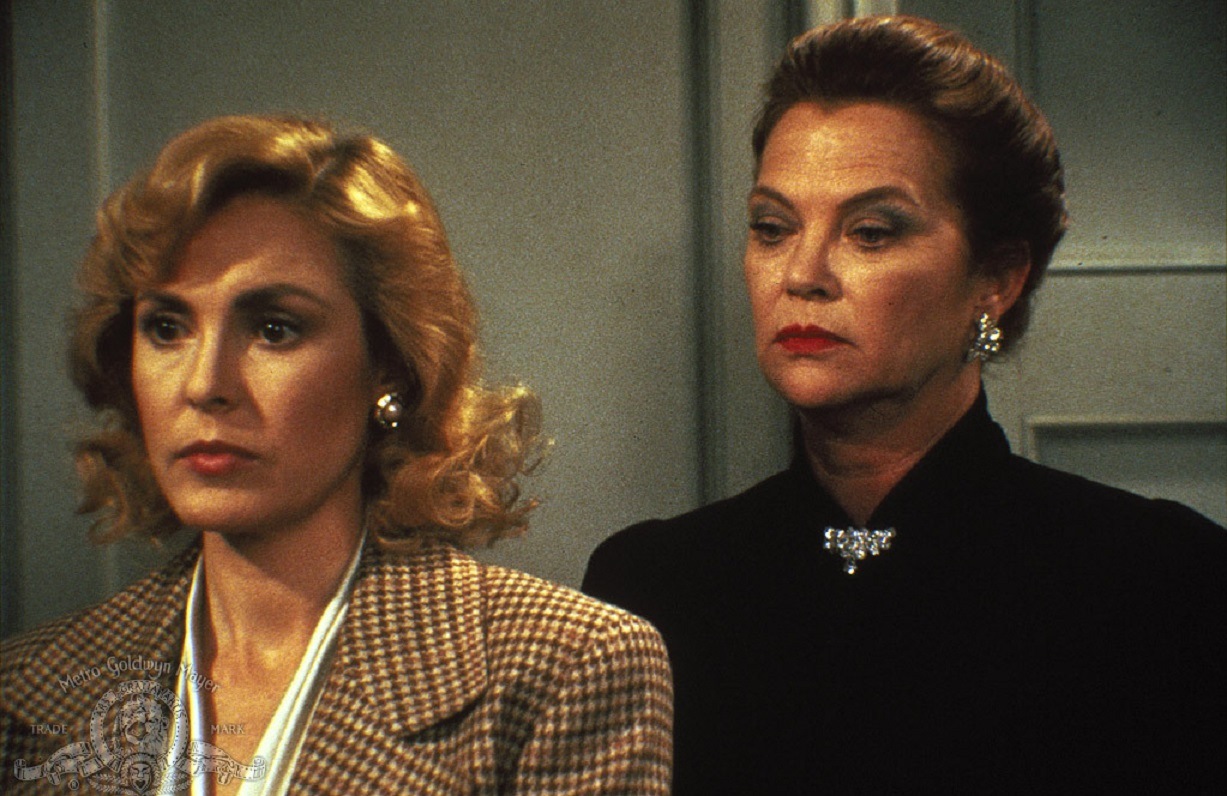 One could at least say Andrews' turgid sub-Harlequin prose gets what it deserves on screen. Actually, it gets a good deal worse. In fact, fans of the book usually detest the movie. All the prurience that made the book a best-seller has been trimmed clearly by a studio that was scared of any hint of indecency – the incestual relationship between the brother and sister has been left as merely suggestion, while the scene where the brother rapes the sister at the end is entirely missing. However, what is unnoticed in this is that the removal of the taboo elements effectively guts the film of the prurient appeal that was the book's selling point.
All that is left emerges as alternately tedious and ludicrously histrionic melodrama. The climactic scene where Kristy Swanson bursts into the wedding ceremony waving a cookie and yelling the prize line "Eat the cookie", followed by a ridiculously contrived just desserts ending, is one of those scenes that bad movie fans enjoy.
There is a good deal of melodramatically over-the-top bad acting. Neither Victoria Tennant nor Louise Fletcher, doing another variant on her Nurse Ratched typecasting, manage to convince in underwritten roles – one, for example, never finds out why the grandmother rejects the children, or why the mother returns to her authoritarian father and so complicity goes along with murdering off her own children.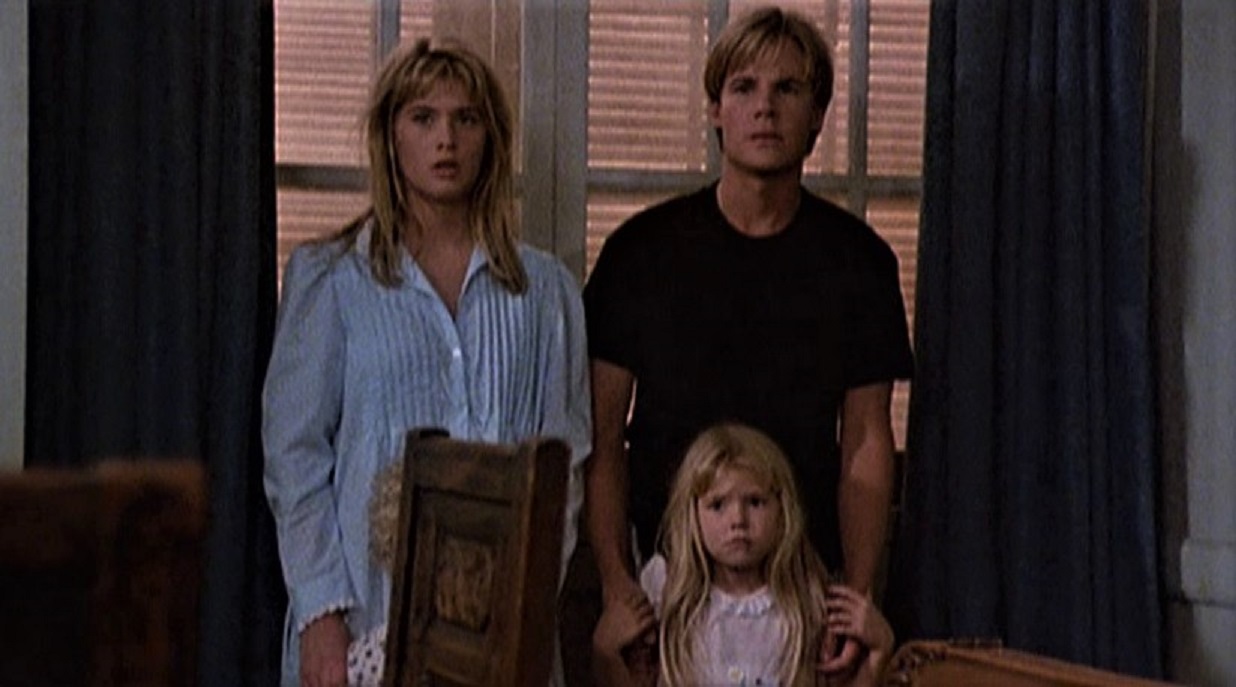 Kristy Swanson is adequate in her role, no more than that – her attempts to join in the histrionics are not at all believable and her white hair wig is laughably unconvincing. Jeffrey Bloom has an occasionally nice eye for clean compositions of perfectly mown lawns and sinister luminous avenues of trees that occasionally manage to instill a menacing, foreboding quality – a shame he has nothing else.
Jeffrey Bloom's other films of genre note have been as director-writer of the monster movie spoof Blood Beach (1980), the script for the horror anthology Nightmares (1983) and writing-directing the alien visitor tv movie romance Starcrossed (1985). Flowers in the Attic was the only highlight of Bloom's career and he has since failed to direct another movie.
The Virginia C. Andrews novel was later remade as the Lifetime tv movie Flowers in the Attic (2014) featuring Heather Graham as the mother and Ellen Burstyn as the grandmother. This was followed by adaptations of Andrews' follow-up books Petals on the Wind (2014), If There Be Thorns (2015) and Seeds of Yesterday (2015). This was followed by Lifetime adaptations of other Andrews works such as Dark Angel (2019), Fallen Hearts (2019), Gates of Paradise (2019), My Sweet Audrina (2016), Heaven (2019) and Web of Dreams (2019).
---
---