---
USA. 1959.
Crew
Director – Edward L. Cahn, Screenplay – Orville H. Hampton, Producer – Robert E. Kent, Photography (b&w) – Maury Gertsman, Music – Paul Dunlap, Special Effects – Rudy Stangler, Art Direction – William Glasgow. Production Company – Vogue Pictures.
Cast
Grant Richard (Lieutenant Jeff Ronen), Eduard Franz (Jonathan Drake), Valerie French (Alison Drake), Henry Daniell (Dr Emil Zurich), Paul Wexler (Zutai), Howard Wendell (Dr George Bradford), Lumsden Hare (Rogers), Paul Cavanaugh (Kenneth Drake), Frank Gerstle (Lee Coulter)
---
Plot
A South American Indian with his lips sewn shut breaks into the house of Kenneth Drake and poisons him with curare. Kenneth's brother Jonathan arrives for the funeral and is greatly upset when he opens the coffin to find that Kenneth's head has been removed. Jonathan shows his daughter Alison the family crypt, which contains the shrunken heads of his father and grandfather. He tells her how the Jivaro Indians placed a curse on the Drake family during the time they were traders in the Amazon. Each man has died on his 60th birthday, whereupon the Indians have removed and shrunken their heads. As detective Jeff Ronen investigates the desecration of Kenneth's corpse, he realises that they are dealing with an Indian who is over a hundred years old.
---
The Four Skulls of Jonathan Drake was made by director Edward L. Cahn. Edward L. Cahn was a director who turned out a number of B pictures during the 1950s including the likes of Creature with the Atom Brain (1955), The She-Creature (1956), Invasion of the Saucer-Men (1957), Voodoo Woman (1957), Zombies of Mora Tau (1957), Curse of the Faceless Man (1958), It! The Terror from Beyond Space (1958), Invisible Invaders (1959) and Beauty and the Beast (1961).
Some of Edward L. Cahn's B movies are rather entertaining. Such alas cannot be said for The Four Skulls of Jonathan Drake. The film has an effective opening where we see Paul Wexler's native Indian with his lips sewn shut appearing to Paul Cavanaugh, touching the stiletto to his neck and Cavanaugh collapsing; then a few minutes later, the funeral being held and Cavanaugh's brother Eduard Franz opening the coffin to find that the head has been removed from the body, followed by Franz taking daughter Valerie French to the mausoleum to see the collection of shrunken skulls. We also get a detailed scene where we see the head taken from the body and being shrunken. As the Indian, Paul Wexler has an unusual presence with tall height, long-boned face and sewn-up lips, he looking for all the world like a young Christopher Lee.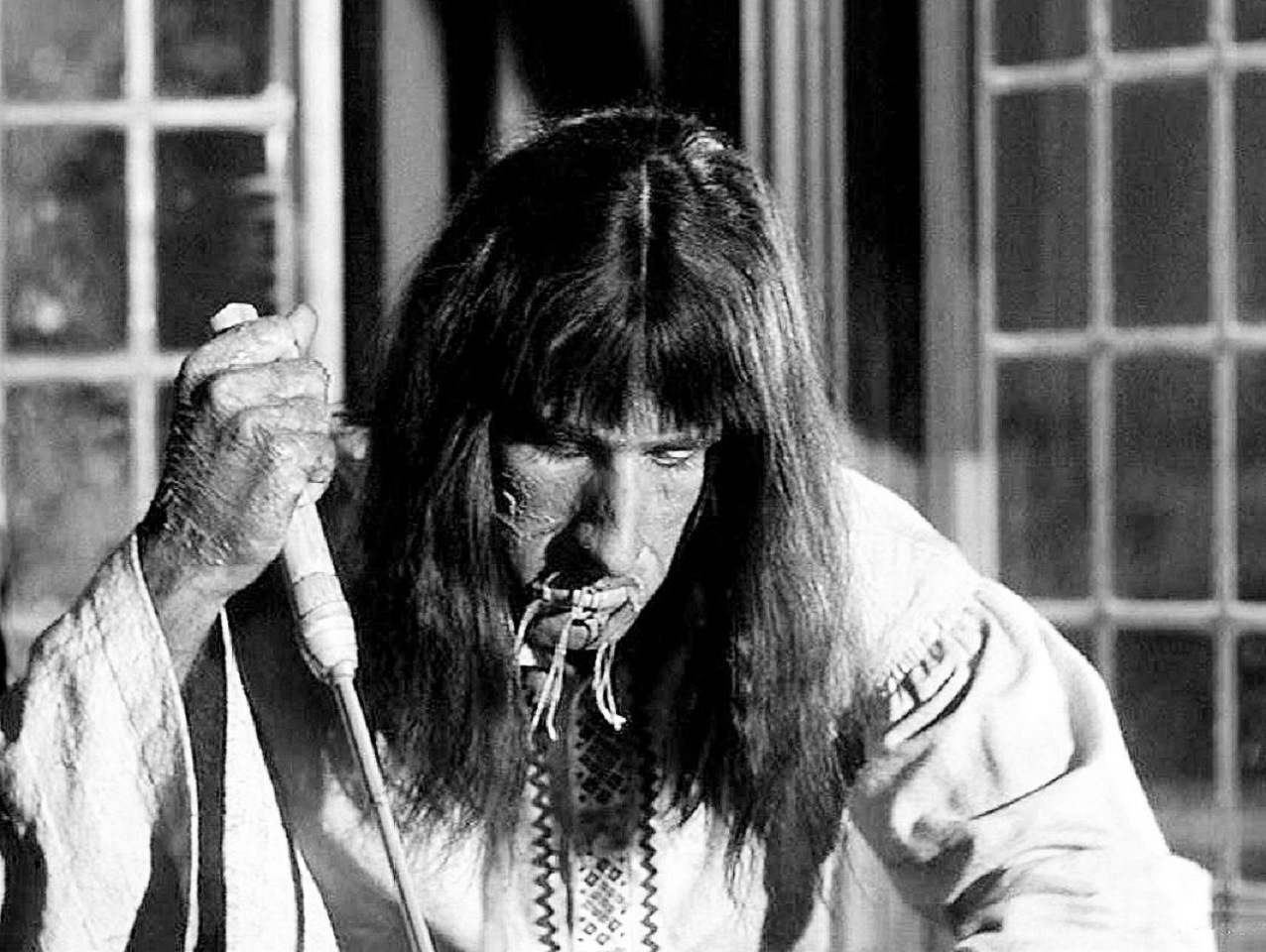 However, after such a promising beginning, Edward L. Cahn's direction turns flat and prosaic. Despite the various killings and head shrinkings, the film mostly consists of static and talky scenes. Cahn's pace is pedestrian throughout. Indeed, despite The Four Skulls of Jonathan Drake having a better budget than many of Edward L. Cahn's films at American International Pictures – The She-Creature, Voodoo Woman – they have a much more lurid spirit and imaginative verve than anything here.
What it feels like we have here is where someone had ordered Cahn and the writer to make a film about shrunken heads. The issue of shrunken heads and the real-life Jivaro Indians (who live in the Amazonian rainforest areas of Ecuador and Peru) had just come into popular fascination in the 1950s after several books were published about their head-shrinking practices. It seems more than likely that The Four Skulls of Jonathan Drake came about after some studio head decided it would make for a good sensationalistic novelty topic of the moment to exploit.
---
---