---
USA. 1961.
Crew
Director – Edward L. Cahn, Screenplay – George Bruce & Orville H. Hampton, Producer – Robert E. Kent, Photography – Gilbert Warrenton, Music Supervisor – Emil Newman, Makeup – Jack Pierce & Ernie Young, Art Direction – Franz Bachelin. Production Company – Harvard Film Corp.
Cast
Mark Damon (Duke Eduardo), Joyce Taylor (Lady Althea), Eduard Franz (Baron Orsini), Michael Pate (Prince Bruno), Walter Burke (Grimaldi), Dayton Lummis (Count Roderick)
---
Plot
The Lady Althea travels to meet her betrothed, the Duke Eduardo of Arletto. However, when they meet, Eduardo tries to postpone the wedding and convince her to go away. She states she loves him and insists on staying. She soon uncovers Eduardo's secret – how he suffers from a curse that was placed on him by a sorcerer that his father had ordered walled up, which transforms him into a hideous beast between the hours of dusk and dawn. Meanwhile, Eduardo's jealous brother Prince Bruno stirs up the villagers to kill the Beast.
---
Beauty and the Beast has been an oft-filmed fairy-tale – there have been at least thirty plus other films and tv series with the same title (see below). The classic and still unsurpassed version is Jean Cocteau's extraordinarily beautiful adaptation, Beauty and the Beast (1946).
This version is a rudimentary reworking of the fairytale. It is too mannered and unremarkable. The Beast never has much threat. Edward L. Cahn, a prolific director of B Westerns, crime thrillers and horror movies throughout the previous two decades, directs in a pedestrian manner. Cahn's direction and the flat Technicolor stock and cardboard sets drown any potential flight of fairy-tale fantasy. More disappointingly, The Beast has now been changed into a standard romantic lead who is merely suffering from a curse that occasionally transforms him into a beast. As the Beast, Mark Damon looks more like an Afrod hippy with fangs, hardly the 'foul creature from the depths of Hell' he is described as being. When Beauty's love finally saves him, it is more a wrap-up of the plot than anything that convinces you about the transforming power of love.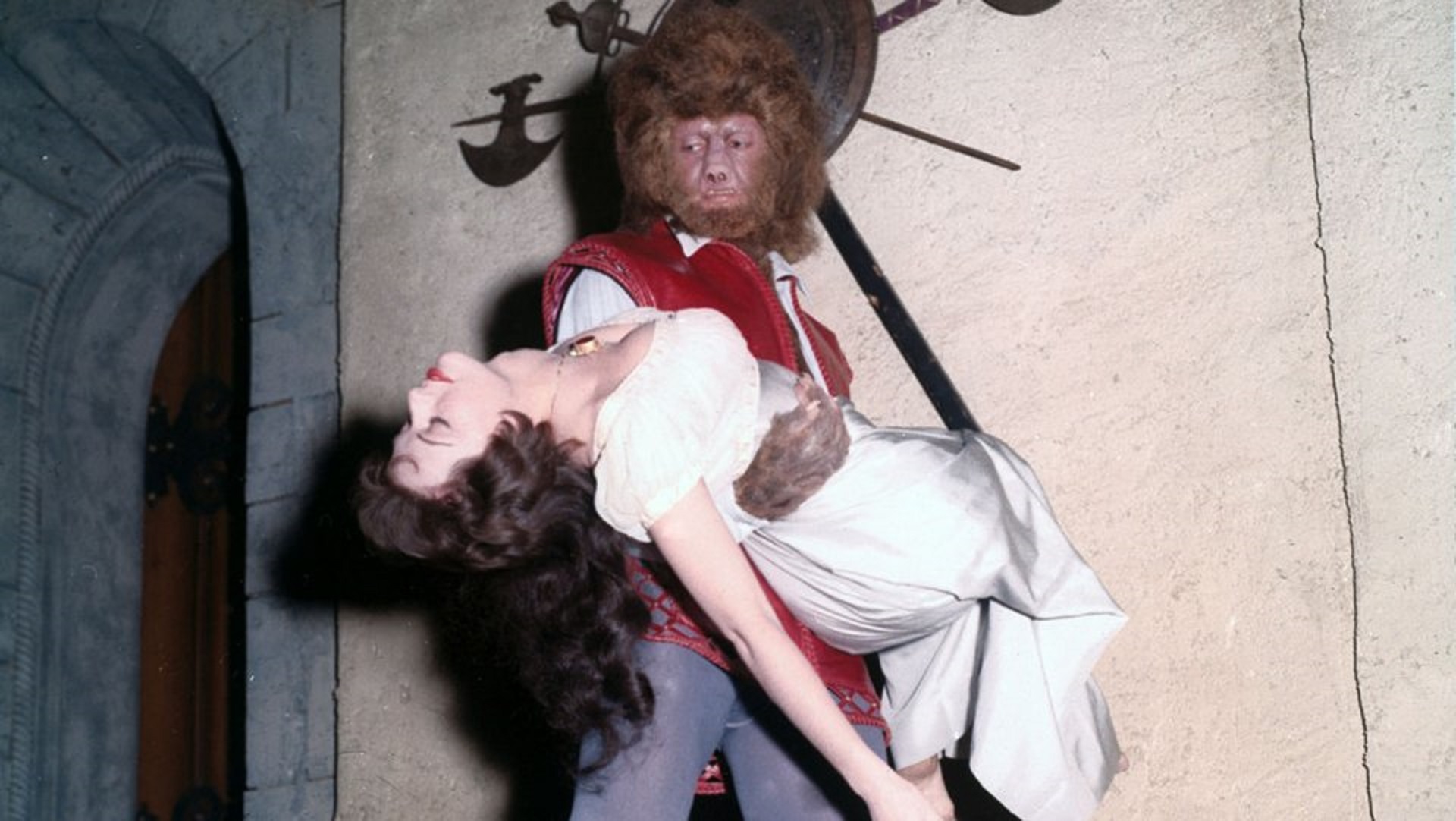 Director Edward L. Cahn had a two decade career in which he made some 124 B films. Cahn's other genre films include:- Creature with the Atom Brain (1955), The She-Creature (1956), Invasion of the Saucer Men (1957), Voodoo Woman (1957), Zombies of Mora Tau (1957), Curse of the Faceless Man (1958), It! The Terror from Beyond Space (1958), Invisible Invaders (1959) and The Four Skulls of Jonathan Drake (1959). Beauty and the Beast was the last film that Edward L. Cahn made before he died the following year.
Other versions of Beauty and the Beast include:– several lost silent versions made variously in 1899, 1903, 1905, 1908, 1912, 1913 and 1922; Jean Cocteau's classic version Beauty and the Beast (1946) with Jean Marais and Josette Day; Beauty and the Beast (1976), a tv movie adaptation starring George C. Scott and Trish Van Devere; a Czech adaptation Beauty and the Beast (1979); a 1984 episode of Shelley Duval's Faerie Tale Theater starring Klaus Kinski and Susan Sarandon and directed by Roger Vadim; the Cannon Movie Tales adaptation Beauty and the Beast (1987) with John Savage and Rebecca De Mornay; Beauty and the Beast (1991), the Disney animated adaptation; Beauty (2004) starring Martin Clunes and Sienna Guillory, a modernised retelling; Beauty and the Beast (2009) starring Estella Warren, which turned the fairytale into a cheap fantasy adventure; Beastly (2011) starring Alex Pettyfer and Vanessa Hudgens, which transplanted the fairytale into a modern high school setting; the tv movie Beauty and the Beast (2012) starring Ruith Bradley; Christophe Gans' exquisitely dreamy Beauty and the Beast (2014) with Lea Seydoux and Vincent Cassel; Beauty and the Beast (2017). the live-action remake of the Disney film starring Emma Watson and Dan Stevens; and Belle (2021), an anime version set in Virtual Reality. Beauty and the Beast (1987-90) was a fantastical contemporary urban tv series loosely based on the fairy-tale, starring Ron Perlman and Linda Hamilton, and was later remade as Beauty and the Beast (2012-6) starring Kristin Kreuk and Jay Ryan.
---
Trailer here
---