---
USA. 1989.
Crew
Director – Tommy Lee Wallace, Screenplay – Tommy Lee Wallace, Tim Metcalfe & Miguel Tejada-Flores, Producer – Jeffrey Sudzin, Photography – Mark Irwin, Music – Brad Fiedel, Visual Effects – Fantasy II (Supervisor – Gene Warren Jr), Makeup Effects – Greg Cannom, Bart Mixon & Brian Wade, Production Design – Dean Tscheffer. Production Company – Vista Organization.
Cast
William Ragsdale (Charlie Brewster), Roddy McDowall (Peter Vincent), Julie Carmen (Regine), Traci Lin (Alex), Jonathan Gries (Louie), Brian Thompson (Bosworth), Ernie Sabella (Dr Scott Harrison), Russell Clarke (Belle), Merritt Buttrick (Ritchie Green)
---
Plot
Charlie Brewster is now a university student. After three years in psychotherapy, Charlie is finally convinced that there is no such thing as vampires and throws out his crucifixes and garlic. He then meets the sultry Regine. He sees her drinking the blood of his friend and is certain that she is a vampire, but finds difficulty in convincing others. It develops that Regine is Jerry Dandridge's sister, come to exact revenge on Charlie and Peter Vincent.
---
Fright Night (1985) was a substantial hit when it came out. It confidently rehashed vampire themes for the mid-1980s – relocating the vampire in suburbia and recasting the part with the dashingly sexy Chris Sarandon, while making a few nods to genre deconstruction and most importantly revisiting the vampire transformations with a swelter of state-of-the-art air-bladder makeup transformations. It was a slickly polished and ever so calculated film and proved to be a big success.
Fright Night Part 2 offers up a disappointing rehash. There is a tired familiarity to the plot – once again, Charlie sees a vampire drinking someone's blood through a window; once again, the vampire conspires to convince him he could be going mad; once again, Peter Vincent realises what Charlie is saying is true after he sees that the vampire casts no reflection; once again, the vampire sexually preys on Charlie's girlfriend and the film becomes a race to kill the vampire before dawn and save the girl. The film also revisits many of the same makeup effects that drove the original, redoing them on a slightly more elaborate scale.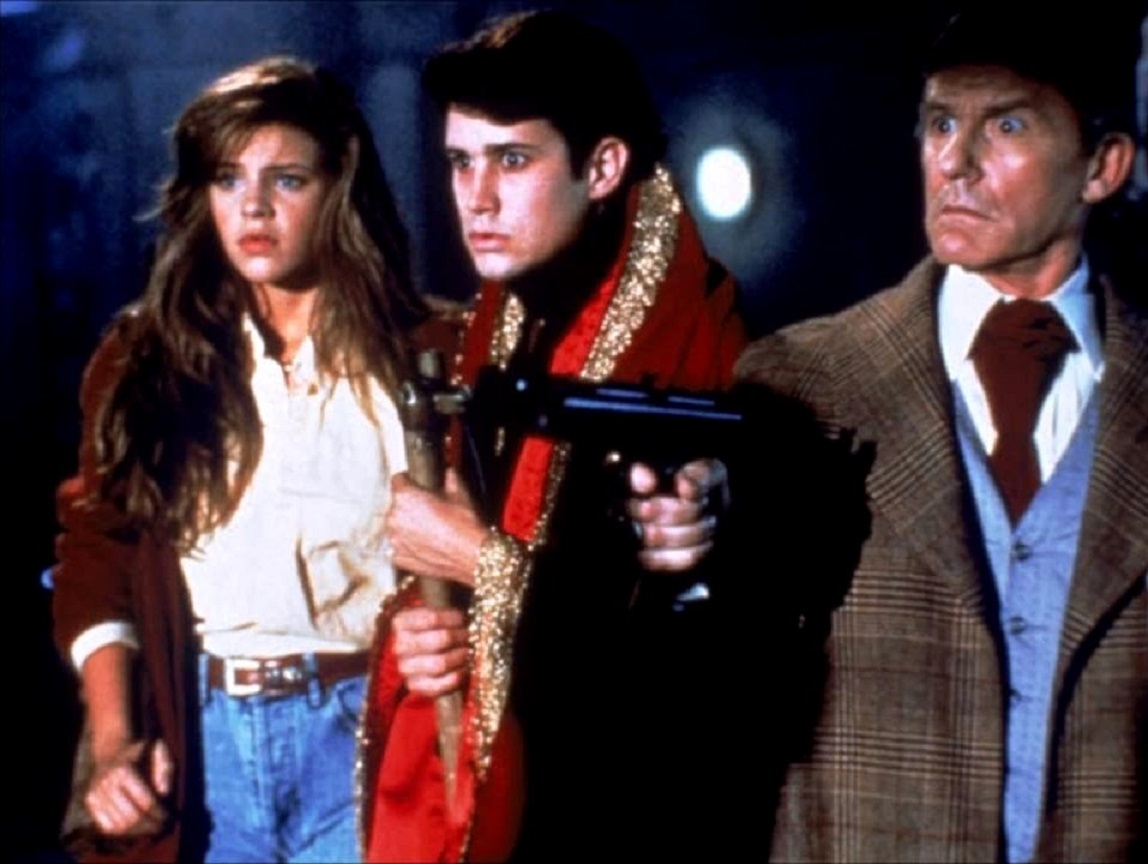 While the script is predictable and routine, there is also much to recommend elsewhere in Fright Night Part 2. In the director's chair is former John Carpenter protege Tommy Lee Wallace. Wallace directs with an impressionistic stylism that at times seems so whacked-out that the film feels as though it has been made by an alien. There is an extraordinarily stylised vision of Russell Clarke emerging out of mist on a pair of roller-skates to attack a co-ed, which is shot in a number of slow, dream-like cuts with the camera swirling above as blood splatters across her books.
Equally striking are the appearances of Julie Carmen – evolving out of mist in one neat special effect and especially a wet dream being had by William Ragsdale where she peels back the bandage over one of his shaving cuts and Wallace with fascinated sexual symbolism cuts in to closeup with her fang slowly caresses and penetrates the wound. There is a striking scene on a dancefloor with a crucifix swinging in slow motion in front of Julie Carmen, with her face flickering from vampire to human and back with each pass of the cross.
There also seems to be a much sicker level of humour than there ever was in the first film – the bowling alley scene is something right out of an EC comic with heads used as bowling balls and cracks made about getting "a good head of beer" as the vampires drink from the patrons. Although other scenes of humour – novice vampire Jonathan Gries' not too successful attempts to put the bite on a victim – play out on a much dumber level.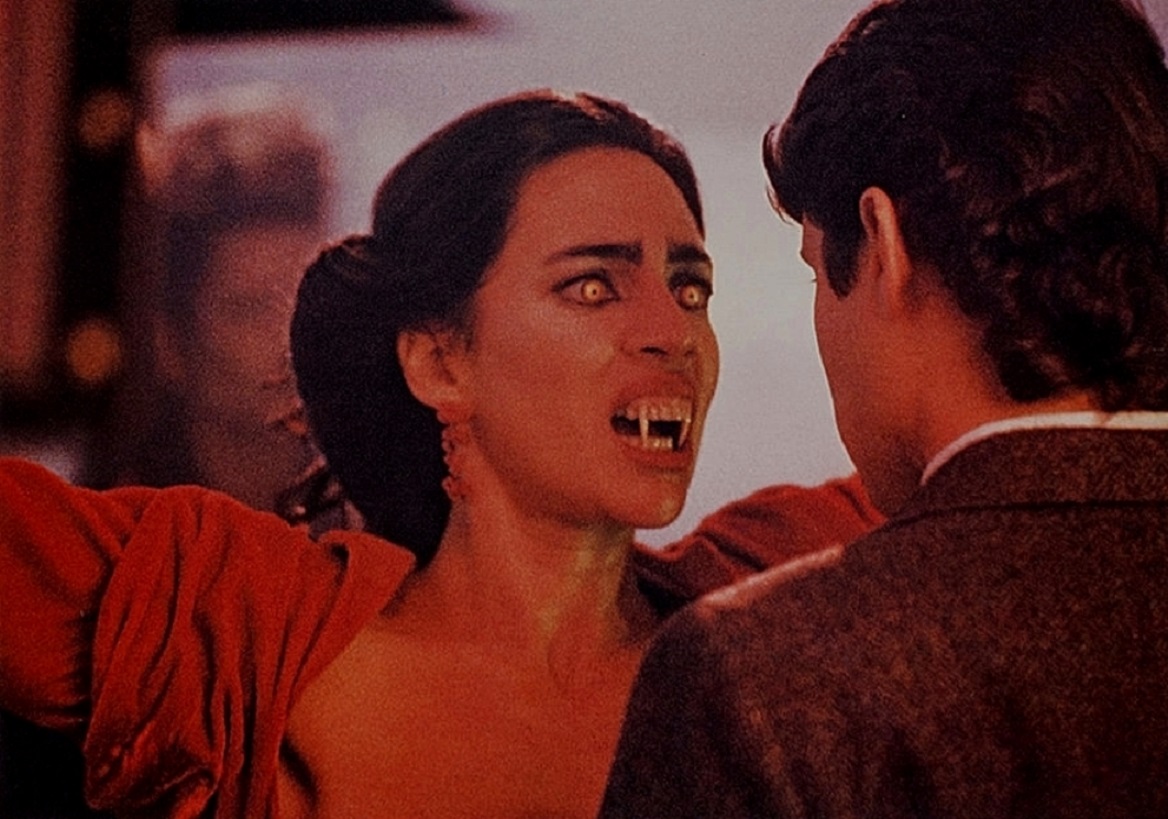 Julie Carmen, with the aid of a stylish clothing designer, is put to much erotic potential. Unfortunately, nothing else is done with her and Carmen gives a bland performance such that the vampire here never obtains a palpable sense of menace as Chris Sarandon did in the original. More amusing are the henchmen – Russell Clarke plays something akin to an androgynous vampiric James Brown in drag on rollerskates, while Brian Thompson is written as a character that you might imagine if Renfield were recast with an Arnold Schwarzenegger, he getting to quote the Latin name for each bug in gastronomic delight before devouring it.
This was the only sequel produced to Fright Night Part 2. The original was later remade as Fright Night (2011), although led to a cheaper sequel (in actuality more of another remake) Fright Night 2 (2013) with Jaime Murray as a female vampire named Gerri Dandridge.
Tommy Lee Wallace's other films as director and usually writer are:- Halloween III: Season of the Witch (1982), the Stephen King tv mini-series It (1990) and Vampires: Los Muertos (2002). Wallace also wrote the screenplay for Amityville II: The Possession (1982). Wallace also produced The Fields (2011).
Co-writer Miguel Tejada-Flores is best known for writing Revenge of the Nerds (1984). Tejada-Flores has written a surprising degree of genre material including also Write to Kill (1990), Psychic (1991), A House in the Hillsc (1993), Almost Dead (1994), Screamers (1995), Atomic Dog (1998), Faust: Love of the Damned (2000), Rottweiler (2004), Swarmed (2005), Solar Strike (2006), Decoys 2: Alien Seduction (2007), Screamers: The Hunting (2009) and Frankenstein's Army (2013).
---
---