---
Crew
Director – Keenen Ivory Wayans, Screenplay – Alyson Fouse, Greg Grabianski, Dave Polsky, Michael Anthony Snowden, Craig Wayans, Marlon Wayans & Shawn Wayans, Producer – Eric L. Gold, Photography – Steven Bernstein, Music Supervisor – Randy Spendlove, Visual Effects Supervisor – Ariel Velasco Shaw, Visual Effects – Digiscope (Supervisor – Brad Kuehn) & Pixel Magic (Supervisor – Raymond McIntyre Jr), Additional Visual Effects – Cantina Pictures, CIS Hollywood, Perpetual Motion Pictures & Yannix Technologies, Special Effects Supervisor – Lou Carlucci, Animatronic Cat – Animal Makers, Makeup Effects – Tony Gardner, Marijuana Plant – Douglas White Effects (Supervisor – Douglas White), Production Design – Cynthia Charette. Production Company – Dimension Films/Wayans Brothers/Brillstein-Grey Entertainment/Gold-Miller Productions.
Cast
Anna Faris (Cindy Campbell), Shawn Wayans (Ray), Marlon Wayans (Shorty), David Cross (Dwight), Chris Elliott (Hanson), Regina Hall (Brenda), Tori Spelling (Alex), Tim Curry (Professor Oldman), Kathleen Robertson (Theo), James Woods (Father McFeely), Andy Richter (Father Harris), Natasha Lyonne (Megan), Veronica Cartwright (Mother)
---
Plot
Cindy, Ray, Shorty and Brenda, all being people who have had near-death experiences, are selected as part of a group headed by Professor Oldman to scientifically investigate a haunted house.
---
Scary Movie (2000) was one of the big comedy hits of the 2000 summer season. It had a simple formula – a miscellany of parodies of various recent horror hits laid over with a sense of humour that was played fairly and squarely below-the-belt in the most vulgar way possible. Subtlety to director Keenen Ivory Wayans only consisted of as much restraint as it took not to offend censorship. Scary Movie was then followed by this sequel.
This time the film has moved from parodying Scream (1996) to taking on the modern haunted house film. The plot is a shakeup of The Haunting (1999) (not that that needed any parodying) with a few nods to House on Haunted Hill (1999). There are various takes on other haunted house and horror films – the possessed wife seduction from What Lies Beneath (2000); the flies gathering around the priest from The Amityville Horror (1979); the brain-eating scene from Hannibal (2001); as well as other then recent hits such as Charlie's Angels (2000) and Crouching Tiger, Hidden Dragon (2000); the tattoo scene from Dude, Where's My Car? (2000); and a bizarre sequence parodying John Woo with two people in wheelchairs (one a ghost) conducting mid-air acrobatics.
There is an extended opening parody of The Exorcist (1973) that heads straight for the most vulgar aspects – the girl peeing on the carpet, the priest (played by James Woods in a part that started shooting with Marlon Brando who became too sick to continue filming) forcing himself on the girl, and projectile vomiting contests. The most amusing of these is a parody of Jo Beth Williams's roll around the ceiling from Poltergeist (1982), which turns out to be a ghost giving Tori Spelling a vigorous rogering. In a take on The Entity (1982) ghost rape sequence, it and Spelling share a cigarette afterwards (although this is a gag that was first done in the genre spoof Bloodbath at the House of Death (1983), a film that Scary Movie 2 closely resembles in many ways). Also amusing is the spoof of the sinister clown from Poltergeist – here it drags Shawn Wayans under the bed only for he to force himself on it. The expressions on the clown's face in the sequence are rather funny.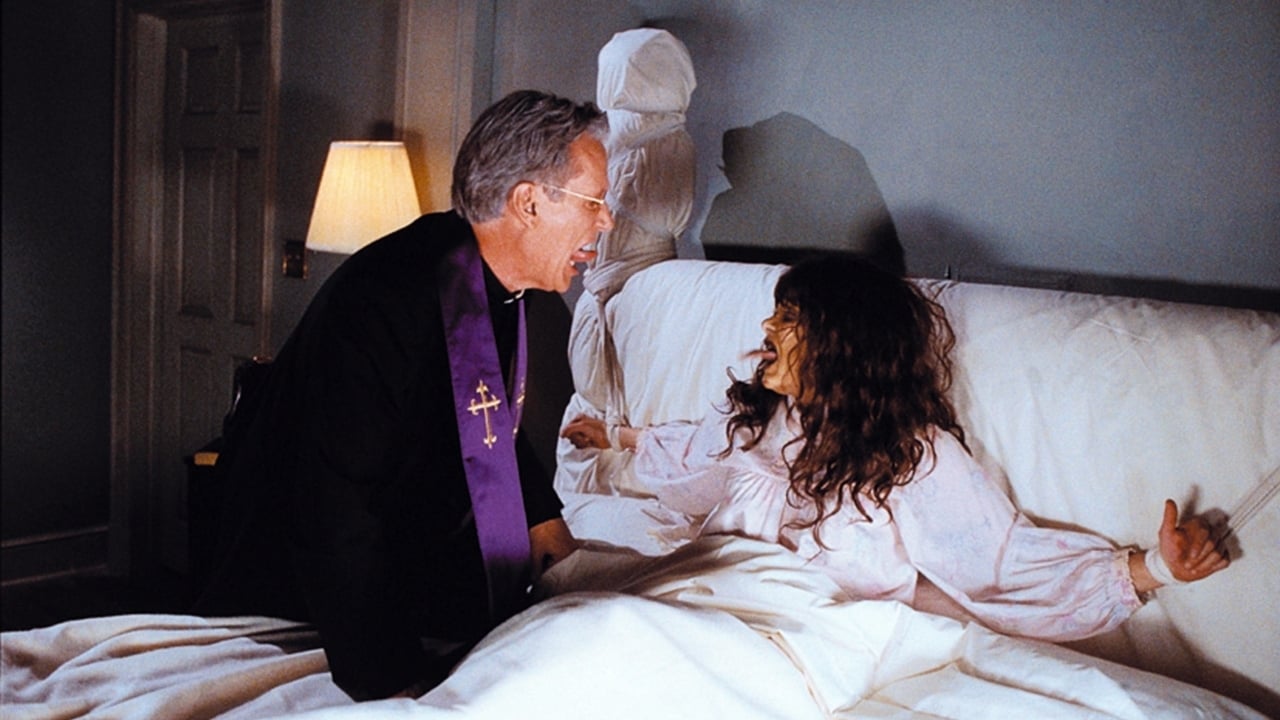 Certainly, Scary Movie 2 is a slightly better film than Scary Movie was. In the time between the two films, Keenen Ivory Wayans seems to have understood that parody entails more than merely quoting another film, that it involves actually constructing a gag. It is just that Keenen Ivory Wayans's idea of humour is squarely Lowest Common Denominator toilet humour – jokes about farts, poop, spunk, dicks, stoners, gay jokes and people with handicaps calling one another less-than-PC names. This is the legacy the Farrelly Brothers have left modern comedy with. Without wishing to seem a prude, the persistent vulgarity of simply throwing a body substance or a four-letter word at an audience to get a quick laugh is tiring.
Not that there is anything wrong with this humour in itself – people like the Farrelly Brothers, Peter Jackson and Kevin Smith have used it with hilarious results. However, Keenen Ivory Wayans's work is witless – in the most literal sense, that is 'wit-less'. There should be more to being funny than simply having a parrot that says four-letter words or shitting against a wall, or seeing Shawn Wayans panting in lust at every guy in the cast, or David Cross sucking his own dick.
It is as though Keenen Ivory Wayans and the collaborators have looked to each film they sought to parody and then decided "let's replay this with a gross-out gag." All it ends up with is the Dude, Where's My Car? tattoo scene but here it's "Ray … Fucked Me"; they replay What Lies Beneath possessed wife scene but the wife turns into Shawn Wayans in a dress and so on ad infinitum.
Scary Movie 2 was followed by two further sequels Scary Movie 3 (2003) and Scary Movie 4 (2006), which all featured Anna Faris and Regina Hall but came sans the involvement of any members of the Wayans family, and a subsequent film Scary MoVie (2013) with a new cast.
---
---