---
Crew
Director/Screenplay – Jason Krawczyk, Producers – Zach Hagen & Adrienne Stern, Photography – Eric Billman, Music – James Mark Stewart, Visual Effects – Beyond Graphic Inc. (Supervisor – Derek Grime), Special Effects Supervisor – John McGillivray, Production Design – Diana Abbatangelo. Production Company – Alternate Ending Studios.
Cast
Henry Rollins (Jack), Kate Greenhouse (Cara), Jordan Todosey (Andrea Huntsman), Booboo Stewart (Jeremy), David Richmond Peck (Steve), James Cade (Short), Steven Ogg (Alex Archides), Scott Edgecombe (Bartender), Don Francks (Goatee Man), Nuala Fitzgerald (Ruth), Michael Cram (Tim)
---
Plot
Jack lives alone in an apartment in New York City and eats at a local diner every day. He likes to play bingo and doesn't want to be bothered by the rest of the world. However, the world insists on bothering him from thugs that burst in on him to Andrea who turns up on his doorstep claiming to be his daughter to the attentions of Cara, the waitress from the diner. As Jack is forced to become involved following the abduction of Andrea by the thugs, it becomes apparent that he is immortal and invulnerable to any type of damage.
---
He Never Died was the third film for Jason Krawczyk who had previously made the non-genre likes of Hard Damn Hitch (2008) and The Briefcase (2011), neither of which seems to have been widely seen.
What makes the film work is the central performance from Henry Rollins. Rollins is not the best of actors but what he gives the film is a tough and angry causticism in a performance that is curt to the point of being rude and antisocial. You watch the film for his phlegmatic indifference – in particular, the hilarious opening montage of scenes where he treats paying the rent to his landlord, dealing with interested waitress Kate Greenhouse to runaway daughter Jordan Todosey turning up at his door or thugs bursting in to beat him up all with the same indifference.
The mystery surrounding Rollins' character along with the cryptically littered clues we get throughout – his being seen with what look like pair of wing scars on his back; his drinking blood; his ability to regenerate from any damage; his seemingly having lived a very long time – creates a good deal of intrigue that forms the backbone of the film. In the end revelations, what we end up with seems construed as a much darker version of The Man from Earth (2007).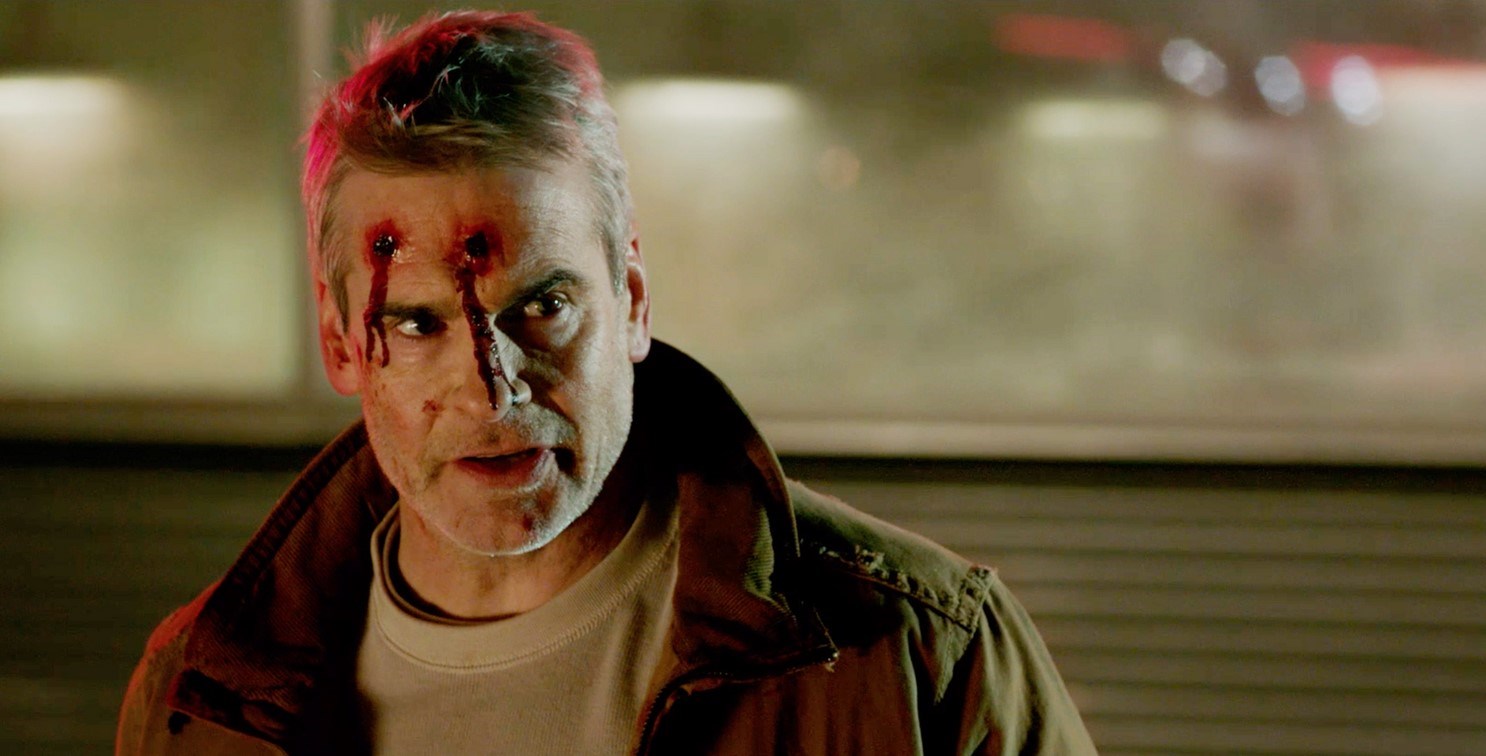 The dialogue in the film is particularly hilarious. Jordan Todosey explains the advantages of being a woman while in a bar: "Vaginas are like coupon books for alcohol." Henry Rollins has an hilarious scene where he describes every single profession he has engaged in in a list that just keeps on going on and on and on. Or throwaway lines like where he sits pulling bullets out his head with tweezers and casually explains: "If I leave the bullets in, I get migraines."
Kate Greenhouse asks him "How old are you?" which gets the fascinating reply: "I honestly don't know. But I'm in the Bible if that helps." In another intriguingly tossed off line, Rollins states "I impaled thousands of people in Wallachia just to see them die," in other words tying him into the figure of Vlad the Impaler. Rollins also gets a great soliloquy at the end ranting at an enigmatic figure who would appear to be God.
She Never Died (2019) was a sequel with Olunike Adeliyi as another immortal. Jason Krawczyk returned to write the script.
---
---