---
Crew
Directors – Chris Kentis & Laura Lau, Screenplay – Laura Lau, Based on the Film La Casa Muda/The Silent House Written by Oscar Estevez, Producers – Laura Lau & Agnes Mentre, Photography – Igor Martinovic, Music – Nathan Larson, Visual Effects – Look Effects Inc. (Supervisor – Michael Collins), Additional Visual Effects – Link9 (Supervisor – Sasa Jokic), Special Effects Supervisor – Drew Jiritano, Makeup Effects – Kymbra Callaghan Kelley, Production Design – Roshelle Berliner. Production Company – Elle Driver/Eye for an Eye Filmworks/Tazora Films.
Cast
Elizabeth Olsen (Sarah), Adam Trese (John), Eric Sheffer Stevens (Peter), Julia Taylor Ross (Sophia)
---
Plot
Sarah joins her father John and uncle Peter as they go to clean and renovate the old family home to ready it for sale. With the power in the house off, Sarah is spooked as she hears noises and sees figures lurking in the shadows. Something attacks and knocks out her father. As the figures in the dark become more threatening, Sarah believes that what she is dealing with are ghosts.
---
The directing/writing team of husband and wife Chris Kentis and Laura Lau first appeared with the indie drama Grind (1997). The film that gained them attention was Open Water (2003), the harrowing story of two people, loosely based on a real-life couple, who were abandoned at sea after a scuba-diving trip and vanished, presumed devoured by sharks. The film was shot entirely in the waters of the Bahamas featuring two actors and no sets. Silent House is Chris Kentis and Laura Lau's third film where they share co-directing credit equally for the first time.
Silent House is an English-language remake of The Silent House (2010), a film by Uruguayan director Gustavo Hernandez, which I have not seen. The Silent House premiered at the Cannes Film Festival and did the rounds of a number of international festivals. The talking point of the original, which reasonably closely approximates the story seen on screen here, was that Gustavo Hernandez has shot the entire film in a single 86-minute take. Chris Kentis and Laura Lau have followed the same technique when it comes to Silent House, shooting the entire film in one take, using the single location of a house in New Rochelle in New York State.
The idea of a film made all in one take (what is referred to as a 'long take') has been conducted before, although is such a logistical nightmare that few filmmakers have taken up the task. The first to do so was Alfred Hitchcock with Rope (1948), although because the cameras at the time could only hold ten minutes of film footage, Hitchcock was forced to shoot in ten shots of between 4-10 minutes each. There was also Mike Figgis's Timecode (2000), which was a single 90-minute film shot using four different cameras simultaneously, the Colombian hostage drama PVC-1 (2007), the slasher film Cut (2010), Adam Mason's Pig (2010), the Iranian Fish & Cat (2013), Unfriended/Cybernatural (2014), Victoria (2015), King Dave (2016), Red Mile (2016), Rendez-Vous (2019), Corona (2020) and Crazy Samurai Musashi (2020). The most successful attempt to do so was Alexander Sokurov's Russian Ark (2002), an elaborate work shot in one Steadicam shot passing through the former Winter Palace in St Petersburg, which involved the choreography of some 2000 extras. In a similar vein you could include works like Fail Safe (2000) and The Quatermass Experiment (2005), as well as numerous novelty episodes of various tv series, which film a live broadcast but use multiple cameras to record a single continuous performance. The Long Take film was also hilariously parodied in One Cut of the Dead (2017).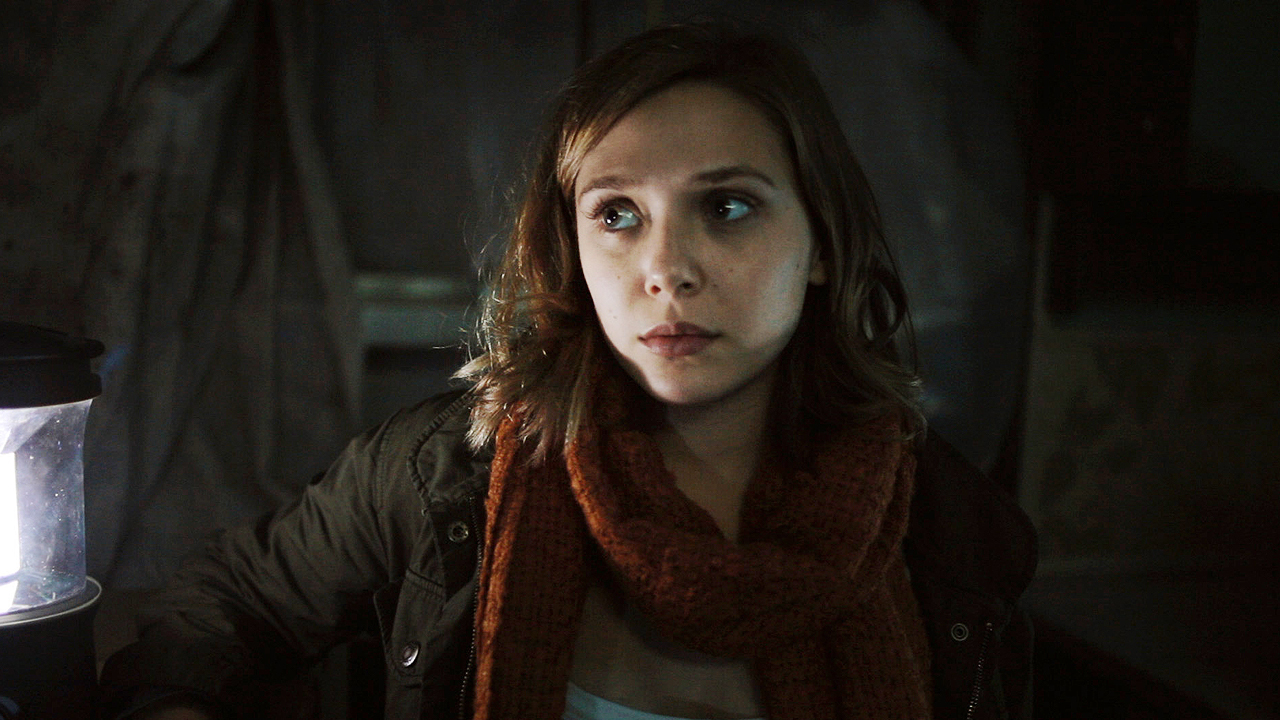 Silent House has it somewhat easier than either Rope or Russian Ark. Chris Kentis and Laura Lau have the advantage of modern handheld digital cameras whereas someone like Hitchcock was using the bulky cameras of the era and reduced to moving them on dollies. Equally, Kentis and Lau have stripped the film to only four characters with speaking parts and a couple of other minor figures, which is considerably the lesser than Russian Ark's marshalling of 2000 extras.
Silent House received a mainstream multiplex release, although you wonder if that was the right place for it. In spirit and ethos, Silent House is an indie arthouse film, whereas pitching to a mainstream audience seems to take it away from its home ground and into a different arena. The experimental novelty of the film – a work that has been shot in a single take – is one that is going to be appreciated more by an arthouse audience. On the other hand, it is hard to think that the Saturday night popcorn and teenage makeout audiences would be coming in to enjoy a film for its technical novelty. Rather, once in multiplex environment, all that Silent House becomes is another ghost story and the question simply becomes one of whether or not it delivers the scary goods.
Equally, you also cannot help but wonder how well the ghost story and the technical constraints of a film like Silent House would work together. The idea of the long take film is very much rooted in logistics and navigating around a limited physical location; whereas the ghost story is usually something that gains its effect via in-camera effects such as optical superimpositions, stop-camera shots and visual effects, or else the addition of spooky atmospheric music and editorial tweaking to make something seem uncertain or ambiguous.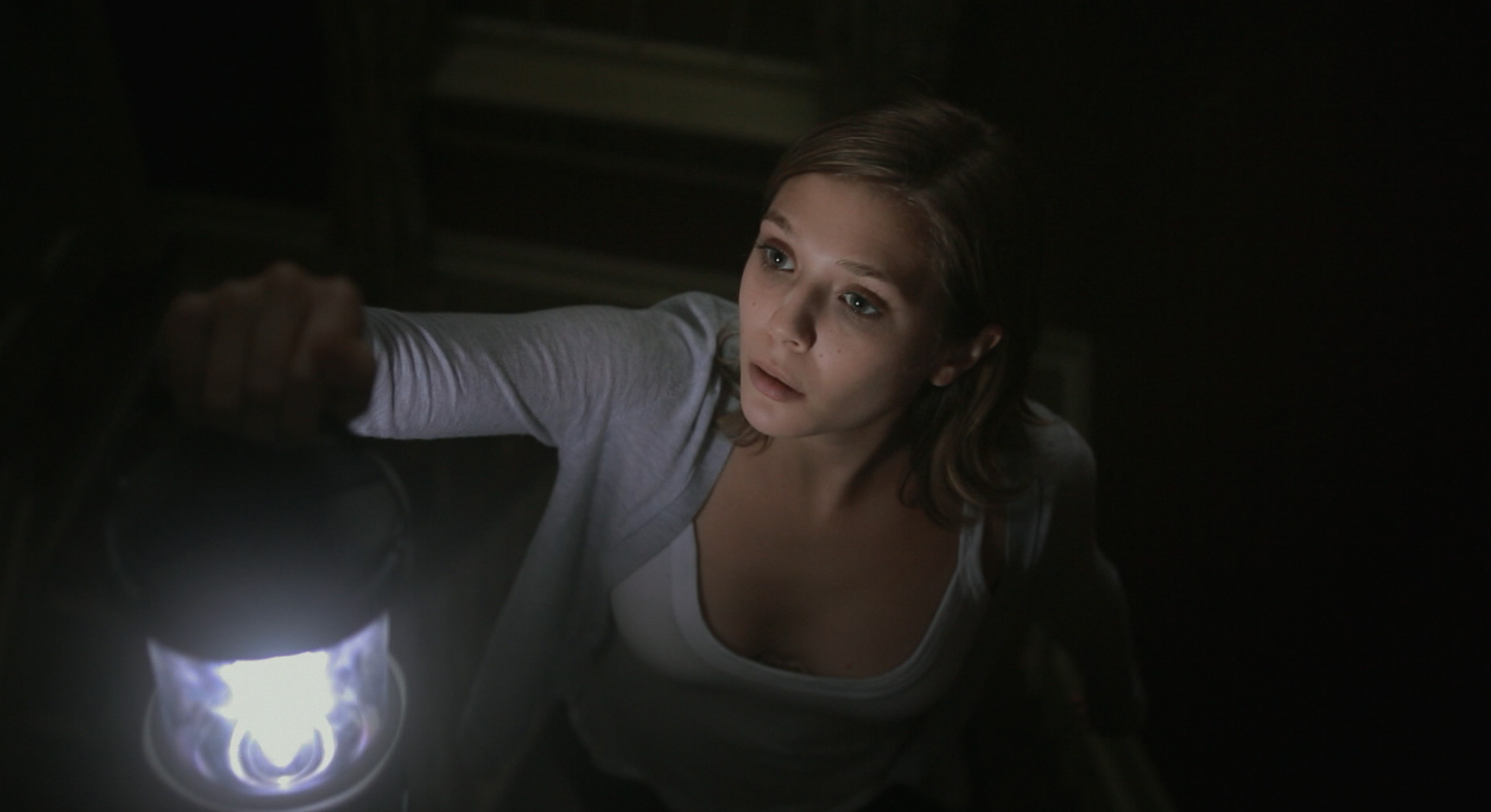 To their credit, Chris Kentis and Laura Lau do a fair job of conducting a ghost story within these constraints. There are credits for a couple of visual effects companies but other than the addition of a digital spot of blood spreading across a sheet, their efforts are unobtrusive. A score has also been laid over in post-production. There are a couple of scenes where what is happening is masked by deliberately going for shakycam shots but Kentis and Lau generate a certain eerie atmosphere and produce some occasional jumps – the scene where Elizabeth Olsen finds someone climbing in through the tailgate of the locked SUV – if nothing that will keep audiences up at night. Ultimately though, what you appreciate Silent House more for is achieving these effects within its technical limitations than you necessarily celebrate it for its originality and spookiness.
The only recognisable face among the cast is that of Elizabeth Olsen. Elizabeth is the younger sister of twins Mary-Kate and Ashley Olsen of Olsen Twins fame, the stars of tv's Full House (1987-93) and Two of a Kind (1998-9) who subsequently appeared together in a host of video-released films, became marketed as a teen franchise and active in the world of fashion. Elizabeth Olsen made a big splash appearing as the cult escapee in the overrated indie success of Martha Marcy May Marlene (2011), which had her nominated for a host of awards, and subsequently went onto other high-profile roles including being cast as Scarlet Witch in the Marvel Cinematic Universe. Silent House was her second released film where she can clearly be seen to be opting for a very different career path to the one taken by her siblings and placed her focus on serious dramatic acting. Here she does an effective job of looking frightened and scared throughout, even if the part never requires much more from her than that (at least until the end scenes).
The biggest issue I had with Silent House was its left field twist ending. [PLOT SPOILERS]. This is something that is very much influenced by the school of M. Night Shyamalan and his constant last minute reversals of everything that has gone before and especially of the sudden revelation of characters being imaginary that we have seen in films like Fight Club (1999), High Tension (2003), Identity (2003), A Tale of Two Sisters (2003), Secret Window (2004), Martyrs (2008), Pandorum (2009), The Uninvited (2009) and The Woman in the Fifth (2011). While this holds a certain surprise, it left most audiences at the preview screening puzzled. At the end, for example, you are left wondering what was real and what was in Elizabeth Olsen's imagination. Were there any ghosts or was everything all related to her childhood traumas? If that is the case, the constant spooking of us with unexplained noises and mysterious shadowy figures in the cellar and trying to break into the SUV seems wilfully contrived misdirection. That said, you do also have to commend Silent House for pulling off such a sophisticated narrative twist at the same time as shooting the entire film in a single take.
---
---