---
Crew
Director/Screenplay – Stephen Gaghan, Suggested by the Novel Adam's Fall by Sean Desmond, Producers – Gary Barber, Roger Birnbaum, Lynda Obst & Edward Zwick, Photography – Matthew Libatique, Music – Clint Mansell, Visual Effects – Cinesite (Supervisor – Micheal J. McAlister), Special Effects Supervisor – Ryal Cosgrove, Production Design – Gideon Ponte. Production Company – Paramount/Spyglass Entertainment/MFP Munich Film Partners/New Century GmBh & Co/Ham Productions KG.
Cast
Katie Holmes (Katie Burke), Benjamin Bratt (Wade Handler), Charlie Hunnam (Embry Larkin), Gabriel Mann (Harrison Hobart), Zooey Deschanel (Samantha Harper), Mark Feuerstein (Robert Hanson), Tony Goldwyn (Dr David Schaeffer), Will McCormack (August), Gabrielle Union (Amanda Luttrell), Melanie Lynskey (Mousy Julie), Fred Ward (Lieutenant Bill Stanton), Philip Bosco (Professor Jergensen)
---
Plot
Police detective Wade Handler is asked to investigate the disappearance of Embry Larkin, a student at an exclusive college who comes from a wealthy family and has been missing for the past two years. Though it requires seven years before someone can be declared legally dead, Larkin's family lawyer presses Wade to find what happened. Wade begins to ask around at the university, delving into the background of the charismatic yet unpredictable Embry who was known for mounting a number of audience-challenging arts projects. Wade is drawn to Katie Burke, the A-student with which Embry was involved. Katie is under pressure in the midst of her finals and in trying to apply for a top job after graduation. At the same time as she starts to become attracted to Wade, Katie begins to see Embry back on the campus. Embry appears to be stalking her and may even have killed off a romantic rival.
---
Stephen Gaghan has emerged as a screenwriter of note in recent years. After various tv scripting duties during the 1990s, Gaghan served as script editor for the second season of The Practice (1997-2004). He then began to take on film work with scripts for the likes of Rules of Engagement (2000) and The Alamo (2004). However, it was his script for Steven Soderbergh's Traffic (2000) that brought Gaghan to major attention, especially after it netted Gaghan that year's Oscar for Best Adapted Screenplay. This propelled Gaghan to a screenwriting A-list and gave him the clout to make his directorial debut with Abandon. Subsequently, Gaghan went onto direct/write the complex and politically hard-hitting Syriana (2005), the award-nominated Gold (2016) and Dolittle (2020).
Abandon didn't get many good notices when it came out but contrarily I ended up liking it. The film is strikingly well written on Gaghan's part. There is a wonderful assurance to the dialogue – the scene where Katie Holmes goes for a job interview is one where both she and Gaghan end up commanding the floor with simply the coolness of the wording. Gaghan chooses exclusive Ivy League schools as his backdrop and sets the film amid the expectations that are placed on the shoulders of graduating students and the need to succeed in the future workplace. This is a film that has clearly been written from an insider's working knowledge of the way such environments operate. (Sean Desmond, the author of Adam's Fall (2000), the original novel upon which the film is loosely based, is a Harvard graduate).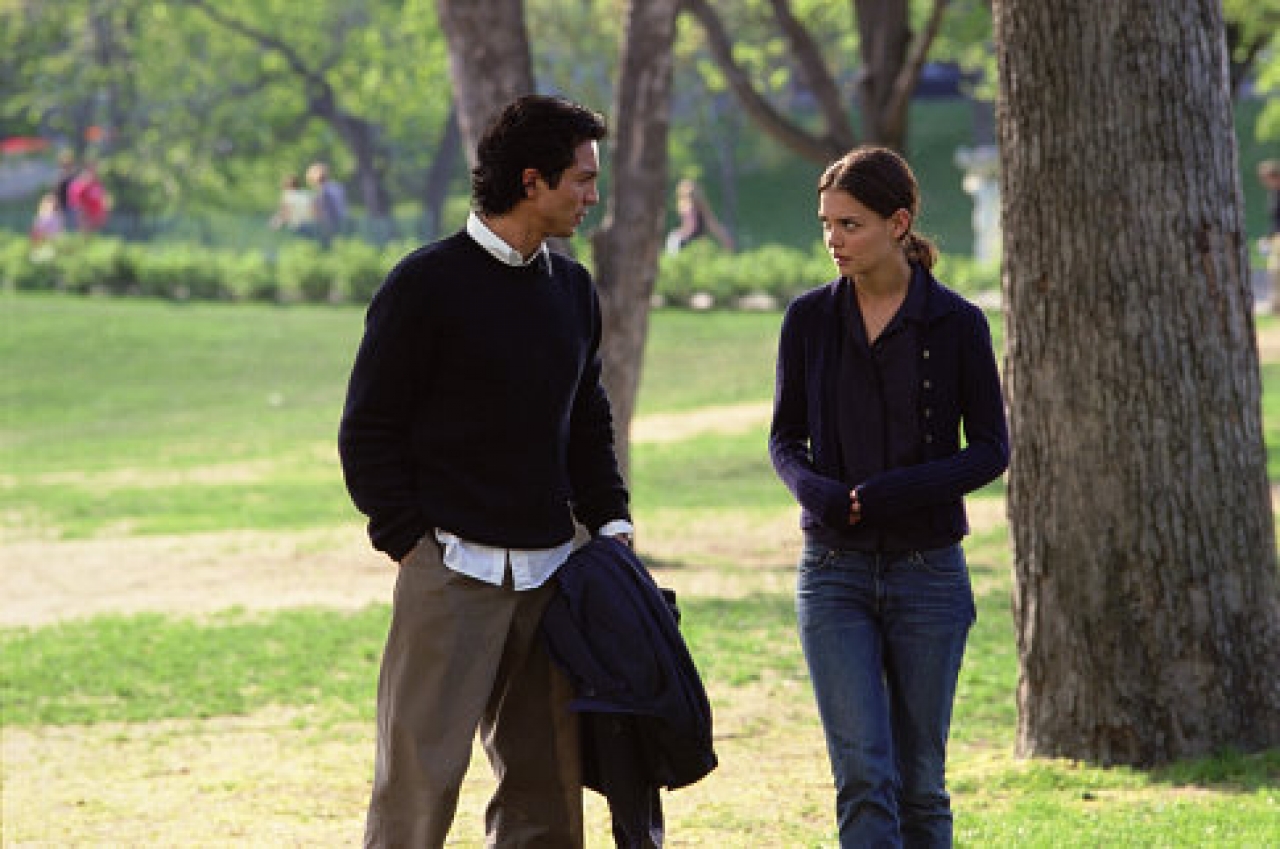 When it comes to the revelation of what is going on, Gaghan pulls a twist ending that comes out of left field and proves a considerable surprise. [PLOT SPOILERS]. This is not too different from the same twist that came in Fight Club (1999), wherein the film creates an enigmatic character of charismatic presence before conducting an abrupt shift to show us that they are a split personality in the overstressed protagonist's imagination and what we thought was another person was actually an alter ego they have been reacting with. This twist and the fadeout the film goes out on is a genuine surprise and the subtlety with which Stephen Gaghan pulls it off is highly accomplished.
Abandon starred Katie Holmes, several years before Tom Cruise's couch-jumping antics, at a time when she had just come from the success of the hit teen tv series Dawson's Creek (1998-2003) and was for a brief time finding a minor fame as an actress in genre films with the likes of Disturbing Behavior (1998), Teaching Mrs. Tingle (1999) and The Gift (2000).
The role here – that of an A-student who is driven into some morally dubious places by the all-consuming need to succeed in the academic environment – is not that different from the same one that Katie played in Teaching Mrs. Tingle. There are few actresses who could convincingly portray a tightly bound A-student and look sexy at the same time without sacrificing either side of the equation but Katie does in a very good performance. Opposite her is Benjamin Bratt in a role that allows him to play at his most handsomely charismatic and sensitive. Every single actor in the principal cast is perfectly chosen and do very well in a series of finely-nuanced characterisations.
---
---