---
Crew
Director – John Polson, Screenplay – Ari Schlossberg, Producer – Barry Josephson, Photography – Dariusz Wolski, Music – John Ottman, Special Effects Supervisor – Steve Kirshoff, Production Design – Steve J. Jordan. Production Company – Josephson Entertainment/MBC Beteilgungs GmBh & Filmproduktion.
Cast
Robert De Niro (Dr David Calloway), Dakota Fanning (Emily Calloway), Famke Janssen (Katherine), Elisabeth Shue (Elizabeth Young), Dylan Baker (Sheriff Hafferty), Melissa Leo (Laura), Robert John Burke (Steven), Amy Irving (Alison Calloway), David Chandler (Haskins), Molly Grant Kallins (Amy Young)
---
Plot
Psychologist David Calloway is shocked when his wife Alison commits suicide, slashing her wrists in the bathtub. Their young daughter Emily is left traumatised by the incident. David decides the best thing to do would be to sell up and move away from the city. He buys a house in the placid town of Woodland in upstate New York. However, after they move in, Emily becomes increasingly cold and withdrawn. She then starts to insist that she has an invisible companion named Charlie. Charlie's friendliness becomes increasingly sinister as he mutilates Emily's dolls, leaves taunting messages written in the bathroom and then starts to kill visitors to the house.
---
Hide and Seek was the third film from director John Polson. Previously an actor in bit film and tv parts in his native Australia, Polson first appeared as a director with the satiric Siam Sunset (1999) and then ventured onto the American mainstream stage with the teen stalker film Swimfan (2002). Clearly, the genre psycho-thriller is an area that John Polson feels comfortable in as, following Swimfan and Hide and Seek, it was announced he was to make his third genre production in a row – Fear Itself, a remake of Straw Dogs (1971), although this never came about.
Alas for the genre, John Polson seems a director who is not always comfortable with the material. Or at least his handling suffers from a lack of consideration for basic credibilities and a sufficient knowledge of the psycho-thriller genre to know when things are hackneyed or not. Polson next made the thriller Tenderness (2009), which was little seen, and all his subsequent work has been in television.
Hide and Seek is made with a basic competence but John Polson directs with a production-line efficiency that never engages at all. For all his clear preference for genre material in his films, Polson's scares are tepid and in no way push the envelope or generate tension in a manner that even vaguely raises one's pulse. Hide and Seek feels for all the world like a formula made-for-tv movie – the sort that have heroine-in-peril scenes that set out to never be too scary for their audience.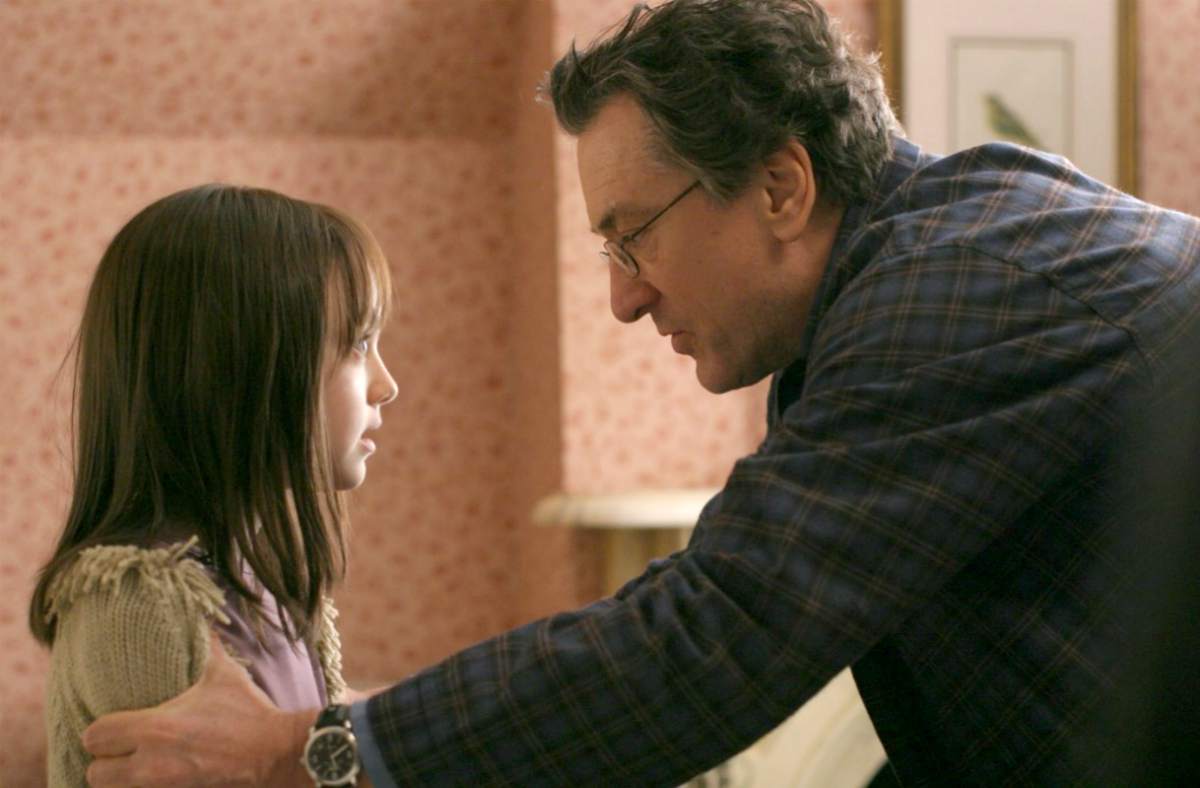 [PLOT SPOILERS] Hide and Seek does feature a twist near the end that may surprise anybody who has not seen either Fight Club (1999) or Secret Window (2004). You could say that Hide and Seek is maybe a film like Secret Window having been given a conceptual crosshatch with the mini-theme of creepy children's invisible companion films like The Curse of the Cat People (1944), Cameron's Closet (1988) or Someone is Watching (1999). By now though, this twist is starting to seem rather hackneyed. Moreover, it is one that, in its desire to provide a spin a la the conceptual reversals that have been a crucial part of the horror film since the success of The Sixth Sense (1999), The Others (2001) et al, ends up seeming contrived in terms of the story gimmicks that the earlier parts of the film conduct to try to mislead us.
Perhaps one of the most disappointing aspects about Hide and Seek is the way that it manages to array a sterling cast and then wastes all of them. Present are the likes of Elisabeth Shue, Dylan Baker and Melissa Leo, but they are pushed into unremarkable supporting parts. At the forefront of the show are Robert De Niro and eleven-year-old Dakota Fanning. After her stunning performance in tv's Taken (2002), one was prepared to cite Dakota Fanning as one of the finest child actors of the 2000s – an actress easily the equal of a young Drew Barrymore or a Haley Joel Osment. Fanning has been appearing in a variety of A-list productions, although none that have again shown up her abilities like Taken did. Here she at least does an at times alarmingly convincing job of looking alternately cold and numbed with trauma – although in the end, Hide and Seek never gives her enough to do dramatically.
The same is the problem with Robert De Niro. De Niro is probably one of the two or three finest American actors of his generation. However, the last few years have seen De Niro appearing in a good many forgettable films where he should have known better – the likes of Flawless (1999), The Adventures of Rocky and Bullwinkle (2000), 15 Minutes (2001), Godsend (2004) and Meet the Parents (2004) and sequels. His part in Hide and Seek is one that could have been played by anybody – one fails to see the point of hiring an actor of Robert De Niro's calibre and then getting him to play a bespectacled milquetoast father for the entire show. The most disappointing thing about this is that it is a part in which Robert De Niro could have shone. Alas, De Niro seems to be giving the part minimal effort – when it comes to the main twist, he goes through a few tics and grimaces as though he had never before seen a film where a perfectly mannered actor suddenly starts to psychopathically twitch.
---
---