---
Crew
Director/Screenplay – Todd Sheets, Based on a Concept by Darrel Shackleford, Producers – Mem Ferda, Amanda Payton, Todd Sheets & Paul Stentaford, Music – Justin Burning, Matt Cannon, Toshiyuki Hiraoka & Enochian Key, Additional Music – Tom Bedlam & S.H.C. Brown, Visual Effects – Jackalope Media & Videfx, Makeup Effects – Jackie Butler, Annalee Mae Dorsey, R.J. Parish, Amanda Payton & Todd Sheets, Additional Makeup Effects – Erick Rivera & Jeff Sisson. Production Company – Extreme Entertainment.
Cast
John O'Hara (Big Ronnie), Rachel Lagen (Savanna Dane), Bobby Westrick (Hunter Fidelis), Dilynn Fawn Harvey (Bambi Fawn Taylor), Antwoine Steele (Dion Livingston), Sierra Stodden (Rachel Carpenter), Jeremy Todd (Chris Rice), Millie Milan (Molly Moore), Jeanne Silver (Autumn Moonspell), Douglas Epps (Nic Stone), Cayt Feinics (Satchel), Nate Karney Cole (Chuckles), Micah Dillinger (Wizzo), Eric Danger Dionne (Boppo), Jeffrey White (Shrinky Dink), Jack McCord (Sheriff Morgan), Christopher Preyer (Cash Mahoney), Linnea Quigley (Spider), Sheila Brandon Allen (Alice Hyett), Nick Stodden (Steve Carpenter)
---
Plot
The circus owner/clown Big Ronnie finds his wife Savanna in the arms of one of the carneys Cash Mahoney and planning to run away with him. He instead shoots Cash with Savanna's gun and threatens to blame it on her with the police. In anger, Savanna turns to the witch Autumn Moonspell who casts a spell against Big Ronnie. This conjures up a storm that whisks Big Ronnie and his fellow clowns away. Meanwhile, Hunter Fidelis offers a ride to the Black Elvis impersonator Dion Livingston. They fall in with the just-fired stripper Bambi Fawn Taylor and teenage runaway Rachel Carpenter. They go to a diner, where Savanna is also eating, just as the storm deposits Big Ronnie and the clowns outside. They flee as the clowns proceed to massacre everybody in the diner. With the clowns creating a trail of slaughter everywhere they touch down, Hunter and the others try to find a means of stopping the clownado.
---
I am surprised that I have never had the occasion to view one of the films by Todd Sheets before. Sheets has been making low-budget horror films since the mid-1980s and has produced quite a body of them. His films include Shadows (1986), Misty Darkness (1986), Dead Things (1986), Land of Shadows (1987), Brothers from Hell (1988), Sanguinary Desires (1988), Zombie Rampage (1989), Bimbos B.C. (1990), Madhouse (1991), Prehistoric Bimbo in Armageddon City (1991), Sorority Babes and the Dance-a-Thon of Death (1991), 13 Floors (1991), Chainsaw Tales (1992), Dominion (1992), Nightmare Asylum (1992), Bimbos in Time (1993), Bloodthirsty Cannibal Demons (1993), Goblin (1993), Zombie Bloodbath (1993), Moonchild (1994), Zombie Bloodbath 2 (1995), Violent New Breed (1997), The Shivers (1998), Whispers in the Gloom (1998), Biker Babes from Beyond the Grave (1999), Catacombs (2000), Zombie Bloodbath 3: Zombie Apocalypse (2000), Fear of the Dark (2005), House of Forbidden Secrets (2013), Spirits (2014), Dreaming Purple Neon (2016) and Bonehill Road (2017).
The killer clown has a certain history on film. The earliest of these came out in the late 1980s with Killer Klowns from Outer Space (1988), Clownhouse (1989) and Out of the Dark (1989), although what popularised the theme more than anything was the original It (1990). We have seen other films over the years featuring killer clowns with the likes of The Clown at Midnight (1999), Killjoy (2000), Rob Zombie's House of 1000 Corpses (2003) and sequels, Drive Thru (2007), The Fun Park (2007), 100 Tears (2007), Torment (2008), Stitches (2012), All Hallows Eve (2013), Clown (2014) and the tv series American Horror Story: Carnival (2014). With the release of the remake of It (2017), we have been deluged by a horde of mostly cheap and crappy killer clown films – Cannibal Clown Killer (2015), Clown Kill (2016), Clowntown (2016), Joker's Wild (2016), Clowntergeist (2017), 8 Ball Clown (2018), Big Top Evil (2019), Clown (2019) and Clown Motel (2019). (For a more detailed overview of the theme see Killer Clown Films).
With Clownado, the thinking has been to mash the killer clowns film up with Sharknado (2013) and come up with one of the all-time ridiculous film premises – a tornado of killer clowns. It also leaves the suggestion that Clownado may well be the killer clown genre's equivalent of Sharknado – something that is caught between B movie cheesiness and a tongue-in-cheek sense of its own absurdity.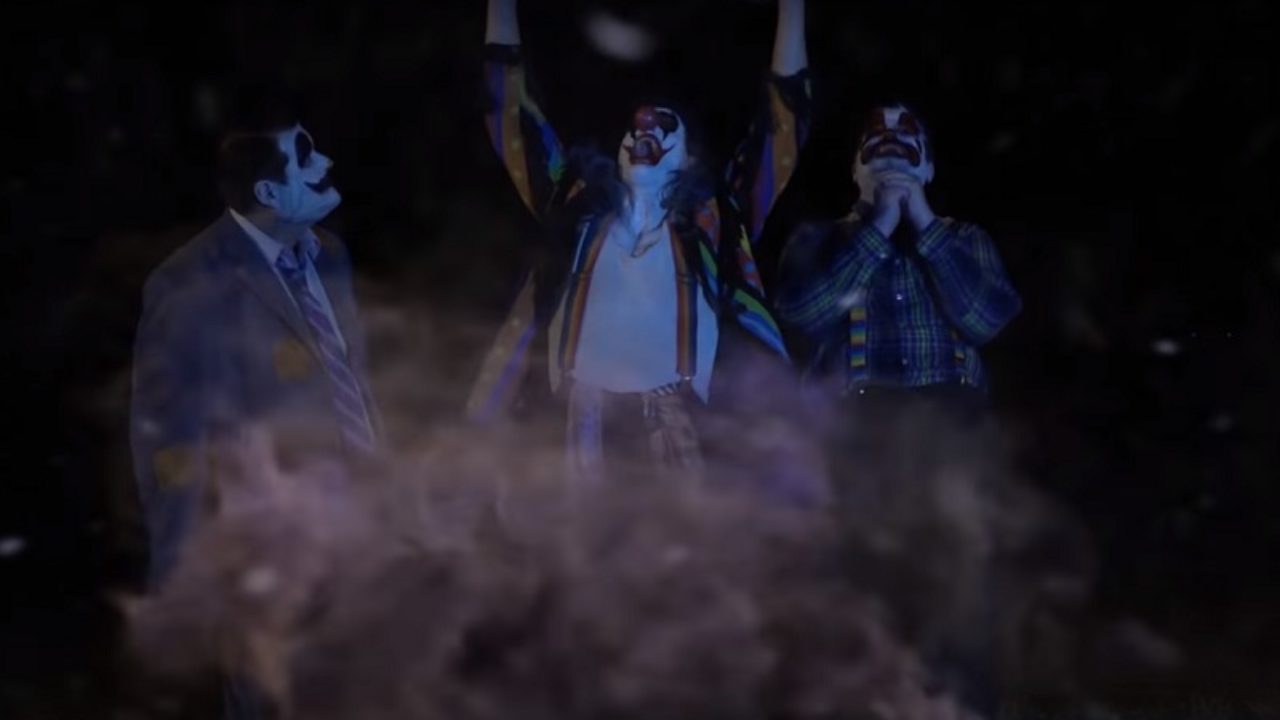 The immediate thing you notice in watching Clownado is that Todd Sheets and co are working with a budget that seems like a tenth of the already B-budget one that The Asylum had available to them. This is particularly noticeable when it comes to the depiction of the actual clownado. I was hoping for a grand vision like in Sharknado where we see sharks twirling around in the midst of a tornado and Ian Ziering jumping in with chainsaw to tackle them. Alas, all we get is a cheaply digitally overlaid storm effect as the clowns sit in a vehicle and pretend to be buffeted and then a few cheap shots of the tornado coalescing and depositing them in various locations.
On the other hand, Todd Sheets has a B movie trashiness that keeps the film going and gives it an undeniable energy. He produces a likeable range of odd ball characters, even a dwarf killer clown on a mobility scooter at one point. Sheets is an old school director unconcerned about modern PC virtues and gets most of the women in the cast topless at extended intervals – although in a welcome change from the usual, he seems to have a preference for fuller-figured actresses. The film is also incredibly gory – there are numerous closeups shots of the clowns gutting and biting open victims, removing intestines, even nipples that produce sets of teeth.
The cast are unknowns, although all hold up well and give decent performances, even if lead clown John O'Hara gives a very broad performance. The sole recognisable name present is former 1980s Scream Queen Linnea Quigley in a single scene cameo as the owner of the strip club. Quigley hits the age of 60 the year that Clownado came out and is certainly no longer the foxy young thing she used to be and gives a resultingly sharp-tongued and haggard-looking performance.
---
---