---
UK/Ireland. 2017.
Crew
Director – Yorgos Lanthimos, Screenplay – Efthimis Filippou &Yorgos Lanthimos, Producers – Ed Guiney & Yorgos Lanthimos, Photography – Thimos Bakatakis, Visual Effects – Screen Scene (Supervisors – Ed Bruce & Nicholas Murphy), Makeup Effects – David Greathouse, Production Design – Jade Healy. Production Company – Film 4/New Sparta Films/Hanway Films/Bord Scannan na Heireann (Irish Film Board)/Element Pictures/Limp.
Cast
Colin Farrell (Dr Steven Murphy), Nicole Kidman (Dr Anna Murphy), Barry Keoghan (Martin Lang), Raffey Cassidy (Kim Murphy), Sunny Suljic (Bob Murphy), Alicia Silverstone (Martin's Mother), Barry Bernson (Dr Larry Banks)
---
Plot
Steven Murphy is a successful cardiac surgeon in Cincinnati with a wife Anna, an ophthalmologist, and two children, thirteen year-old Kim and the younger Bob. Steven has befriended sixteen year-old Martin Lang after his father died on Steven's operating table. Steven invites Martin home to meet the rest of his family and Martin returns the favour, trying to set Steven up with his mother. Bob then collapses with paralysed legs and they rush him to hospital. Afterwards, he refuses to eat. The doctors are unable to find anything wrong. Next Kim collapses with the same symptoms. Martin tells Steven that this has happened because he killed his father – something that may have occurred because Steven had been drinking before the operation. Martin outlines the symptoms that will affect all of Steven's family, leading to their deaths. The only recourse is for Steven to kill one of his family in reprisal for the death of Martin's father.
---
Greek director Yorgos Lanthimos had a breakout success with his second film Dogtooth (2009), a bizarre deadpan comedy concerning parents that have kept their children imprisoned in the grounds of a villa their whole lives, the children only imagining the outside world with hilarious results. This certified his reputation as a director of bizarre and deranged material. His follow-up Attenberg (2010) was not widely seen internationally; the subsequent Alps (2011) was but left most audiences confused. Lanthimos then returned with The Lobster (2015), his first English-language film, a bizarre and blackly funny effort about a future where people are required to be in relationships at threat of being transformed into animals. It won the Jury Prize at the 2015 Cannes Festival. The Killing of a Sacred Deer premiered at Cannes and played almost every international film festival, receiving a good deal of acclaim and ending up on a number of critic's Best of 2017 lists as I write this.
The Killing of a Sacred Deer is Yorgos Lanthimos's most straightforward film to date. All of his other films have specialised in a black-than-black sense of humour presented in a bizarre deadpan where you are not sure whether you should be laughing. This film is more focused on what you could call mundane deadpan. The opening scenes take place as the most banal of conversations – Colin Farrell discussing the buying of a watch with a colleague; he and Barry Keoghan sitting in a cafe discussing the way they eat their fries; dinner at home where Nicole Kidman goes on about the renovation of her surgery. Lanthimos being the director he is, you have to keep watching the minutiae of conversation just to see if it is small talk or else something significant that slips in amid the banality.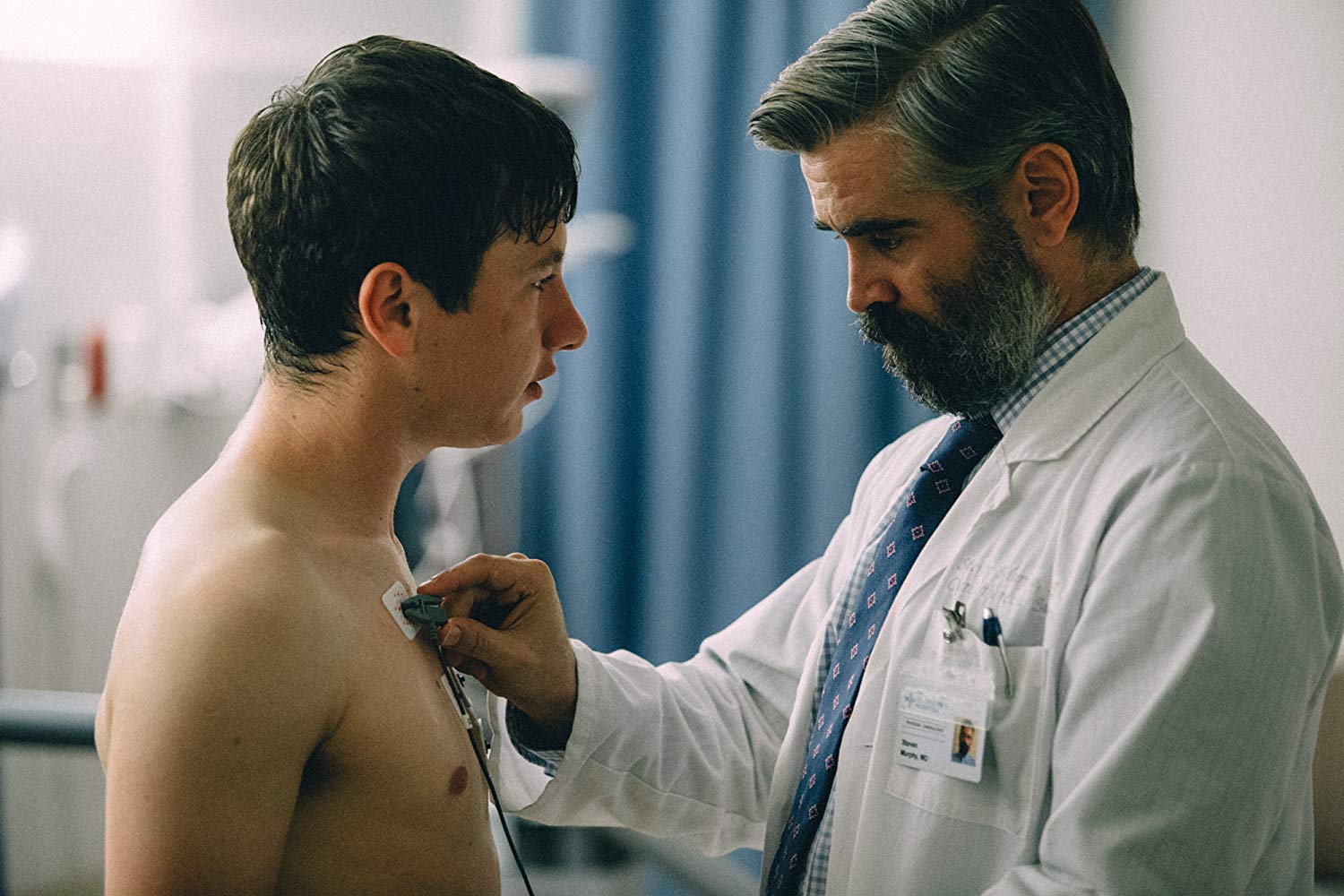 That is not to say that Yorgos Lanthimos's deadpan blackness doesn't creep back in. Raffey Cassidy and Barry Keoghan have straight-face exchanges: "Have you got any hair under your arms yet?" "Yes" "I just got my period." After Keoghan tries to set them up, Farrell rejects Alicia Silverstone's mother's efforts to come onto him before her upset outburst "I can't let you leave until you try my caramel tart." Or the later scenes in the film with everybody reacting calmly as the two children crawl through the house.
There's a rather weird scene where Nicole Kidman undresses and lies with her head hanging over the edge of the bed and Colin Farrell climbs on top and goes "General Anaesthetic" – it is an odd scene that never seems to have much relevance to the rest of the film. On the other hand, by the time the full horror element kicks in, this is the first of Yorgos Lanthimos's films that you can say the characters react with real world emotions instead of with cryptic dialogue or deadpan blankness.
Yorgos Lanthimos's deadpan style is particularly well suited to horror material. There's the chill scene where Raffey Cassidy turns to Nicole Kidman: "Don't be scared. Soon you won't be able to move too. You'll get used to it." This is a film would have almost no issues being played as more of a genre horror film, for instance, but the banal understatement of reactions rather than the dramatic hyping towards shock effect gives them far more effect. During its latter half, the film segues into undeniably effective horror territory that continues to a particularly grim ending.
One oddity about the film is that we never get any explanation of why this malady is affecting the children and how Barry Keoghan knows about it – all the hows and whys have been carefully omitted. In a more genre-identifying horror film, there would be all manner of talk about curses or occult rites performed by Keoghan.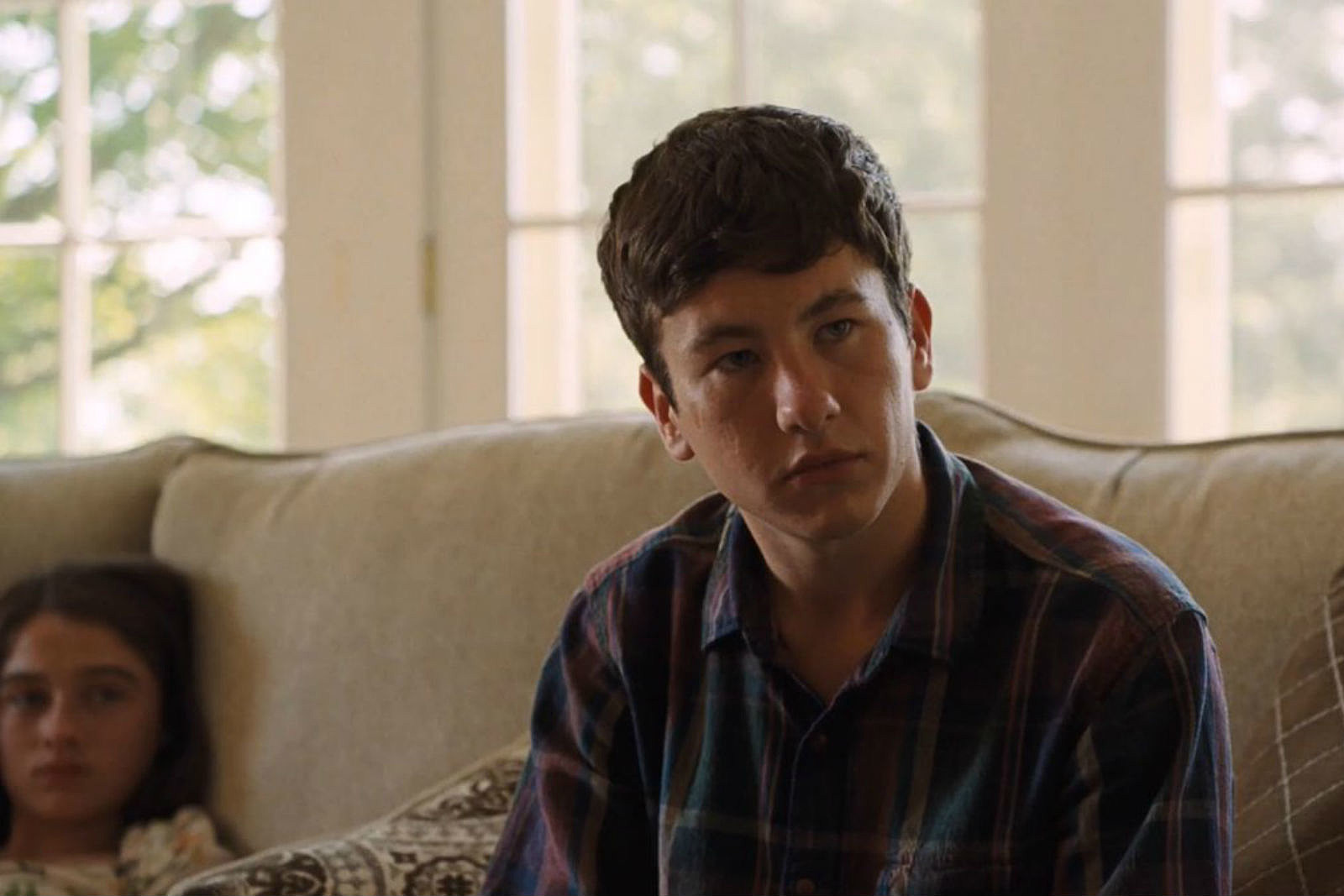 Everybody in the film delivers expert and perfectly pitched performances. One of the best aspects of the film is young Irish actor Barry Keoghan. It is a performance where he and Yorgos Lanthimos avoid any cliches of psychopathic or vengeful children – Keoghan manages to pronounce a terrible fate on Colin Farrell but never once do you end up hating or fearing him. The scene where he sits opposite Nicole Kidman and turns the eating of a plate of spaghetti into a complex metaphor about missing his father while offhandedly delivering threats in the calmest of tones contains some great acting.
Some confusion exists over the title given that we never see any deer killed in the film. This is an oblique reference to Iphigenia in Aulis (@406-8) by the Greek playwright Euripides. (We see the play being studied by Raffey Cassidy in school at one point). The play takes place during the Trojan Wars where Agamemnon kills a deer without realising that it belongs to the goddess Artemis. She in turn holds back the wind, preventing them from sailing off to the war. Agamemnon learns that in order to appease Artemis he must sacrifice his daughter Iphigenia.
Yorgos Lanthimos next went on to make the Academy Award-nominated historical drama The Favourite (2018), which saw him nominated as Best Director.
(Nominee for Best Original Screenplay and Best Supporting Actor (Barry Keoghan) at this site's Best of 2017 Awards).
---
---