---
Crew
Director – Steven Kostanski, Screenplay – Suzanne Keilly, Producers – Darren Cameron & Adam Friedlander, Photography – Trevor Calverley, Music – Andries Smit, Visual Effects Supervisor – Rory Mark, Special Effects Supervisor – Antony Stone, Production Design – Bobby Cardoso. Production Company – Studio L/Blue Ice Pictures.
Cast
Taylor Spreitler (Lila Jenkins), Linden Porco (The Leprechaun), Pepi Sonuga (Katie), Sai Bennett (Rose), Mark Holton (Ozzie), Emily Reid (Meredith), Ben McGregor (Andy), Oliver Llewellyn Jenkins (Matt)
---
Plot
As part of a campus renovation project, Lila Jenkins travels back to the house at Devil's Lake, North Dakota where her late mother Tory Reding once stayed. Lila's mother lived in fear of the leprechaun she encountered there but everybody, including Lila, thought she was crazy. As the group settle in around the house, Katie's renovations drain the well where the leprechaun was buried. It now returns to life seeking its pot of gold and slaughtering all in its way.
---
Leprechaun (1993) was one of those word-of-mouth hits of the VHS era. It starred a young unknown Jennifer Aniston just before she went on to superstardom on tv's Friends (1994-2004), along with Warwick Davis in the title role. Its' success spawned a series of sequels with Leprechaun 2/One Wedding and Lots of Funerals (1994), Leprechaun 3 (1995), Leprechaun 4: Leprechaun in Space (1996), Leprechaun in the Hood (2000) and Leprechaun: Back 2 tha Hood (2003), all starring Warwick Davis. More recently, the series was revived as Leprechaun: Origins (2014) with 4'5" WWE wrestler Dylan 'Hornswoggle' Postl taking over the role from Davis.
Leprechaun Returns was produced to celebrate the series' 25th anniversary. It features a return visit to the same house where the original took place and a reappearance from Mark Holton who played the Ozzie in the original (and appears to have gone from a teenager to an old man in the interim). Both Jennifer Aniston and Warwick Davis were apparently approached to reprise their roles – she wanted too much money, while Davis stated that he had foresworn horror movies since becoming a parent.
Leprechaun Returns was directed by Steven Kostanski, a makeup effects artist who has worked on Canadian-shot films such as The Divide (2011), Resident Evil: Retribution (2012), Silent Hill: Revelation (2012), Pacific Rim (2013) and Crimson Peak (2015). Kostanski made his directorial debut as part of the Astron-6 collective with the Troma film Father's Day (2011) and then went on to solo direct Manborg (2011), a low-budget gem that homaged the 1980s science-fiction film, followed by the Lovecraftian horror The Void (2016), as well as the W is for Wish segment of ABCs of Death 2 (2014) and subsequent to this P.G. Psycho Goreman (2020), another 80s homage wherein kids befriend an intergalactic dark lord, and The Veggie Masher episode of V/H/S/94 (2021). There is the feeling that Kostanski has been hired here for his effects expertise and the hope that he would elevate the effects set-pieces.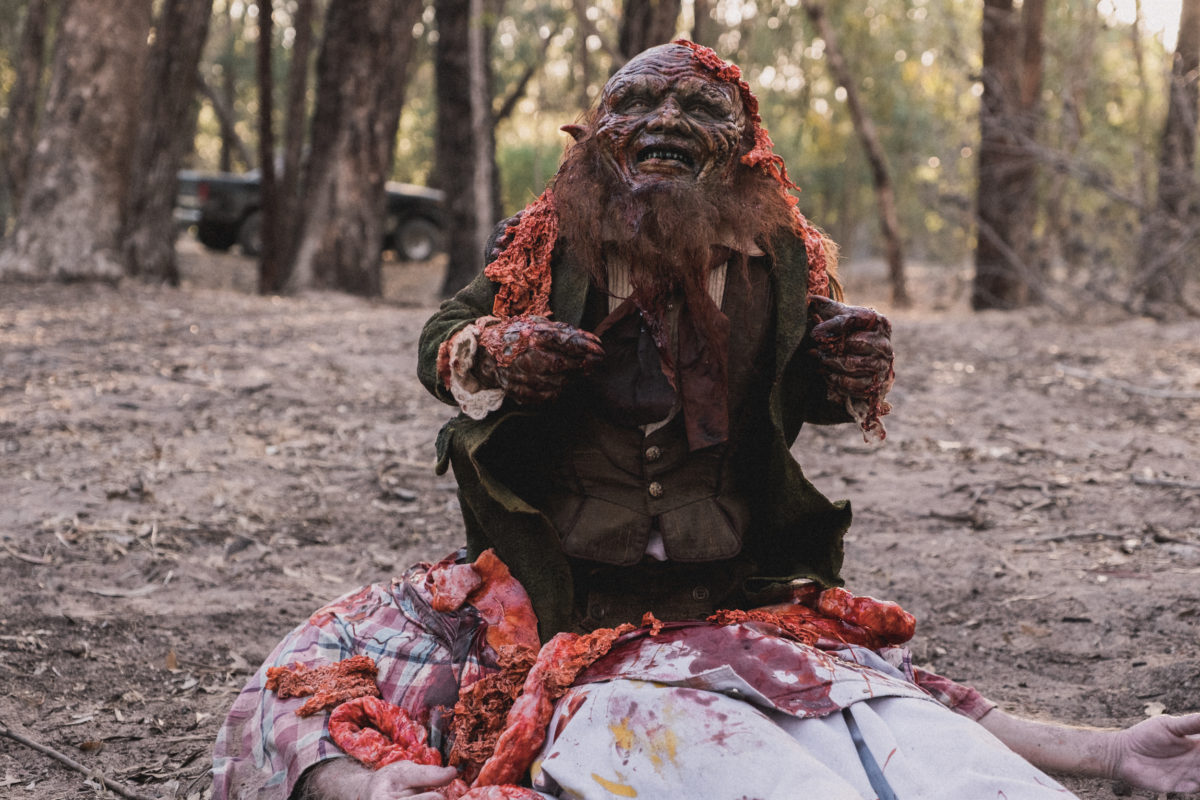 The Leprechaun films were a product of the post-A Nightmare on Elm Street series makeup effects driven VHS horror era. The surprise is that the series has legs that has carried it on as far as this, least of all given the almost universal agreement that none of the films were that good. Leprechaun Returns is no different really, although at least it rises to a level of averageness.
The script is by-the-numbers. The victimology is typical – the most amusing character is that of Oliver Llewellyn Jenkins as the student filmmaker who is constantly comparing himself and his shots to directors like David Lean, Werner Herzog and Robert Rodriguez only to fall on the ignorant ears of those around him: "Who's this Herz-cog?"
The only thing that boosts the film is the makeup effects (surprisingly enough there is no credit for these). We get some entertaining despatches – The Leprechaun forcing his way out of Mark Holton's stomach, shoes, hat and all; a postman who gets his head stuck in a mailbox whereupon the Leprechaun drives over it with the mail van; Ben McGregor getting sliced in two by a falling solar panel – a shot reminiscent of David Warner's despatch in The Omen (1976); The Leprechaun riding on a drone and getting impaled on a tree branch; The Leprechaun melted down and reconstituting itself as a horde of miniature leprechauns. These are entertaining and probably the most accomplished effects of any of the films. Still, they never quite strike the imaginative heights of Steven Kostanski's work on The Void or Psycho Goreman – and there is the overall feeling he is working well beneath his best game. The result is still nothing other than a routine sequel in the series.
---
---