---
Crew
Directors/Screenplay – Joe Dietsch & Louie Gibson, Producers – Jeff Kalligheri & Bryson Pintard, Photography – Joe Dietsch, Music – Rhyan D'Errico & Simon H. Jay, Production Design – Mark Alan Diaz. Production Company – Waterstone Entertainment/Selective Collective.
Cast
Martin Dingle Wall (Warren Novak), Ken Lally (Steve Patterson), Gary Sturm (Sheriff Burnside), Kenny Wormald (Junior Burnside), Connor Williams (Robbie), Don Lincoln (C.J. Baker), Jeremy Lawson (Bo Dawg), Sherry Leigh (Cheryl Patterson), Frederick Lawrence (Cal), Michael Tipps (Charlie Wakowski), Liesel Hanson (Jessie Wakowski), Kenneth Billings (Mickey Wakowski), Chuck Ramage (Bob)
---
Plot
Warren Novak receives a call that informs him he has a daughter that he never knew he had in Mexico. Fleeing from a drug deal that turns into a shootout, Warren heads to the nowhere town of Bedford Flats near the Mexican border to await further instructions about meeting his daughter. Drying out from alcohol, he attends the local AA and is befriended by the organiser Steve Patterson and shares his problems. Warren then comes around to find that he and several others have been placed in the town's annual hunt where three groups of hunters, one team of which consists of Steve and his wife, compete to pursue and kill those who are regarded as worthless. Fleeing through the desert and fighting off withdrawals, Warren tries to fight back against his hunters.
---
Happy Hunting was a feature-length directorial debut for the duo of the American Joe Dietsch and Australian Louie Gibson. The two are next signed to make a further horror film with Manifest West (2021). Despite being set in a US border town, the film was actually shot around the abandoned inland California town of Bombay Beach.
The film is a variant on The Most Dangerous Game (1924), the classic story by Richard Connell in which a man is shipwrecked on an island where he is hunted by the Russian aristocrat Count Zaroff and forced to survive with his bare hands but manages to turn the tables despite. There was a classic film version The Most Dangerous Game (1932) and this has undergone a host of remakes and unofficial copies that include the likes of Hard Target (1993), Surviving the Game (1994), The Condemned (2007) and The Hunt (2020), even with the Russian aristocrat substituted by an alien in Predator (1987), among others. (For more detail see Films About Human Bloodsports and Death Games).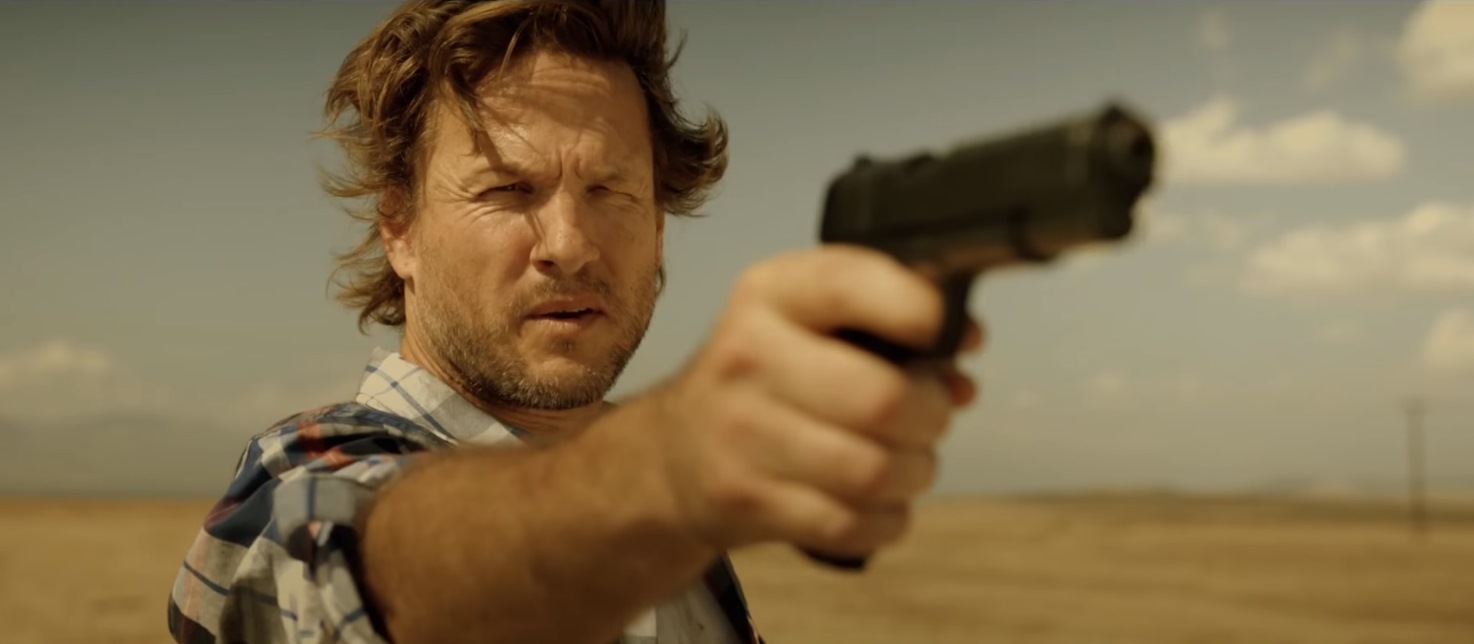 As opposed to most other variants on The Most Dangerous Game, Happy Hunting is not an action film. There is an action component from time to time but mostly it is a film about the redemption of a burned-out alcoholic and his discovering an inner resolve to fight. Like some of the other copies of the The Most Dangerous Game such as Hard Target and Surviving the Game, this makes the hunted into the socially dissolute – homeless and alcoholics. In this case, there is the setting of a Sinister Small Town where the locals have set up an annual hunt to eliminate those they regard as worthless.
Joe Dietsch and Louie Gibson do a fine job of directing. The early scenes and those arriving in the town are shot with faded colour as though the whole film were being filmed in a room lit by a 20-watt bulb at dusk. The editing and shot set-ups are chosen with an eye for artistic flourish and give the film a stylish intensity. The scenes with Martin Dingle Wall taking on his various opponents all come with a reasonable tension.
The film doesn't do anything dramatically different to vary from the standards of a Most Dangerous Game scenario, just does them well – in fact, I would argue that it does them better than the actual credited remake of the Richard Connell story that came out the same year with The Most Dangerous Game (2017).
---
Trailer here
---