---
Crew
Director/Screenplay/Music – Alejandro Amenabar, Producers – Fernando Boraiva, Jose Luis Cuerda & Park Sunmin, Photography – Javier Aguirresarobe, Visual Effects Supervisor – Felix Berges, Production Design – Benjamin Fernandez. Production Company – Cruise-Wagner/Sogecine/Las Producciones del Escorpion.
Cast
Nicole Kidman (Grace), Fionnula Flanagan (Bertha Mills), Alakina Mann (Anne), James Bentley (Nicholas), Christopher Eccleston (Charles), Eric Sykes (Edmund Tuttle), Elaine Cassidy (Lydia)
---
Plot
Jersey Island, 1945. Grace lives alone in a large, remote mansion while her husband is away fighting in the War. She takes on two new servants who arrive accompanied by a strange mute girl. Grace introduces the servants to her two children, Anne and Nicholas, who have an allergy to sunlight. She tells the servants that the rooms the children are in must be kept curtained at all times and that every time a door in the house is opened, the preceding one must be closed. Grace becomes troubled at Anne's increasing belief that there are invisible people in the house. While she tries to make Anne deny the existence of 'the others', increasing evidence starts to convince her that there is something there.
---
The Others is a ghost story that came out riding on the big Hollywood return of supernatural films in 1999. The Others was executive produced by Tom Cruise as a vehicle for (former) wife Nicole Kidman. (Presumably the film was completed before the high-profile Cruise-Kidman divorce, which with apt timing wrapped up in court the week that The Others was released). The Others comes from Chilean-born, Spanish-based director Alejandro Amenabar, who previously obtained attention in the West with his second film, the striking Virtual Reality film Open Your Eyes (1997). (Alejandro Amenabar and Tom Cruise probably met during the making of Vanilla Sky (2001), the English-language remake of Open Your Eyes that Cruise appeared several months later in the same year).
The Others is an old-fashioned ghost story. It uses a full flight of the genre's tropes – the large, gloomy old English mansion setting, the sinister retainers, hidden secrets from the past, mysterious noises and happenings, and, an effect borrowed from Edgar Allan Poe's The Fall of the House of Usher (1839), a pathological over-sensitivity to light and noise. Like any good old-fashioned ghost story, Alejandro Amenabar takes his time in the build-up. There are no physical shocks almost until the end, rather it is the subtlety of doors and curtains opening when people's backs are turned, noises in places they shouldn't be. Amenabar perhaps relies too much on the soundtrack (which he himself composed) to produce sudden jolts but the film is all the more notable for obtaining great tension out of minimal physicality and maximum atmosphere. (A lesson the remake of The Haunting (1999) could have learned).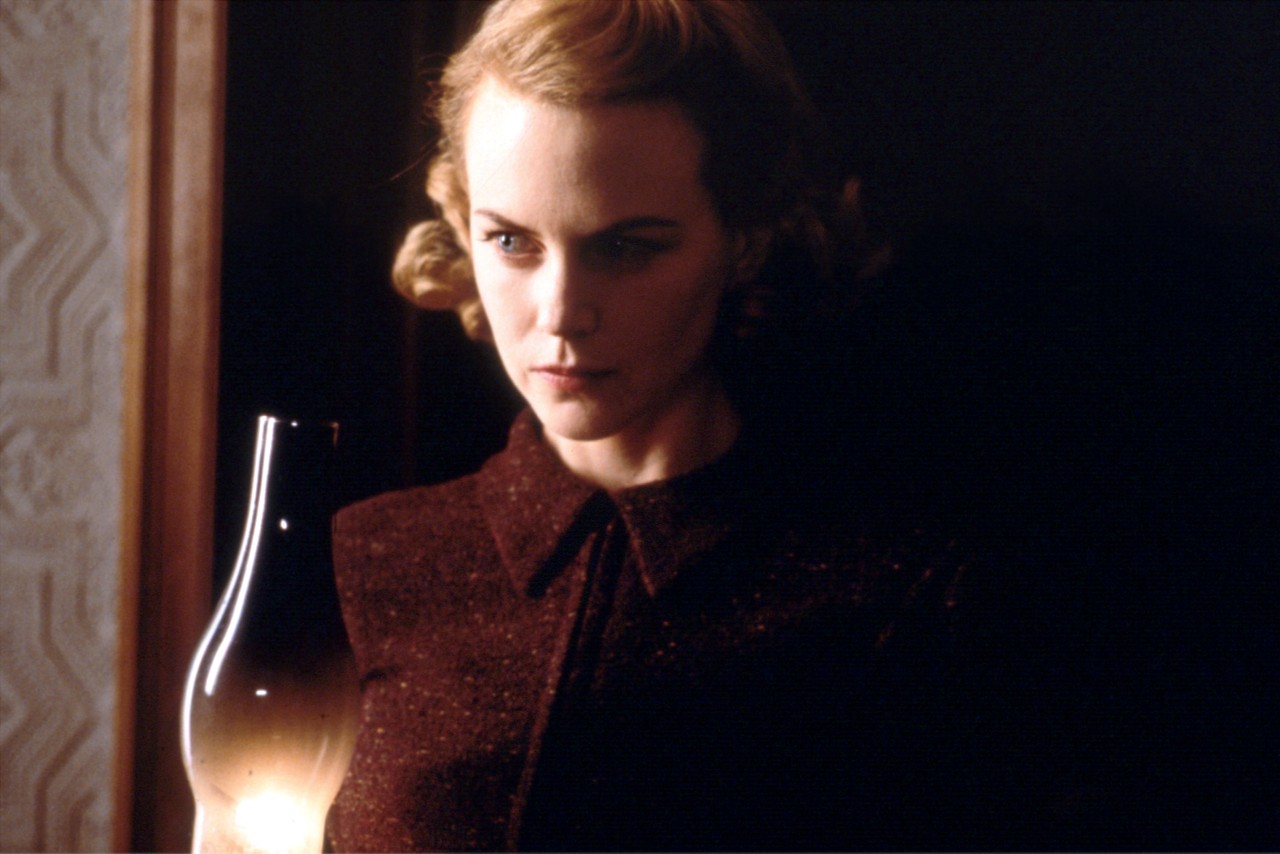 The audience I was with was enrapt and when Alejandro Amenabar pulled his jolts everybody screamed in the right places. The film has also been beautifully photographed, where all the colour has been washed out of the exteriors leaving only greys and greens to the point that every outdoor shot seems to be taking place in a mist-limned country garden on a winter's morning.
That said, other than a good deal of old-fashioned atmospherics, The Others never pulls anything remarkable out of the hat for most of its running time. Also Nicole Kidman probably isn't the right person for the part. It is not that she is miscast, it is just that her Australian accent jars and seems out of place in rural England, with the film never deigning to explain it away. The flattened-out vowels and the Australian tendency to raise the end of sentences make her seem like a rather cross, novice schoolmarm where she should be coming across as a blinkered, overly protective mother. She nevertheless does an exceptional job of playing frightened and afraid.
If that had been all there was to The Others, it would rest merely as being good but not great. What eventually does make the film is its twist ending – in fact, it is more of a double twist ending. [SPOILER ALERT]. It is almost exactly the same twist ending and grand reversal of audience expectations that The Sixth Sense (1999) also pulled but where Alejandro Amenabar ingeniously conducts it within the confines of the haunted house genre. Many people will slam The Others on these grounds – and almost certainly the film must have been pitched as another Sixth Sense to Hollywood execs. However, in all fairness, the film never exploited this connection in its promotion – it was, for example, sold as a haunted house story, not as a Sixth Sense copy.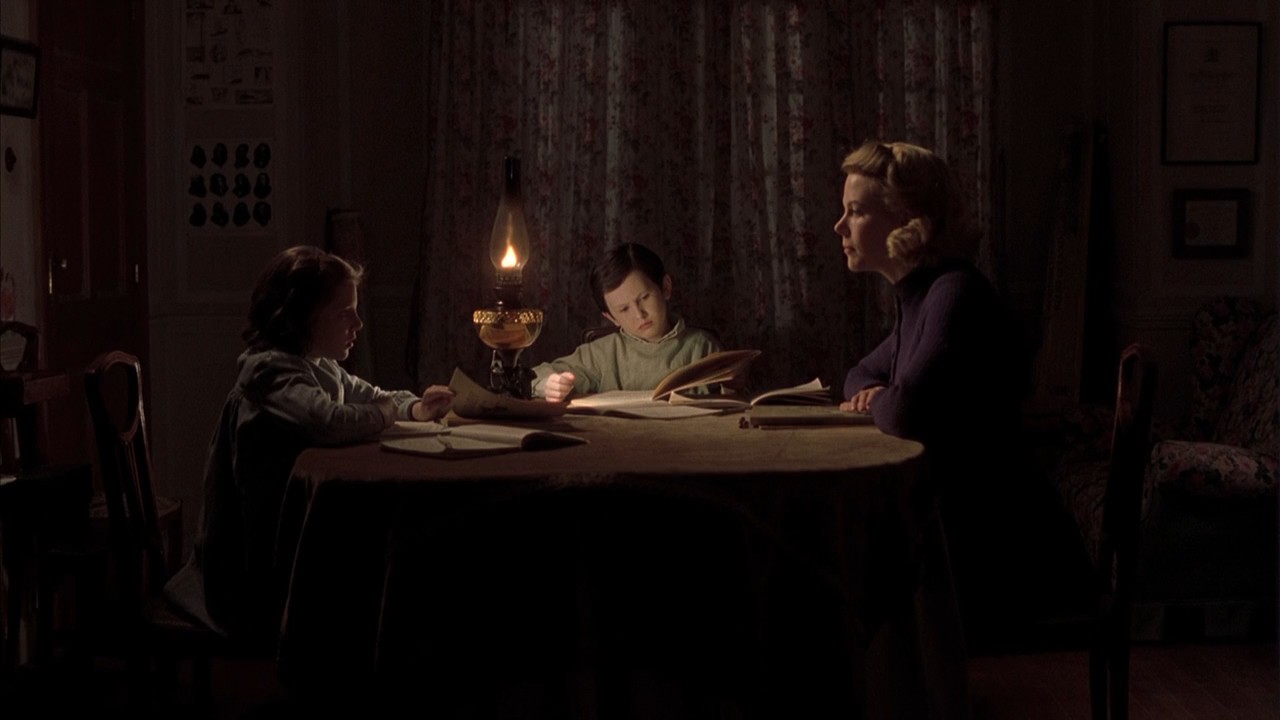 Furthermore, it is a twist ending that comes closer to the little-seen adaptation of James Herbert's Haunted (1995) than it does to The Sixth Sense. Of course, Alejandro Amenabar was doing the grand conceptual twist abouts of audience conception of story and characters with Open Your Eyes well before the world had ever heard of M. Night Shyamalan. And even though it has been done before, it works just as effectively this time around and proved to be something that turned The Others into a sleeper hit with audiences.
The Others was parodied in Scary Movie 3 (2003).
Chilean-born, Spanish-based director Alejandro Amenabar had previously made the snuff movie thriller Thesis (1996) and Open Your Eyes (1997) starring Eduardio Noriega as a man who becomes involved in cryptic reality games. Subsequent to The Others, Alejandro Amenabar made the arthouse and awards celebrated The Sea Inside (2004), a non-genre film about the right to euthanasia, followed by the historical film Agora (2009), Regression (2015) about False Memory Syndrome of Satanic ritual abuse and the historical film While at War (2019).
(Nominee for Best Original Screenplay, Best Actress (Nicole Kidman) and Best Supporting Actress (Fionulla Flanagan) at this site's Best of 2001 Awards).
---
---