---
Crew
Director – Chad Ferrin, Screenplay – Chad Ferrin, Roham Ghodsi & Rosie Roberts, Producers – Sean Cain, Chad Ferrin, Roham Ghodsi & Noah Segan, Photography – Niklas Larsson, Music – Brad Joseph Beck, Songs – The Mae Shi, Makeup Effects – Tom Devlin, Production Design – Lourdes Corugedo. Production Company – Crappy World Films/Mirage Pictures JR.
Cast
Noah Segan (Justin William Carter III), Andrea Rueda (Megan Wagner), Jon Budinoff (Sebastian Wilde), Ricardo Gray (Joe Campbell), Sylvia Spross (Annie Van Der Berg), David Z. Stamp (Detective Fuller), Timothy Muskatell (Detective Young), Ezra Buzzington (John Hopper), Lew Temple (Coroner Tom Collins), Vernon Wells (Dr William Tolstoy), Jordan Lawson (Ray Harris), Elina Madison (Wilma Hopper), Mary Rings (Trish Harris), Joseph Pilato (Dr Ottie)
---
Plot
Ray Harris is the drug dealer among a group of students at med school. He has a strange woman turn up at his door, offering sex. However, after he invites her in, she turns into a man and rapes him to death. Detectives investigate but find the forensic verdict that Ray was raped by a man with a massive penis incredulous. The police interrogate Ray's friends and glean the story of how Ray held a party in the files room at their med school. There they injected an old research drug Taldan and listened to therapy tapes as a Dr Tolstoy interviewed John and Wilma Hopper, a male-female duo of killer rapists who claimed that they were possessed. The Hoppers now come after the rest of the group of friends, passing through various bodies to rape each of them to death.
---
Someone's Knocking at the Door was the fourth film from Minnesota-born director/writer Chad Ferrin. Ferrin first appeared with the psycho film Unspeakable (2000), which received distribution through Troma. He then went onto The Ghouls (2003) about a journalist discovering zombies and the indescribably deranged Easter Bunny Kill! Kill! (2006), the Death Row horror The Chair (2016), Parasites (2016) about killer homeless people, the gonzo comedy Exorcism at 60,000 Feet (2020), the H.P. Lovecraft film H.P. Lovecraft's The Deep Ones (2020), Night Caller (2021) with a phone psychic against a serial killer and the True Crime Pig Killer (2022). Chad Ferrin's films are low-budget but made with a wild ferocity that homages 1970s exploitation cinema.
Someone's Knocking at the Door seems intended as a homage to Incubus (1982), which concerned a demonic force that raped victims to death. This film hits in from a demented opening where drug dealer Jordan Lawson finds a naked girl (Elina Madison) at his dorm room door, takes up her offer of sex, during the midst of which she turns into a hideous guy (Ezra Buzzington) who proceeds to anally rape Lawson to death. This and the credits, which seem to be composed of footage from 1960s student riots and drug use, indicate that Someone's Knocking at the Door is going to be something wildly different.
Someone's Knocking at the Door proves to be surprisingly well made in a number of areas, despite a clear low budget. The characters are written and played with an acerbic bite that gives them an edgy nihilism that stands them well above the bland pretty people that inhabit most modern horror films. Especially good are the interrogation scenes, which feature two particularly convincing performances from detectives Terence Muskatell and Terence Z. Stamp, and where Chad Ferrin and his cast manage to get the psychology of an interrogation just right.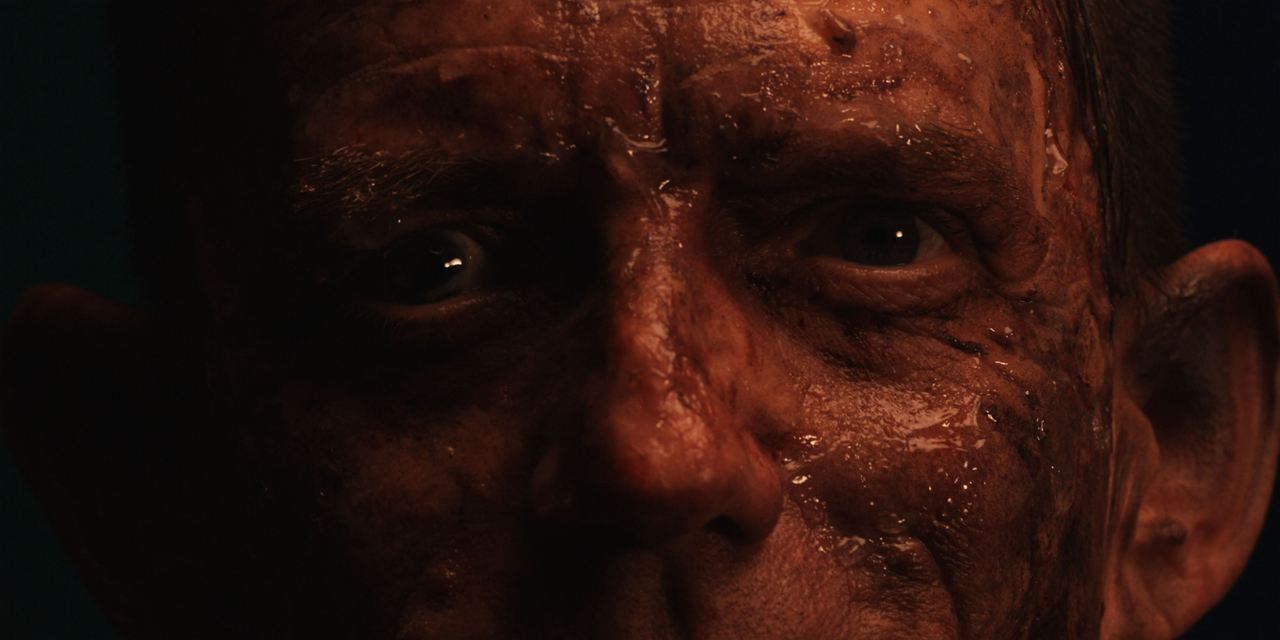 On the minus side, it is hard to tell what is going on in some parts – especially the scenes where detective Terence Z. Stamp is attacked by Ezra Buzzington and it appears that Buzzington is forcing his member into Stamp's mouth, or where Elina Madison appears to Sylvia Spross and we get the bizarre impression that she is forcing Spross's head into her womb. In both cases, the scenes seem edited in such a way as to make what is happening unclear (usually a tactic to disguise lack of proper makeup effects).
However, these are compensated for by a truly demented scene where Andrea Rueda is pursued through the corridors of the hospital and attacked by a fat naked Terence Z. Stamp who has been resurrected as a zombie with a gigantic penis several feet long waggling out in front of him. Even aside from this whacked out image, Chad Ferrin directs the scene as eccentrically as possible, including dubbing a song over the scene and filling the soundtrack with industrial noise as Terence Z. Stamp attacks two cops.
That said, the bizarreness of the happenings and the weirdness that Chad Ferrin conjures falls down in a cliche ending. [PLOT SPOILERS] Here in an extremely old hat twist, Ferrin reveals that what has been happening is nothing more than a deathdream ending wherein all the bizarre happenings can be explained as the hallucinations in the seconds before someone dies.(See Deathdream Endings).
[PLOT SPOILERS CONTINUE] This is a twist ending that has been badly overused to the point of cliche in films such as Outward Bound (1930), Between Two Worlds (1944), An Occurrence at Owl Creek Bridge (1961), Carnival of Souls (1962), Haunts of the Very Rich (1972), Seizure/Queen of Evil (1974), The Survivor (1981), Sole Survivor (1983), Siesta (1987), Jacob's Ladder (1990), Final Approach (1991), A Pure Formality (1994), while in recent years it was most famously used in The Sixth Sense (1999), which then produced a host of copies in the likes of The Others (2001), Soul Survivors (2001), The Brown Bunny (2003), Dead End (2003), I Pass for Human (2004), Hidden (2005), Reeker (2005), Stay (2005), The Escapist (2008), Passengers (2008), The Last Seven (2010), Wound (2010), Jack the Reaper (2011), A Fish (2012), Leones (2012), 7500 (2014), The Abandoned/The Confines (2015), Shadow People (2016) and Alone (2017), plus the finale of tv's Lost (2004-10). You expected something a little more original from Ferrin.
---
---