---
Crew
Director – Craig Zobel, Screenplay – Nick Cuse & Damon Lindelof, Producers – Jason Blum & Damon Lindelof, Photography – Darran Tiernan, Music – Nathan Barr, Visual Effects – Pixomondo Vancouver (Supervisors – Johnny Gibson & Ed Hawkins), Special Effects Supervisor – Matthew "Smalls" Kutcher, Makeup Effects Design – Autonomous F/X Inc, Production Design – Matthew Munn. Production Company – Blumhouse.
Cast
Betty Gilpin (Crystal McCreedy), Hilary Swank (Athena Stone), Wayne Duvall (Don???), Ike Barinholtz (Staten Island), Ethan Suplee (Shut the F*** Up Gary), Emma Roberts (Yoga Pants), Amy Madigan (Ma), Reed Birney (Pop), Steve Coulter (The Doctor), Chris Berry (Target), Steve Mokate (Sergeant Dale), Kate Nowlin (Big Red), Sylvia Grace Crim (Dead Sexy), Macon Blair (Fauxnvoy), Usman Ally (Crisis Mike), Teri Wyble (Liberty), Glenn Howerton (Richard), Dean West (Martin), Vince Pisani (Peter), Jason Kirkpatrick (Rannnndeeee), J.C. MacKenzie (Paul), Tadasy Young (Nicole), Hannah Alline (Flight Attendant/Not Stewardess/Kelly), Aril Eliaz (Dino), Alexander Barbara (Bojan)
---
Plot
Twelve people come around in a field, having been drugged and brought there. They find that a crate in the middle of the field that contains weapons. Almost immediately, someone begin shooting at them but as they attempt to flee, they find the area rigged with booby-traps. Some manage to escape. They pass through a bewildering array of locations, including a regular convenience store that may be in Arkansas and a train carrying refugees that is pulled over and taken to a military camp that may be in Bosnia. As the hunters continue to eliminate their numbers, they realise they are in the midst of an elaborate charade. Some among the group believe they have been abducted into Manorgate, a conspiracy theory belief that wealthy elites have set up a secret preserve so they can hunt conservatives and rednecks. One of the group Crystal manages to survive the hunters sent against her and heads to Manor House to confront the woman who runs the hunt.
---
The Hunt comes from the near-ubiquitous Blumhouse, a company specialising in medium-budget horror that are one of the most popular contemporary studios producing genre material in the 2010s and 2020s .They have been responsible for Paranormal Activity (2007), Insidious (2010), The Purge (2013) and Happy Death Day (2017) and sequels to these. (See bottom of the page for Blumhouse's other films).
The film attracted controversy even before it came out. There were reportedly negative test screenings due to the highly political content of the film. This created such a buzz that even President Trump alluded to it, tweeting about liberal Hollywood creating films that inflame the political divide. The film was pulled from release after two high-profile mass shootings in Dayton, Ohio and El Paso in August 2019. It was given a theatrical release in March 2020 but ended up being caught up in the cancellation of all theatrical screenings due to the Coronavirus scare and dumped to digital platforms only a week later.
I had a lot of liking for director Craig Zobel after his second film Compliance (2012) about a true-life incident where a scam caller convinced a restaurant manager to subject his employees to intrusive treatment. On the other hand, I can't say Zobel's follow-up film Z for Zachariah (2015), which adapted but completely rewrote a classic work of post-apocalyptic literature, did much for me. Zobel subsequently went on to direct tv's acclaimed Mare of Easttown (2021- ).
The Hunt is written by Damon Lindelof, a former tv writer who became the head writer and executive producer of tv's cult hit Lost (2004-10). Lindelof has also produced Star Trek (2009) and written Cowboys & Aliens (2011), Prometheus (2012), Star Trek: Into Darkness (2013), World War Z (2013) and Tomorrowland (2015), as well as created the tv series' The Leftovers (2014-7) and Watchmen (2019). Lindelof co-writes the script with Nick Cuse, the son of Lost co-creator Carlton Cuse, who has also worked as a writer and producer on The Leftovers and Watchmen.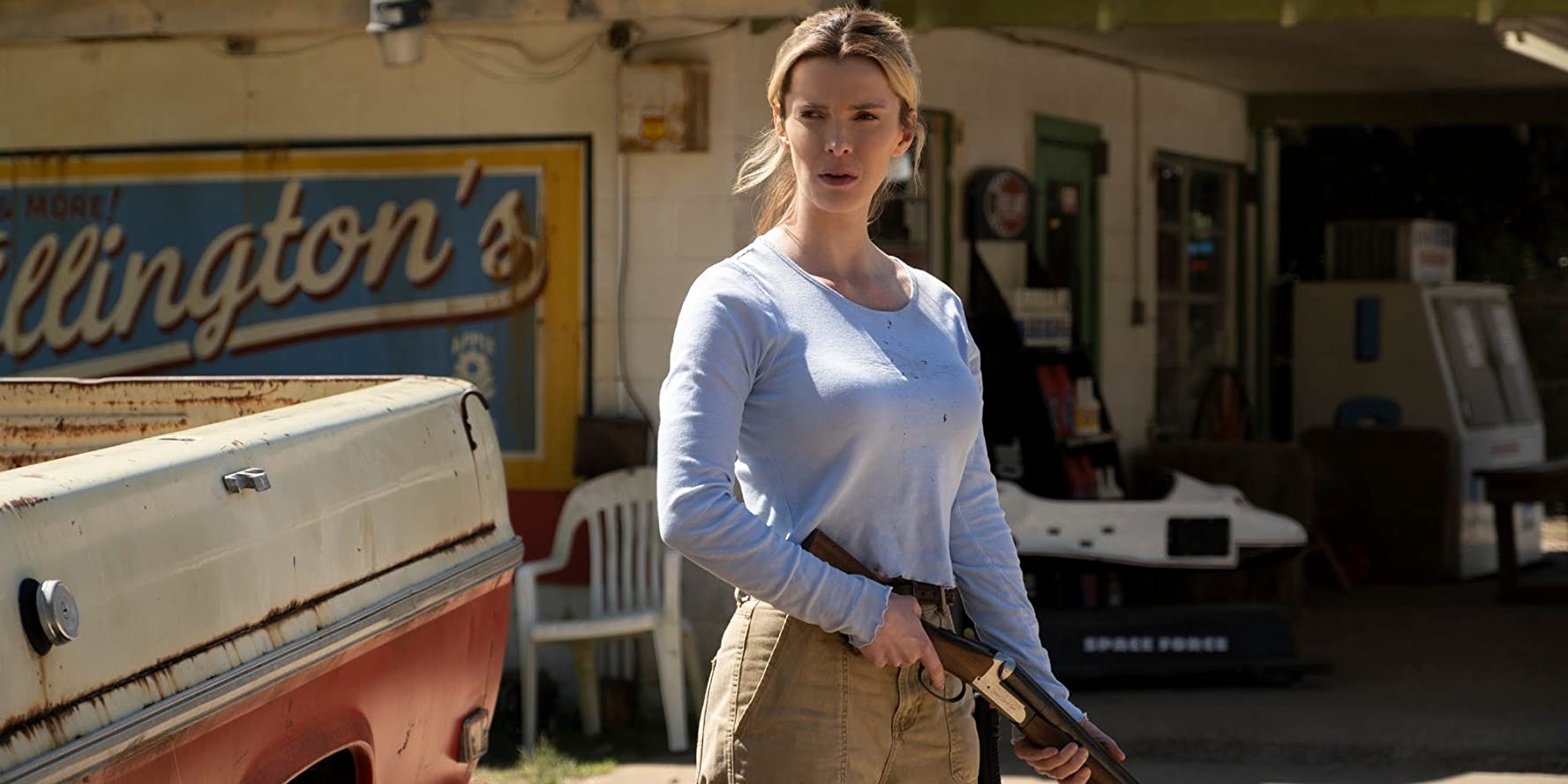 For The Hunt, Cuse and Lindelof have ransacked the classic film The Most Dangerous Game (1932), which concerned a Russian aristocrat who shipwrecked people on his island and then hunted them for sport only for the two he chose to turn the tables and start fighting back armed only with their bare hands. The Most Dangerous Game has undergone a large number of remakes and copies – even works like Predator (1987), which replace the Russian aristocrat with an alien.
Here Cuse and Lindelof give The Most Dangerous Game a specifically political spin. Both Hard Target (1993) and Surviving the Game (1994) featured wealthy elites hunting the homeless. Although here the premise has been turned into a biting satire where we have liberal elites hunting conservatives. The film pokes fun at the full spectrum of conservative nutjobbery – from the gun rights advocates to the racist rednecks, climate change deniers and big game hunters, while Betty Gilpin is supposed to be a supporter of 'Justice for All', which I am unclear as to what that represents. The hunted are called 'deplorables' – the term used by Hillary Clinton during her 2016 election campaign to refer to Donald Trump's supporters. At one point, Betty Giplin and Ethan Suplee are placed in the midst of a train carriage of refugees and he erupts into an attack on immigrants and refugees before accusing them of being crisis actors (from the conspiracy theory that many disasters and school shootings are staged with actors brought in to play the victims and crowds). There are often times the film comes out and beats you over the head with its points but you cannot help but applaud Zobel, Lindelof and Cuse for digging a knife in.
However, Cuse and Lindelof don't end there. They just as equally satirise the liberal side of the fence too. The various scenes that cut back to the hunters have them dropping a variety of familiar liberal terms – accusations of 'cultural appropriation', of apologies made for not using gender neutral language, At another point, Amy Madigan and Reed Birney debate whether it is acceptable to use the term 'Blacks' over African-Americans. The selection process contains some rather funny dialogue aimed at the current obsession with racial representation and whether Usman Ally choosing to play an immigrant is playing into cliches. Blumhouse has come out as a strongest supporters of the new woke wave in Hollywood – they launched Jordan Peele with Get Out (2017) and made the fiercely feminist remake of Black Christmas (2019) – so it is quite a surprise here where they turn out to be equal opportunity offenders.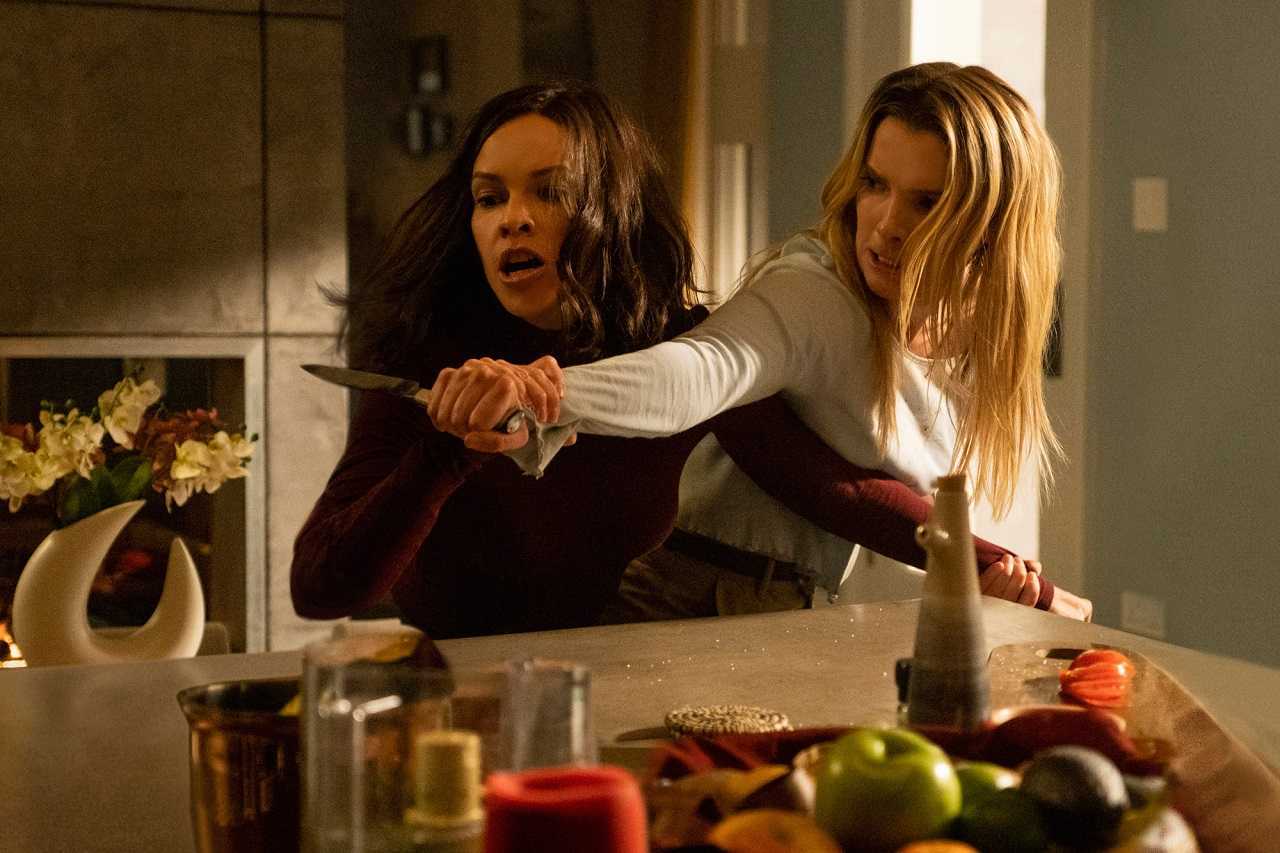 Even more so than The Most Dangerous Game, The Hunt feels like it uses the Reality Charades premise of films like The Magus (1968) and in particular The Game (1997) where the protagonist(s) are thrown into a nightmare where everything around them is part of an elaborately staged masquerade and they cannot be sure what is what. The film has an enormous degree of fun with this – the abrupt whiplash reversals where the convenience store is revealed to be a set-up or where Usman Ally turns and abruptly starts talking to Ethan Suplee in regular English.
It is all directed by Craig Zobel with a fast and biting pace. The film hits in from the very first scene aboard the plane where one of the abducted stumbles into the first class cabin and Steve Coulter persuades him to lie down, asking for towels and then abruptly stabs him in the neck with a pen. It is all the more darkly funny for the reactions going on around – Dean West asking stewardess Hannah Alline "Can you get me a Seltzer?" as though nothing has happened, while Coulter hands her back a bloody pen.
This becomes all the more abrupt when the hunt starts. We are introduced to the victims – we don't get to see any of the hunters until some way into the show – and then they start being shot. Zobel, Lindelof and Cuse readily trashe any expectations and sympathies we might have. Emma Roberts, the biggest name star the film has, turns up as a victim where we expect her to be the lead only for her to be unexpectedly shot about five minutes later. The film then switches its point-of-view character and follows another victim as he flees and rescues a girl from a spike pit only for him too to be blown up. The whiplash twists of plotting and constant pulling of the rug out from under the characters proves immensely satisfying. Craig Zobel climaxes the show on an amazing knockdown-dropout fight between Betty Giplin and Hillary Swank that ends up totally demolishing a kitchen and living room.
Jason Blum and his Blumhouse production company have produced a number of other genre films including:- Hamlet (2000), Paranormal Activity (2007) and sequels, Insidious (2010) and sequels, Tooth Fairy (2010), The Bay (2012), The Lords of Salem (2012), The River (tv series, 2012), Sinister (2012) and sequel, Dark Skies (2013), Oculus (2013), The Purge (2013) and sequels, the tv mini-series Ascension (2014), Creep (2014), Jessabelle (2014), Mercy (2014), Mockingbird (2014), Not Safe for Work (2014), Ouija (2014) and sequel, 13 Sins (2014), The Town That Dreaded Sundown (2014), Unfriended/Cybernatural (2014), Area 51 (2015), The Boy Next Door (2015), Curve (2015), The Gallows (2015), The Gift (2015), Jem and the Holograms (2015), The Lazarus Effect (2015), Martyrs (2015), Visions (2015), The Visit (2015), The Darkness (2016), Hush (2016), Incarnate (2016), The Veil (2016), Viral (2016), Amityville: The Awakening (2017), Get Out (2017), Happy Death Day (2017), The Keeping Hours (2017), Split (2017), Stephanie (2017), Bloodline (2018), Cam (2018), Delirium (2018), Halloween (2018), Seven in Heaven (2018), Truth or Dare (2018), Upgrade (2018), Black Christmas (2019), Ma (2019), Prey (2019), Don't Let Go (2019), Sweetheart (2019), Black Box (2020), The Craft: Legacy (2020), Evil Eye (2020), Fantasy Island (2020), Freaky (2020), The Invisible Man (2020), Nocturne (2020), You Should Have Left (2020), Black As Night (2021), The Black Phone (2021), Dashcam (2021), Firestarter (2022), M3gan (2022), Mr Harrigan's Phone (2022), Nanny (2022), Soft & Quiet (2022), Run Sweetheart Run (2022), Sick (2022), They/Them (2022), Torn Hearts (2022), Unhuman (2022), The Exorcist (2023), Five Nights at Freddy's (2023) and There's Something Wrong With the Children (2023).
(Nominee for Best Original Screenplay at this site's Best of 2020 Awards).
---
---