---
Crew
Director – Carles Torrens, Screenplay – Jeremy Slater, Producers – Nick Phillips & Kelly Martin Wagner, Photography – Timothy A. Burton, Music – Zacarias M. de la Riva, Digital Visual Effects – Cubica (Supervisor – Joan Amer & Cesc Bienzobas), Special Effects Supervisor – Sam Dean, Makeup Effects – Two Hours in the Dark (Designer – Gary Tunnicliffe), Production Design – Krystyna Loboda. Production Company – Revolver Picture Company/Magic Lantern.
Cast
Dominic Monaghan (Seth Donaldson), Ksenia Solo (Holly Garling), Da'vone McDonald (Nate), Jennette McCurdy (Claire), Nathan Parsons (Eric), Janet Song (Mrs Grundy), Sean Blakemore (Detective Meara)
---
Plot
Seth Donaldson works as an attendant at a dog pound in Los Angeles. One day on the bus, he encounters Holly Garling, a girl he went to school with, although she has no memory of him. Seth becomes obsessed with Holly, tracing details about her from her social media profile. He follows her to work and the bar she frequents, although is beaten up by her ex-boyfriend. Afterwards, he sneaks into her apartment, knocks her out with a tranquiliser and then places her in a cage in the disused basement area beneath the pound. There he keeps her prisoner, withholding food and water until she submits. As the situation draws out, she searches for ways to turn the tables on him but things are not as they appear to be
---
Pet was the second film from Spanish director Carles Torrens who had first appeared with the paranormal investigators film Emergo (2011) from a Rodrigo Cortes script. Though featuring British actor Dominic Monaghan and several American names in the supporting cast and being shot in Los Angeles, Pet was actually a Spanish production. The script comes from Jeremy Slater who also wrote Fantastic Four (2015), The Lazarus Effect (2015), Death Note (2017) and created the tv version of The Exorcist (2016-8).
At the outset, Pet gives the impression that it has been modelled along the lines of being a modern version of The Collector (1965) in which shy, socially ill adept Terence Stamp abducted the object of his desire Samantha Eggar and kept her a prisoner in his basement until she decided to love him. In the stalker role, Dominic Monaghan, best known for The Lord of the Rings films and tv's Lost (2004-10), seems just a little too cute and cuddly – rather than suggesting a socially maladroit loser, he has this lost puppy dog quality that would make every mother want to adopt him.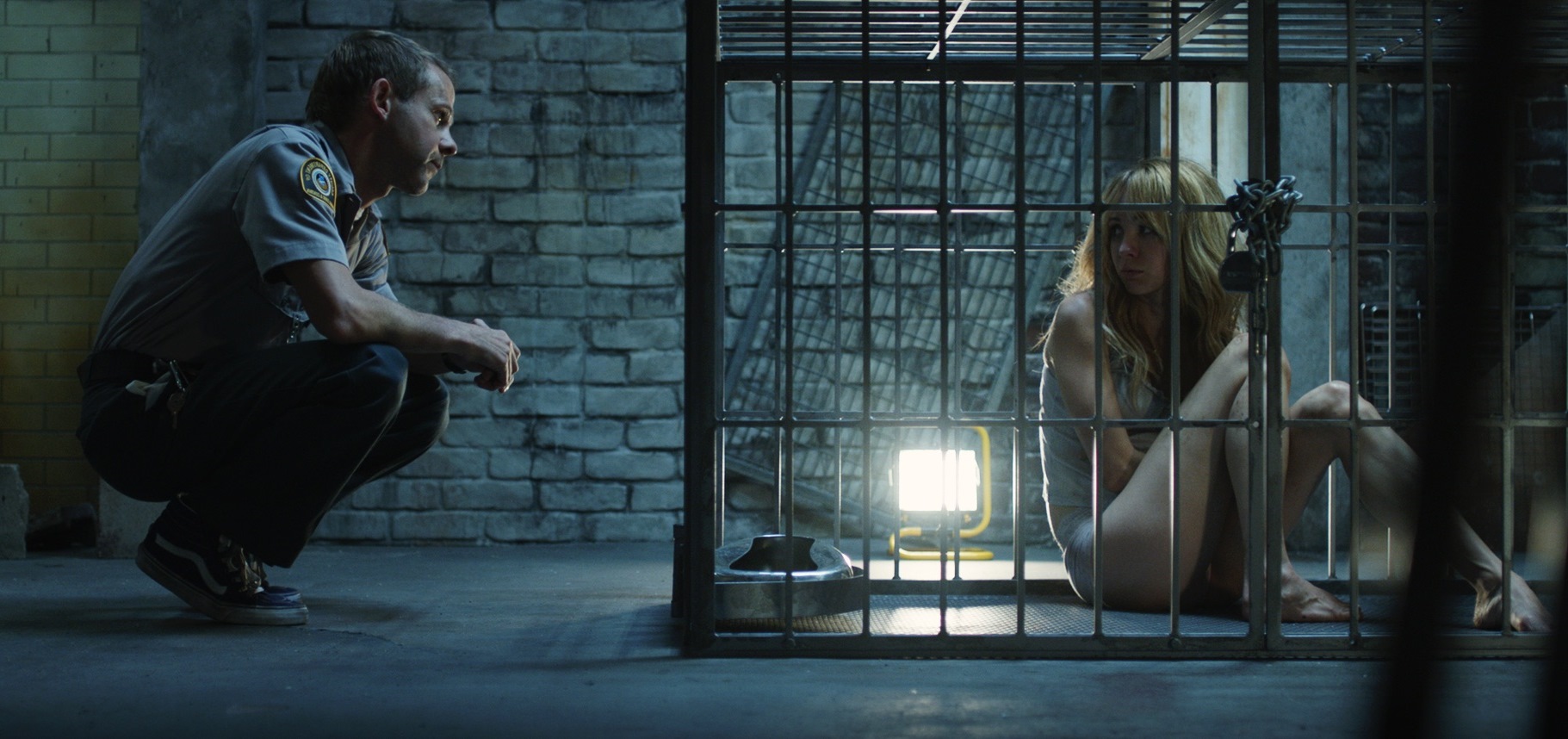 This is a version of The Collector that takes place in the era of social media where we see Dominic Monaghan spying on Ksenia Solo's profile and then stalking her at the locations she mentions. There's the creepy scene where he asks he out and she brushes him off, saying she has a boyfriend and he blurts out "No, you don't." On the other hand, Holly is not exactly a character who comes across as sympathetic and you end up having more empathy for Dominic Monaghan when he follows her to the bar only to be beaten up by her barman ex (Nathan Parsons).
It is not long before Dominic Monaghan gets Ksenia Solo into the cage whereupon Carles Torrens starts to turn the tables on us. You expect everything to play out as a variant on The Collector but it is anything but. The script majorly jerks with our point-of-view and reveals that [PLOT SPOILERS] she is actually a serial killer, he has discovered this during his stalking and has locked her up not to make her love him but redeem her. This is outrageous enough but the film continues to put the screws on us with her gaining control over him by threatening to bash her brains out and then urging him to kill someone. There are fairly grim scenes where he disposes of the body, leading to a nasty turnabout ending. Altogether a film that gets quite a bit more twisted than anything it seems to be at the outset.
---
---