aka Summer Shark Attack
---
Crew
Director – Misty Talley, Screenplay – Marcy Holland, Producers – Ken Badish & Daniel Lewis, Photography – Matt S. Bell, Music – Andre Morgan Smith, Visual Effects – Subject 7 (Supervisor – Thomas J. Wilson), Special Effects – Composite Effects, LLC (Supervisor – Ken Decker), Production Design – Sam Hensen. Production Company – Active Entertainment/Daro Film Distribution.
Cast
Allisyn Ashley Arm (Molly), Dave Davis (Harrison), Thomas Francis Murphy (Jones), Ashton Leigh (Dawn), Michael Papajohn (Rick), Laura Cayouette (Diane), Ross Britz (Curtis), Terrance Rosemore (Sheriff Richards), Aline Stokes (Sheriff's Clerk), Sharon Garrison (Grandma), Heather Paige (Amanda), Jeff Pearson (Chase), Stephon Rodgers (Wyatt)
---
Plot
Husband and wife Rick and Diane and their two children Harrison and Molly along with the grandmother head to a cabin by Lake Drover for a summer vacation. While by the river, Harrison is witness as a shark leaps out of the water and bites Grandma's head off. They realise there are sharks all around in the rivers and lake. However, Harrison is not taken seriously when he tries to warn the sheriff. They set out to stop the sharks as they realise they are going to attack en masse at the fireworks festival that evening.
---
The gonzo shark film has become its own mini-genre during the 2010s. Shark in Venice (2008) and especially Mega Shark vs Giant Octopus (2009) gave the B shark movie of the 2000s a new life. From this point, the shark film began a move towards the increasingly tongue-in-cheek, reaching its zenith with the bad movie hit of Sharknado (2013) and sequels. There have been a great many shark films in a similar deliberately absurd vein – see the likes of see the likes of Dinoshark (2010), Sharktopus (2010), Snow Shark: Ancient Snow Beast (2011), 2-Headed Shark Attack (2012), Jersey Shore Shark Attack (2012), Jurassic Shark (2012), Sand Sharks (2012), Avalanche Sharks (2013), 90210 Shark Attack (2014), Raiders of the Lost Shark (2015), Roboshark (2015), Shark Exorcist (2015), Ice Sharks (2016), Piranha Sharks (2016), Planet of the Sharks (2016), Sharkansas Women's Prison Massacre (2016), Sharkenstein (2016), House Shark (2017), Trailer Park Shark (2017), Post Apocalyptic Commando Shark (2018), Ouija Shark (2020), Sky Sharks (2020), Noah's Shark (2021), Sharks of the Corn (2021) and Virus Shark (2021), among others.
Ozark Sharks was the second directorial outing for Misty Talley. Since 2010, Talley had been working as an editor for Active Entertainment, a low-budget production company that specialises in monster movies (see below for Active Entertainment's other films). Talley made her directorial debut with Zombie Shark (2015) and subsequent to this went on to make Mississippi River Sharks (2017) and Santa Jaws (2018), also for Active Entertainment.
Misty Talley makes for an enjoyable killer shark film. It is capably put together, slickly made and edited (no particularly surprise given that Talley also does double duty as the film's editor). The characters are likeable – the only odd one out is lead actress Allisyn Ashley Arm who seems too mousy to do anything before an abrupt and unearned turnaround where she stands up against the sharks in the climactic scenes. The film has an appreciable sense of humour and works far more amiably than you expect it will at first glance.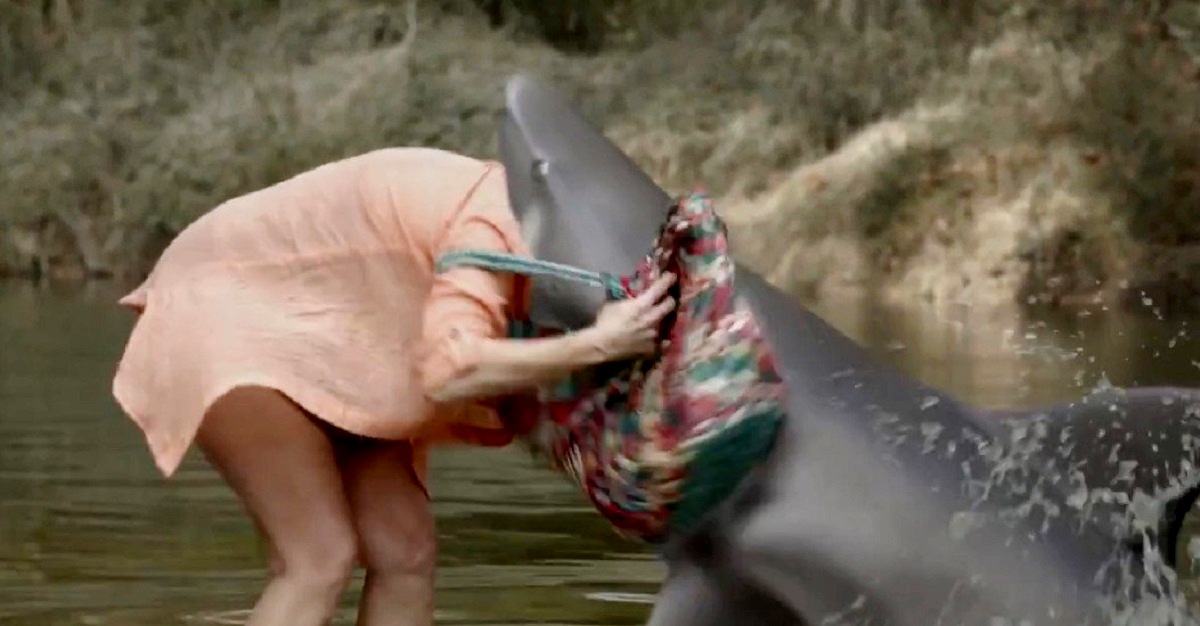 These gonzo killer shark films are worth watching for the ridiculousness of the shark attack scenes. Here there's the shlockily appealing moment where a shark jumps out of the river to bite the head off the grandma (Sharon Garrison), plus other entertaining scenes with a shark jumping out to be harpooned. Some of the CGI looks slightly dodgy – like where a shark jumps up into clear view on the porch or some of the scenes employing fireworks against the sharks – but mostly Misty Talley cuts around these well.
The surprise is that even though the title pitches it as such, Ozark Sharks is not much of a gonzo killer shark film (at least in the gonzo sense). The gonzo killer shark genre is predicated on finding the most ridiculous things to do with sharks or devising absurd title combinations. This has sharks lurking in the rivers of the Ozarks – the mountainous area covering Missouri, Arkansas and Oklahoma – and that is about it. There's no parody of the locals, nothing involving sharks doing strange things with local landmarks, it is simply a different locale to tell another regular B killer shark film.
Active Entertainment has also produced the genre likes of Hammerhead (2005), Larva (2005), Mansquito (2005), The Snake King (2005), The Black Hole (2006), Attack of the Gryphon (2007), Headless Horseman (2007), Flu Bird Horror (2008), Ghouls (2008), Chrome Angels (2009), Wolvesbayne (2009), Maskerade (2011), Storm War (2011), Alien Tornado (2012), Arachnoquake (2012), Bering Sea Beast (2013), Ghost Shark (2013), Ragin Cajun Redneck Gators (2013) and Snakehead Swamp (2014).
---
---