---
Crew
Director – Brian De Palma, Screenplay – Lawrence D. Cohen, Based on the Novel by Stephen King, Producer – Paul Monash, Photography – Mario Tosi, Music – Pino Donaggio, Special Effects – Gregory M. Auer, Art Direction – Jack Fisk & William J. Kenney. Production Company – Red Band Films/United Artists.
Cast
Sissy Spacek (Carrie White), Piper Laurie (Margaret White), Nancy Allen (Chris Hargensen), William Katt (Tommy Ross), Amy Irving (Sue Snell), John Travolta (Billy Nolan), P.J. Soles (Norma Watson), Betty Buckley (Miss Collins), Sydney Lassick (Mr Fromm)
---
Plot
Carrie White, the teenage daughter of a religious fanatic, has her first menstrual period in the school locker-room shower and is so sexually ignorant that she thinks she is bleeding to death. The rest of the girls cruelly taunt her and pelt her with tampons before they are caught by a teacher. Afterwards, two of the girls plan to make it up to Carrie each in their own way. Sue Snell talks her boyfriend Tommy Ross into inviting Carrie to the prom. On the other hand, Chris Hargensen rigs it so that Carrie is elected prom queen and then sets a bucket of pig's blood above the stage to drench her at the moment of her crowning. However, they have reckoned without Carrie's telekinetic powers, which she now uses to exact a sudden and horrible revenge.
---
Carrie (1974) was Stephen King's first novel, as well as the very first Stephen King book ever adapted to film. Indeed, you could argue that the success of the film adaptation of Carrie was what cemented Stephen King's reputation with the public and helped him to then become the best-selling author that he is today.
Carrie was made by director Brian De Palma. Brian De Palma had emerged in the 1960s with quirky indie comedies such as Greetings (1968), The Wedding Party (1969), Hi Mom (1970) and Get to Know Your Rabbit (1972), before drawing attention as a genre director with the marvellously twisted psycho-thriller Sisters (1973) and the genre parody rock opera The Phantom of the Paradise (1974). De Palma would subsequently go on to build a sometimes controversial reputation within the genre as a director of a series of stylish, frequently Hitchcock-derivative psycho-thrillers such Obsession (1976), Dressed to Kill (1980), Blow Out (1981) and Body Double (1984). De Palma has largely abandoned genre filmmaking from the mid-1980s onwards.
In his genre films, Brian De Palma has proven himself a master of visual flamboyance. De Palma's films brim with stylistic effect – split-screen, slow-motion action, gimmicky sequences that pull back to reveal they are dreams or fantasies, and pastiches of Hitchcock. Carrie is arguably the most stylish of Brian De Palma's films and in this author's opinion is De Palma's best out-and-out genre film. In the novel, Stephen King opted for a kind of cod-true story approach, alternating straight fiction with multiple viewpoints from articles and pseudo-interviews. However, De Palma abandons the soberly realistic approach altogether and Lawrence Cohen's script conflates King's realistic narrative into something much more torrid and melodramatic – at times, the film operates on a level akin to the camp cult classic High School Confidential (1958).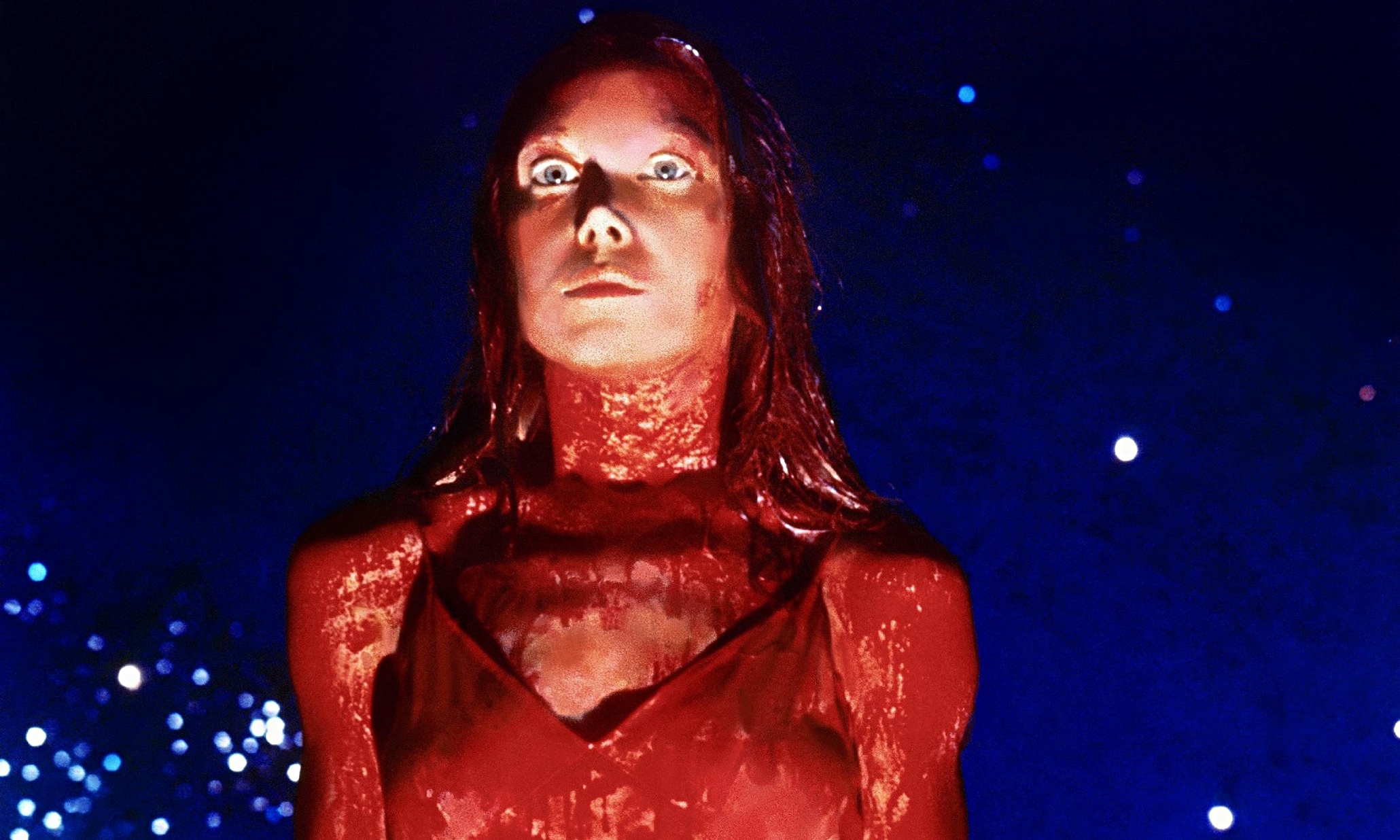 Brian De Palma launches into the story with a florid display of cinematic pyrotechnics that have a bravura excess. The prom climax – full of tracking shots that alternate elaborately staged set-ups (a single shot snaking through every element of the drama that took a whole day to shoot) with slow-motion and split-screen, and where the soundtrack is silent except for Pino Donaggio's eerie score building as a single note underneath – is superlative. Elsewhere, De Palma runs rife through religious imagery with visions that are striking and beautiful – he manages to turn one scene with Sissy Spacek and Piper Laurie sitting in a darkened room lit by lightning into a gorgeous tableaux of the Last Supper.
Although, as often, Brian De Palma's images attain symbolic overkill – Sissy Spacek is tossed into a closet with a glowing figurine of Christ, its sides pierced with spears, and later in Carrie's psychic revenge Piper Laurie symbolically becomes a similar figure skewered by kitchenware; or the house's final descent into a Hellish fiery pit. De Palma uses effect without always rooting it in narrative sense – there is a twist ending, which is another of De Palma's cheat endings that makes no sense other than to manipulate the audience into a last shock jump. Whatever you say about the point of it, it is certainly effective and is the one scene in the film that the audience always leaves talking about. [It was popular and imitated in subsequent films, most notably Friday the 13th (1980)].
Carrie would be little without its actresses' ability to convey enormous conviction. Both Sissy Spacek and Piper Laurie received Academy Award nominations for their performances. Piper Laurie dumps Stephen King's picture of an inhumanely repressed Baptist and in flaming red hair she gives a fierily passionate barnstormer of a performance filled with a shivery sexually repressed fervour. She would capture the entire film were it not for the amazing emotionally wrought performance of Sissy Spacek. Sissy Spacek's performance is a genuine Ugly Duckling transformation – an analogy to which De Palma is not unaware, briefly transforming the ball into something from a fairy-tale, lit up like an Aladdin's cave of sparkling lights. Spacek has never given a performance as good as this again. Nancy Allen (later Mrs De Palma) should have been Academy Award nominated for her plum role as uber-bitch Chris Hargensen. A young and then unknown John Travolta also gives a fine performance as her bad boy boyfriend.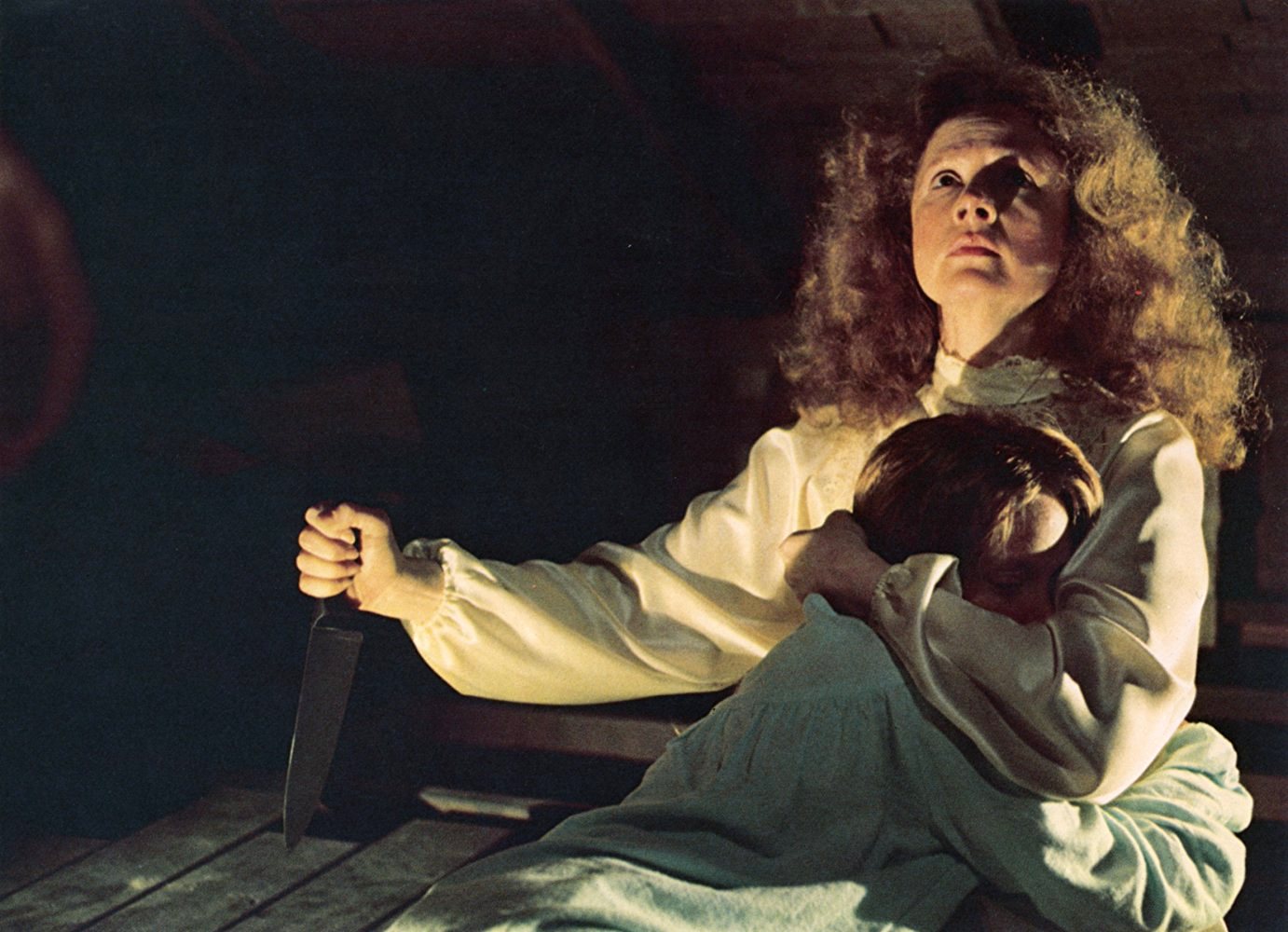 The film was followed by a terrible sequel The Rage: Carrie 2 (1999), which featured a return performance from Amy Irving. The Stephen King novel was remade twice:- as a three-part tv mini-series Carrie (2002), starring Angela Bettis in the title role and with Patricia Clarkson inheriting the role of the mother; and as the theatrical remake Carrie (2013) starring Chloë Grace Moretz in the title role and Julianne Moore in the Piper Laurie role with Kimberly Peirce as director. Although not without some interesting aspects, these both considerably disappointment, the least of which was the absence of Brian De Palma. There was also a Broadway musical Carrie (1988), written by this film's screenwriter Lawrence D. Cohen, although this proved to be a flop that was booed off-stage and closed after only five performances, ending with a $7 million loss that made it one of the most expensive stage flops in history (although it has been revived in more recent years). Carrie was parodied in films like Student Bodies (1981), Pandemonium/Thursday the 12th (1982), Zapped! (1982), Bloodbath at the House of Death (1984), The Haunted World of El Superbeasto (2009), It's a Wonderful After Life (2010) and Stage Fright (2014).
Brian De Palma later returned to the theme of psychic powers in The Fury (1978). Still on psychic themes, De Palma also announced at one point his intention to direct a version of Alfred Bester's sf novel The Demolished Man (1953) about a future where telepathy outlaws all crime. Although one suspects that Bester would lose to De Palma, this is a production that one would like to see some day.
Brian De Palma's other genre films are:– Get to Know Your Rabbit (1972), the psycho-thriller Sisters/Blood Sisters (1973), the rock musical Phantom of the Opera parody The Phantom of the Paradise (1974), the reincarnation thriller Obsession (1976), The Fury (1978), the psycho-thrillers Dressed to Kill (1980), Blow Out (1981), Body Double (1984) and Raising Cain (1992), the sf film Mission to Mars (2000) and the psycho-thriller Femme Fatale (2002). De Palma (2015) is a documentary about De Palma's life and films.
Other Stephen King genre adaptations include:- Salem's Lot (1979), The Shining (1980), Christine (1983), Cujo (1983), The Dead Zone (1983), Children of the Corn (1984), Firestarter (1984), Cat's Eye (1985), Silver Bullet (1985), The Running Man (1987), Pet Sematary (1989), Graveyard Shift (1990), It (tv mini-series, 1990), Misery (1990), a segment of Tales from the Darkside: The Movie (1990), Sometimes They Come Back (1991), The Lawnmower Man (1992), The Dark Half (1993), Needful Things (1993), The Tommyknockers (tv mini-series, 1993), The Stand (tv mini-series, 1994), The Langoliers (tv mini-series, 1995), The Mangler (1995), Thinner (1996), The Night Flier (1997), Quicksilver Highway (1997), The Shining (tv mini-series, 1997), Trucks (1997), Apt Pupil (1998), The Green Mile (1999), The Dead Zone (tv series, 2001-2), Hearts in Atlantis (2001), Carrie (tv mini-series, 2002), Dreamcatcher (2003), Riding the Bullet (2004), 'Salem's Lot (tv mini-series, 2004), Secret Window (2004), Desperation (tv mini-series, 2006), Nightmares & Dreamscapes: From the Stories of Stephen King (tv mini-series, 2006), 1408 (2007), The Mist (2007), Children of the Corn (2009), Everything's Eventual (2009), the tv series Haven (2010-5), Bag of Bones (tv mini-series, 2011), Carrie (2013), Under the Dome (tv series, 2013-5), Big Driver (2014), A Good Marriage (2014), Mercy (2014), Cell (2016), 11.22.63 (tv mini-series, 2016), The Dark Tower (2017), Gerald's Game (2017), It (2017), The Mist (tv series, 2017), Mr. Mercedes (tv series, 2017-9), 1922 (2017), Castle Rock (tv series, 2018-9), Doctor Sleep (2019), In the Tall Grass (2019), Pet Sematary (2019), The Outsider (tv series, 2020), The Stand (tv mini-series, 2020-1), Chapelwaite (tv series, 2021- ), Lisey's Story (tv mini-series, 2021), Firestarter (2022), Mr Harrigan's Phone (2022) and The Boogeyman (2023). Stephen King had also written a number of original screen works with Creepshow (1982), Golden Years (tv mini-series, 1991), Sleepwalkers (1992), Storm of the Century (tv mini-series, 1999), Rose Red (tv mini-series, 2002) and the tv series Kingdom Hospital (2004), as well as adapted his own works with the screenplays for Cat's Eye, Silver Bullet, Pet Sematary, The Stand, The Shining, Desperation, Children of the Corn 2009, A Good Marriage, Cell and Lisey's Story. King also directed one film with Maximum Overdrive (1986).
---
---