---
USA. 1998.
Crew
Director – Albert Pyun, Screenplay – John Lowry Lamb & Robert McDonnell, Producers – Tom Karnowski & Gary Schmoeller, Photography – George Mooradian, Music – Tony Riparetti, Production Design – Pat Campbell. Production Company – Imperial Entertainment/Filmwerks.
Cast
Charles Sheen (James McGregor), Michael Halsey (Detective-Inspector Ballantine), Ivana Milicevic (Gwen Turner), Stephen McCole (Georgie Sutter), Gary Lewis (Wallace), Dave Anderson (Captain Moore)
---
Plot
James McGregor, the American author of a best-selling book about a child-murdering serial killer, is living in Glasgow, drinking heavily to escape his demons. A new killer then begins taunting McGregor, first sending him funeral notices of his victims and then leaving bodies in his garden. McGregor must drag his life together to help the Scottish police track down the killer.
---
Postmortem is a serial killer thriller. The surprise is that comes from Albert Pyun. Albert Pyun is a prolific genre director best known for B-budget post-holocaust kickboxing cyborg films such as Cyborg (1989), Nemesis (1993) and sequels, Knights (1993), Heatseeker (1995) and Adrenalin: Fear the Rush (1996), among others. (A list of Albert Pyun's genre credits is at the bottom of the page).
Postmortem is a genre jump for Albert Pyun – yet one at which he demonstrates a surprisingly adept hand. Pyun has an adequate script. The psychology behind it rings credibly and it is written with some often potent monologues – the inspector's speech about how some people have been made unhappy in order to do certain dirty jobs, the mortician talking about the respect his work draws. Pyun also keeps the film realistically grounded – he has done a convincing job of setting up the police procedural, and the Glasgow locations are evoked with a sense of verisimilitude.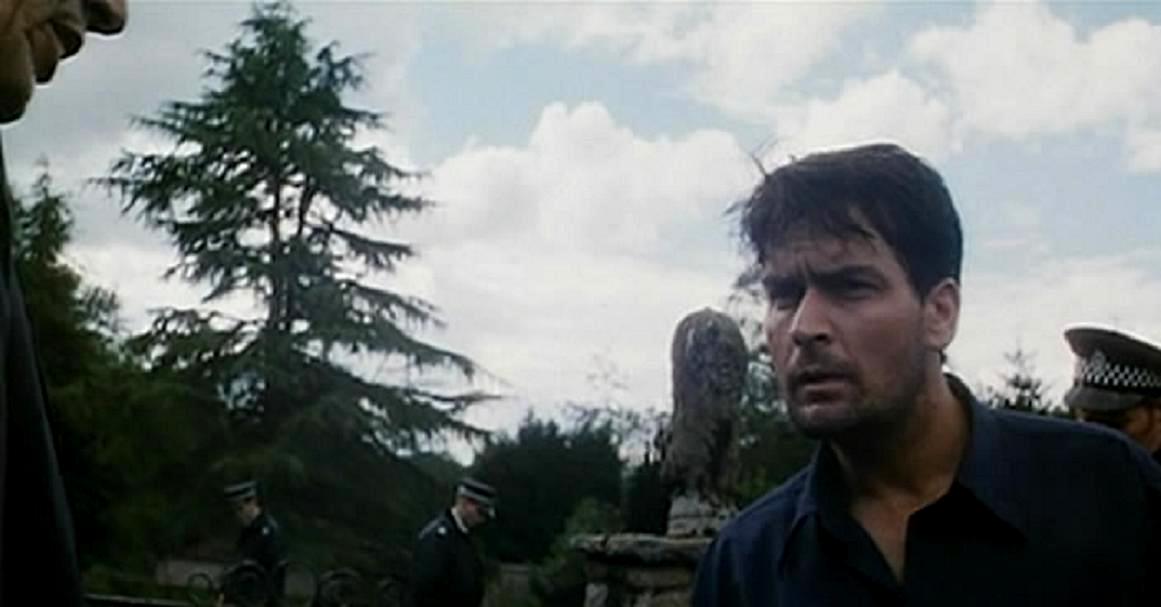 On the other hand, Postmortem is a routine serial killer thriller at best. Pyun lacks a particularly suspenseful grip on the film, it is only the score and occasional moments of the plot that give it any drive. Charlie Sheen, the only recognisable name in the cast and clearly there solely for marquee value, is miscast. He just plays Charlie Sheen and rarely suggests anything of the brilliance of the profiler the character is said to be. A character like this is one that should command the film with his penetrating intelligence but Sheen struggles to seem in charge at all.
Albert Pyun's other films are:– The Sword and the Sorceror (1982), Radioactive Dreams (1986), Vicious Lips/Pleasure Planet (1987), Alien from L.A. (1988), the uncredited Journey to the Center of the Earth (1988), Cyborg (1989), Deceit (1989), Captain America (1990), Dollman (1990), Brain Smasher: A Love Story (1993), Knights (1993), Nemesis (1993), Arcade (1994), Hong Kong 1997 (1994), Heatseeker (1995), Nemesis 2: Nebula (1995), Nemesis 3: Timelapse (1995), Adrenalin: Fear the Rush (1996), Nemesis 4: Death Angel (1996), Omega Doom (1996), Ticker (2001), Infection (2005), Cool Air (2006), Bulletface (2007), Left for Dead (2007), Tales of an Ancient Empire (2010), The Interrogation of Cheryl Cooper (2014) and Interstellar Civil War (2017).
---
---