---
Crew
Director/Screenplay – Albert Pyun, Producers – Tom Karnowski & Gary Schmoeller, Photography – George Mooradian, Music – Tony Riparetti, Special Effects Supervisor – John McLeod, Makeup Design – Maurine Schlenz, Makeup Effects – Kevin Marks, Production Design – Nenad Pecur. Production Company – Largo Entertainment/Filmwerks/Toga Productions.
Cast
Natasha Henstridge (Delon), Christopher Lambert (Lemieux), Norbert Weisser (Cuzo), Elizabeth Barondes (Wocek), Xavier Declie (Volker), Craig Davis (Suspect)
---
Plot
It is the year 2007 and all immigrants to the US have been placed in quarantine zones after a plague has swept Europe. An armed police team arrive in one of the quarantine zones to find that a suspect has slaughtered another team. They then come under attack themselves. They pursue the suspect down into the sewers where it appears that he is playing a cat-and-mouse game with them. What they do not know is that the suspect who has a deadly infection and a covert quarantine team is also waiting to apprehend him. If he is not stopped in a matter of hours, he could infect the entire population.
---
Albert Pyun is a prolific director of low-budget direct-to-video sf/action hybrids. Pyun premiered with The Sword and the Sorcerer (1982) and went onto make the likes of Cyborg (1989) and Nemesis (1993) and its three sequels, among others, and fairly much patented the 1990s genre of the post-holocaust kickboxing film. (See bottom of the page for Albert Pyun's other genre films). Adrenalin: Fear the Rush is slightly better budgeted than most of Pyun's other films and even received a theatrical release in some places.
Despite the relatively higher degree of professionalism accorded the production, Adrenalin: Fear the Rush is also one of the most frustrating of Albert Pyun's films. Most of Pyun's films operate as stripped minimalist scenarios, designed with the sole intent of allowing a maximum of action (usually kickboxing) scenes. Sometimes, as in Nemesis or Dollman, his films have the bonus of an imaginative backdrop or a sense of humour. Other times, as in Cyborg or the bizarre Deceit (1989), they have been stripped to the point they are working on less-than-bare bones – in Deceit's case, the entire film was seemingly improvised while being shot in a single disused warehouse; while Journey to the Center of the Earth (1988), which was patched together from another uncompleted film, gave the appearance of not even having been filmed with a script.
Adrenalin: Fear the Rush suffers this same problem. The film hails in at a surprisingly slight 67 minutes. It comes with a background that is so severely undersketched that it proves intensely frustrating. Most of the film involves Christopher Lambert and Natasha Henstridge chasing a crazed man with red eyes and super-strength who is also being pursued by a sinister group of men in vac suits with much muttering about how what he is infected with could potentially destroy the whole world. However, Pyun reveals nothing about who or what the man or the infection is, let alone why he is considered so dangerous. The opening scene sets up the backdrop of a world ravaged by a plague and tells us how infected immigrants have been rounded up inside containment areas.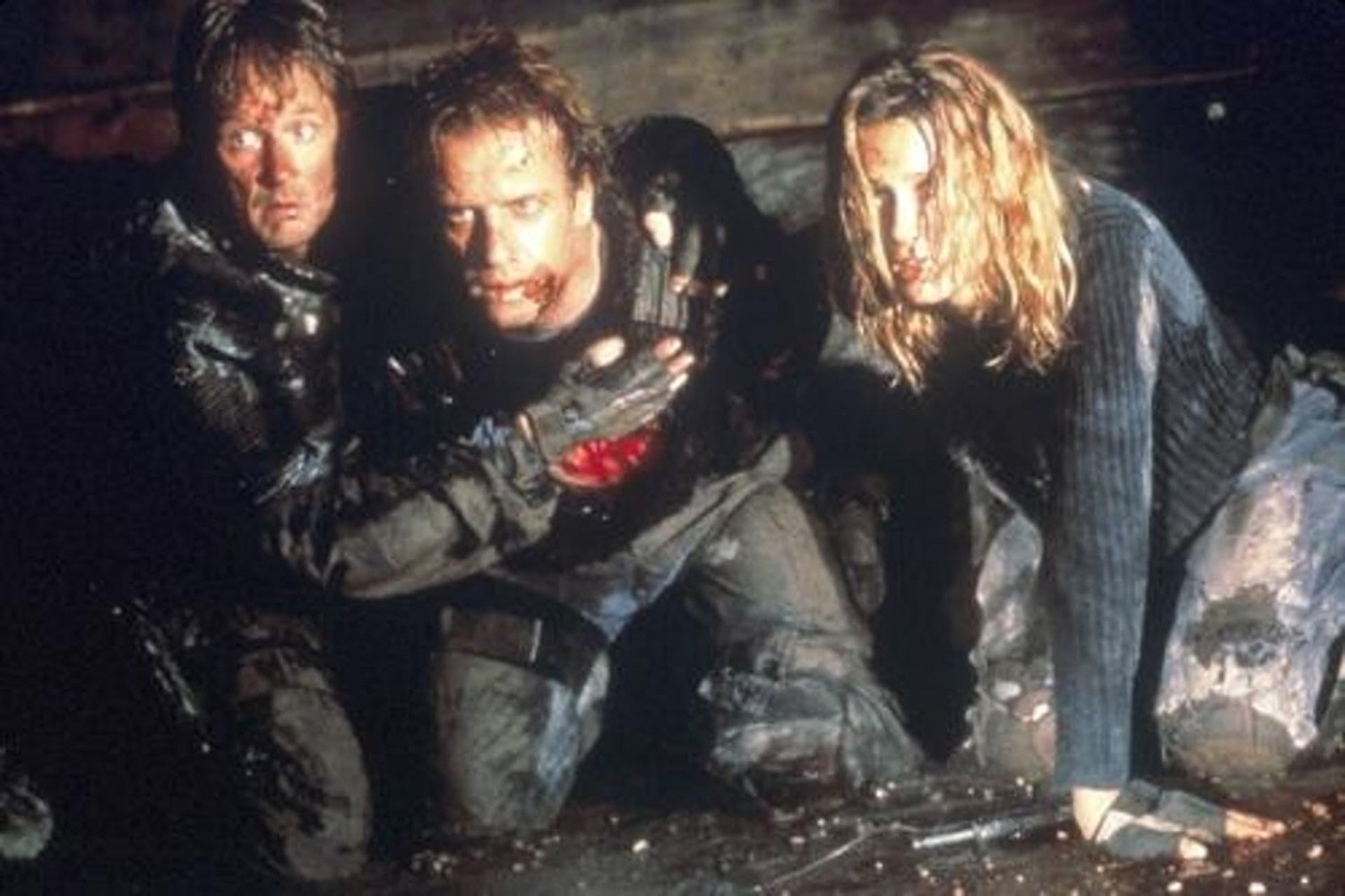 Once the main action starts in, Pyun never deigns to tell us whether what is happening is taking place inside a plague zone or out in the real world, whether the man being pursued is an infectee, or why, as eventually appears to be the case, an armed SWAT team are also infected. When we are first introduced to Natasha Henstridge, she is buying a fake passport for travelling outside the zone but then when we next see her she is one of the SWAT team and we have no idea whether she is a plague detainee or a cop or both and whose side she is meant to be on.
Pyun shot Adrenalin: Fear the Rush on location in Slovakia in what looks like a city sewer system – all that the film consists of is a series of chase scenes through the tunnels. Certainly, the chase scenes are decently shot and generate some passable suspense. It is just that these gaping plot holes make the film an intensely frustrating experience.
Albert Pyun's other films are:– The Sword and the Sorceror (1982), Radioactive Dreams (1986), Vicious Lips/Pleasure Planet (1987), Alien from L.A. (1988), the uncredited Journey to the Center of the Earth (1988), Cyborg (1989), Deceit (1989), Captain America (1990), Dollman (1990), Brain Smasher: A Love Story (1993), Knights (1993), Nemesis (1993), Arcade (1994), Heatseeker (1995), Hong Kong 1997 (1994), Nemesis 2: Nebula (1995), Nemesis 3: Timelapse (1995), Nemesis 4: Death Angel (1996), Omega Doom (1996), Postmortem (1997), Ticker (2001), Infection (2005), Cool Air (2006), Bulletface (2007), Left for Dead (2007), Tales of an Ancient Empire (2010), The Interrogation of Cheryl Cooper (2014) and Interstellar Civil War (2017).
---
---