---
Crew
Director – Tod Williams, Screenplay – Adam Alleca & Stephen King, Based on the Novel by Stephen King, Producers – Michael Benaroya, Shara Kay, Richard Saperstein & Brian Witten, Photography – Michael Simmonds, Music – Marcelo Zarvos, Visual Effects Supervisor – Tammy Sutton, Special Effects Supervisor – Caius Man, Makeup Effects Design – Andre Freitas, Production Design – John Collins. Production Company – Saban Films/Benaroya Pictures/International Film Trust/120dB Films/The Genre Company.
Cast
John Cusack (Clay Riddell), Samuel L. Jackson (Tom McCourt), Isabelle Fuhrman (Alice Waxman), Owen Teague (Jordan), Stacy Keach (Charles Ardai), Anthony Renolds (Ray Huizenga), Joshua Mikel (Raggedy), Clark Sarullo (Sharon Riddell), Ethan Andrew Casto (Johnny Riddell), Erin Elizabeth Burns (Denise)
---
Plot
Comic-book artist Clay Riddell is passing through the airport in Boston when everybody around suddenly turns crazy and begins harming themselves or others. As Clay hides, he observes that the outbreak of madness is being caused by a signal transmitted by cellphones. He makes an escape with train driver Tom Court and his teenage neighbour Alice Waxman. Clay decides to set out to find if his wife and son have survived. All around they see the Phoners, as they call them, demonstrating herd behaviour as they attack survivors. They also realise that the intelligence controlling the group is starting to evolve. As it becomes aware of them, they grasp that it is luring Clay into a trap.
---
Cell (2006) was Stephen King's zombie novel. Surprisingly given the popularity of zombies in the horror film, it was one theme that King had never touched before. In the book, this was amusingly combined with the newly arrived fad for mobile interconnectivity – in a satiric touch that has become even more relevant since the book appeared (which was published at a point when 3G and mobile data was only just arriving), cellphones cause people to become zombies.
A film adaptation of Cell has been announced over the decade since the book came out. It was originally planned under Eli Roth of Cabin Fever (2002) and Hostel (2005) fame but Roth departed in 2009 after creative differences with the producers – in essence it would appear, he wanted to make a much more ballsy, gore-drenched film and they didn't. Shortly after, a new version was announced and this time King was hired to adapt the screenplay. Direction was given over to Tod Williams who had previously made the non-genre likes of The Adventures of Sebastian Cole (1998) and The Door in the Floor (2004), as well as one horror film with Paranormal Activity 2 (2010). The film was completed in 2013 but ended up in limbo for three years due to problems with a financially troubled distributor before it was released to dvd and made limited theatrical screenings in mid-2016.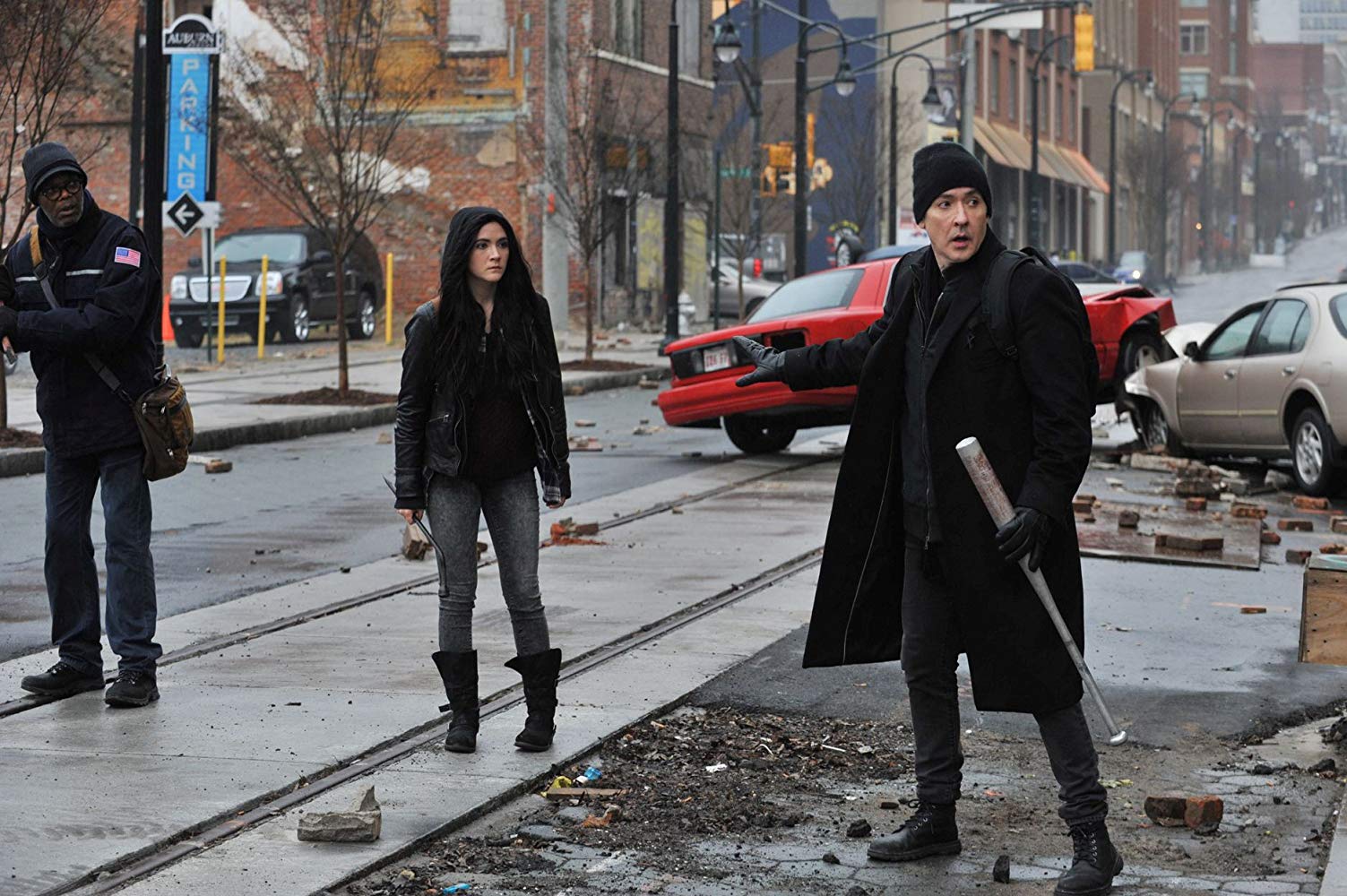 Cell ended up with some negative reviews, although it should be said that the majority of these come from the vacuous hot air that passes for critical discourse in mainstream press. Contrarily, I liked the film. Tod Williams gives us a great out-of-the-blue opening. John Cusack is passing through an airport as it erupts into chaos and madness all around him – people running screaming and attacking each other, a chef going crazy with a kitchen cleaver, a businessman running with no pants on, an airport security officer seen eating a dog, people being thrown off the escalator, a woman picking up a ringing phone and then suddenly being driven to run at a wall and keep bashing her head against it. It immediately suggests less a zombie film than something like George Romero's The Crazies (1973) and the whole body of mass insanity films that derived from it.
The zombie film has become caught in a creative rut in the last few years, one where the plethora of films coming out seem to have exhausted almost all of the ideas that the genre has to offer and it has instead turned to self-parody. Thus it should be celebrated when there is an entry in the genre that comes with new angles and ideas, like the images of the Phoners hunting in terms of herd behaviour. Some of the most eerie scenes come when the party arrive at the school and find an entire football field filled with Phoners in a sleeping state, where it is theorised they are 'rebooting', and music can be heard coming from out of their mouths. King creates the fascinating image of the zombies as some kind of gestalt mass being herded by an evolving intelligence (you kind of wish that he had written Cell less as horror and more as a science-fiction work that explored what this was). In a familiar King motif, we get images of the intelligence behind everything manifesting in the shared dreams of a man in a red sports sweater and the sense of the protagonists moving towards a destined confrontation.
This is a film that overspills with wild and fascinating ideas, even if you feel like the film is not granting many of these the time it needs for them to fully flower. (You suspect that Cell would have felt more satisfying and the supporting characters had more screen time if it had gone the route of a mini-series like many other King works have – see below). We even get some witty dialogue with characters debating the merits of Cyberpunk fiction and the superiority of William Gibson or Neal Stephenson.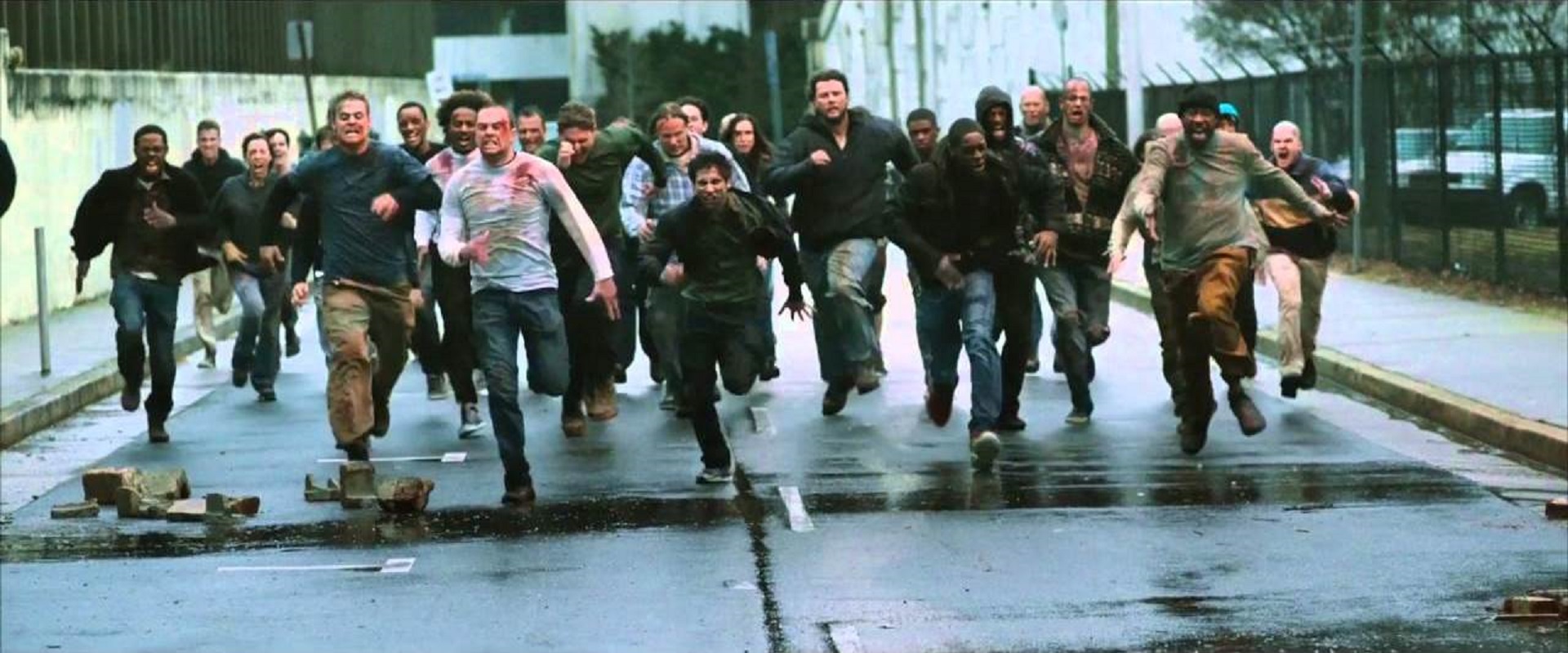 Tod Williams keeps the pace moving and gives the Phoner attacks a tight tension, although the complaint might be that after the great opening scene there is never anything in the rest of the film that quite matches it. John Cusack and Samuel L. Jackson are re-paired in their second Stephen King outing together following 1408 (2007). The two work well together – Cusack as another of his effortlessly engaging everyman heroes and Jackson's laconically laidback humour gives the post-catastrophic quest its human edge. The only major negative point of the film is its surprisingly downbeat ending. The big climactic scene is shot in an extremely murky way and with obvious visual effects that detract from the intended impact. Not to mention that the insertion of two seeming endings – an impossibly happy dream one and a grim fatalistic reality – causes confusion.
Other Stephen King genre adaptations include:- Carrie (1976), Salem's Lot (1979), The Shining (1980), Christine (1983), Cujo (1983), The Dead Zone (1983), Children of the Corn (1984), Firestarter (1984), Cat's Eye (1985), Silver Bullet (1985), The Running Man (1987), Pet Sematary (1989), Graveyard Shift (1990), It (tv mini-series, 1990), Misery (1990), a segment of Tales from the Darkside: The Movie (1990), Sometimes They Come Back (1991), The Lawnmower Man (1992), The Dark Half (1993), Needful Things (1993), The Tommyknockers (tv mini-series, 1993), The Stand (tv mini-series, 1994), The Langoliers (tv mini-series, 1995), The Mangler (1995), Thinner (1996), The Night Flier (1997), Quicksilver Highway (1997), The Shining (tv mini-series, 1997), Trucks (1997), Apt Pupil (1998), The Green Mile (1999), The Dead Zone (tv series, 2001-2), Hearts in Atlantis (2001), Carrie (tv mini-series, 2002), Dreamcatcher (2003), Riding the Bullet (2004), 'Salem's Lot (tv mini-series, 2004), Secret Window (2004), Desperation (tv mini-series, 2006), Nightmares & Dreamscapes: From the Stories of Stephen King (tv mini-series, 2006), 1408 (2007), The Mist (2007), Children of the Corn (2009), Everything's Eventual (2009), the tv series Haven (2010-5), Bag of Bones (tv mini-series, 2011), Carrie (2013), Under the Dome (tv series, 2013-5), Big Driver (2014), A Good Marriage (2014), Mercy (2014), 11.22.63 (tv mini-series, 2016), The Dark Tower (2017), Gerald's Game (2017), It (2017), The Mist (tv series, 2017), Mr. Mercedes (tv series, 2017-9), 1922 (2017), Castle Rock (tv series, 2018-9), Doctor Sleep (2019), In the Tall Grass (2019), Pet Sematary (2019), The Outsider (tv series, 2020), The Stand (tv mini-series, 2020-1), Chapelwaite (tv series, 2021- ), Lisey's Story (tv mini-series, 2021), Firestarter (2022), Mr Harrigan's Phone (2022), The Boogeyman (2023) and Salem's Lot (2023). Stephen King had also written a number of original screen works with Creepshow (1982), Golden Years (tv mini-series, 1991), Sleepwalkers (1992), Storm of the Century (tv mini-series, 1999), Rose Red (tv mini-series, 2002) and the tv series Kingdom Hospital (2004), as well as adapted his own works with the screenplays for Cat's Eye, Silver Bullet, Pet Sematary, The Stand, The Shining, Desperation, Children of the Corn 2009, A Good Marriage, Cell and Lisey's Story. King also directed one film with Maximum Overdrive (1986).
---
---