UK. 1970.
Crew
Director – Alan Gibson, Screenplay – Jimmy Sangster & Alfred Shaughnessy, Story – Alfred Shaughnessy, Producer – Michael Carreras, Photography – Paul Beeson, Music – Malcolm Williamson, Art Direction – Scott MacGregor. Production Company – Hammer Films.
Cast
Stefanie Powers (Susan Roberts), James Olson (Georges Ryman/Jacques Ryman), Margaretta Scott (Danielle Ryman), Jane Lapotaire (Lilliane), Joss Ackland (Carter)
---
Plot
American music student Susan Roberts arrives in the French countryside at the home of the late composer Henry Ryman to write a thesis about him. She is welcomed by Ryman's widow Danielle and his wheelchair-ridden son Georges. As Susan settles into the house, she becomes aware of sinister secrets lurking all around – from Georges' drug addiction problems to the maid Lilliane who is seeking to manipulate Georges into marrying her to Susan's resemblance to Georges' former girlfriend Catherine and how Danielle seems to want Susan to stay there.
---
Hammer Films were on a roll during the 1960s. They had emerged to world attention in the late 1950s with The Curse of Frankenstein (1957) and Dracula/The Horror of Dracula (1958), had then revamped other classic monster movies and made a string of Dracula and Frankenstein sequels, all to great success. In 1960, Alfred Hitchcock made Psycho (1960), which had been a huge worldwide success. Hammer quickly jumped on this trend, as did a number of others, and made a series of psycho-thrillers with the likes of A Taste of Fear/Scream of Fear (1961), Paranoiac (1962), Maniac (1963), Nightmare (1963), Hysteria (1964), The Fanatic/Die, Die, My Darling (1965), The Nanny (1965) and Fear in the Night (1972).
Crescendo was one of these Hammer psycho-thrillers. It has a script from Jimmy Sangster who had written most of the other abovementioned Hammer psycho-thrillers, as well as The Curse of Frankenstein and The Horror of Dracula. Sangster co-writes with Alfred Shaughnessy who directed the interesting Anglo-horror film Cat Girl (1957) and was script editor for tv's Upstairs, Downstairs (1971-5).
The director was the Canadian-born Alan Gibson, who had emerged out of British arthouse tv dramas in the 1960s and made his directorial debut here. Gibson was clearly seen as a promising name by Hammer who promptly put him in charge of their Dracula franchise, next making Dracula A.D. 1972 (1972) and The Satanic Rites of Dracula (1973), the last two to star Christopher Lee, which are generally considered the weakest of the series. Gibson subsequently went back to directing British tv dramas, although did return for two episodes of the tv series Hammer's House of Horrors (1980).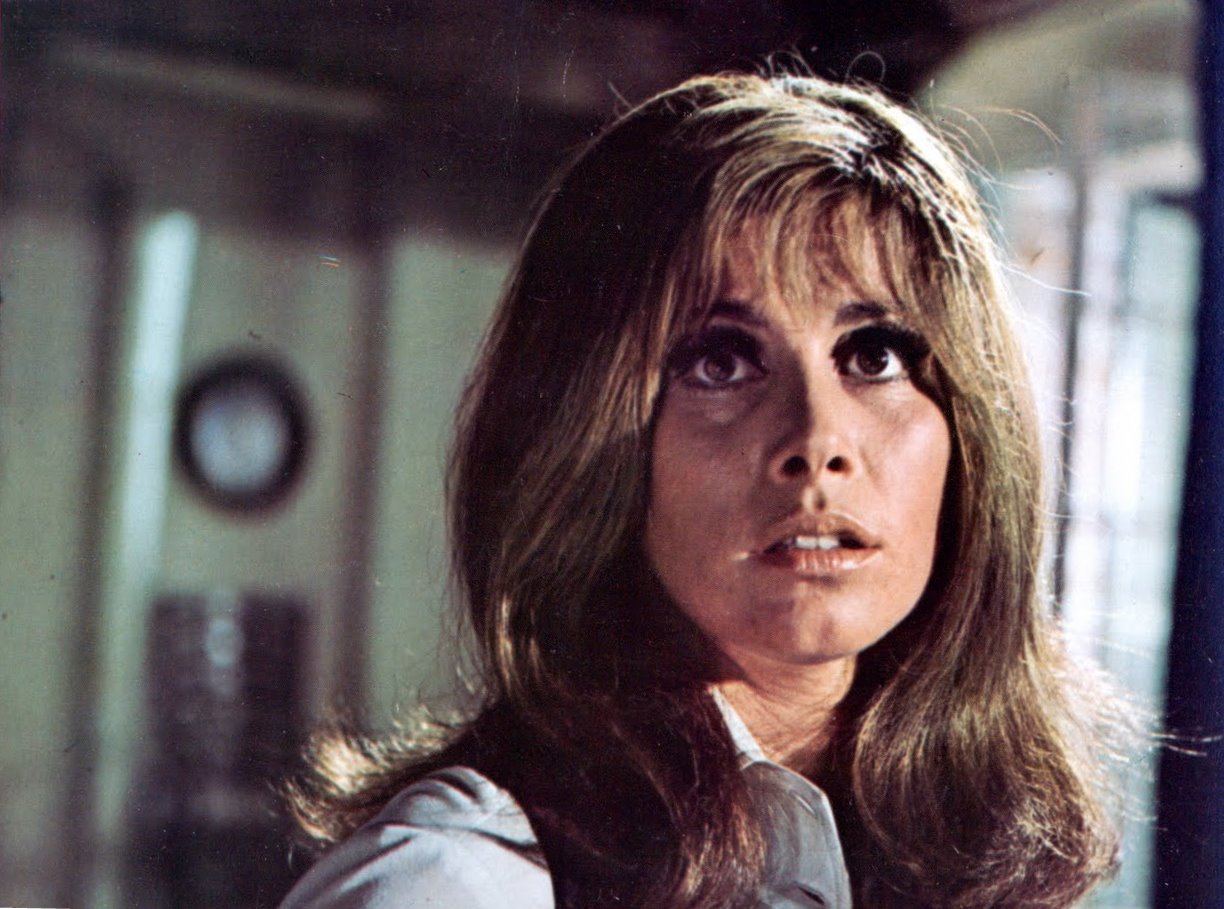 Brought in to headline Crescendo were two American stars, Stefanie Powers, who was then best known as the lead in tv's The Girl from U.N.C.L.E. (1966-7), and James Olson just before his big starring role in The Andromeda Strain (1971). Both Powers and Olson had previously worked for Hammer – she appearing in a not dissimilar role to this in The Fanatic/Die, Die, My Darling and he as the lead in Hammer's science-fiction outing Moon Zero Two (1969).
Crescendo has a number of plot similarities to Hammer's first psycho-thriller A Taste of Fear – a girl visiting a villa in France run by a matriarch and servants (even the design and layouts of the two houses seems the same), the mystery surrounding a dead man, a person in a wheelchair who may not be crippled after all. At the same time, it is immediately a different film to most of Hammer's other psycho-thrillers. It was only the second of these to be shot in colour, whereas all of the earlier ones were shot in black-and-white. It is also one of the few Hammer films to go and shoot on location – in France. It makes great contrast to the previous psycho-thriller Maniac, which was also shot in France but in black-and-white where the locations seemed to cry out for colour, and A Taste of Fear, which similarly had a French location but restricted itself to a villa for almost the entire running time. At direct opposition, Crescendo seems to embrace an open sunniness that is almost at exactly opposite remove to the edgy tension the black-and-white film stock seemed to give the other psycho-thrillers.
On the other hand, Alan Gibson fails to quite provide Crescendo with the tension that Freddie Francis and many of the other directors of Hammer's psycho-thrillers did. It is hard, for instance, throughout the first half of the show to work out where the film is going – it consists of much talking around the pool and house but never seems to let any psycho-thriller elements cue their way in. Jimmy Sangster's script certainly takes its time to key in the twists, doubts about what the heroine is being told, suggestions of dark secrets in the past that were all stock elements of the psycho-thriller of this era. It feels almost like a psycho-thriller that is moving at about half the speed you expect it to. Certainly, the film does eventually kick in some worthwhile twists – like the scene where Stefanie Powers returns to find James Olson's wheelchair is empty. However, when the only moments of real tension come at the climax and during the attack on Jane Lapotaire in the pool, it makes you realise what a bloodless and quiet psycho-thriller Crescendo is.
Stefanie Powers and James Olson give capable performances. Much of the show is stolen by Jane Laoptaire whenever she is around affecting a fake French accent as an increasingly trampier and self-serving maid where she seems to relish the bitchy taunts. There is a great scene where she comes onto James Olson as he sits in his wheelchair, stripping off and managing to turn shooting him up into a seduction.
---
---