---
Crew
Director – Roger Christian, Screenplay – Thomas Baum, Producer – Edward S. Feldman, Photography – Roger Pratt, Music – Trevor Jones, Special Effects – Nick Allder, Makeup – Sarah Monzani, Production Design – Malcolm Middleton. Production Company – Kingsmere Properties.
Cast
Kathryn Harrold (Gail Farmer), Zeljko Ivanek (John Doe No. 83), Paul Freeman (Dr Denman), Shirley Knight (Jerolyn), Sean Hewitt (The Messiah), Al Matthews (Vietnam Vet)
---
Plot
A young man is placed in the state mental hospital after he attempts to commit suicide by walking into a lake with stones in his pocket. With no memory, he is listed as a John Doe and assigned to psychologist Gail Farmer. However, John Doe then begins to appear and mysteriously disappear inside Gail's house and she experiences a series of startling hallucinations. Both John Doe and Gail are visited by a mystery woman who claims to be John's mother – but all evidence points to her as being dead. Believing the John Doe to be a broadcasting telepath, Gail tries to get to the source of his problem in order to help him.
---
This beautifully under-rated horror film was hardly seen by anybody when it came out. It was a directorial debut for Roger Christian, formerly a set decorator on Star Wars (1977) and art director on the likes of Alien (1979) and Monty Python's The Life of Brian (1979). It interestingly prefigures the themes of dream, hallucination and reality blurring that became the in-thing after the success of A Nightmare on Elm Street (1984) and certainly makes interesting contrast to Elm Street.
Roger Christian provides a startling array of jack-in-a-box reality intrusions – like the moment an ECT machine is switched on and an entire operating room erupts in an hallucinatory slow-motion explosion; or The Sender's frenzied attempt to kill a flickering tv set that keeps taunting even when it is ripped from the wall and smashed to pieces, a sequence that culminates in the sensational ripping off of a patient's head by a slap of the hand. Often the most unsettling effects are the incursions of atmosphere that eerily hover between real and unreal without noticeable division.
Most post-Elm Street sequels and imitators broach these reality/unreality themes with a thorough banality but The Sender has a story that whips right through a daring conceptual switchback involving telepathically mass-broadcast hallucinations, a twisted series of suppressed nightmares and one startling mid-film revelation regarding Shirley Knight's mother. There is never a moment the plot's ingeniously cruisy turns run dry. (Although the latter half of the film does divert away from matters concerning the psychic powers into ones concerning the mother. Nor does the film leave an audience clear exactly where she is coming from at the end). A genuinely fascinating film.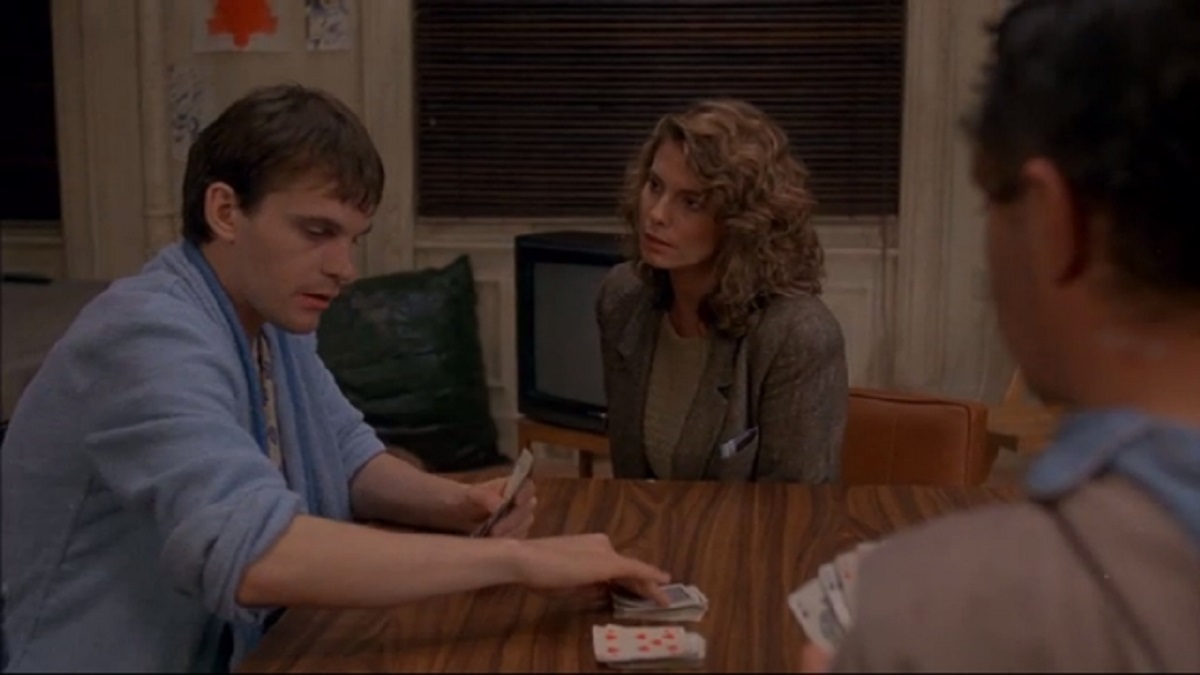 Despite such a strong debut, Roger Christian's subsequent films have failed to maintain the promise he held here. His other genre films include the little seen planetary adventure Starship/Lorca and the Outlaws (1984), the historical biopic Nostradamus (1994), the notorious Battlefield Earth: A Saga of the Year 3000 (2000), Prisoners of the Sun (2013) and Stranded (2013). Christian's other non-genre films are the unexceptional crime thrillers Final Cut (1995), Underworld (1996), Masterminds (1997), American Daylight (2004) and Bandido (2004).
Kathryn Harrold maintains a business-like authority, while Paul Freeman of Raiders of the Lost Ark (1981) fame presents plausible sympathy as the villain of the piece. The Sender also the first leading performance of the unpronouncably-named Slovenian-born Zeljko Ivanek who has gone onto become a regular, usually playing lawyers, on shows such as Homicide: Life on the Streets, The Practice, 24, Heroes, Big Love, True Blood, Revolution and in films such as Dancer in the Dark (2000), Hannibal (2001) and Argo (2012).
The Sender should not be confused with The Sender (1997), an action film about alien visitors that also involves psychic powers.
---
---