---
Crew
Director – Hank Braxtan, Screenplay – Dan Sinclair, Story – Arielle Brachfeld, Hank Braxtan & Dan Sinclair, Producers – Arielle Brachfeld & Hank Braxtan, Photography – Joel Hodge, Music – Edwin Wendler, Visual Effects – CKVFX (Supervisors – Steve Clark & Paul Knott), Additional Visual Effects – Justin Rader. Production Company – Splended Film/Automatic Etertainment.
Cast
Antuone Torbert (Julius Green), Ruben Pla (Artie Cameron), Arielle Brachfeld (Gwen Peters), Dan Sinclair (Griffin), Tarkan Dospil (Lance Hollis), Heath C. Heine (Bobby Tristan), Motown Maurice (Hector Kayman), Asa Forsyth (Percy Robertson), Butch McCain (Mayor Edward Mordry), Ethan John Ball (Ranger Ryan)
---
Plot
A team of mercenaries led by Artie Cameron are hired by the mayor of Fruita, Colorado to hunt down vagrants that have been killing trampers and tourists in the woods. The group set forth, joined by others they encounter on the way including the park ranger Gwen Peters and Griffin, the sole survivor of a group of hunters. They encounter the vagrants but discover that they worship a dragon that has been killing all in the area.
---
Dragon Soldiers was the sixth film for Hank Braxtan, a former soldier turned filmmaker who had previously made the home movie Return of the Ghostbusters (2007) and assorted low-budget horror films with Blood Effects (2011), Chemical Peel (2014), Unnatural (2015) and subsequent to this Jurassic Hunt (2021) and Dead Zone (2022). I had previously viewed Braxtan's comedy Snake Outta Compton (2018), which was so painfully unfunny that it made this site's Worst Films list for that year. Braxtan is married to Arielle Brachfeld who has worked on most of his films and here plays the role of the park ranger Gwen, as well as comes up with the story and produces the film.
Based on Snake Outta Compton, I had very low expectations of Dragon Soldiers. What it reminds of in conception – soldiers vs a dragon – is a bunch of cheap Dragon Films that came out exploiting the early 2000s fantasy boom. See the likes of Dragon Fighter (2003), Dragon Storm (2004), Dragon (2006), D-War (2007), Fire & Ice (2008), Dragon Hunter (2009) and Dragonquest (2009), as well as the interminable series of DragonHeart sequels.
Dragon Soldiers gives all the impression of having no higher ambition than trying to be a Syfy Channel monster movie – adhering to their formula featuring an exotic monster, some cheap CGI effects and a plot that involves assorted people fighting to stop it. All that seems missing here is some C-list former name actor as the headline star of the show, something that Braxtan clearly could not afford. The nearest we get is Ruben Pla who has a minor name in supporting roles in various films but nothing major.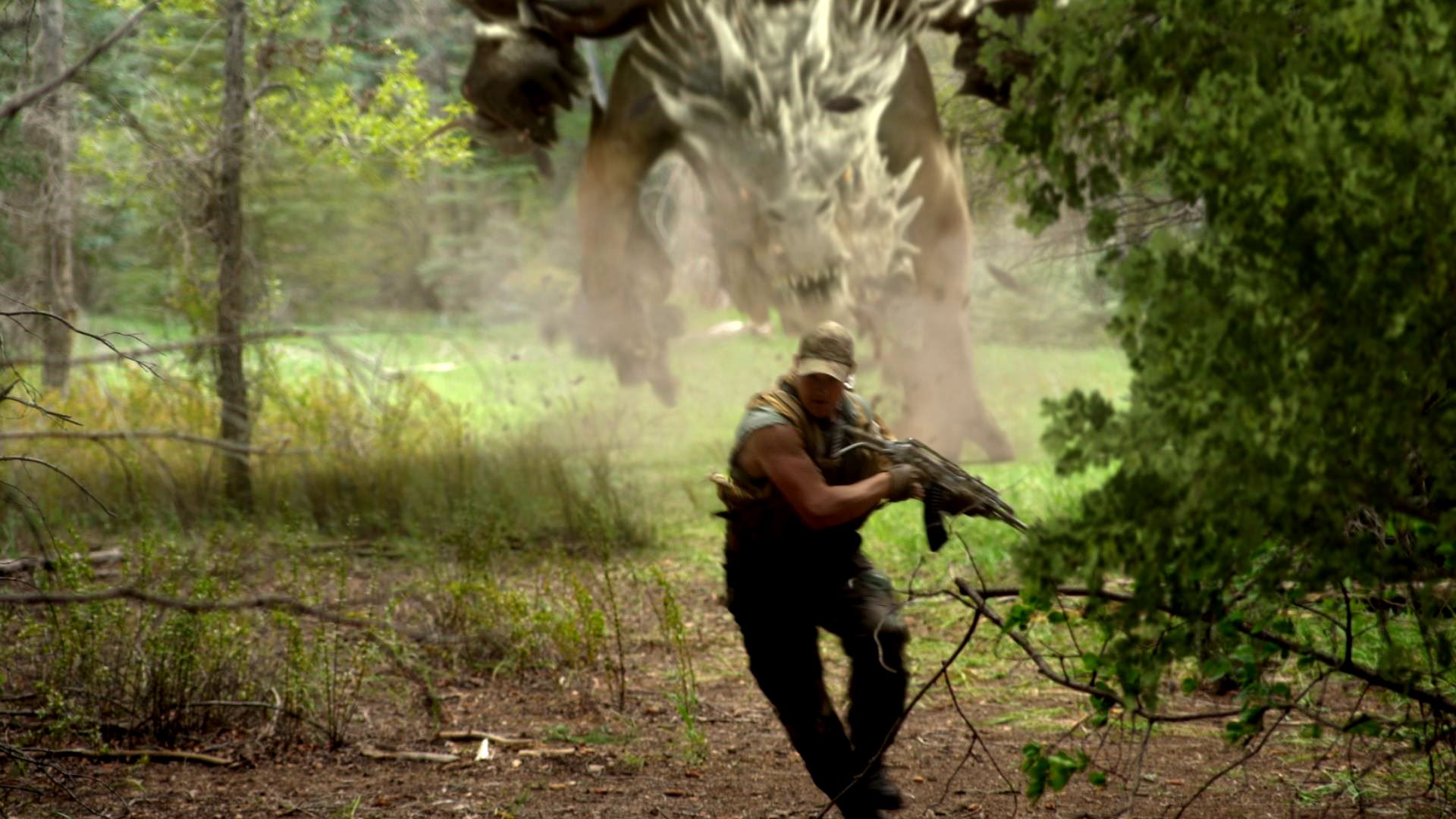 You can go with the film up to a certain point as the soldiers head off into the woods. However, things plummet at around the 40-minute mark with the first appearance of the crappy CGI dragon. Certainly, if you keep with the film, the characters imprint themselves with a certain colour. There are even some not too bad performances from Ruben Pla and Antuone Torbert who gains much strength once takes he command later in the show.
Dragon Soldiers becomes a far more watchable film during the latter half where it becomes about the men operating as a tight fighting unit and developing tactics to combat the dragon. Here Braxtan's military background comes to the fore and you get an effective sense of the men as a cohesive unit dedicated to the task. Certainly, the crappy dragon effects do get in the way. And there is a rather silly couple of scenes that feel like they should have ended on the cutting room floor where Arielle Brachfeld is affected by dragon gas and turns psycho.
---
Trailer here
---