aka The Horrible Dr Hichcock
(L'Orribile Segreto del Dottor Hichcock)
---
Crew
Director – Riccardo Freda [as Robert Hampton], Screenplay – Ernesto Gastaldi [as Julyan Perry], Producer – Luigi Carpenteri [as Louis Mann], Photography – Rafaele Massiocchi [as Donald Green], Music – Roman Vlad, Production Design – Franco Fumagalli [as Frank Smokecocks]. Production Company – Prada Films.
Cast
Barbara Steele (Cynthia Hichcock), Robert Flemyng (Professor Bernard Hichcock), Harriet Medlin (Martha), Montgomery Glen (Dr Kurt Loewe), Theresa Fitzgerald (Margaret Hichcock)
---
Plot
London, 1885. The renowned surgeon Dr Bernard Hichcock accidentally kills his wife Margaret by chloroforming her. Fifteen years later, Dr Hichcock returns with his new wife Cynthia. As she settles into the house, Cynthia thinks that Margaret's ghost is haunting her. At the same time, she becomes suspicious that Hichcock may also be poisoning her.
---
The Terror of Dr Hichcock is one of the cornerstones of the Italian Gothic cinema. This was a mini-genre that was begun with director Riccardo Freda's I Vampiri (1957) and was kicked into high gear especially with the success of Mario Bava's Black Sunday (1960), which in turn had been inspired by the successes of Hammer Films and Roger Corman's Edgar Allan Poe films, and saw a prolific output of works over the next decade. That film also created a career in the Italian horror industry for British actress Barbara Steele.
The Terror of Dr Hichcock is cited as one of the great classics of Italian horror cinema, although upon reviewing it today this reputation seems somewhat overrated. Director Riccardo Freda piles on a great deal of the atmosphere that these films specialised in. There is almost an overkill of the tropes that were central to the 19th Century Gothic potboilers of Ann Radcliffe and Wilkie Collins – ominous glances through the keyhole of the dead wife's white dress and boots, of hangman's nooses left in a room, the doctor chloroforming his first wife and seeming to be poisoning the second one, the wife with a psychiatric history waking up to find skulls in her bed and the like. It is all run over with oodles of atmosphere – heavy mist, rich golden photography and old Gothic houses. Of course, the film also features cult queen Barbara Steele whose wide, haunted eyes became a central fixture of 1960s Italo-horror.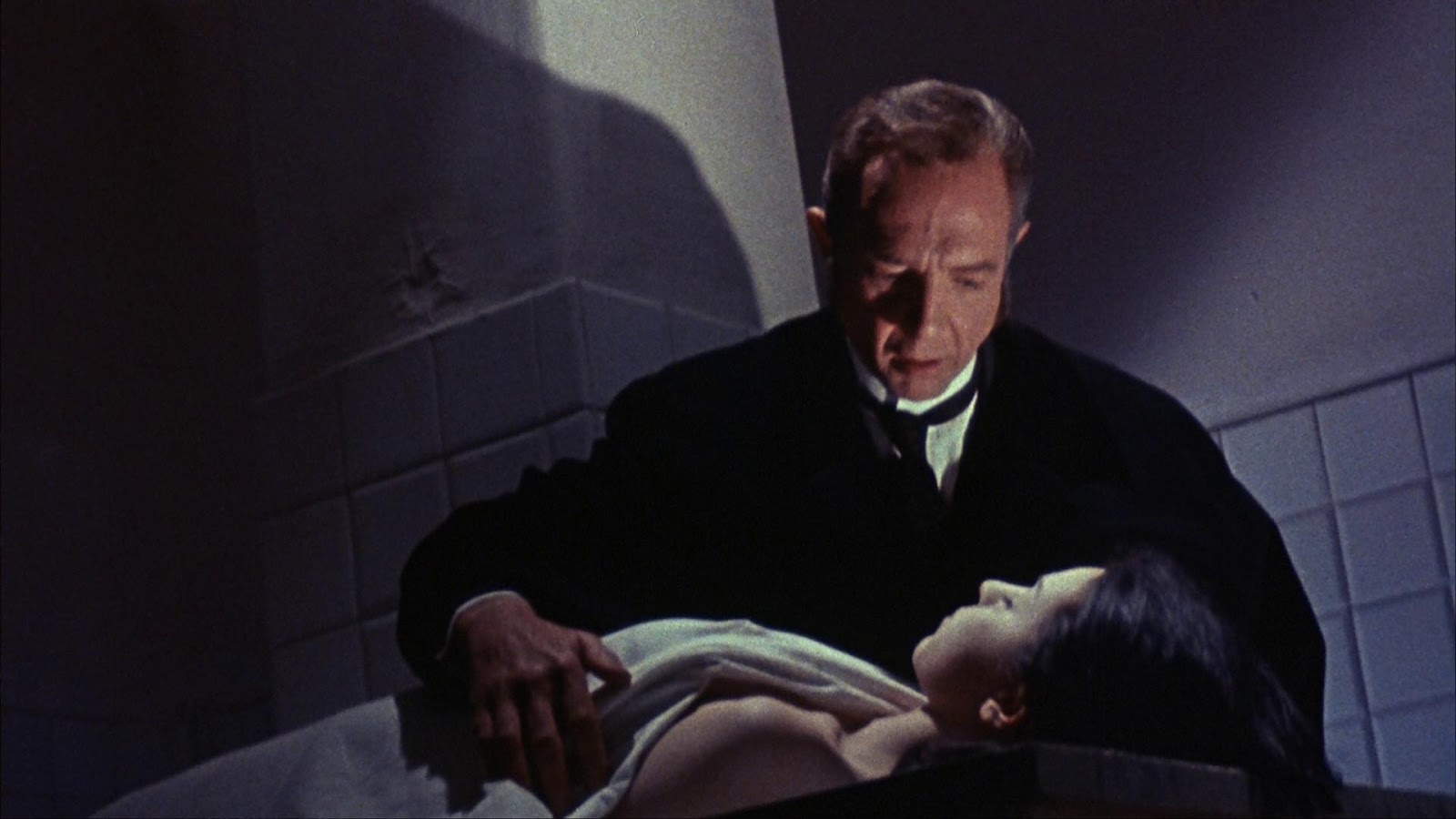 You can see what gave so many people room to vaunt The Terror of Dr Hichcock's classic status. Ultimately though, it is only a handful of Gothic cliches. Beneath these and Riccardo Freda's atmosphere, there is not much in the way of supporting rationale. We are never sure why the cheekily named Dr Hichcock is poisoning Barbara Steele off. Or up until the end, whether it is the wife's ghost or whether the wife is still alive. When we do find out that the wife is alive, there is no explanation offered as to why.
The atmosphere carries the film but you cannot help but feel a plot would have taken it even further. Although part of the problem here, one suspects, is that this, the American version of the film, is missing some twelve minutes from the Italian version, which concentrate more the doctor's necrophiliac fascinations. With these present, the film may well make a whole lot more sense.
The Terror of Dr Hichcock was popular and Riccardo Freda and Barbara Steele reunited for a sequel The Spectre/The Ghost (1963), which is not related but has her playing another character named Hichcock. Dr Hichcock was probably the most famous film made by Ricardo Freda. He did direct a number of other horror films including I Vampiri (1957), Caltiki the Immortal Monster (1959), Maciste in Hell/The Witch's Curse (1960) and Murder Obsession/Delirium (1982).
---
---