aka Curse of the Dead; Curse of the Living Dead; Operation Fear
(Operazione Paura)
---
Italy. 1966.
Crew
Director – Mario Bava, Screenplay – Mario Bava, Romano Migliorini & Roberto Natale, Story – Romano Migliorini & Roberto Natale, Dialogue – John Hart, Producers – Luciano Catenacci, Fabienne Dali' & Nando Pisani, Photography – Antonio Rinaldi, Music – Carlo Rustichelli, Optical Effects – S.P.E.S (Supervisor – E. Catalucci). Production Company – FUL Films.
Cast
Giacomo Rossi-Stuart (Dr Paul Eswai), Erika Blanc (Monica Shuftan), Max Lawrence (Burgomaster Karl), Fabienne Dali (Ruth), Piero Lulli (Inspector Kruger), Gianna Vivaldi (Baroness Graps)
---
Plot
Dr Paul Eswai travels to a small village to conduct an autopsy at the request of the local police. There he finds that the villagers live in fear of a murderous ghost child.
---
Italian director Mario Bava made considerable distinction with his Black Sunday/The Revenge of the Vampire Woman/The Mask of the Demon (1960), a film that essentially created the continental Gothic horror film. Black Sunday inspired other directors like Riccardo Freda and Antonio Margheriti, while Bava himself revisited Gothic horror several times with Black Sabbath (1963), Night is the Phantom/The Body and the Whip/What! (La Frustra e il Corpo) (1965), this and Baron Blood (1972).
Kill Baby … Kill is an interesting effort. It has only the barest whisper of a plot. Nevertheless, Mario Bava accumulates a wonderfully haunted atmosphere. The film is filled with striking images such as the child's face looking in through the window, her ball eerily bouncing along corridors and swings emptily swinging.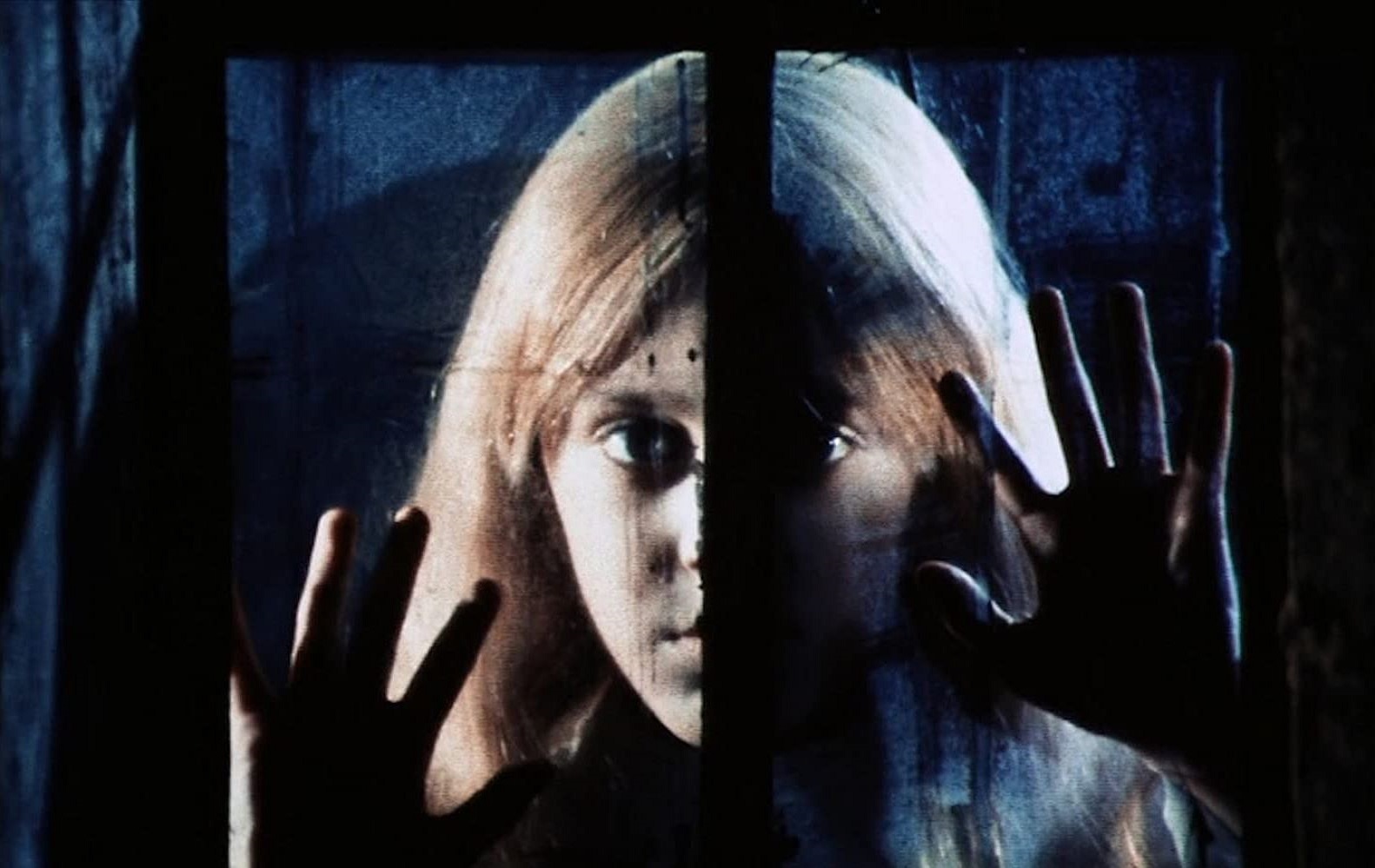 There is one nifty scene where the hero is caught in a loop running into a room and out a door on the other side that keeps bringing him back to the first door he entered where he then starts to run so fast that there are two of them running in and out at once until he catches up to his other self. The film is ravishingly shot in goldeb hues.
Mario Bava's other genre films are:- uncredited co-direction of Riccardo Freda's I Vampiri (1957) and Caltiki the Immortal Monster (1959); the Gothic classic Black Sunday/The Mask of the Demon/The Revenge of the Vampire Woman (1960); the Greek muscleman fantasy Hercules in the Center of the Earth/Hercules vs the Vampires (1961); the giallo The Evil Eye (1962); the Gothic horror anthology Black Sabbath (1963); the Gothic horror Night is the Phantom/The Whip and the Body/What? (1963); the giallo Blood and Black Lace (1964) the sf/horror film Planet of the Vampires (1965); the spy comedy Dr Goldfoot and the Girls Bombs (1966), Bava's worst film; the masked super-thief film Danger Diabolik (1967); the giallo Five Dolls for an August Moon (1970); the giallo Hatchet for a Honeymoon/Blood Brides (1971); the giallo Twitch of the Death Nerve/Bloodbath/A Bay of Blood/Carnage/Ecology for a Crime (1971); the Gothic Baron Blood (1972); the giallo/haunted house film Lisa and the Devil/House of Exorcism (1972); and the possession film Schock/Beyond the Door II (1977).
---
Trailer here
---